Baked Frittata with Roasted Red Peppers, Arugula and Pesto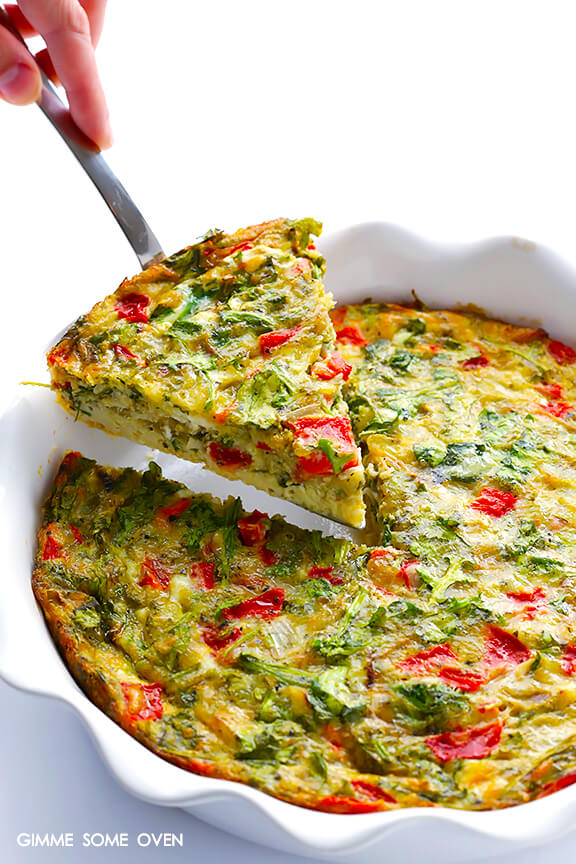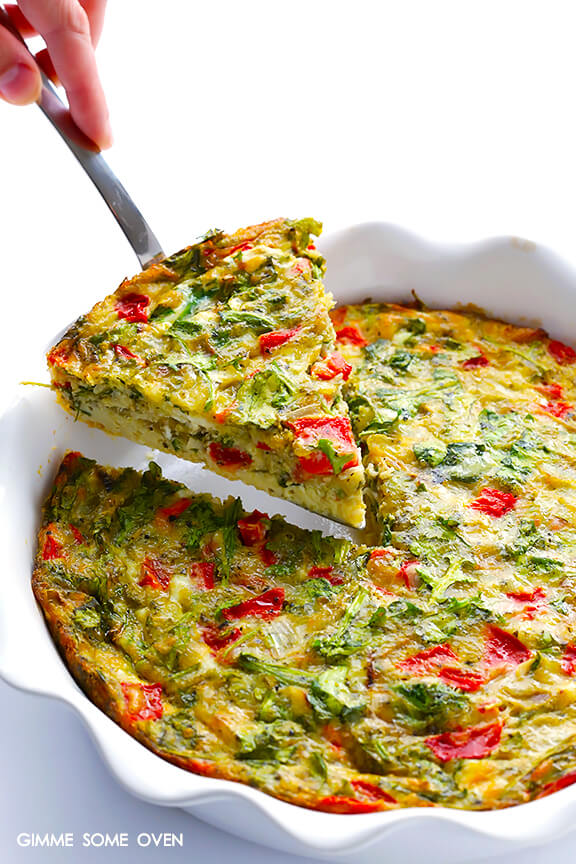 Man, I am getting mushier and gushier by the minute in my "old age".
(You know, my thirties.)
I mean it.  I feel like I can hardly have a coffee date without my heart (and often my eyes) swelling up afterwards in overwhelming gratitude afterwards for how lucky I feel to have that friend in my life.  I get all super sentimental about how freaking cool it is when total strangers wave or smile or say hello to one another, and what that tiny act of kindness can say about humanity.  I look on in complete awe of this whole idea of "family", and how crazy it is that people stick with these relationships they're born into — cool and dysfunctional and rich and crazy and  as they can be — over the course of a lifetime.  I regularly freak out about the beauty of creation, everything from Romanesco broccoli to Johnnyswim's harmonies to sunny Kansas City days to the simple brilliance that is egg drop soup.  And don't even get me started on the cuteness that is my pup…
I just love this world.
And while I know it's difficult and messy and chaotic and unbelievably hard at times to navigate, I love that this whole "doing life" thing is a team sport.  And we get to figure it all out and make mistakes and soak it all up with people around us.
I was feeling All The Feelings about this — yet again — when I had some friends over for brunch a few weeks ago.  I mean, let's be real, bringing people together around the table is pretty much my favorite thing on earth, so it's a given that I'm going to get all gushy at some point.  But watching friends hustle and bustle around the kitchen, filling their plates full of French toast and crispy hash browns this last-minute frittata, grabbing refills on steaming cups of coffee, sitting down and diving in, and then just hanging out and chatting for hours together?  Well, it doesn't get much better in my book.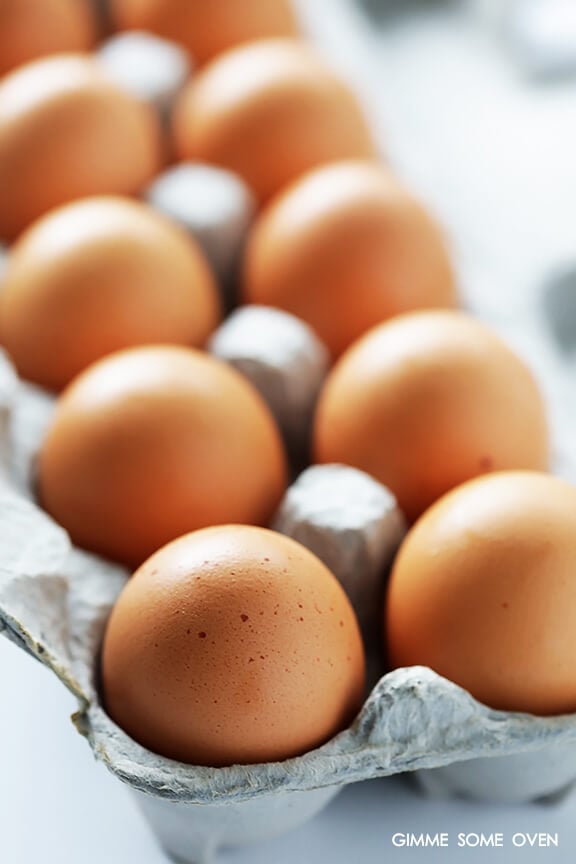 Speaking of "doesn't get much better", I've got to tell you about this frittata.
(Which I was originally going to call a crustless quiche, but my friend Kathryne told me it technically counts as a frittata when I made it again in Austin last month.  Apparently I need to learn my breakfast egg dish vocabulary.)
I'll admit that most of my focus for this particular brunch was on the French toast cups and chopping up a zillion potatoes to make the hash browns.  I was planning to make a big batch of scrambled eggs to accompany the mix.  But at the last second, I decided to dig into my DeLallo drawer (yes, I have an entire drawer of their products and whole-wheat pastas) and use some of the roasted reds and basil pesto I had on hand to make a quick crustless quiche.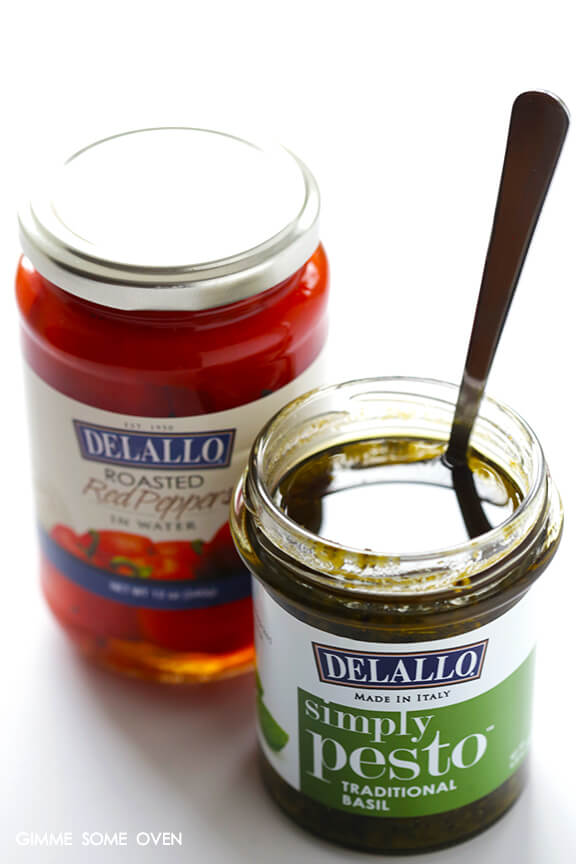 Sidenote: when readers email and ask me about stocking a kitchen pantry, I insist that these are two items you must always have on hand.  I throw them in everything!  (And after years of being all Judgy McJudgerson about bad jarred pestos, I'm thrilled to have finally discovered DeLallo's, which tastes stunningly fresh.)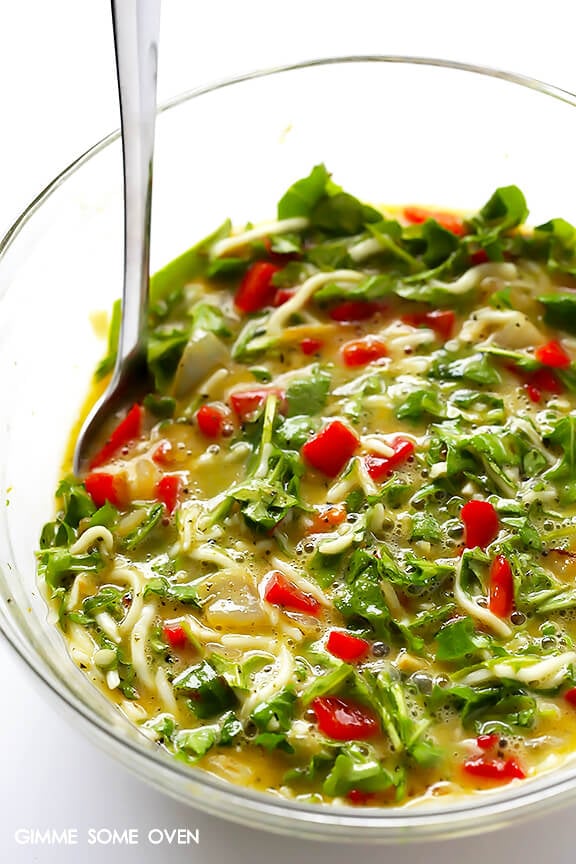 For a bit of color and an extra "peppery" flavor, I also chopped up a bunch of fresh baby arugula and tossed it in.
(Should've made this one for Christmas…look at those pretty colors!)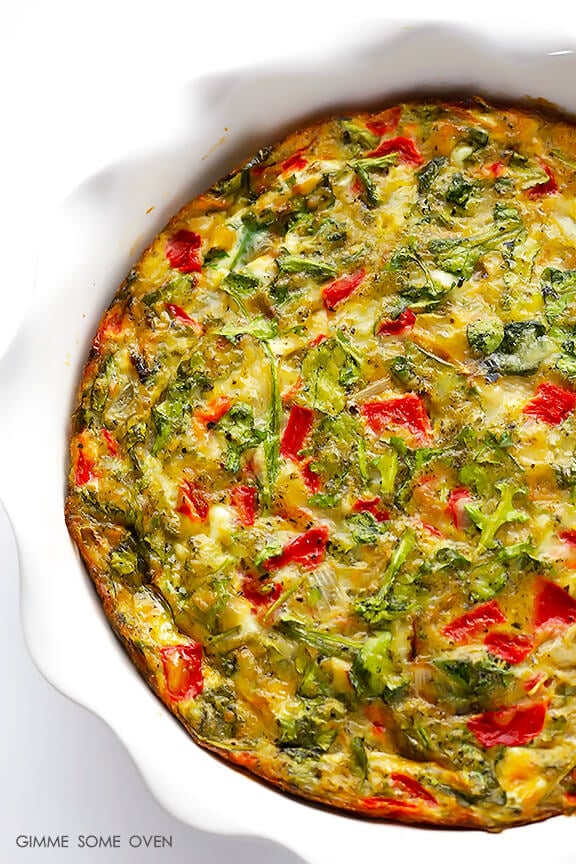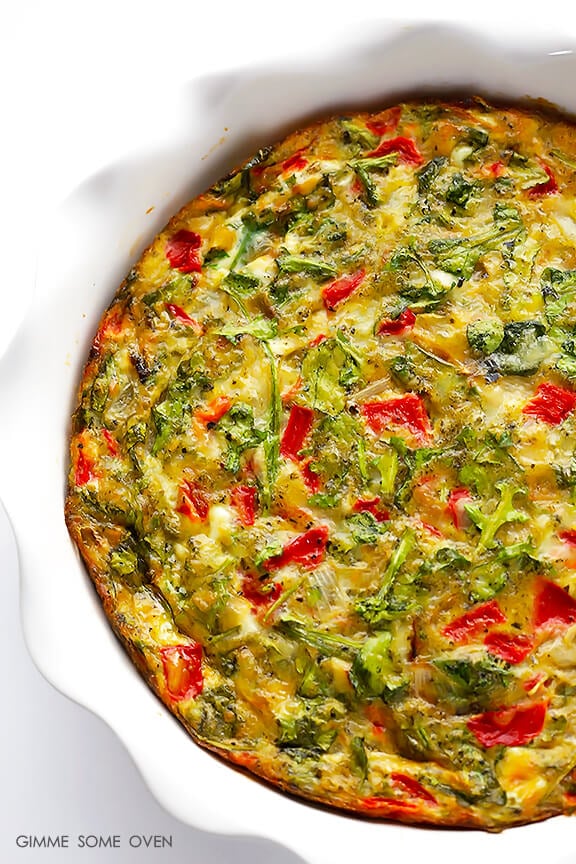 Then I baked it up, crossed my fingers that it would be delicious, and — you know — served it to my friends without having tried a single bite.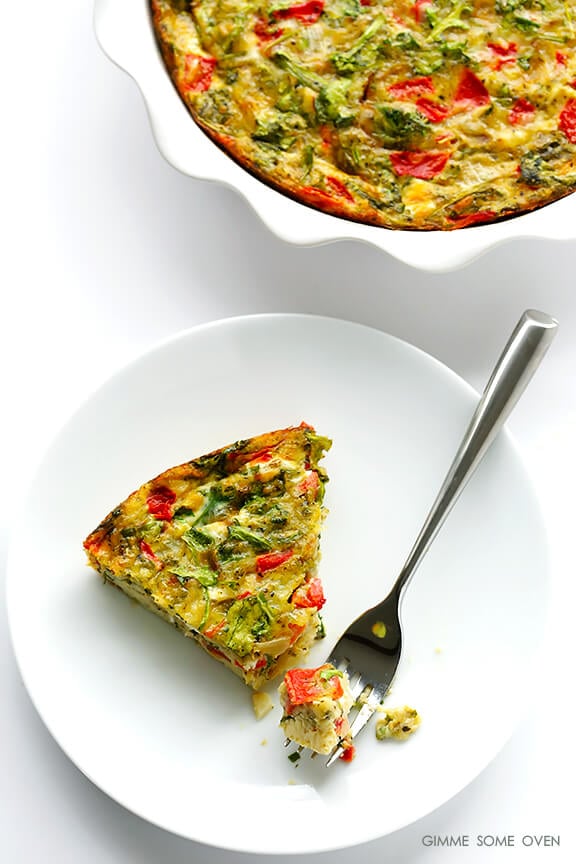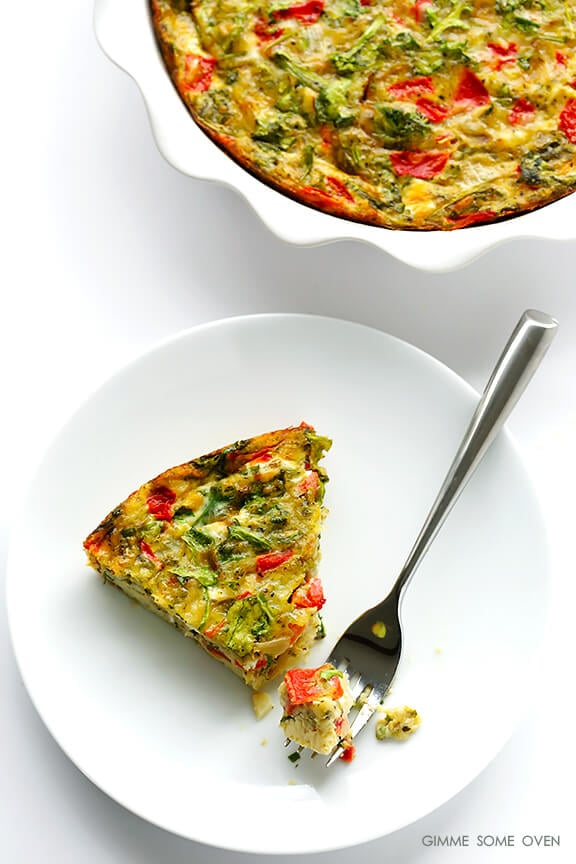 Either I got lucky, or this was just an ingredient match made in frittata heaven.  It was SO GOOD!!!
I'm pretty sure the pesto was to thank for bringing all of the flavors together perfectly, as pesto does so well.  But it was delicious, it was the perfect balance of egg-y and cheese-y, it took me all of 15 minutes to prep, and my friends LOVED it.  Improvised baked frittata for the win!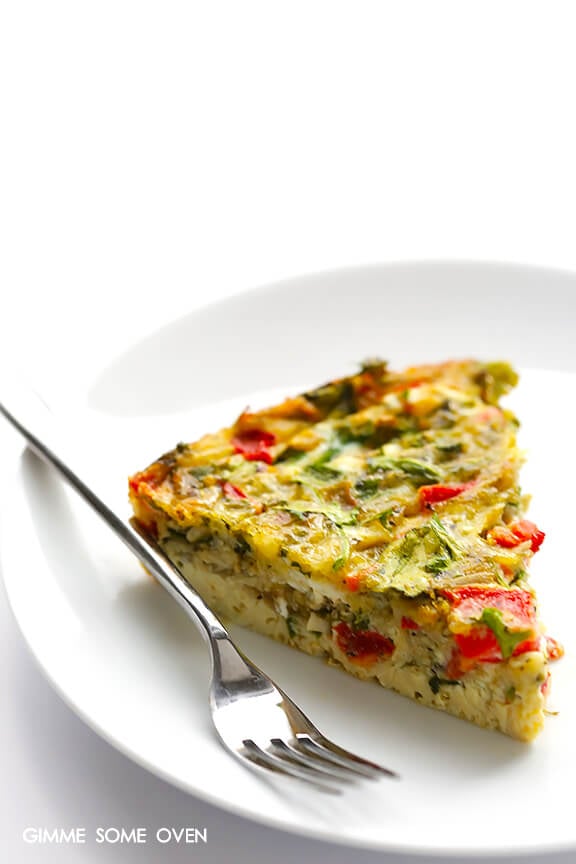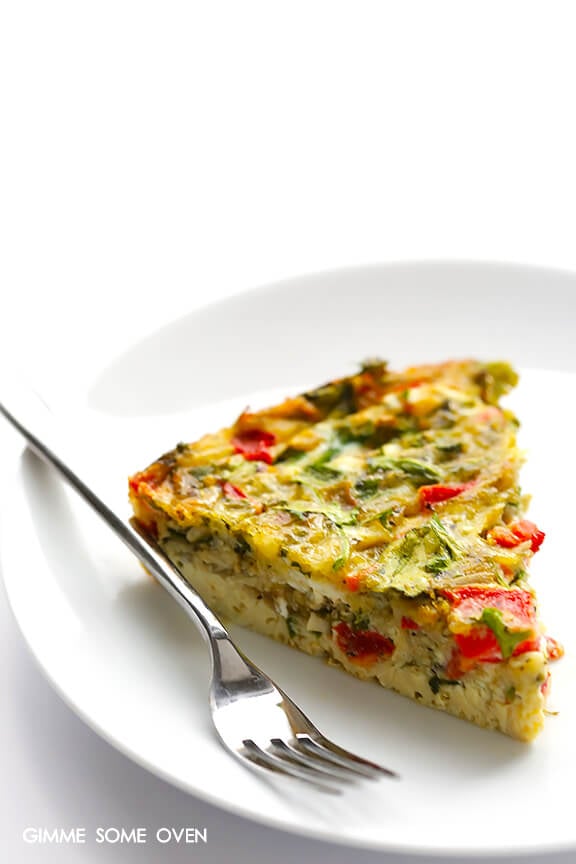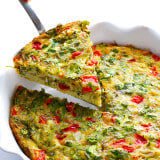 Baked Frittata with Roasted Red Peppers, Arugula and Pesto
This simple Baked Frittata with Roasted Red Peppers, Arugula and Pesto is easy to make, naturally gluten-free, and full of delicious Italian flavor.
Ingredients:
Directions:
Preheat oven to 350 degrees F.  Spray a 9-inch pie pan with cooking spray.
Heat oil in a large saute pan over medium-high heat.  Add onion and saute for 5 minutes, stirring occasionally, until soft and translucent.  Stir in garlic and saute an additional 1-2 minutes until fragrant.  Remove from heat.
In a separate large bowl, stir together the eggs, roasted red peppers, arugula, cheese, pesto, salt and pepper until combined.  Add in the onion mixture, and stir until combined.
Pour the filling into the prepared pie pan.  Bake for 40-45 minutes, or until a toothpick inserted comes out clean. The frittata will rise while baking, but should settle back down once you remove it from the oven. Remove from the oven and allow the frittata to rest for at least 5 minutes. Slice and serve warm.
All images and text ©
If you make this recipe, be sure to snap a photo and hashtag it #gimmesomeoven. I'd love to see what you cook!
This is a sponsored post in partnership with DeLallo Foods.  I am working with DeLallo this year to bring you all sorts of fresh and delicious new Italian recipes, and all opinions are my own as always.  Thanks for supporting the brands that help make this site possible!