The Perfect Baked Potato
My all-time favorite baked potato recipe — perfectly crispy and flavorful on the outside, soft and fluffy on the inside, and totally easy to make.  Be sure to watch the step-by-step video below too!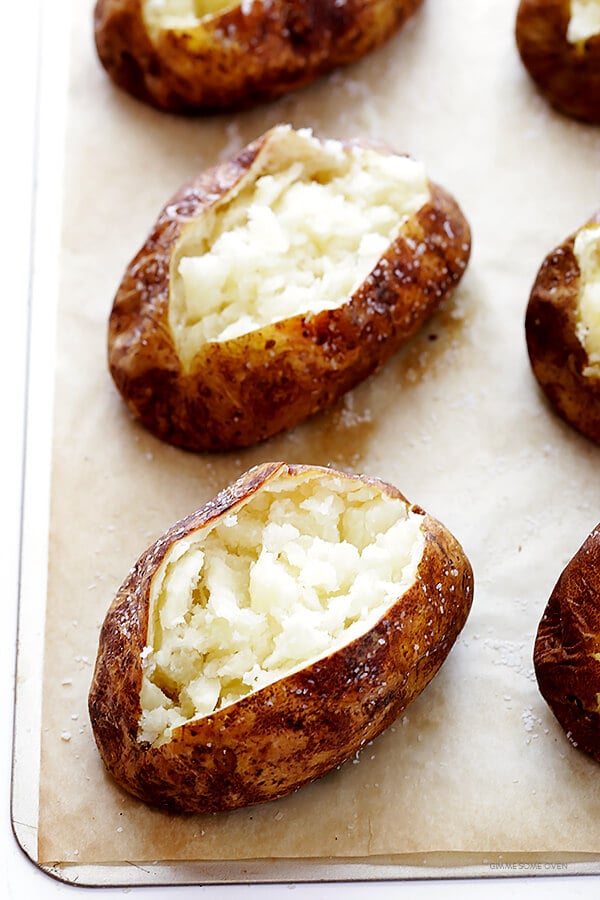 Ever since we arrived home from New Zealand, I have been making up for lost time with friends and family by scheduling about 1.2 million happy hours, coffee dates, brunches, lunches and dinners galore to catch up with everyone.  Which has been awesome, and much-needed, because I miss my people so much when I'm away.  But after being uber-social since arriving, after what was also an uber-social vacation, I realized it was also high time to recharge my introverted batteries.
So this weekend, I did just that.
I cleared pretty much all of my social schedule.  I stocked my fridge with all of my favorite ingredients.  I settled in with my comfiest yoga clothes and new favorite candle.  And I did blissfully nothing all weekend except three things:
Snuggle and go for long walks with my pup.
Binge-watch the entire new season of House Of Cards.
Conquer the art of making the perfect baked potato.
So since I can't share Henry or the HoC spoilers with you, I thought I should probably tell you about this potato today.  ;)
Perfect Baked Potato Recipe | 1-Minute Video
I'll admit — baked potatoes aren't something I usually crave.  But after being a couch potato for two straight days, maybe they actually made some sense.  And after all of those dark and crazy plot twists with the Underwoods, I think that some comfort food (i.e. bacon) was definitely in order.  ;)
The only thing is that I've never been really satisfied with my homemade baked potatoes in the past.  The skins have never been crispy enough.  The insides aren't always evenly cooked.  And, I don't know, I've always felt like they could be better.
So I did what I do to solve every major problem in life: I googled it.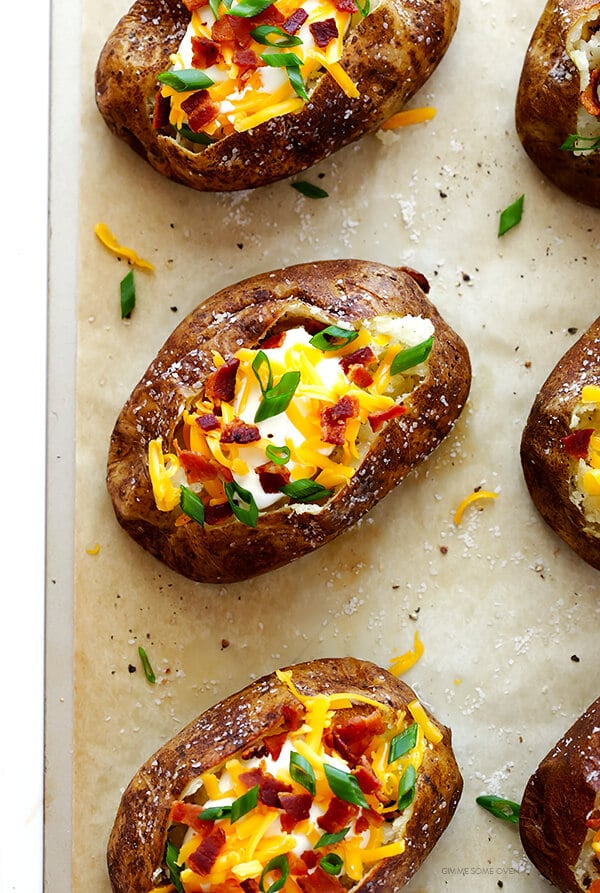 And after some Very Serious Research, I did actually learn a few handy tips and methods that seemed intriguing.  So between episodes, I decided to play Ali's American Test Kitchen and put a few of them to the test.  And about 8 baked potatoes later, I'm happy to report that I have settled upon my favorite.
Here it is!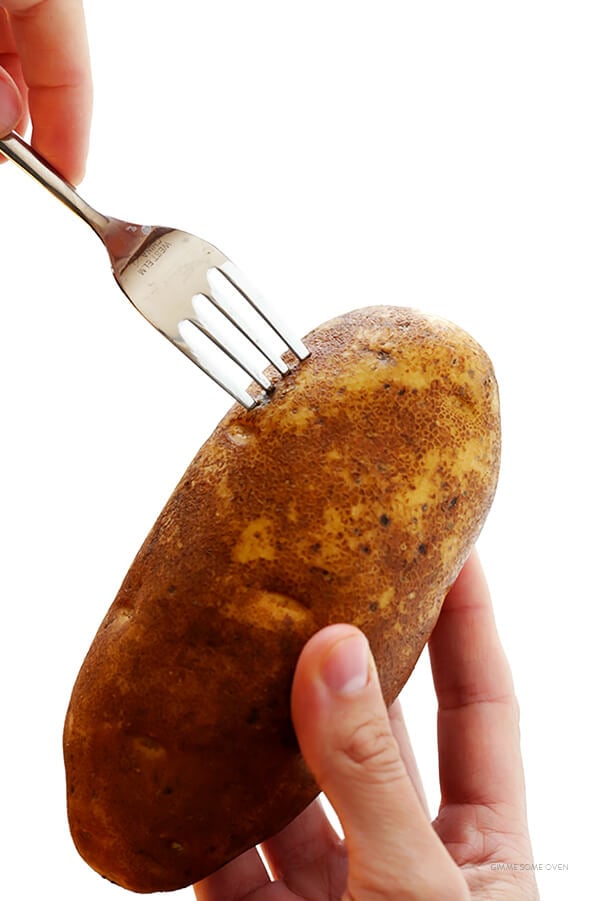 The first tip is probably the most obvious one — you've gotta go with Russets.
Sweet potatoes, Yukon golds, red potatoes — I still love you all.  But when you're in the mood for a good, classic baked potato, it's Russets all the way.  The skins are nice and thick, which are great for crisping up in the oven.  The insides are super starchy, which make for an extra fluffy and sweet filling.  And they're also the cheapest spuds at the grocery store, which is extra-great for entertaining or a cheap dinner!
To begin, preheat your oven to a toasty 450°F.  Then take a fork and give each spud a round of good pokes all over, so that you don't have a potato bomb explode in the oven.  Place the potatoes on a parchment or foil-covered baking sheet (see notes below, at the bottom of the recipe).  (Or alternately, you can also just place the potatoes directly on the baking rack for extra-even cooking.  But your oven will get covered with a sprinkle of salt and oil if you do this, which is why I prefer the cleanup-free baking sheet.)
Bake the potatoes for about 30 minutes.  Then comes the important part…
At this point — about halfway through baking — the potato skins will be slightly dry and wrinkly.  This is good!!!  It will help them be even crispier in the end.  But we've gotta give them some oil to help finish the process.  So grab a pastry brush and quickly brush some oil or melted butter all over the outside of each potato (top and bottom) until they are completely covered.  Then sprinkle some Kosher salt (and black pepper, if you'd like) on each potato to season the skin, and pop 'em back in the oven.
Continue baking for 20 more minutes, turning the potatoes over once more (so you'll bake them for about 10 minutes per side) until the potatoes are totally soft if you squeeze them with a pot holder and the skins are nice and crispy.  Cooking time will vary depending on the size of the potatoes.  But I'd say on average they will take 45-55 minutes total to cook.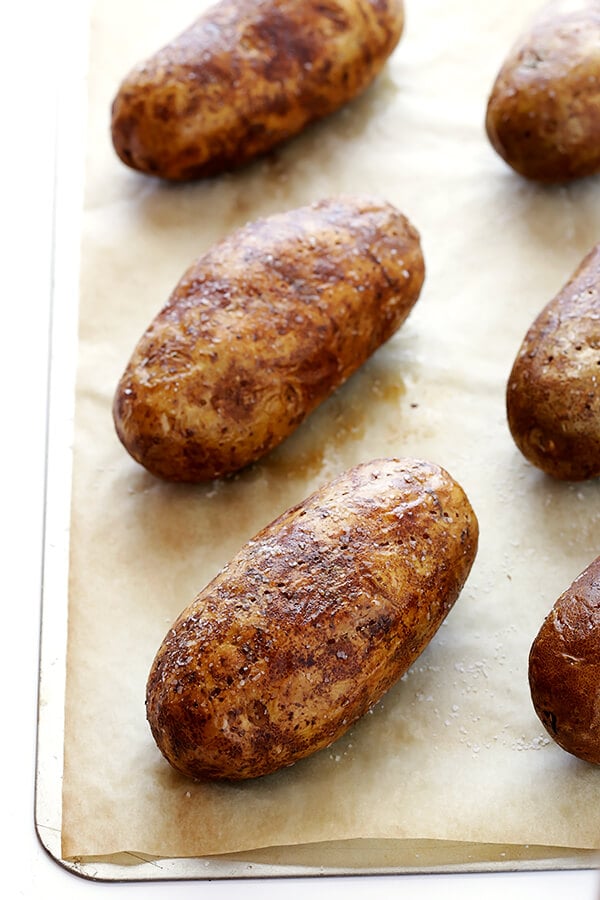 Once they're ready, remove those puppies from the oven…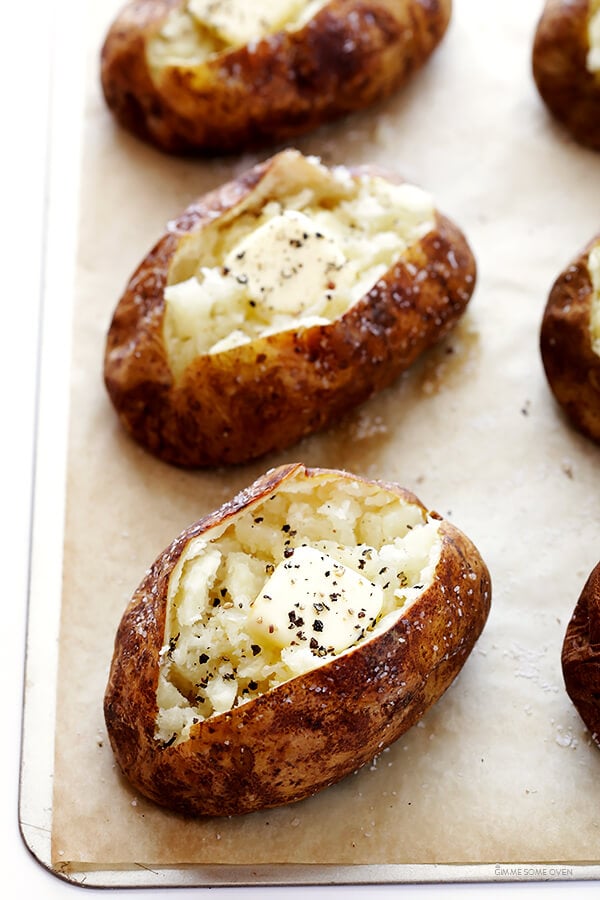 …then just make a nice cut down the middle of each potato and give the ends a little squeeze to open them.  And behold, a perfectly crispy-on-the-outside, soft-and-fluffy-on-the-inside, and oh-so-delicious baked potato is now yours to enjoy.
You can either go the simple route and just serve it with a pat of butter and some salt and pepper…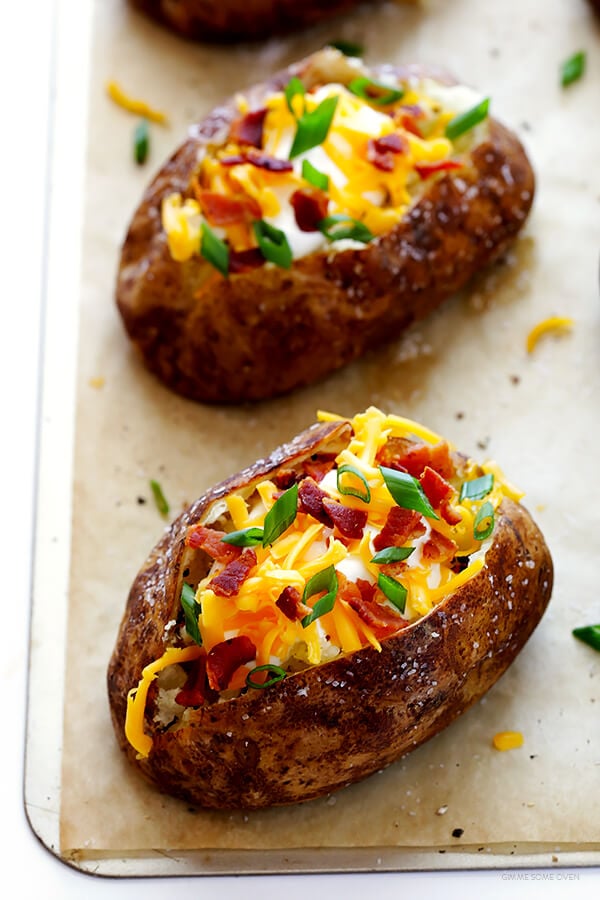 …or you can gussy it up with all of your favorite toppings.  These are what I had on hand this weekend, but the sky's the limit with what sounds good to you.  Broccoli cheese?  Chili?  Guacamole?  Just plain???  You decide.
All I'm saying is that you'll be off to a very tasty start with this method.
Enjoy!!
The Perfect Baked Potato
Learn how to make the perfect baked potato with this step-by-step tutorial and recipe. So easy and delicious!
Ingredients:
1 medium-to-large Russet potato, scrubbed clean of any dirt
olive oil or melted butter
Kosher salt
freshly-cracked black pepper
Directions:
Heat oven to 450°F.  Line a baking sheet with parchment paper or aluminum foil.**
Using a dinner fork or a small paring knife, poke the potato multiple times on all sides.
Place the potato on the baking sheet.  Bake for 25 minutes, then remove from oven.
Using a pastry brush, brush the outside of the potato with olive oil or melted butter until it is completely coated on all sides.  Sprinkle the potato with a generous pinch of Kosher salt, and place the potato back on the baking sheet upside down so that it can cook evenly on both sides.
Return to oven and cook for an additional 20 minutes.  Check for doneness by squeezing the potato (using an oven mitt since it's a hot potato!).  If the insides are nice and soft and give under pressure, remove the potato from the oven.  Otherwise, continue cooking in 5-minute increments until the potato is done.
Use a small paring knife to cut down the middle of the potato, and then give it a squeeze to open.  Serve immediately, with your desired toppings.
*For super-even cooking, you can alternately cook the potato either directly on the oven racks.  Or you can also place a small cooling rack directly on top of your baking sheet, and place the potato on that.  For either of those methods, you can (obviously) skip the parchment paper or aluminum foil.
**If using parchment paper, make sure your paper can tolerate 450 degree heat (Reynolds brand only tolerates up to 425 degrees), as you want to make sure the paper doesn't burn! You can also use aluminum foil.
All images and text ©
If you make this recipe, be sure to snap a photo and hashtag it #gimmesomeoven. I'd love to see what you cook!
This post contains affiliate links.