Banana Pancakes
Ok, is it possible to write a recipe for banana pancakes and not mention Jack Johnson?!?
Literally anytime I hear the words "banana pancakes", that song automatically gets stuck in my head for 2 days.  So being that I made this yummy batch of pancakes a week ago, then edited the photos a few days later, and then wrote the post a few days later, it's safe to say that I have been hearing his ukelele in my dreams.  (Although truth be told, I've been on the fence about purchasing a ukelele for a year, and I think I'm now going to do it – whoo!!)
Still, there's no "pretending it's the weekend" needed today since Labor Day weekend has finally arrived!!!  I am ridiculously excited about this four day weekend.  My goal is quite simple — I plan to not "labor" on work at all, to hang out a LOT with my friends, and make another batch of these banana pancakes…
…which I'm pretty sure you should do too, because these are SO yummy!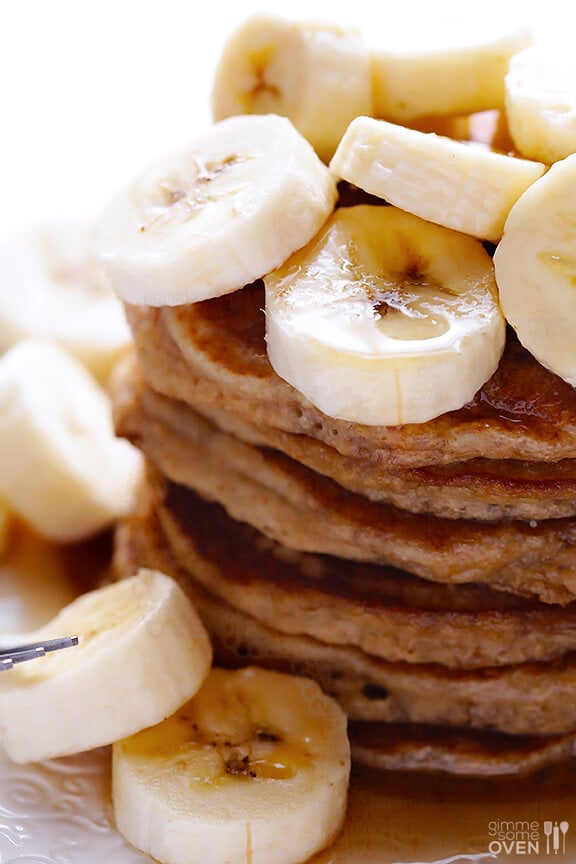 I mean, what's not to love about banana pancakes?  They are pretty much like the best of banana bread — all of those delicious mushy bananas and spices — flipped into a yummy pancake and then drizzled with maple syrup.
No wonder Curious George loves them!  ;)
When I was getting ready to make these, I considered doing some sort of fancy ingredient twist with bananas foster or mixing in some zucchini or something.  But the reality is that sometimes a classic is meant to be a classic.  And I love traditional banana pancakes!!!
Granted, I happen to be in the camp that does not like nuts in my banana bread or on my banana pancakes.  But I realize I'm probably in the minority here.  So if you want to add some pecans or walnuts to the pancake batter or on top, bring it on!!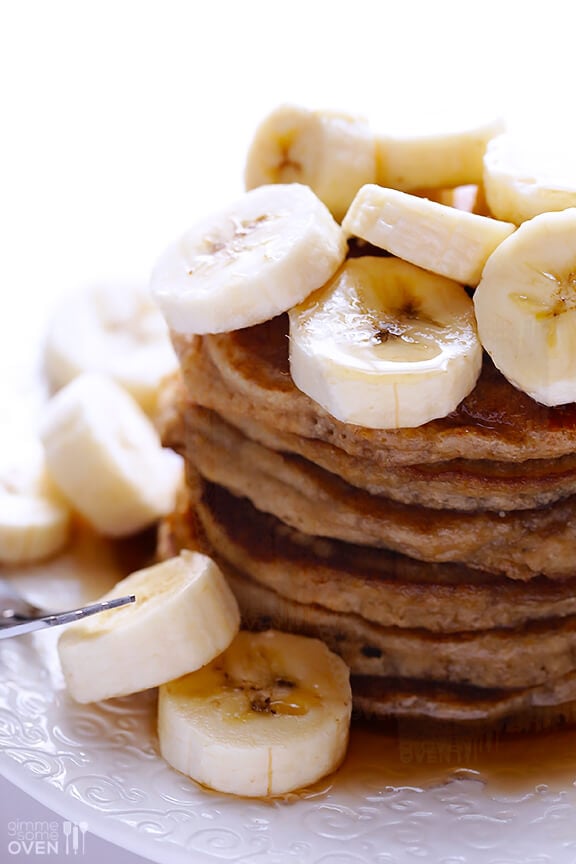 And of course, I highly recommend splurging for some real maple syrup to drizzle all over these.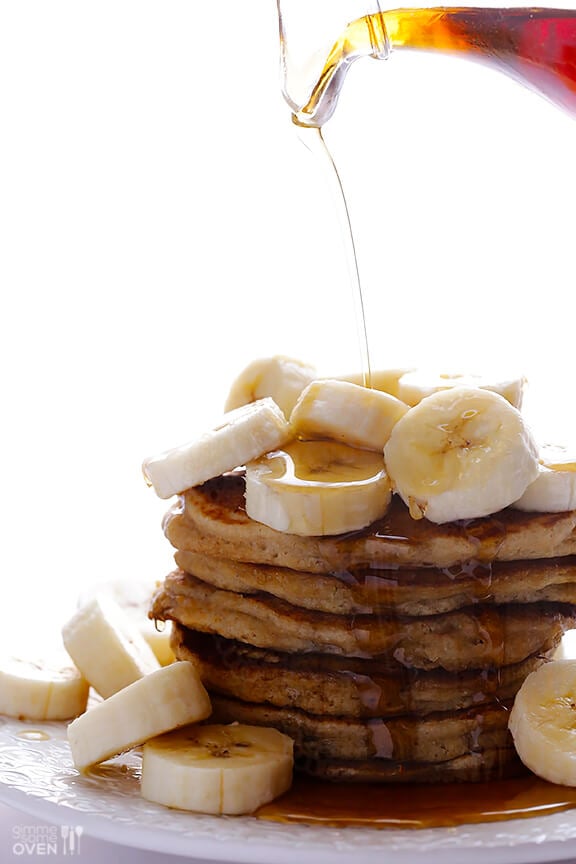 You know they're good when there's literally a puddle of syrup at the bottom of the plate.  ;)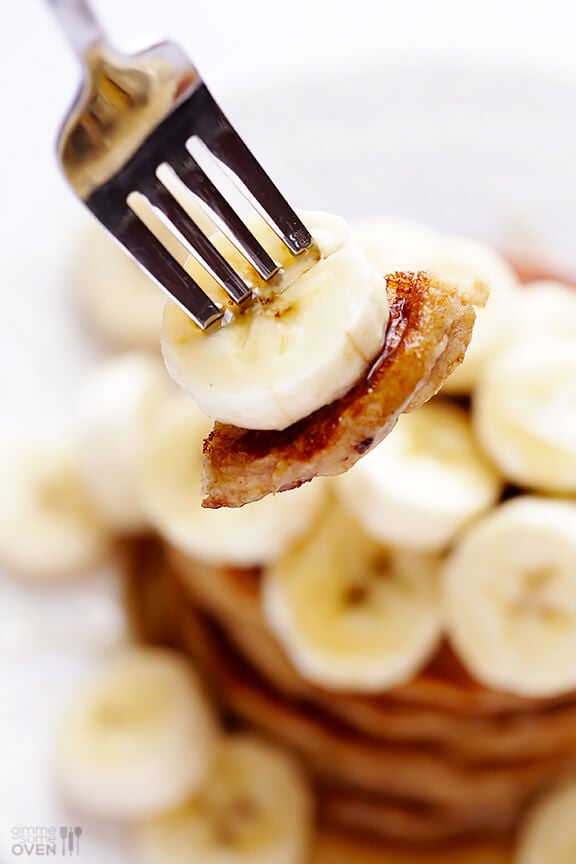 Perfect for the weekend…or when you want to "pretend like it's the weekend"…or really, anytime!
Hope you enjoy.  And Happy Labor Day to all of you!  :)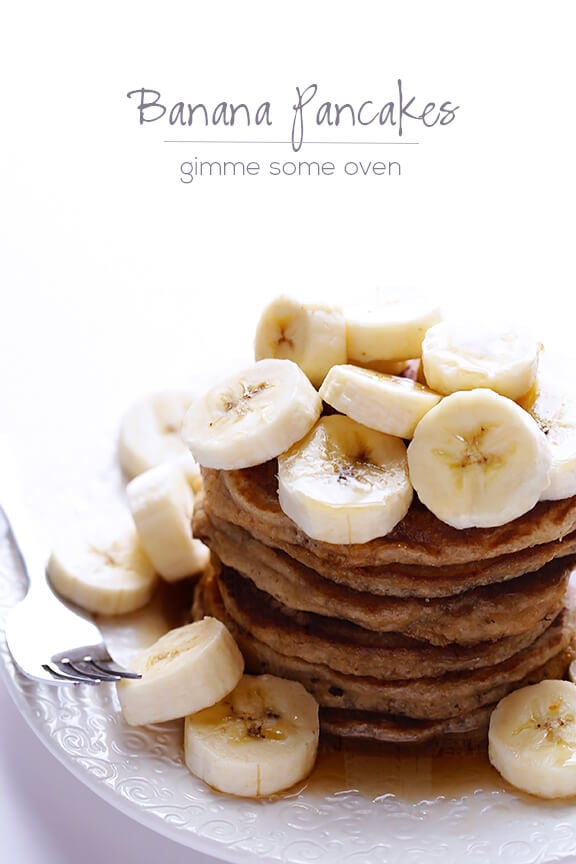 Banana Pancakes
This banana pancake recipe is total comfort food — simple to make, and full of wonderful spiced banana flavor!
Ingredients:
Pancake Ingredients:
1 cup whole wheat white flour OR all-purpose flour
1 Tbsp. granulated sugar
1 Tbsp. brown sugar
2 tsp. baking powder
1/2 tsp. ground cinnamon
pinch of ground nutmeg
pinch of ground ginger
1/4 teaspoon sea salt
1 cup buttermilk (*see note for substitution below if you don't have buttermilk*)
2 Tbsp. melted butter or coconut oil
1 large egg
1 cup mashed ripe bananas (about 2 small bananas)
Optional Topping Ingredients:
maple syrup
butter
toasted walnuts or pecans
extra banana slices
Directions:
In a large bowl, whisk together flour, sugars, baking powder, cinnamon, nutmeg, ginger and salt until combined. In a separate bowl, whisk together the buttermilk, melted butter (or coconut oil) egg and mashed bananas until combined.
When you are ready to make the pancakes, pour the buttermilk mixture into the dry mixture, and stir together until just combined. Be sure not to overmix the batter — it will still be a little lumpy with those bananas!
Heat a skillet or griddle over medium heat, and mist with cooking spray. Pour about 1/4-cup of batter on the heated surface to form a pancake, and let it sit there (untouched) for about 1-2 minutes, or until little bubbles start popping up in the middle and the edges begin to harden. Use a spatula to flip the pancake, then cook for an additional 1-2 minutes until the pancake is cooked through and golden on the outside. Remove and repeat with remaining batter.
Serve warm with your desired toppings.
**If you do not have buttermilk, you can make homemade buttermilk by placing 1 tablespoon or lemon juice in a 1 cup measuring cup. Then fill the rest of the measuring cup with milk. Stir the mixture and let it sit for 10 minutes. Then it's ready to go!
Recipe loosely adapted from Allrecipes.com
All images and text ©
If you make this recipe, be sure to snap a photo and hashtag it #gimmesomeoven. I'd love to see what you cook!