Basil Lime Sorbet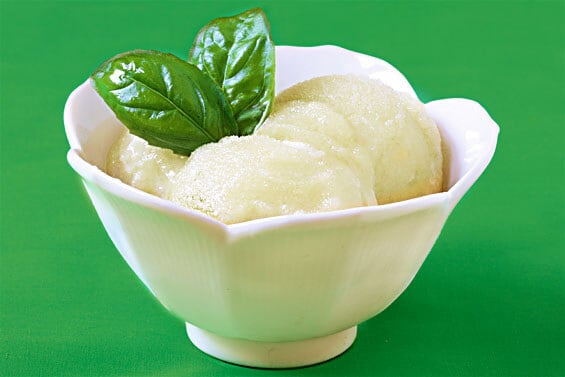 A few weeks ago after our weekly Sunday evening "stairs workout" (I know – I can't believe I do it!), a friend and I decided to reward ourselves by venturing over to our neighborhood's new ice cream shop – Glace.  I'm sure we were quite the sight walking into this trendy, hipster little place literally drenched in sweat.  But as soon as I looked at the fabulously creative menu, and had my first sampling of flavors such as "goat cheese and cherry", "french lavender", "caramelized banana", "salted pretzel", "venezuelan spiced chocolate", and "lemon curd and blueberry"… all cares drifted away and I knew I was in heaven.  :-)
So get ready – my ice cream maker now has a newly reserved space on my counter with a list of new recipe ideas I can't wait to try!  For my first Glace-inspired recipe, decided to try "basil lime sorbet".  My basil crop has been going crazy this summer, and I absolutely love citrus-y sorbets, so I thought this would be a fun recipe to whip up.  Thankfully, it was a total success!  Loved the basil+lime combination, and perhaps even more, loved how easy it was to make.  (Hallelujah – no 10-step custard recipe on this post!)
Another fun thing about sorbet recipes is that they are super-easy to modify to taste.  So if you're at all worried about the basil, just add in a little at a time until you find your perfect sorbet-balance.  :)  (The same goes for the sugar, lime juice, and water.)
A perfect recipe to celebrate the flavors and traditions of summer — enjoy!!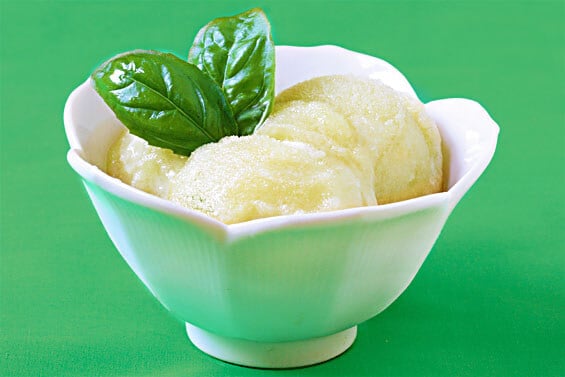 Basil Lime Sorbet
A delicious and simple sorbet – celebrating the best flavors of summer! Detailed recipe and photographs included.
Ingredients:
2 1/2 cups water
2 cups basil leaves, gently packed
1 cup sugar (or more/less to taste)
1/2 cup fresh lime juice
2 Tbsp. lime zest
Directions:
In a saucepan, bring the water and sugar to a boil over medium-high heat.  Boil for 1 minute, then remove from heat and allow mixture to cool for 10 minutes (or more).

Then add the sugar/water mixture, basil leaves and lime juice to a blender.  And carefully (use caution when blending warm liquids) puree the mixture for about 1 minute, or until well-blended..  Pour through fine-meshed strainer, and stir in the lime zest.

Freeze immediately in an ice cream maker according to manufacturer's instructions until slushy-firm.  Scoop into a storage container and freeze until firm enough to scoop.

**If you do not have an ice cream maker,  just pour the mixture into a storage container and freeze.  Remove every half hour or so for a few hours, and use a fork to fluff up the mixture and break up any ice chunks.  It won't be nearly identical in texture to sorbet made with an ice-cream maker, but still delicious!

If you make this recipe, be sure to snap a photo and hashtag it #gimmesomeoven. I'd love to see what you cook!
Ali's Tip:
If you're going for color in your sorbet, feel free to blanch your basil leaves before adding them to the blender.  Just boil a pot of water, pop them in for about 10 seconds, and them quickly remove them and place in ice water.  You'll be amazed at the beautiful vivid green color!