(Skinny!) BBQ Baked Chicken Wings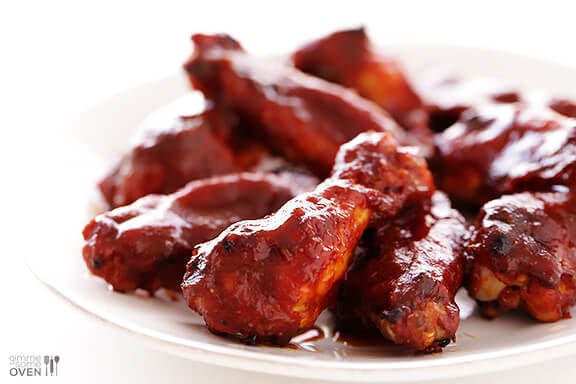 Today's post is a little ode to all things Oz.  :)
First of all, let's talk about my home sweet home in the Land of Oz — Kansas City!  It's no news that "there's no place like home" for me when it comes to KC.  I adore everything about living here — my amazing friends, my family, my loft, my neighborhood, my Chiefs, my church, my coffee shop, my favorite places to hang out, and of course, all of the amazing local restaurants we have here.  But without a doubt, there's no way you can live in Kansas City and also not develop an appreciation for all things BBQ.
Here in KC, we like our BBQ smoky, we like it thick, we like it a little tangy, and we definitely like it sweet.  And while anyone from Kansas City will eagerly offer you their strong opinions about various local BBQ restaurant recommendations (shout out to Oklahoma Joe's!), what we all really love is showing off our original homemade BBQ sauces.
And that's where the other Oz comes in…
I'm going to be on the Dr. Oz show today!!!  I was contacted by the producers last week to see if I'd be up for sending in a video about a "healthier" take on Kansas City bbq.  So if you tune in today, I will be sharing about this delicious healthy recipe that showcases my favorite "skinny" bbq sauce with a recipe that's also perfect for game day — Skinny BBQ Baked Chicken Wings!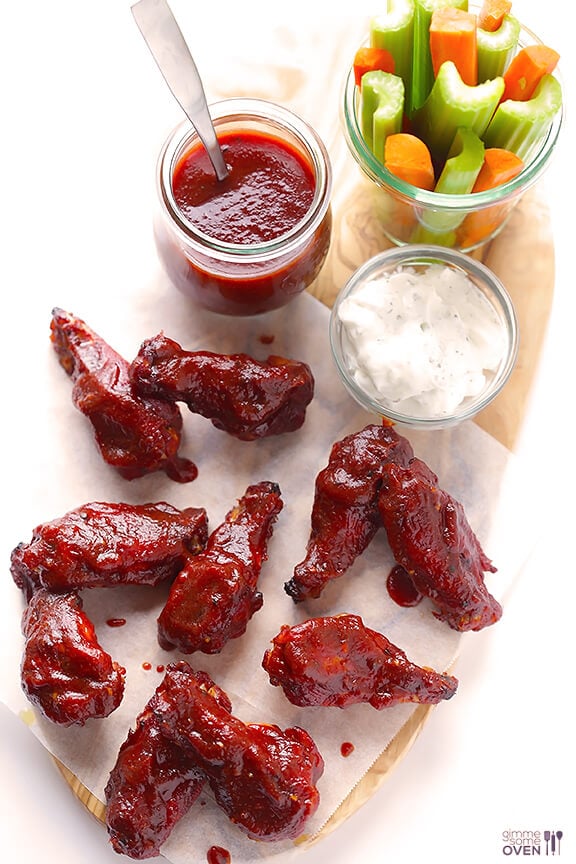 Ok, but before we get to these finger-lickin'-good wings, allow me to back up just a wee bit.
I actually got the call from The Dr. Oz Show producers last week right in the middle of my trip to Utah to cover the Sundance Film Festival.  I was, of course, stoked to hear from them, since Dr. Oz often keeps me company in the afternoons when I'm cooking and photographing recipes at home.  But while I was stoked that they asked me to represent Kansas City bbq, they needed the video pretty much immediately.  And I was hundreds of miles away from my brand new kitchen.
Enter…my good friend, Heidi from Foodie Crush.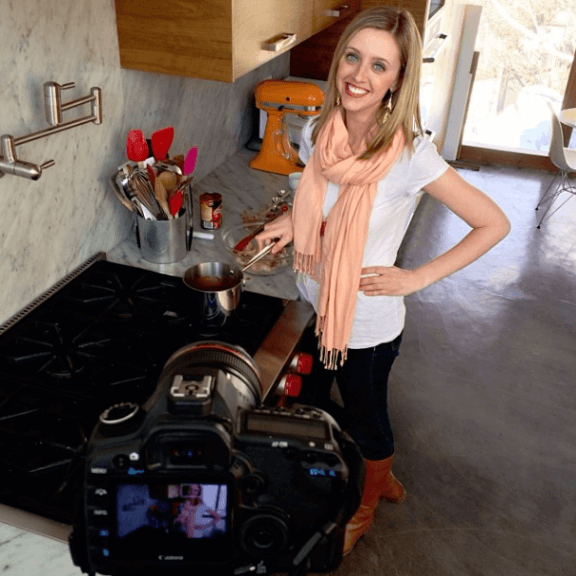 Those who know Heidi know that she is pretty much the best.  She is an incredibly talented food blogger, a creative and faithful cheerleader of other food bloggers, a fabulous magazine editor, a damn good cook, and — more than any of that — a total gift of a friend.  So I was humbled but not surprised when she agreed in a heartbeat to help me film the video and let me borrow her beautiful kitchen the next day.  Yeah, she's amazing like that.
Also amazing?  Her rockstar husband, who in addition to being totally cool and thoughtful and hilarious also turned out to be an expert chicken de-skinner.  I know, ew — right?  That's what I thought when I brought home a few pounds of whole chicken wings covered in gnarly chicken skin.  But while Heidi and I ran out to pick up breakfast burritos, Jeff graciously and patiently transformed the batch into beautiful skinless chicken wings that were much more appetizing with much less fat.  I owe you, Jeff.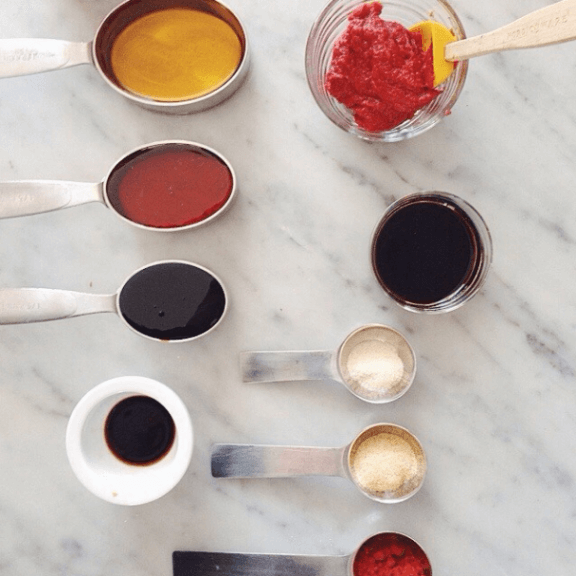 Anyway, amongst her many talents, Heidi also happens to be a pro with video.  So she patiently helped me get everything set up and looking cooking-video-ready in her beautiful kitchen.  And then it was "go time".  You'll have to check out Dr. Oz to see the video.  But here's the photo tutorial for these tasty (and skinny!) BBQ baked chicken wings.
As they had me say, "you've gotta try 'em".  ;)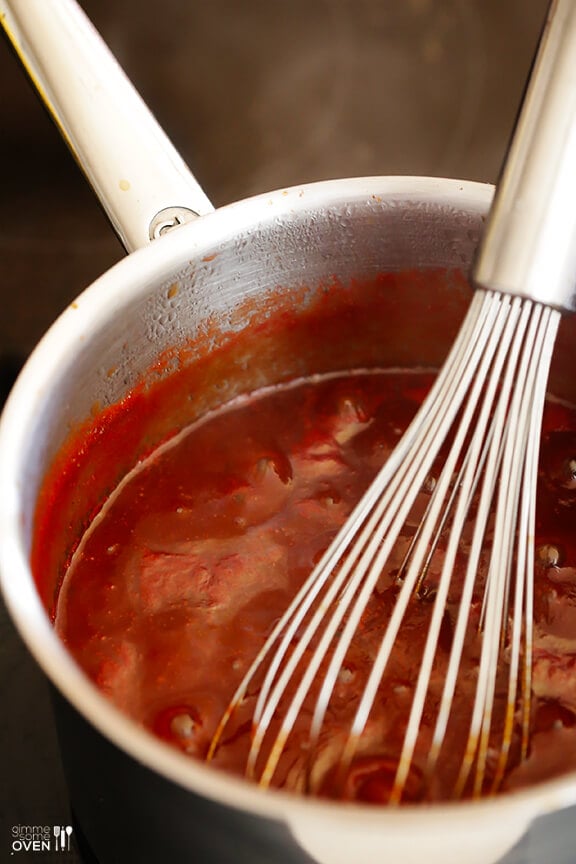 First, we begin with my favorite (skinny) Kansas City BBQ Sauce.  Here's why you seriously need to try it:
It's Easy – So easy.  All you literally need to do is whisk the ingredients together in a pan and let it simmer for 20 minutes.  Done.
It's Made With Natural Sugars – No refined white granulated or brown sugar in this recipe.  It's just sweetened with honey and (the KC secret) molasses.  And with lessened amounts of both, compared to traditional recipes.
No High-Fructose Corn Syrup – Most store-bought bbq sauces (and many ketchups) contain HFCS.  If you're wary about that, then this recipe will set your mind at ease.
It's GOOD – Like, really good.  And it's taste-tested and approved by my highly-critical Kansas City friends.  :)
So like I said, just whisk together the ingredients in a saucepan and let it simmer on the stove for a little while to thicken.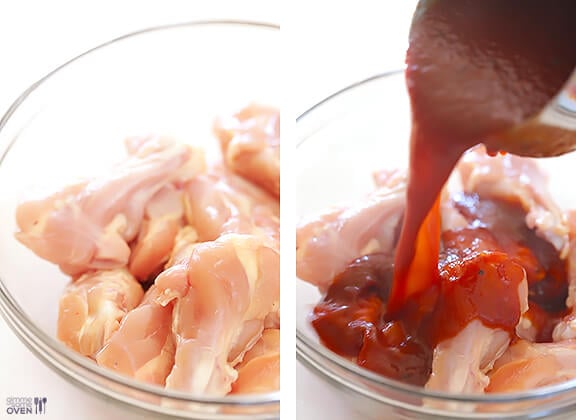 Then combine about half of the sauce with your chicken wings, and toss to coat.  You don't have to skin them if you want to save time.  But while the process is no fun, it definitely helps cut down on unnecessary calories and fat in this recipe.
(Alternative — I also love to make this recipe with chicken drumsticks.  I find them much easier to work with.  But wings seem to be the game day favorite.)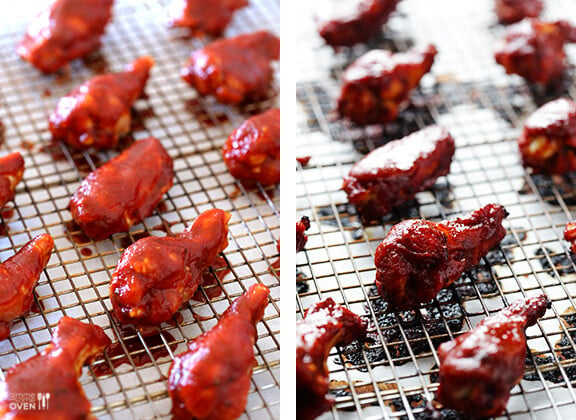 Once those chicken wings are nice and coated, lay them out in a single layer on a parchment-covered baking sheet topped with a wire rack.  The wire rack helps with nice even cooking for the wings.  But if  you don't have a wire rack, you can just lay them directly on the parchment.  Just be sure to flip them halfway during cooking to crisp up both sides.
Bake them up in a nice hot oven, and enjoy the heavenly Kansas City bbq smell that will fill your home during the process.  Then pull them out and brush them with the reserved sauce for an extra saucy finish.  And then serve them!
I guarantee you'll be happily licking your fingers with this recipe, especially knowing that these wings are made with a fraction of the fat and calories of traditional fried chicken wings.  They definitely make the perfect appetizer, game day fare, or heck — we even love them in Kansas City as a main course.  Just say the magic "wings" word, and your friends will come running.
So Kansas City, I hope I do you proud with this recipe.  And huge thanks to Heidi for filming it (and be sure to check out the version Heidi made that weekend as well — Chipotle Honey Baked Chicken Wings).  And big thanks to Dr. Oz for the opportunity to share my take on Kansas City bbq with the country.  I hope you all enjoy it!!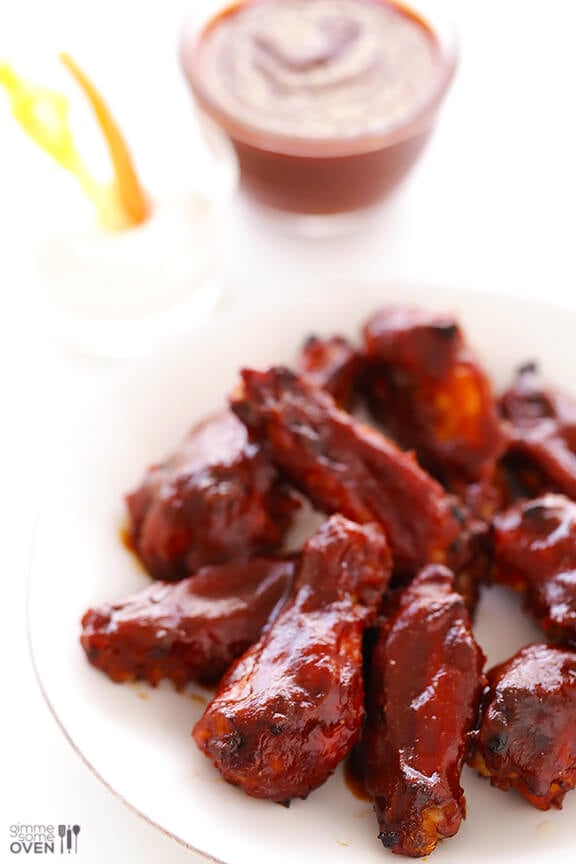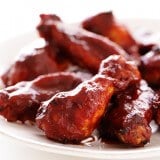 (Skinny!) BBQ Baked Chicken Wings
These Skinny Baked BBQ Chicken Wings are made with a fabulous Kansas City bbq sauce, but without all of the usual sugar!
Ingredients:
Baked BBQ Chicken Wings Ingredients:
Directions:
To Make The Baked BBQ Chicken Wings:
Preheat oven to 425 degrees F. Line a large baking sheet with parchment paper, then place a wire rack on top of it and grease it with cooking spray. (If you don't have a wire rack, you can bake the chicken directly on the parchment.)
In a large mixing bowl, combine chicken wings and half of the bbq sauce. Gently toss to coat.
Transfer chicken wings to the prepared baking rack, and line them up in a single layer. Bake for 25-30 minutes, or until the chicken is cooked through. Remove from oven, then brush with the remaining half of the bbq sauce. Serve warm.
All images and text ©
If you make this recipe, be sure to snap a photo and hashtag it #gimmesomeoven. I'd love to see what you cook!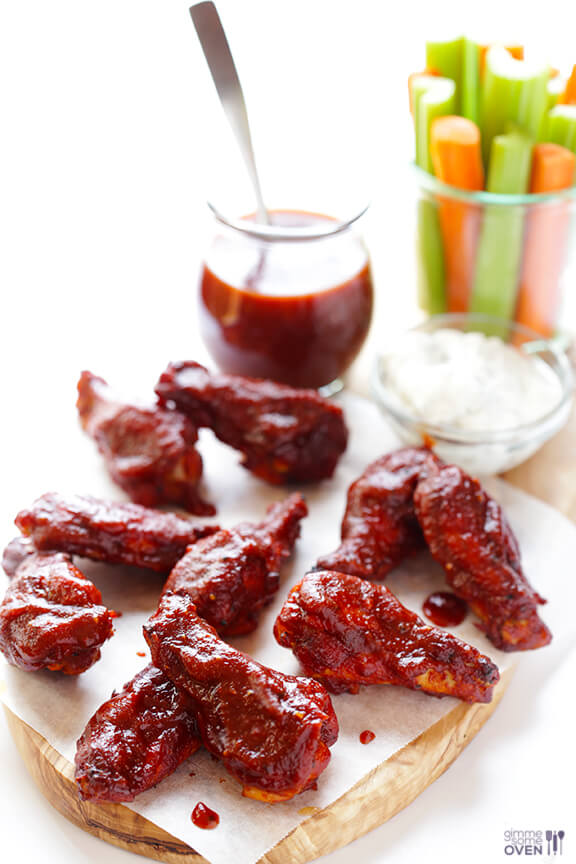 Be sure to also check out the healthier regional recipes from other bloggers that are being featured on The Dr. Oz Show!
Skinny New England Clam Chowder | Jeanette's Healthy Living
Mini Deep Dish Pizzas | Stephanie Eats Chicago
Southern Fried Chicken (Low Carb & Gluten-Free) | I Breathe…I'm Hungry
Chipotle Avocado Mac & Wisconsin Cheese Gluten-Free) | The Newlywed Notebook
Slow Cooker Barbecue Chicken Stuffed Sweet Potatoes with Homemade Maple Pecan Barbecue Sauce | Kitchen Concoctions
Grilled Georgia Peaches with Toasted Granola & Local Honey | Some Kinda Good