BBQ Chicken Enchiladas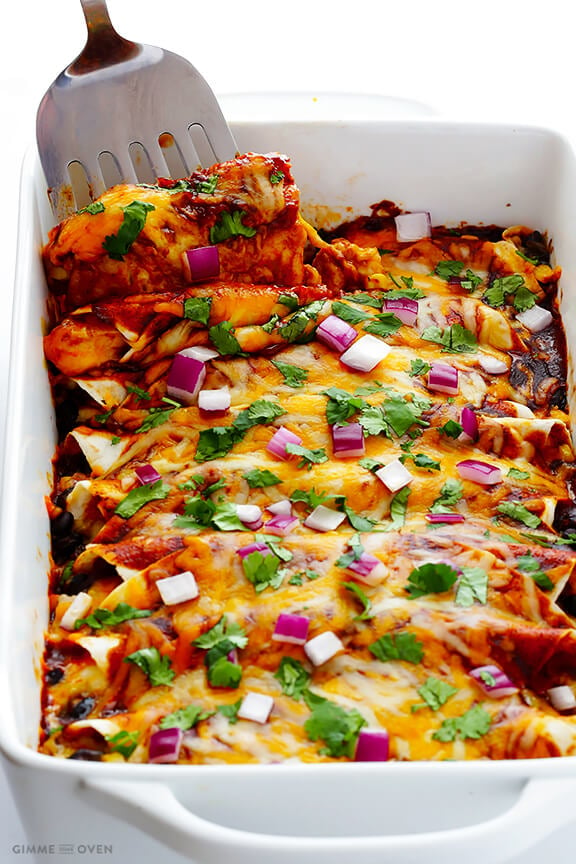 Guess whose city was recently deemed "THE Place To Be"?
Why Kansas City, of course!
I keep seeing this article on "America's Top 5 Cities To Keep On Your Radar" circulating around on Facebook over the past few months, and it always makes my heart beat a little faster with local pride.  Cold weather aside, I have always been a big believer that Kansas City is one of the nation's best kept little secrets.  The people here are the best, the arts scene here continues to impress me, an entrepreneurial culture is exciting and growing, the city is investing big time in downtown (my home!) revitalization, and my favorite — there is some seriously good local food happening here.
If given the option of where to eat, it's no secret that I tend to choose Mexican food 9 times out of 10.  But of course, this town is known for it's BBQ.  So a few weeks ago, I decided to try a little culinary mashup for one of the recipes I'm developing in partnership with Old El Paso, combining the best of Mexican food with the best of Kansas City.  And this delicious success was born.  I'm pretty sure it is "THE Dish You Should Make Next".
BBQ Chicken Enchiladas!
I would argue, of course, that the key to this recipe is some good Kansas City-style BBQ sauce.
Without a doubt, everyone has different (and usually quite strong) preferences when it comes to BBQ sauce.  But here in KC, we like ours sweet, smoky, and tangy, which goes perfectly with traditional chicken enchilada ingredients.  And I would add to that that we like our BBQ sauce naturally-sweetened and homemade (here's the recipe I recommend!), although you're welcome to use the store-bought stuff if you insist.  ;)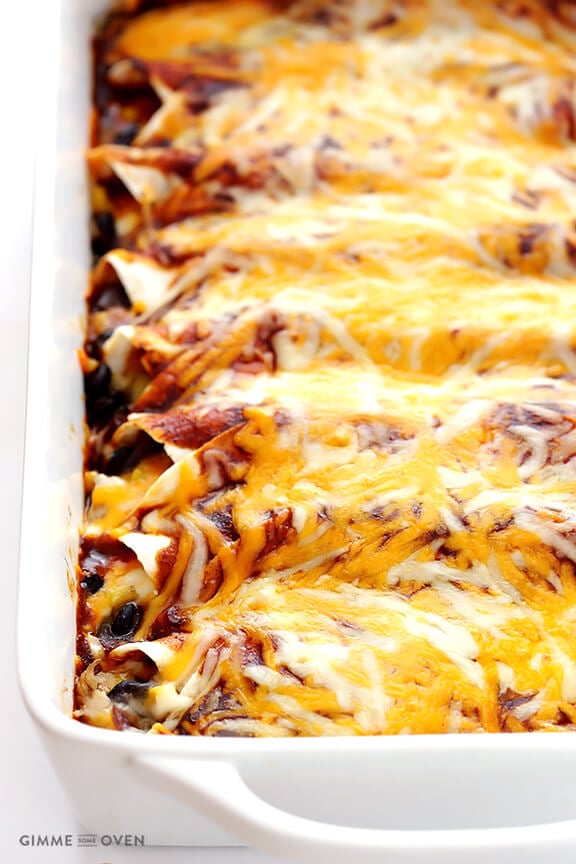 Basically, I just rolled up my favorite chicken enchiladas and covered them in a sauce that's a combination of BBQ sauce and enchilada sauce.  I thought about going with exclusively BBQ sauce — which you could definitely do — but I felt like the combination of the two was actually even better.  The Mexican and BBQ flavor palates both came through subtly, without being too overwhelming.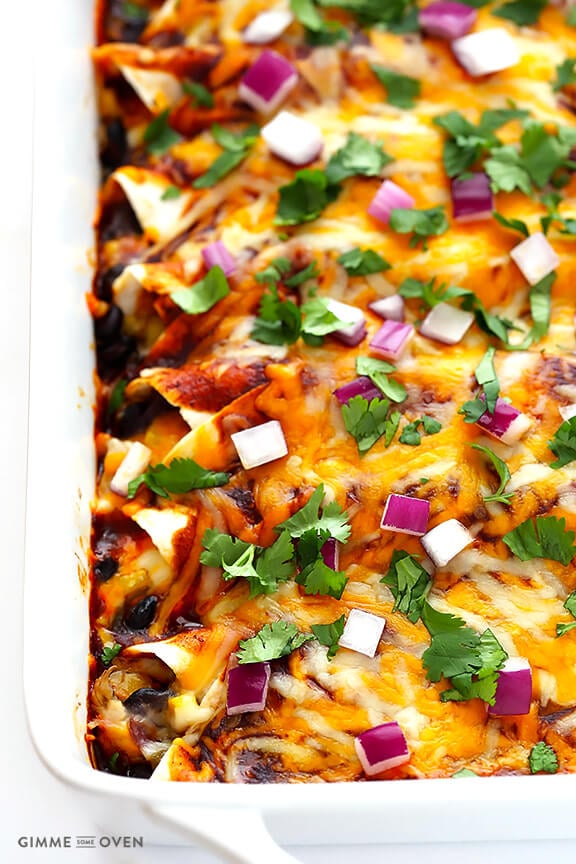 And the result?
Definitely the best of both worlds…in one bite.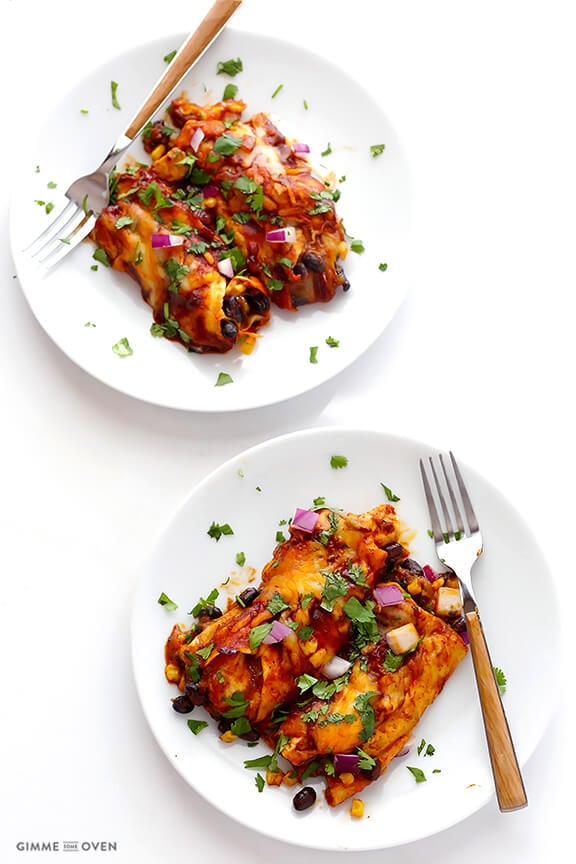 Yep, definitely my kind of comfort food right there.  They are simple to make, nice and hearty without being too heavy, and the sauce definitely steals the show.  Even my friends who weren't huge BBQ fans couldn't stop talking about that mysterious "extra hint of something" in there that took these guys from good to great.
So grab a bottle of your favorite BBQ sauce — or bonus, make some homemade! — and get cookin'!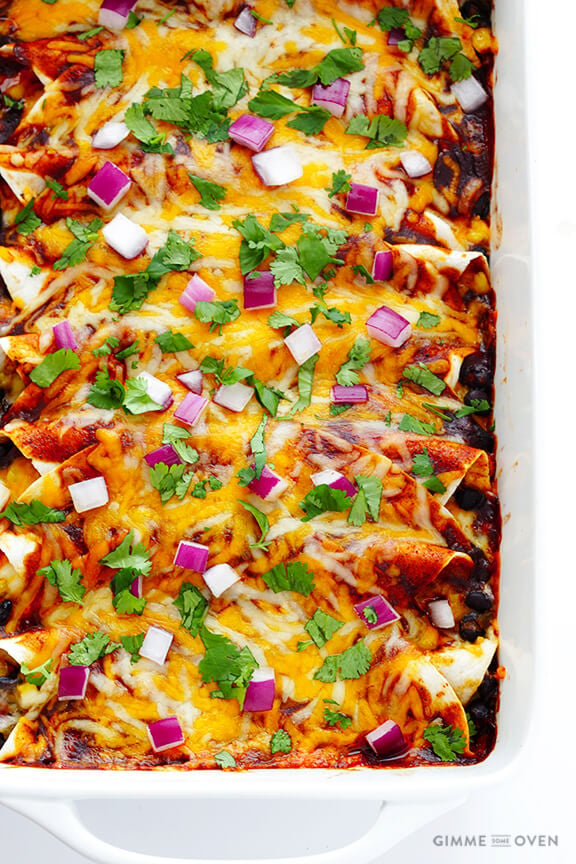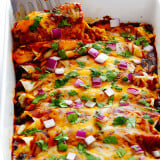 BBQ Chicken Enchiladas
Mexican meets Kansas City in this delicious recipe for BBQ Chicken Enchiladas!
Ingredients:
 2 Tablespoons vegetable oil
1 small red onion, peeled and diced
1.5 pounds boneless skinless chicken breasts, diced into small 1/2-inch pieces (*or see substitution below for using pre-cooked shredded chicken)
salt and pepper
1 (4 ounce) can Old El Paso diced green chiles
1 (15.5 ounce) can black beans, rinsed and drained
½ cup whole-kernel corn
1 (8-count) package Old El Paso large flour tortillas
3 cups Mexican-blend shredded cheese
1 1/4 cups red enchilada sauce, homemade or Old El Paso
½ cup BBQ sauce, homemade or store-bought
(optional toppings: 1/4 cup chopped fresh cilantro, extra diced red onions)
Directions:
Preheat oven to 350 degrees F.
In large skillet, heat oil over medium-high heat. Add red onion and saute for 3 minutes, stirring occasionally.  Add diced chicken and green chiles, and season with salt and pepper.  Saute for 6-8 minutes, stirring occasionally, or until the chicken is cooked through.  Stir in beans and corn until combined.  Remove from heat and set aside.
In a separate bowl, whisk together enchilada sauce and BBQ sauce until combined.  Set aside.
To assemble the enchiladas, lay out a tortilla on a flat work surface then spread two tablespoons of sauce over the surface of the tortilla.  Add a few spoonfuls of the chicken mixture, then sprinkle with 1/3 cup cheese. Roll up tortilla and place in a greased 9 x 13-inch baking dish. Repeat with the remaining ingredients and filling ingredients.  Then spread the remaining enchilada sauce on top of the tortillas, and sprinkle on the remaining shredded cheese.
Bake uncovered for 20-25 minutes until the cheese is melted and the tortillas are crispy around the edges.  Remove from oven and serve immediately, garnished with chopped fresh cilantro and extra diced red onions if desired.
All images and text ©
If you make this recipe, be sure to snap a photo and hashtag it #gimmesomeoven. I'd love to see what you cook!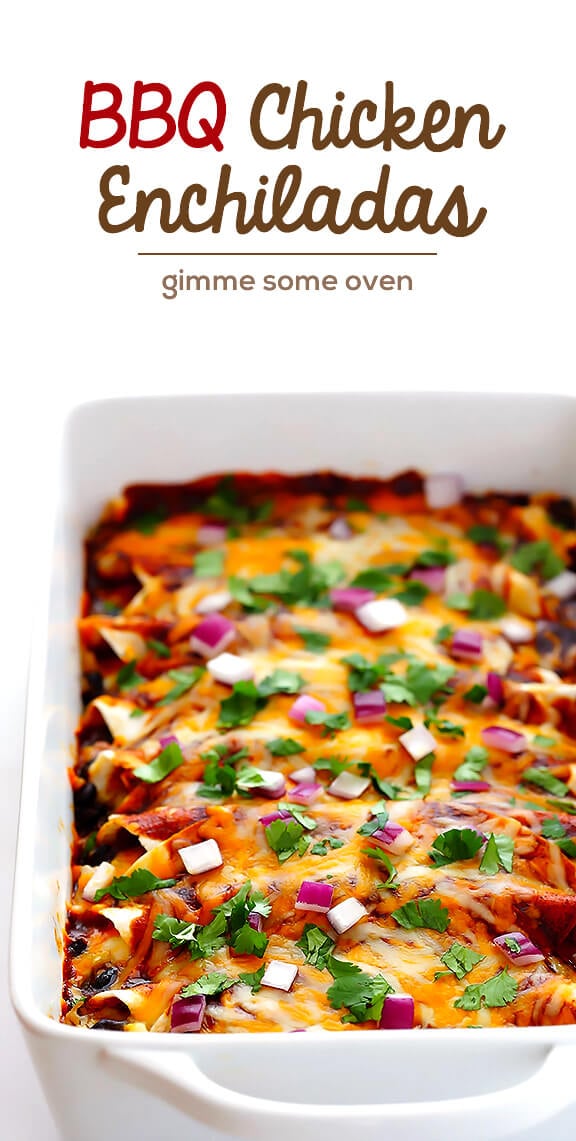 This is a sponsored post in partnership with Old El Paso.  I am partnering with them this year to develop all sorts of new Mexican recipes to share with you, and all opinions are my own as always.  Thanks for supporting the brands which help make this site possible!