Red Enchilada Sauce
Learn how to make homemade red enchilada sauce with this easy recipe!  It's so simple to make, and so delicious that I bet you'll never return to the canned stuff.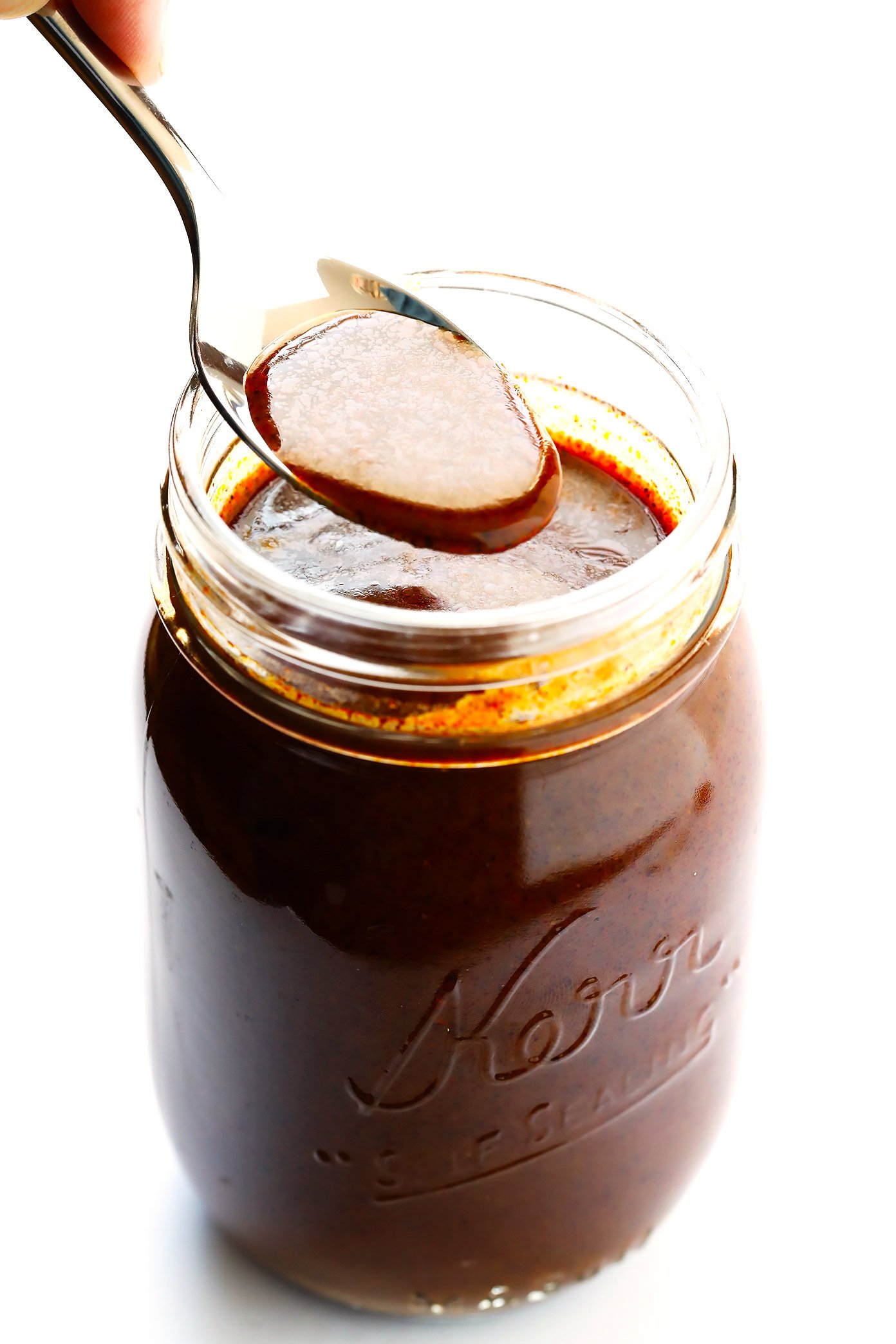 Every time I make the sauce for my favorite chicken enchiladas, I feel like the enchilada sauce itself is so good that deserves its own post.
Believe me, people.  This recipe will knock your socks offffffff.
I guarantee you will never go back to the canned store-bought stuff again.  This sauce is a breeze to make, calls for simple ingredients, and is insanely delicious.  Whenever I am making enchiladas, I will often whip up a double batch of the sauce to use in some chicken soup, as a marinade, or to some salsa or quesadillas up a notch.  Really, it is so good.
Just make sure that you pay the extra dollar for some good-quality chili powder.  You will taste the difference.  And love it.
Did I say you'll love it?
Homemade Enchilada Sauce Recipe Video (1-Minute!)
Update 3.31.14 — SO many of you readers have used and loved this sauce over the past few years that I decided to post some new photos of the sauce, after making it for the 492th time.  :)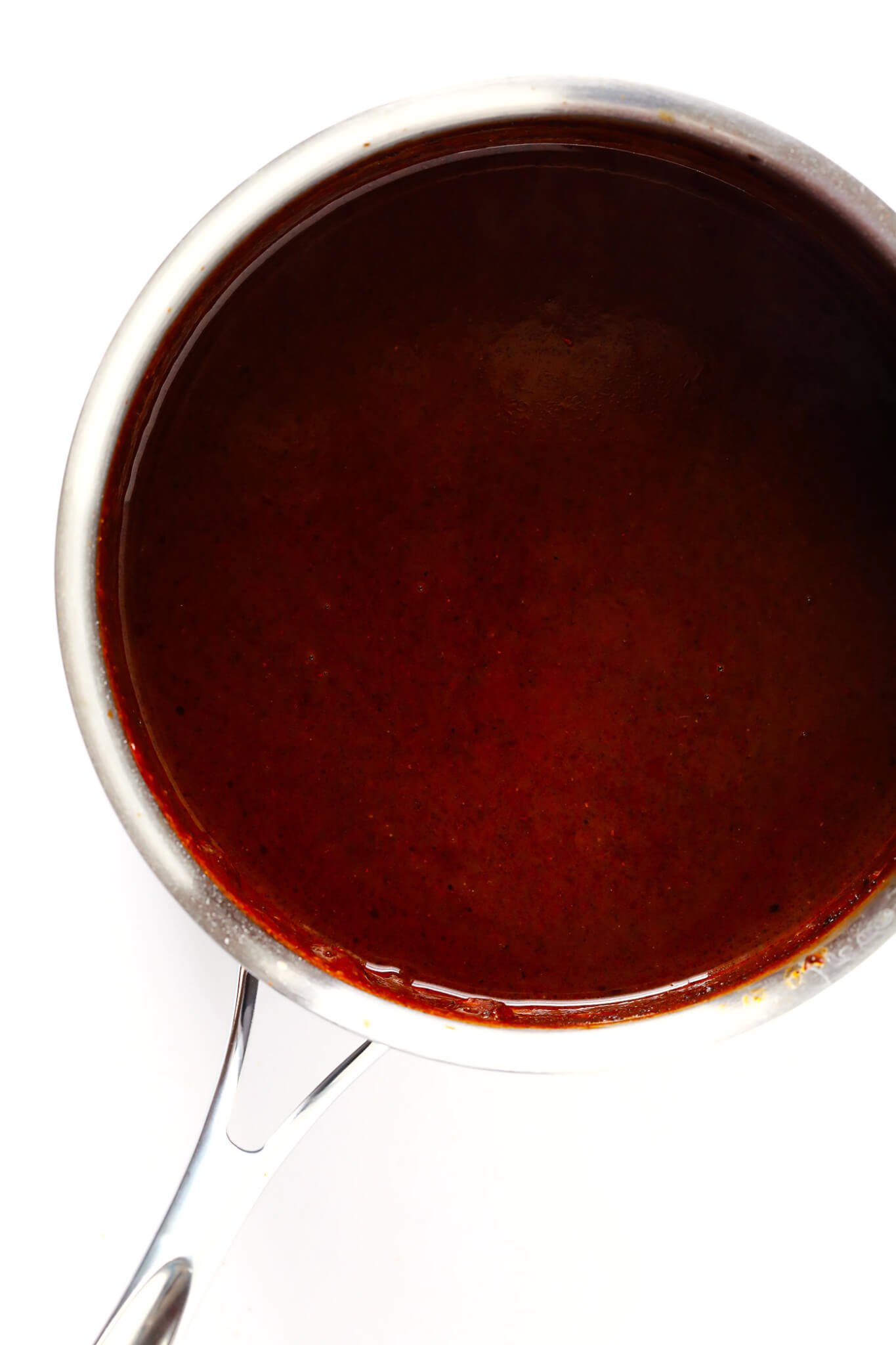 Also, a number of people have commented on the color of the sauce.  Different chili powders that I have used sometimes make the sauce more brown and sometimes more red.  I shoot my photos about a foot away from a window, so the backlighting can make the photos also appear more vibrant.  Whatever color it comes out, though, this sauce is always crazy good.
Just be sure to buy chili powder (not cayenne, also known as "crushed red chili powder"), and simmer the sauce for however long it takes to reach your desired thickness.  The sauce will not be super thick, but should not be overly runny.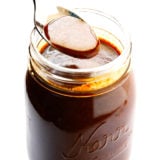 Red Enchilada Sauce
This homemade red enchilada sauce is WAY better than anything you can buy in the can, and quick and easy to make as well!
Ingredients:
Directions:
Heat oil in a small saucepan over medium-high heat. Add flour and whisk together over the heat for one minute. Stir in the remaining seasonings (chili powder through oregano). Then gradually add in the stock, whisking constantly to remove lumps. Reduce heat and simmer 10-15 minutes until slightly thickened.
Use immediately or refrigerate in an air-tight container for up to 3 days.  (I like to use mason jars or Weck jars to store this sauce.)
*I consider this sauce pretty mild.  But if you are wary about heat/spice in your sauce, I would begin with 2 tablespoons chili powder and add more from there once the sauce has reached a simmer if you'd like.  Or if you'd like a smokier sauce, I recommend using 3 tablespoons chili powder and 1 tablespoon chipotle powder.
Again, though, this recipe calls for traditional American chili powder, not cayenne.  From the comments, it sounds as though chili powders vary significantly from country to country.  But the traditional American chili powder is fairly mild, and should not be overly spicy.  Some brands I recommend include:
Morton & Bassett Chili Powder
Penzey's Spices Mild or Medium Chili Powder
Spice Islands Chili Powder
Simply Organic Chili Powder
All images and text ©
If you make this recipe, be sure to snap a photo and hashtag it #gimmesomeoven. I'd love to see what you cook!
This post contains affiliate links.
Looking for some good recipes to use this homemade enchilada sauce?  Here are some of my faves: