The BEST Enchilada Sauce!
Truly the BEST homemade enchilada sauce recipe!  It's super simple to make, and a million times better than the canned stuff.  (Also be sure to check out my new recipe for Green Enchilada Sauce too!)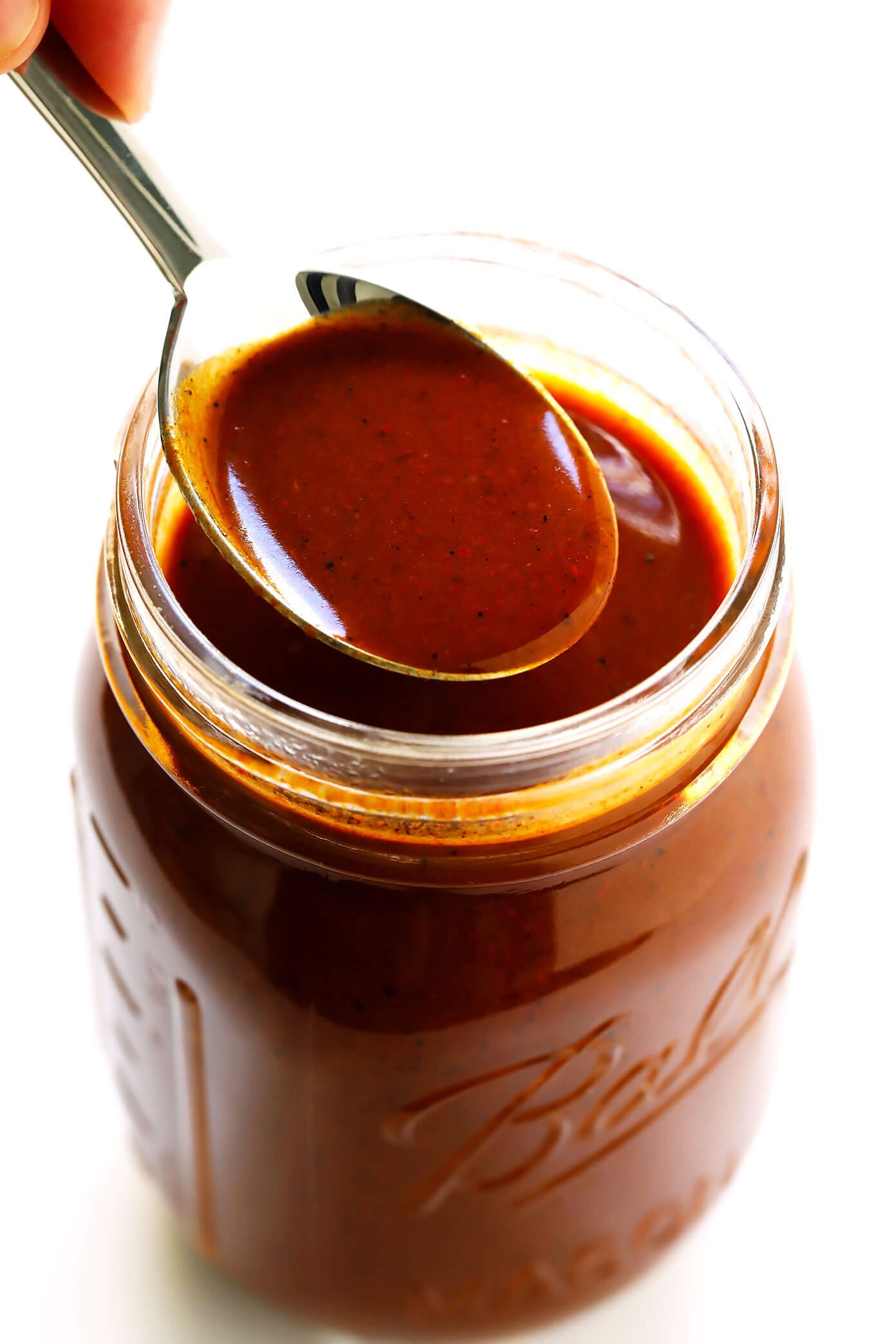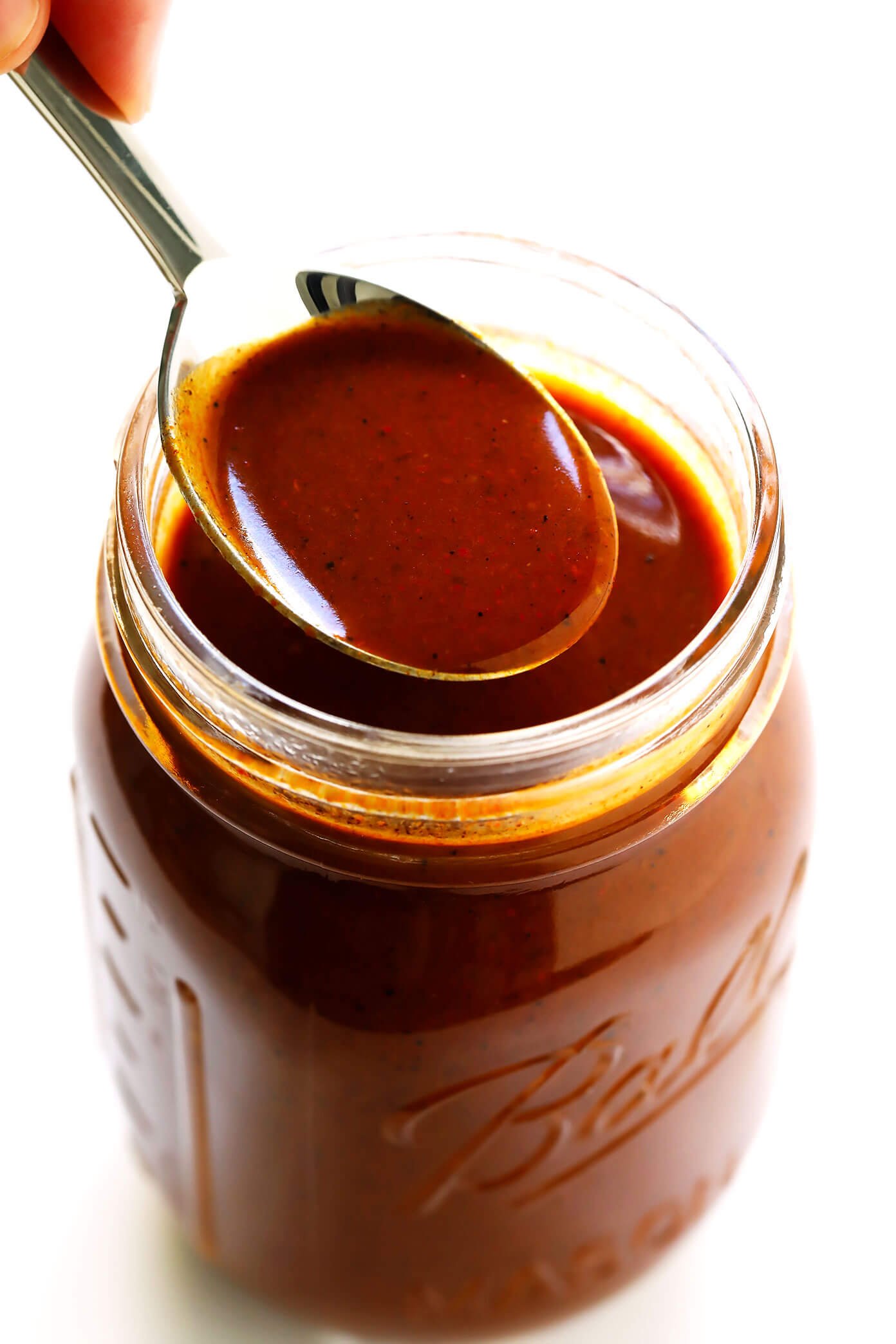 My best tip for how to make a killer pan of homemade enchiladas?
This homemade enchilada sauce recipe. ♡
It has been the secret ingredient in my favorite enchilada recipe for years.  And inevitably, every time I make a pan of enchiladas for a dinner party, or take some enchilada soup to a friend with a new baby, or whip up a quick batch of enchilada nachos, or add the sauce to some shredded chicken for Taco Tuesday — someone always asks for the recipe to this magical enchilada sauce.
It's a million times better than anything you can buy in the can.  And even better?  It only takes about 20 minutes to make, and calls for simple ingredients that you probably already have in your pantry.  Let's make some!
Homemade Enchilada Sauce Recipe | 1-Minute Video

Homemade Red Enchilada Sauce Ingredients:
To make this enchilada sauce recipe, you'll need (affiliate links included):
Chili powder: As in, the classic American* chili powder, such as this.  This is the main seasoning in this simple sauce, so I recommend buying a good-quality brand.  I sometimes also like to use a 50/50 blend of half chili powder + half ancho chili powder (or chipotle chili powder).
Garlic powder, ground cumin, dried oregano, and salt: These will be the other seasonings in your sauce.
Oil and flour: To make the roux to thicken the sauce. Any kind of mild-flavored oil or butter will do.  And if you are gluten-free, you can use an all-purpose gluten-free flour blend.
Veggie or chicken stock: This will form the broth for your sauce.
*International readers: Please note that American chili powder is very different than chili powder in other countries.  The American version is quite mild, whereas chili powders in Australia, Europe, and other places around the world are more similar to cayenne (aka — very spicy!).  I really recommend finding a bottle of American-style chili powder to make this recipe.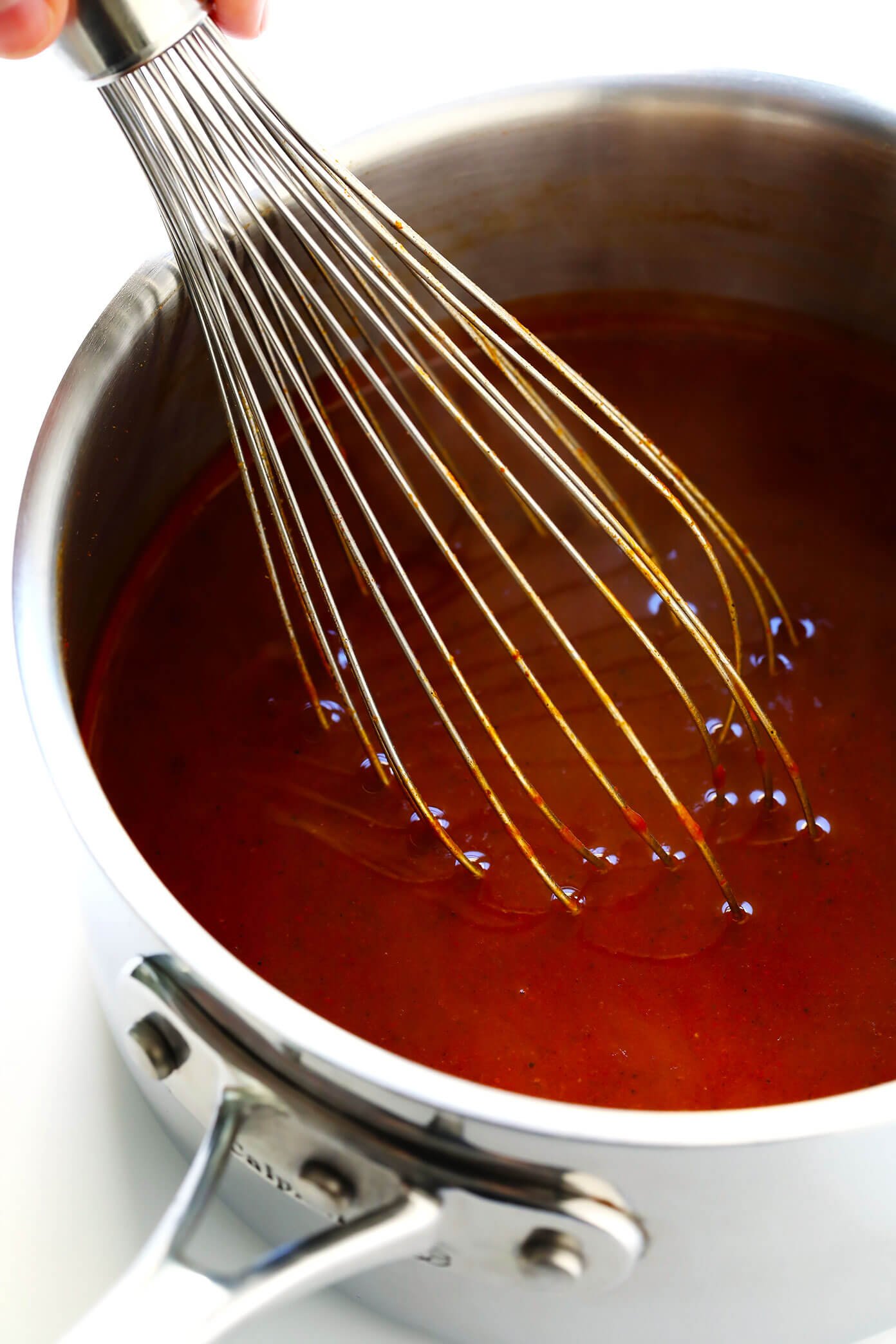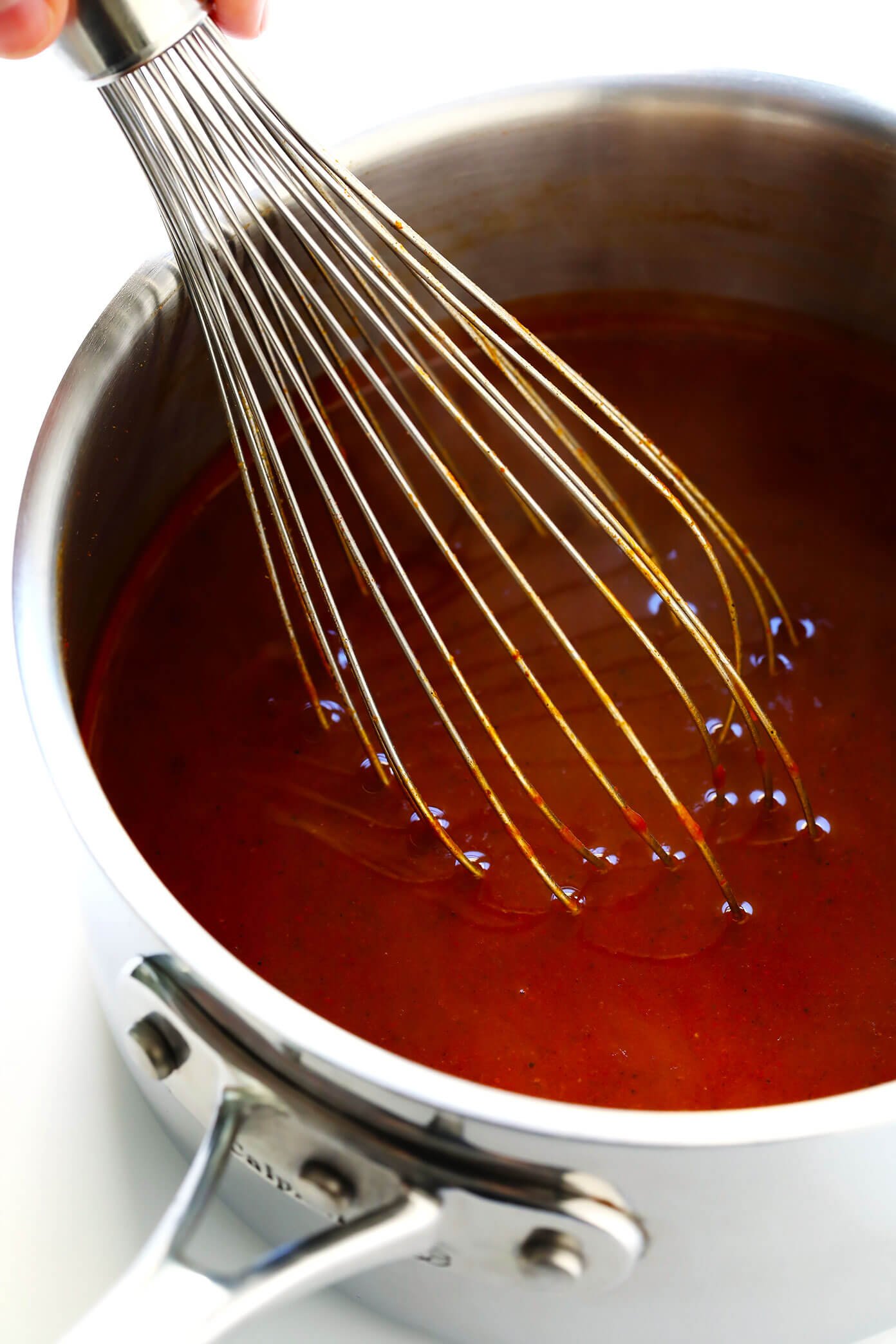 How To Make Enchilada Sauce:
To make this enchilada sauce recipe, follow these simple steps:
Make your roux: Heat your oil (or butter) in a saucepan.  Then whisk in the flour until combined, and cook for 1 minute or so.
Stir in seasonings: Then add in the chili powder, garlic powder, salt, cumin and oregano and cook for 1 more minute.  This will help toast the spices just a bit.
Whisk in broth: Next, gradually whisk in your sauce until most of the clumps have dissolved and the sauce is smooth.  (That said, it's ok if there are a few small clumps.)
Simmer and reduce: Bring the sauce to a simmer, then reduce the heat and let it continue simmering until the sauce reaches your desired consistency.  I like mine just slightly thickened, but you can let your simmer for longer if you would like it to be really thick.
Serve!  Then once the enchilada sauce has reached your desired consistency, it's ready to serve!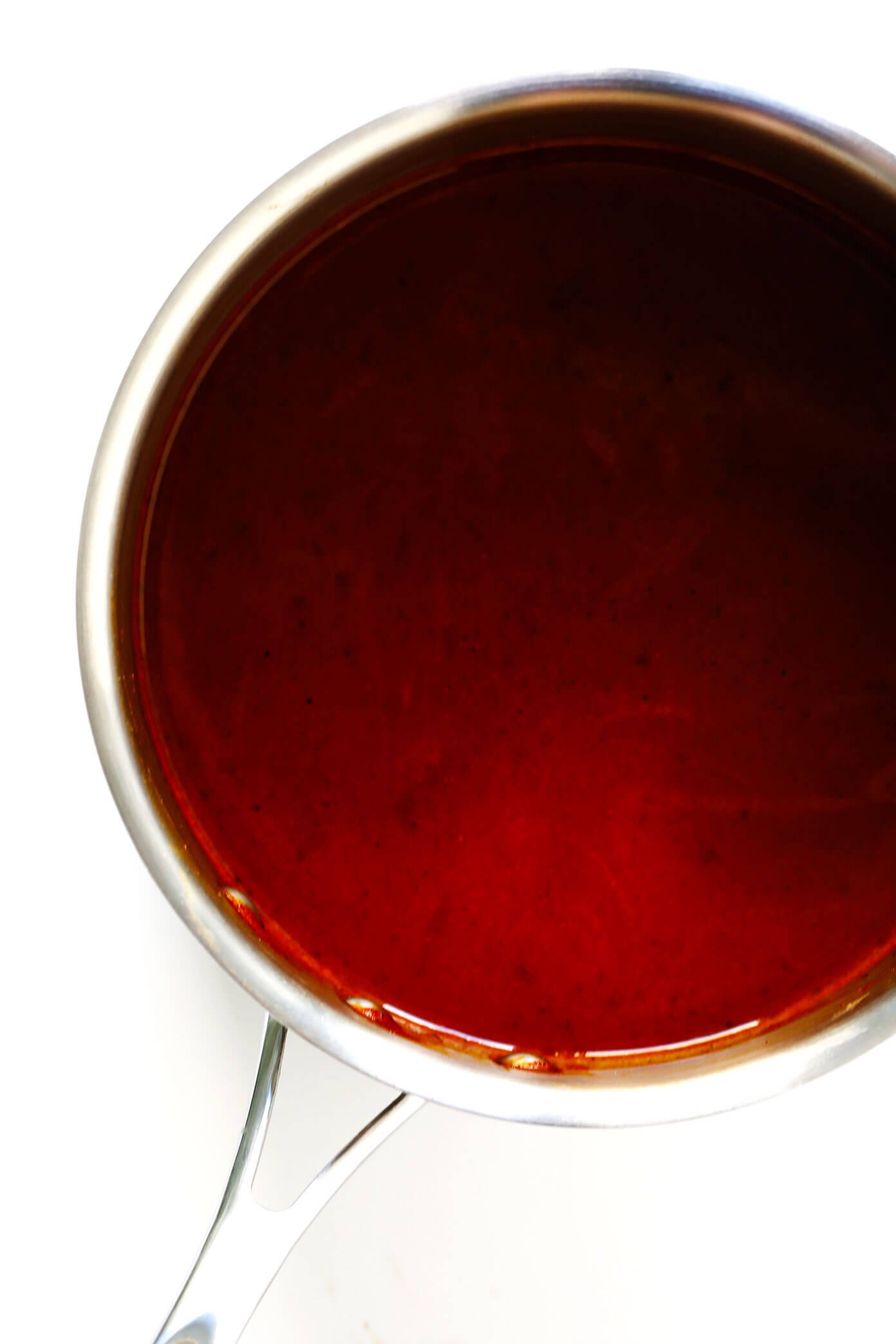 My Favorite Recipes Using Enchilada Sauce:
There are about a million ways you could use this enchilada sauce.  But some of my faves include using it in:
Enchiladas: Obviously. 😉 This red sauce works on just about any kind of chicken, beef, pork, shrimp, bean, or veggie enchiladas.  I especially love these recipes for:
Soups: Enchilada sauce is an easy way to season delicious soups and chilis, such as this:
Casseroles: If you don't feel like rolling up your enchiladas, just "stack" them into an enchilada casserole (a.k.a. Mexican "lasagna") like this recipe:
Cups, Skillets, Nachos and More: I'm also big fans of using this sauce in other enchilada-inspired recipes, such as these: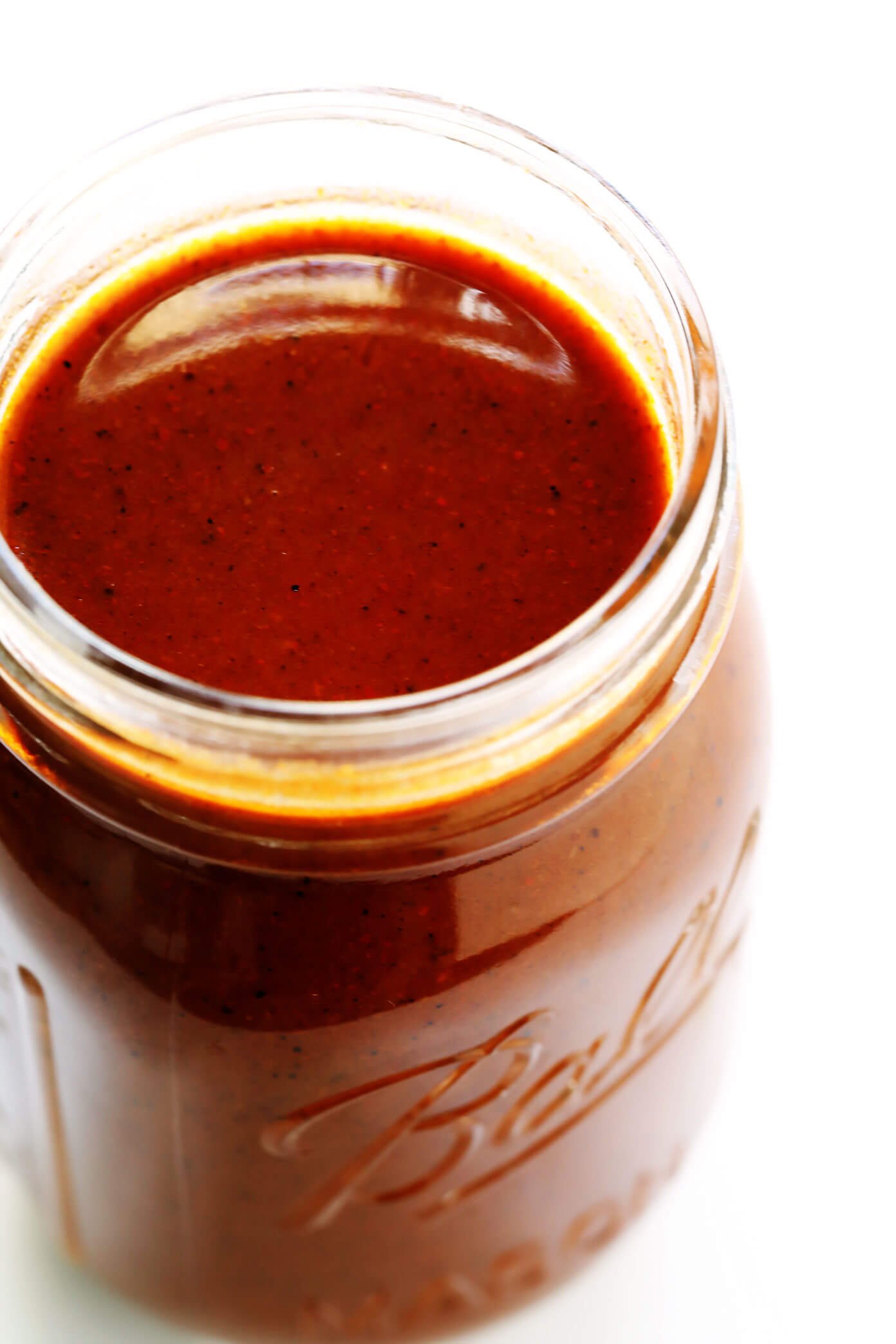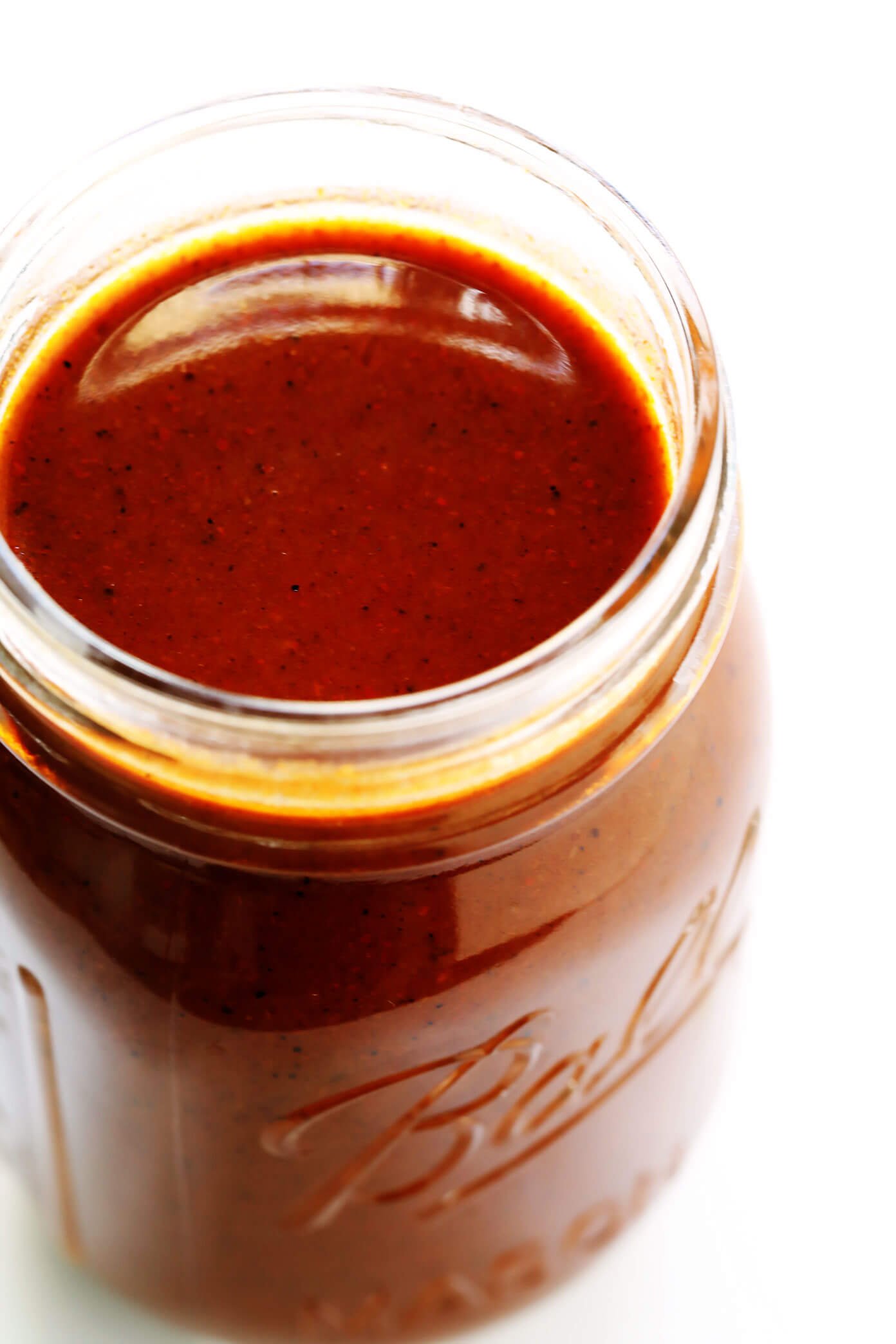 Also, be sure to check out my new recipe for Green Enchilada Sauce too!  Enjoy, everyone!
This post contains affiliate links.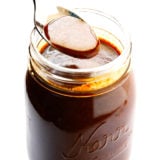 Red Enchilada Sauce
My all-time favorite homemade red enchilada sauce recipe.  It's quick and easy to make, and a million times better than the canned stuff!
Ingredients:
Directions:
Heat oil in a small saucepan over medium-high heat. Add flour and whisk together over the heat for one minute. Stir in the remaining seasonings (chili powder through oregano). Then gradually add in the stock, whisking constantly to remove lumps. Reduce heat and simmer 10-15 minutes until slightly thickened.
Use immediately or refrigerate in an air-tight container for up to 3 days.  (I like to use mason jars or Weck jars to store this sauce.)
*I consider this sauce pretty mild.  But if you are wary about heat/spice in your sauce, I would begin with 2 tablespoons chili powder and add more from there once the sauce has reached a simmer if you'd like.  Or if you'd like a smokier sauce, I recommend using 3 tablespoons chili powder and 1 tablespoon chipotle powder.
Also, I just want to stress again that this recipe calls for traditional American chili powder, not cayenne.  From the comments, it sounds as though chili powders vary significantly from country to country.  American chili powder is fairly mild, and should not be overly spicy.  Some brands I recommend include:
McCormick Chili Powder
Penzey's Spices Mild or Medium Chili Powder
Spice Islands Chili Powder
Simply Organic Chili Powder
If making this recipe gluten-free, be sure to use 100% certified gluten-free ingredients.
All images and text ©
If you make this recipe, be sure to snap a photo and hashtag it #gimmesomeoven. I'd love to see what you cook!