Beef Stroganoff Soup
This post may contain affiliate links. Please read my disclosure policy.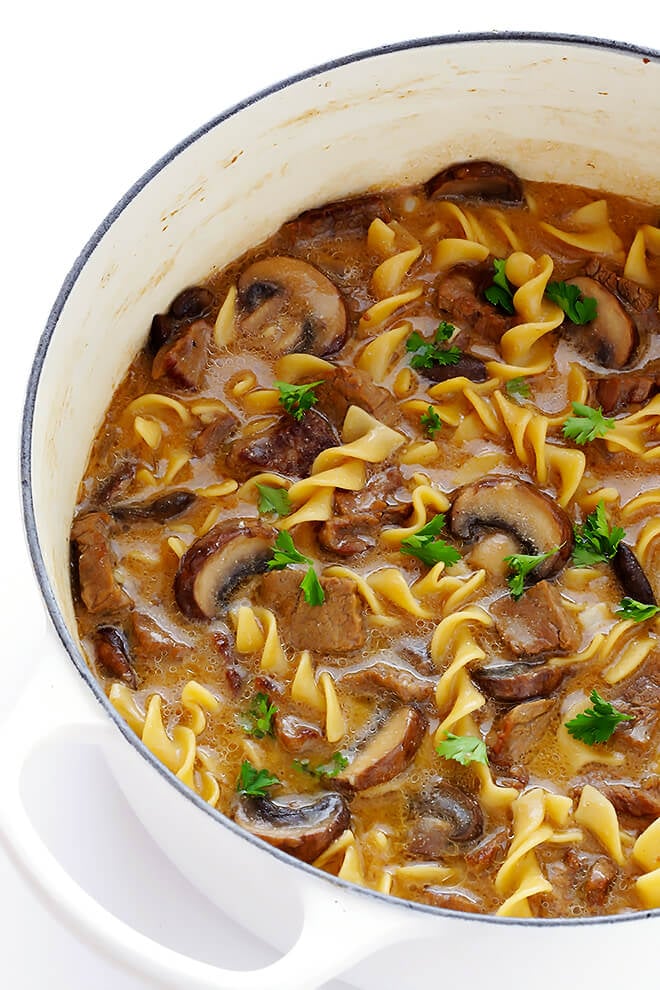 Oh my goodness, you guys. After waiting and waiting this past year, trying to hang on and be patient and save money and squeeze eeeeevery last breath out of my old Macbook, I finally bit the bullet this month and bought myself a brand new computer.
And I love it.
And I can't seem to stop telling everyone in my life how much I love it.
Seriously, I've completely turned into that 90-year-old who can't stop talking about "technology these days". Honey, it's just so lightweight and thin! And, gosh, I can actually hear those speakers now over the racket of me doing dishes! And that newfangled toolbar thing at the top is fannnn-cy! And what's that there — a phone call coming in on my computer?! You mean to tell me that someone named Siiri wants to talk to me? And honey, where on earth did that damn spinning wheel of death disappear to?!? ?
Clearly, this upgrade probably should have happened a year ago. But hey, the good news is that this magic new computer is here now, and making me a little too excited to get to work everyday. And, when I was going back through my old files getting ready to transfer photos to my new computer, I ran across a few random recipes that I somehow forgot to post in 2016…including this fantastic soup-ified version of one of my favorite recipes. That's right.
It's Beef Stroganoff Soup, guys!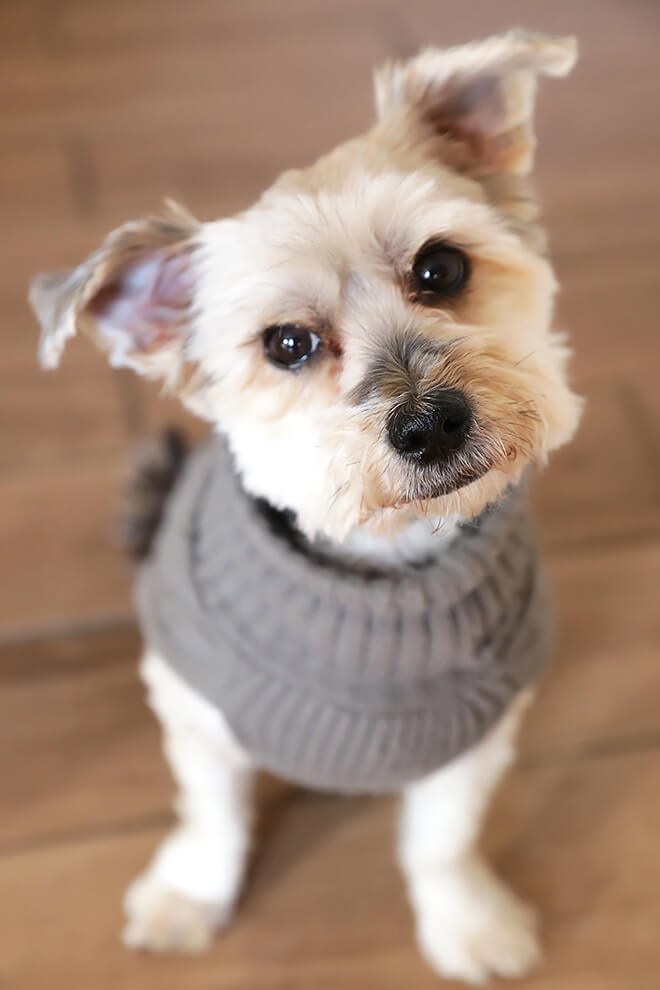 Oh, and I also ran across this adorable photo of Henry busting out his winter sweater for the first time last fall…and had to post it too. Because adorable dog moments and delicious soups need to be shared, right?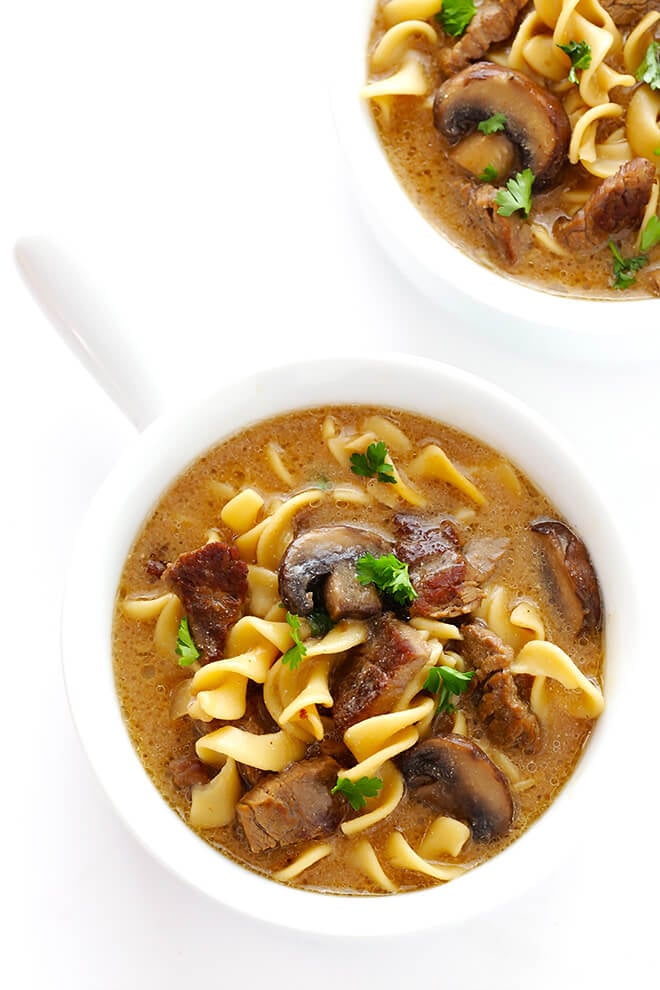 Actually, I totally thought that I had posted this months ago! And I logged into the site this week to grab the recipe so that I could make it again. But somehow, it's been hiding away in my photo files…until today. ?
If you happen to have made my traditional 30-minute beef stroganoff recipe before, then you already know basically all of the steps for this one.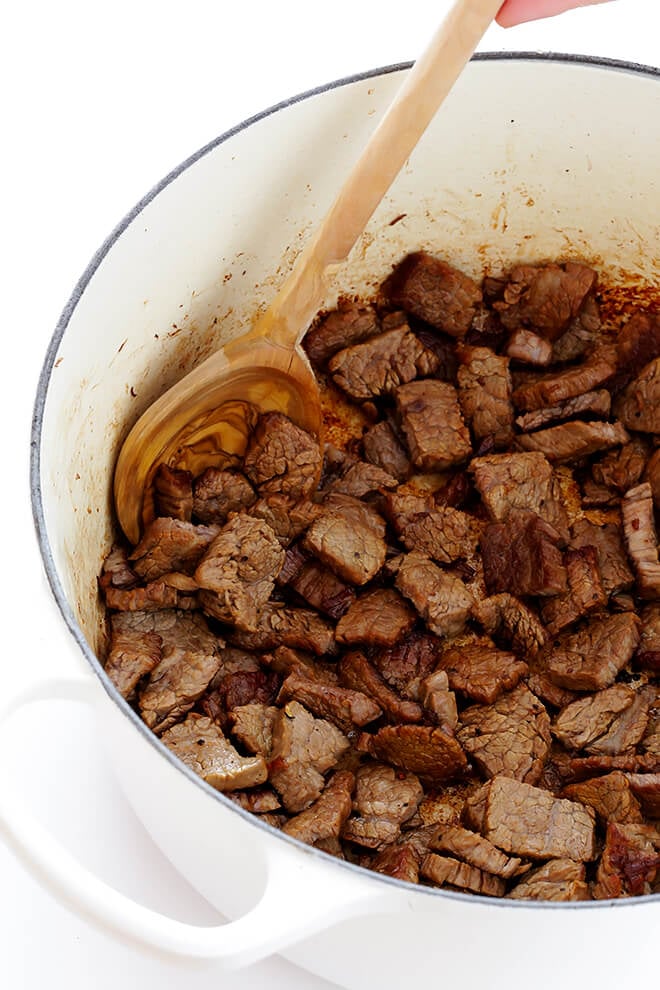 Just brown some thinly-sliced steak over high-heat. (I used flank steak this time, but have used sirloin in the past.)  Then sauté up a carton of sliced baby bella (crimini) mushrooms until they are nice and browned, along with some onions and garlic. De-glaze the pan with some white wine. Then stir in your stock, Worcestershire and egg noodles, and simmer until the noodles are al dente and ready to go.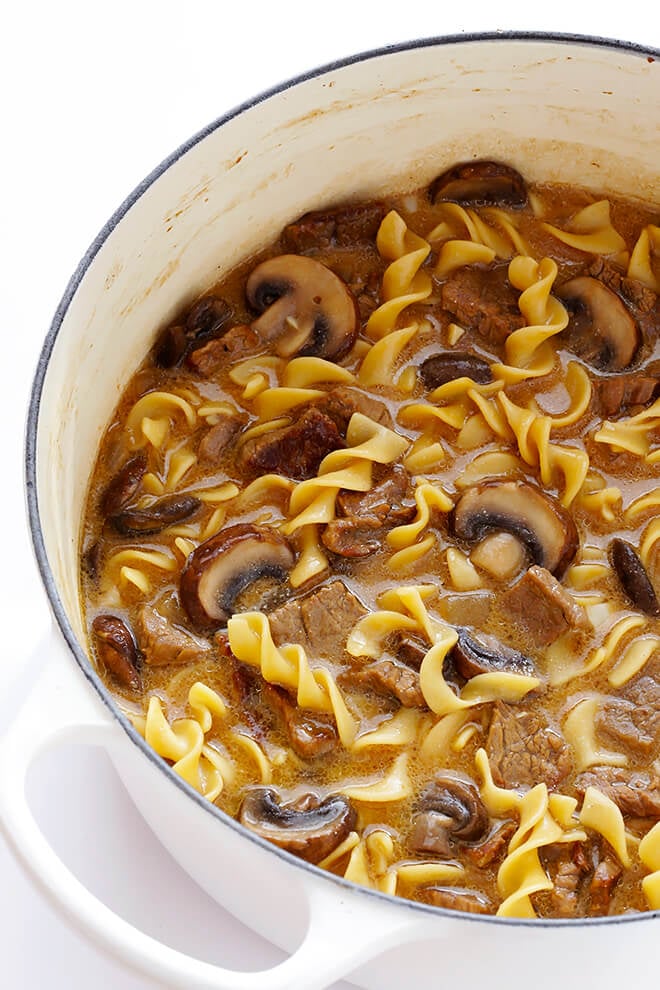 To make the soup creamy, I added in some sour cream (which I had purchased when planning to make traditional stroganoff), which was delicious. But you're welcome to use heavy cream, milk, or anything else you'd like to make it creamy.
The result was this beautiful bowl of soup. So delicious, so satisfying, and SO awesome as a soup.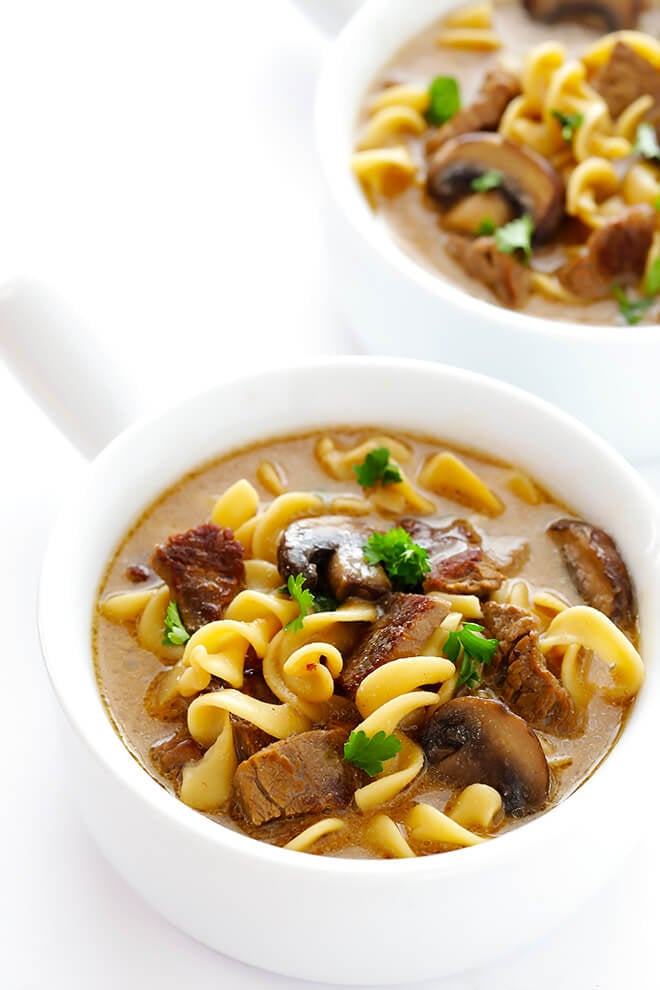 One quick heads up — the noodles will definitely keep soaking up that broth the longer they sit there. So if you re-warm this as leftovers, you might want to have some extra stock and Worcestershire on hand to soupify it again. (Speaking from experience. ?)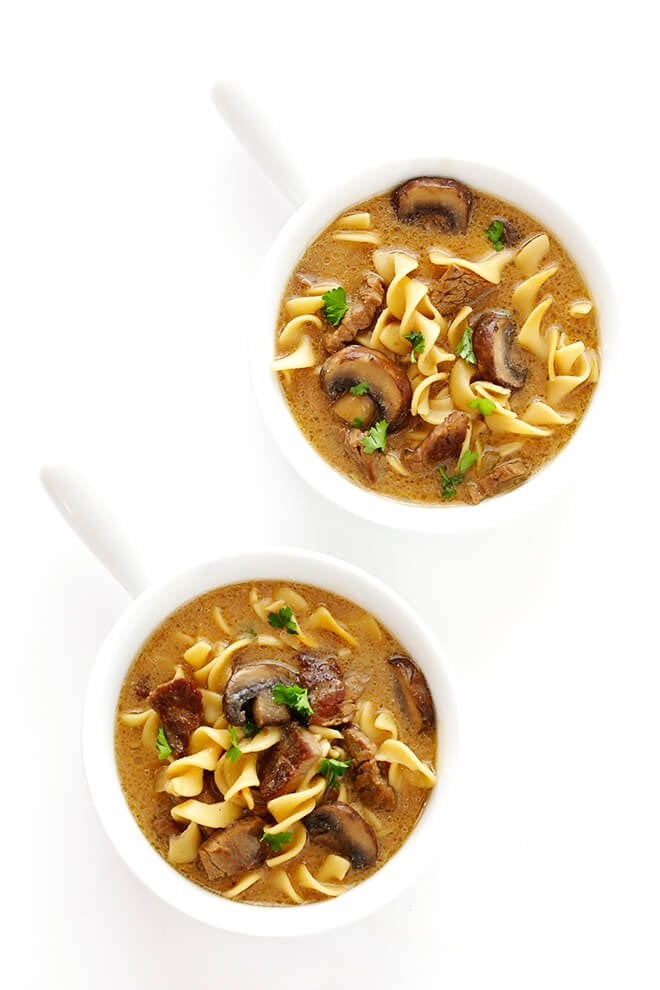 Otherwise, I think that's everything you need to know about this one. Had to share it with you! ?
Beef Stroganoff Soup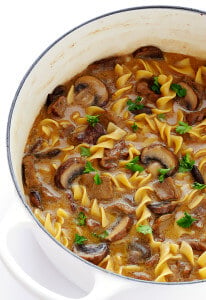 This Beef Stroganoff Soup recipe is easy to make, full of tender beef and noodles, and absolutely delicious!
3 tablespoons butter (divided)
1.5 pounds flank steak or sirloin steak (thinly sliced into bite-sized pieces)
salt and pepper
8 ounces sliced baby bella (crimini mushrooms)
1 small white onion (peeled and diced)
4 cloves garlic (minced)
1/2 cup dry white wine
6 cups beef stock (divided)
1 tablespoon Worcestershire sauce
8 ounces  uncooked wide egg noodles
1/4 cup  all-purpose flour
1/2 cup sour cream*
chopped fresh parsley
Melt 2 tablespoons butter in a large stockpot over medium-high heat.  Add the steak and season with a few generous pinches of salt and pepper.  Sauté for 5-7 minutes, stirring once every minute or so, until browned.  Remove steak from the pot with a slotted spoon and transfer to a separate plate.  Set aside.
Add the remaining 1 tablespoon butter to the stockpot, along with the mushrooms, onion and garlic.  Sauté for 5-6 minutes, or until the onion is soft and the mushrooms are browned.  Add in the white wine, and deglaze the pan by using a wooden spoon to scrape those tasty brown bits off the bottom of the pan. Let the mixture continue cooking for 3 minutes, until the liquid has reduced by about half.
Add in 5 1/2 cups beef stock, Worcestershire sauce, and egg noodles, and stir until combined.  Continue cooking until the mixture reaches a simmer.  Then reduce heat to medium-low and continue to simmer until the noodles are al dente, about 5-8 minutes, stirring occasionally.
Meanwhile, as the noodles are cooking, whisk the remaining 1/2 cup of beef stock and flour together in a small bowl until combined.  When the noodles are al dente, stir the flour mixture and sour cream into the soup until they are combined.  Continue simmering for 5 minutes.  Stir the cooked steak back into the soup. Taste, and season with salt and pepper as needed.
Serve hot, garnished with parsley if desired.