Berry Almond Crisp
This Berry Almond Crisp recipe is easy to make, topped with a yummy almond crisp, and overflowing with warm, sweet berries below.  It's the perfect summer dessert that you can make with whatever fresh berries you have on hand!
Hey friends!  Did you all have a good Fourth of July weekend?
Mine ended up being a wonderful mix of staycation-ing and family-vacationing.  I somehow had a totally free schedule on Friday and Saturday, so I carpe-diem-ed and decided to crank up some music and "essentialize" (basically, do a mega deep-clean and sort through) all of my closets, cabinets, desk, dresser, and basically any other place where I tend to stash stuff.  Then I followed that up with a mega trip to Goodwill to donate said stuff, followed by a fun documentary date night with Barclay.  (PSA — if you need a dose of something heartwarming, we can't recommend this sweet film enough!)
Then on Sunday, Barclay and I road-tripped down to Wichita to visit my folks.  I'll admit, I was a little unsure last year about how it would feel to have them move away from my childhood home.  But their new house, which is just minutes away from our old neighborhood and sits right on this cute little lake, feels like a total vacation home!!  My mom served us some delicious fresh meals out on the back porch, which was lovely with the cooler weather.  Then we went for a nice bike ride (Barc's favorite), did some stand-up paddle-boarding around the lake (accompanied by our dogs who sat on the end of our boards and then doggy-paddled back and forth between us, which was ridiculously cute), continued soaking up vitamin D by floating on some rafts (with perfect cup holders for our IPAs), and then went out for a relaxing little late-night boat ride to cheer on the neighborhood pyros (who put on a very impressive fireworks show, bravo).   Whew.  Then we road-tripped home, and toasted to the weekend with a glass of rose with a few more fireworks in the background.
Not too shabby, Fourth of July 2016, not too shabby.
(And, um, definitely a step up from Fourth of July 2015, which I clearly remember being the first time I brought Barclay along to meet my friends.  I'd been so excited for him to finally meet my crew.  But then half of them couldn't make it, and then B got nervous and ended up bee-lining to talk to an old friend for like an hour when we arrived, which threw me into that omg-he-must-not-like-me-spaz-out-but-play-it-cool sort of thing, meanwhile I was getting eaten alive my mosquitos, and then the look-out point where we all met to watch the fireworks ended up being literally completely out of view of the fireworks.  Ha, definitely not the night I was expecting, although all ended up turning out well.)
This Fourth of July, though, was an all-around winner.  So to celebrate — albeit, a few days late — I have a summer-y red white and blue recipe that I think you're all going to love.  It's quick and easy to make, it's naturally gluten-free, and it's absolutely perfect this time of year.
It's this berry almond crisp.  ♥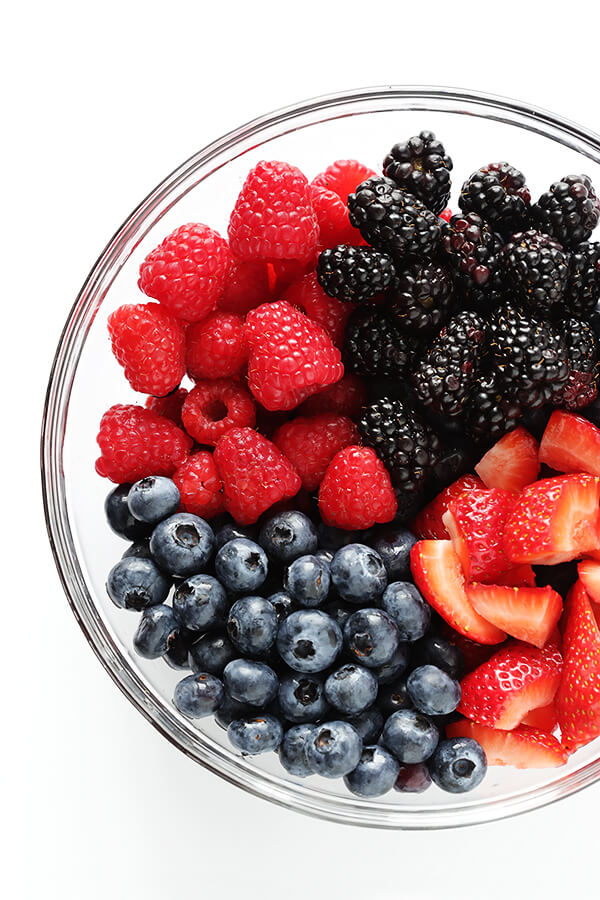 The ingredients are quite simple.  You mostly need a bunch of fresh berries — really, any berries.  (I used a mix of strawberries, blueberries, raspberries and blackberries.  But you can totally just use one kind, or a mix of whatever sounds good.)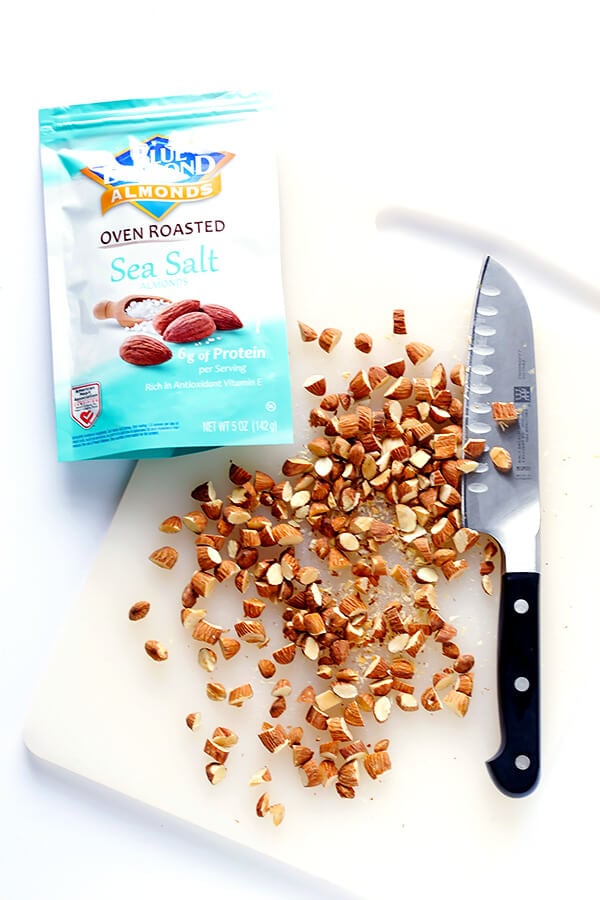 And then you need some almonds to make the simple crisp that goes on top!  I chopped up a bunch of these Blue Diamond Oven Roasted Sea Salt Almonds, and then stirred them together with some almond flour (or you could use all-purpose flour, whole wheat flour, or any favorite flour), old-fashioned oats, honey, coconut oil, and a pinch of cinnamon to make the crisp topping.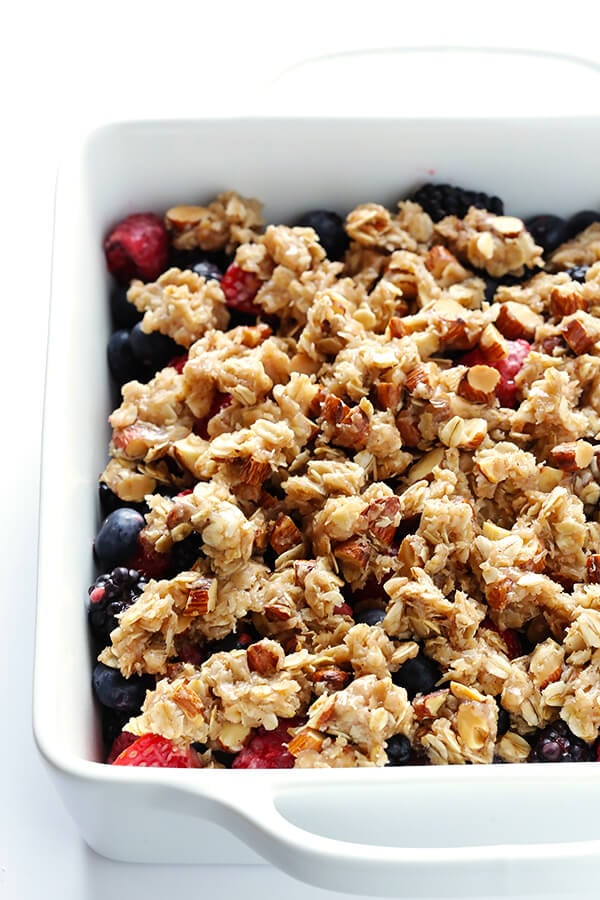 Then you just layer everything together…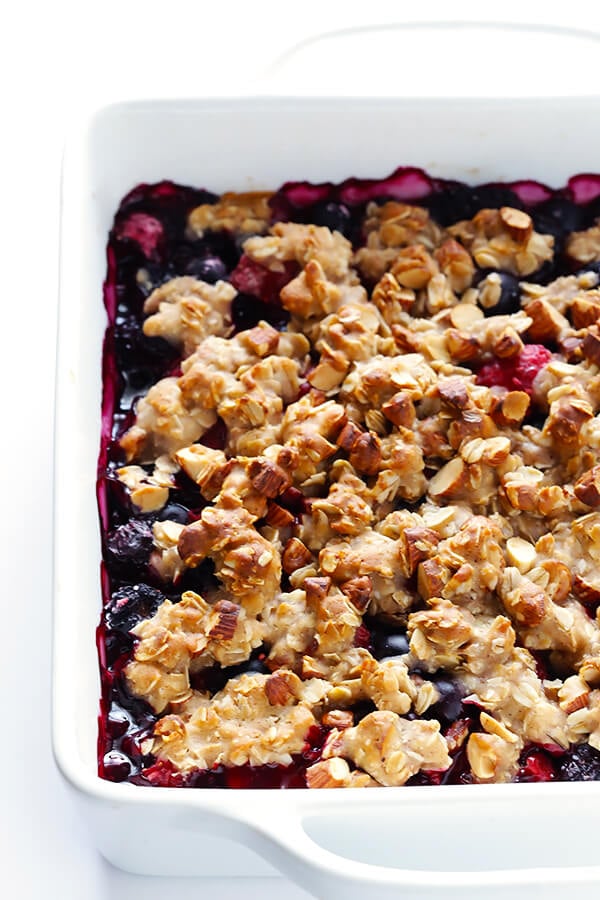 …bake it up until the berries are nice and bubbly and the topping is golden and crispy…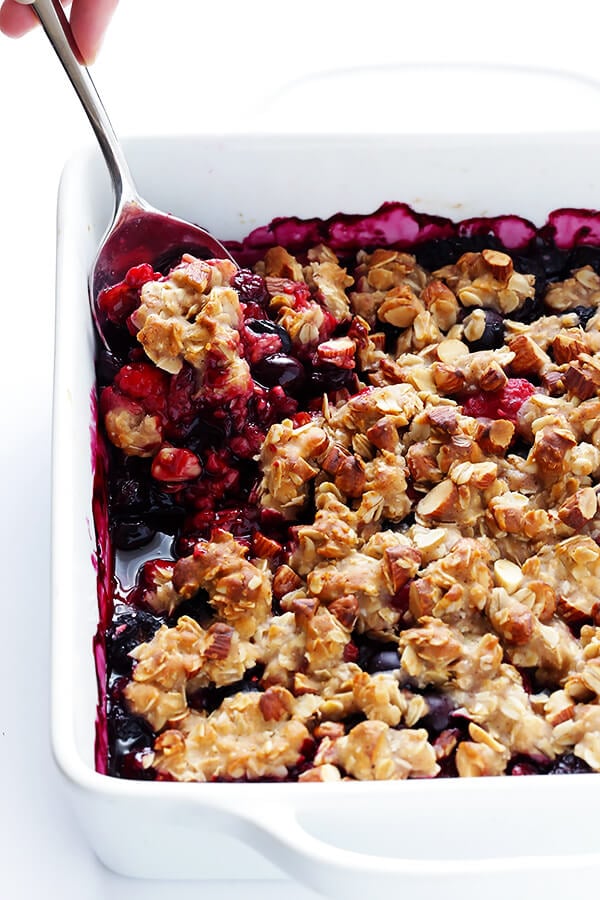 …and then dive in.  (<– Um, preferably while it's still warm.  Mmmmmmm.)
I like serving this crisp with a generous side of vanilla ice cream or whipped cream (which makes it red white and blue!).  But I will say that the berry crisp also stands well totally on its own.  Your choice.  ;)
So if you're looking for a good summer dessert, grab your favorite berries and get to crisping!
*The winner for the survey included in this post was already selected and contacted.  Thanks to all of you who entered!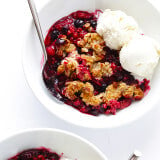 Berry Almond Crisp
This Berry Almond Crisp recipe is simple to make, it's naturally sweetened with fruit and honey, and topped with a (naturally gluten-free) delicious almond and oatmeal crisp.
Ingredients:
Almond Topping Ingredients:
1 cup old-fashioned oats (use gluten-free oats if making this recipe GF)
1/2 cup almond meal or all-purpose flour (or any favorite flour)
1/3 cup chopped Blue Diamond Oven Roasted Sea Salt Almonds
1/4 cup honey or maple syrup
3 tablespoons melted coconut oil
1/4 teaspoon ground cinnamon
1/4 teaspoon salt
Berry Almond Crisp Ingredients:
5-6 cups fresh berries (I used a combination of blackberries, blueberries, raspberries and chopped strawberries)
2 tablespoons cornstarch
1 tablespoon freshly-squeezed lemon juice
optional: 1/4 teaspoon almond extract
1 batch almond topping (see below)
Directions:
To Make The Almond Topping:
Stir all ingredients together until combined, mixing them together with your fingers if needed.  Set aside.
To Make The Berry Almond Crisp.
Preheat oven to 350 degrees F.  Prepare the almond topping (see above).
Pour the berries into an 8 x 8-inch (or 9 x 9-inch) baking dish.  Sprinkle evenly with cornstarch and lemon juice (and almond extract, if using), and toss until evenly combined.  Sprinkle the oat crisp mixture evenly on top of the berries.
Bake for 35-40 minutes, or until the topping is crisp and golden and the fruit is bubbling.  Serve immediately.  Or let the crisp cool to room temperature, then cover and refrigerate for up to 3 days.
Feel free to mix in some extra sweetener (of your choice) with the berries before baking, if you like a super sweet crisp.  But I felt like the berries were plenty sweet on their own.
If you make this recipe, be sure to snap a photo and hashtag it #gimmesomeoven. I'd love to see what you cook!
This post is sponsored by Blue Diamond Almonds, and all almond-loving opinions are my own as always.  Thanks for continuing to support the brands who help make this site possible!