Biscoff Ice Cream
Creamy Biscoff spread makes this Biscoff Ice Cream pretty much heavenly.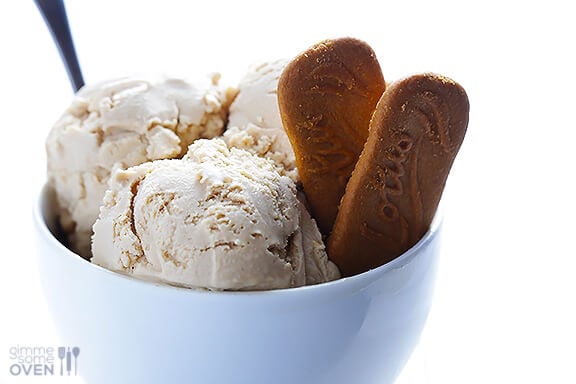 First there were the cookies.
Then there was the spread.
And now…there is Biscoff Ice Cream, people!
Oh my goodness.  I'm pretty sure we've reached a whole new level of Biscoff deliciousness with this one.  The idea came to me when I was breaking out my ice cream maker in late July for (I'm embarrassed to admit) the first time this summer.  Since I seem to have practically missed ice cream season all together, I was determined to make my first batch somewhat epic.  And after creative dreams of roasted fruit, or goat cheese, or bacon, or some other crazy thing, I suddenly remembered the new jar of Biscoff that was gracing the shelves of my pantry.  I knew it wouldn't last there for long.
So instead of diving straight into the jar with a spoon, I decided to go for a spoonful of a different kind and make some homemade Biscoff ice cream!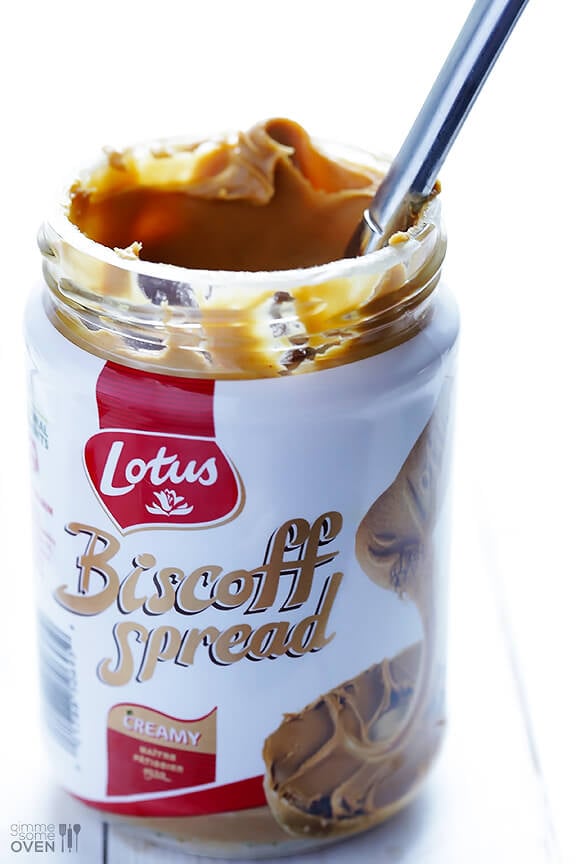 I have to admit that my hopes were pretty high on this one.  But thankfully, Biscoff did not disappoint.
This ice cream was Biscoffantastic.
Usually I'm into lighter ice creams, but I decided to splurge a bit with this one and made it with half and half and some heavy cream.  And let me assure you, every creamy, delicious, Biscoff-y bite was so worth it.  It was rich, thick, and the perfect amount of Biscoff flavor came through in each bite.  Plus, this version is also egg-free, so if you get the craving, this ice cream can literally be made from start to finish in just under 35 minutes.
Definitely a great excuse to pick up a new jar of Biscoff spread….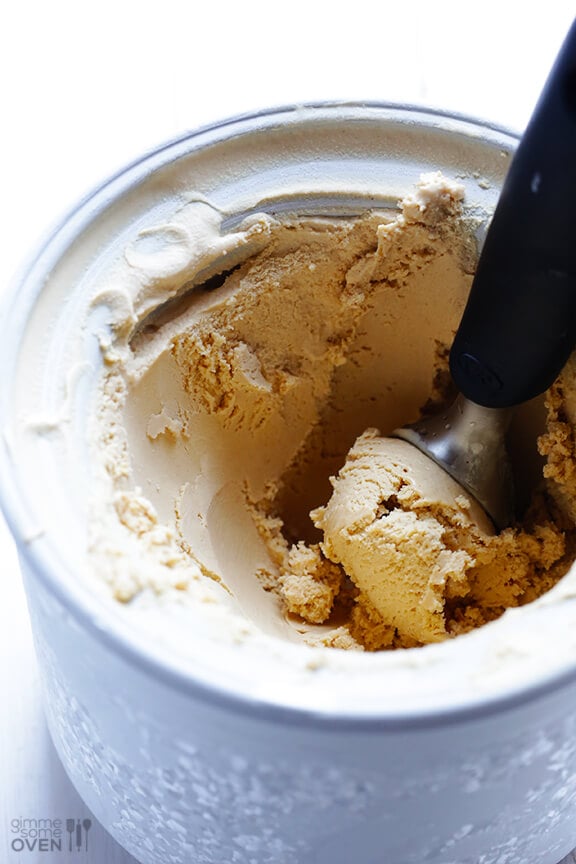 …which you should totally do, because Biscoff is sponsoring a sweet (literally!) contest this summer called Spread The Love.
Lotus Bakeries — the brilliant chefs behind Biscoff — is inviting consumers to share the many inventive ways they enjoy Biscoff Spread in the first-ever Biscoff Spread the Love Challenge. From July 1 to July 28, the Biscoff is asking consumers to get creative with their Biscoff Spread snacks by uploading photos that show their favorite ways to "spread the love."  Whether it's a spin on a classic snack (such as Biscoff Spread on a bagel) or a more creative twist (such as brownies made with the spread), they are looking for individuals to submit photos showing how they enjoy Biscoff Spread.
Lotus Bakeries will narrow down the photo entries to the top 30, and then Facebook users will vote for the final grand prize winners on the Biscoff fan page. All entrants will be automatically entered in a sweepstakes to win a year's supply of Biscoff products.
The top three winners of Biscoff's Spread the Love Challenge, to be announced on August 30, 2013, will receive the following prizes:
First place – A trip to Belgium for two and a tour of the Biscoff factory
Second place – $1,500 cash
Third place – $1,000 cash
How sweet is that?
To enter, all you need to do is:
Visit Biscoff's Facebook page or the contest microsite.
"Like" Biscoff on Facebook and upload a Biscoff Spread photo with a title and description. Entrants may submit one additional photo for each referred friend. Please note, all qualified entrants must submit their photos between July 1 (12 a.m. EST) – July 28 (11:59 p.m. EST). Facebook fans will vote for the grand prize winners between August 5 (12 a.m. EST) – August 25 (11:59 p.m. EST).
The top three winners will be announced on Facebook on August 30.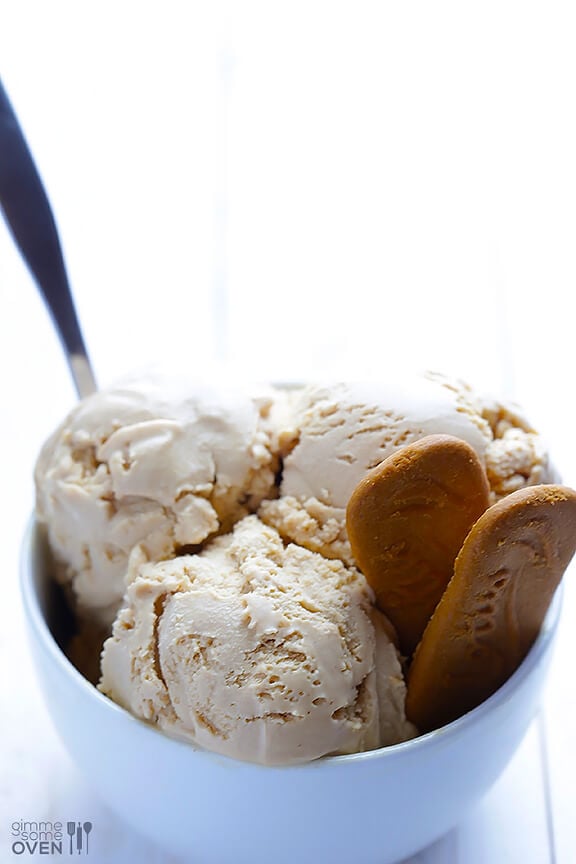 I know that some of you who read this blog love Biscoff just as much as I do, so you should totally enter!
And for those of you who have never tried the delicious spread, get ready to have your life officially changed.  Biscoff spread is from the bakery that makes those yummy Biscoff cookies (you know, the ones that they have served on planes for years).  And in addition to being irresistibly delicious, it is also cholesterol-free, preservative-free, trans-fat free, vegan, and perhaps most importantly — nut-free.  So I often swap it out for peanut butter in recipes or on a slice of toast.
It can be found at Walmart, CVS, Walmart, Safeway, World Market, and many local grocery stores.  To find a full list of stores that carry Biscoff, you can check out their handy store locator page.  You can also find Biscoff on Pinterest, and more details about the contest on their Facebook page.
So I hope you enjoy this Biscoff ice cream, and I look forward to "spreading the love" together!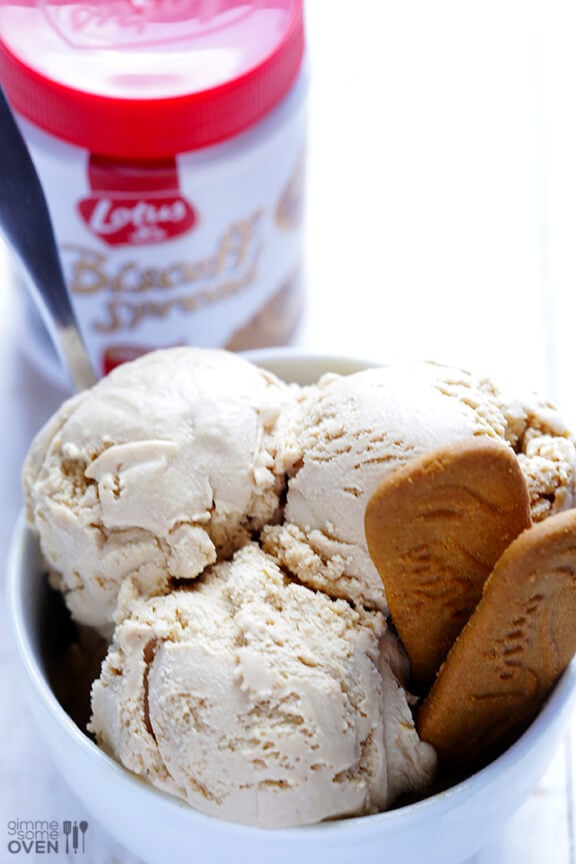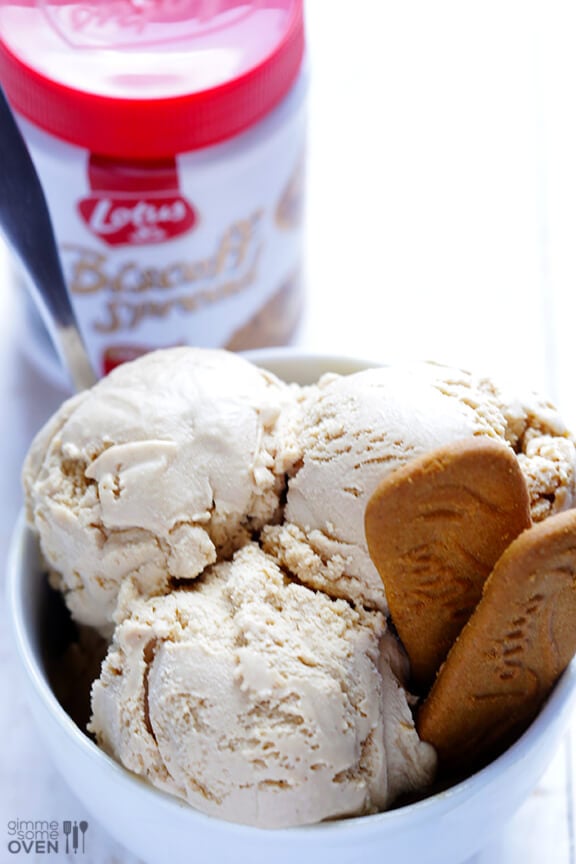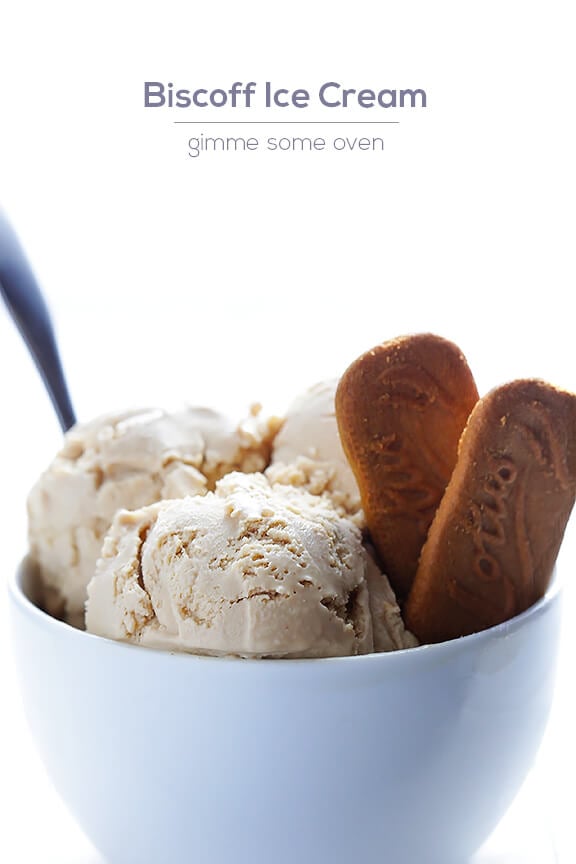 Biscoff Ice Cream
Biscoff ice cream is the perfect dessert when made with that irresistible Biscoff spread!
Ingredients:
1 cup Biscoff spread
½ cup granulated sugar
pinch of kosher salt
2 tsp. vanilla extract
2 cups half and half
1 cup heavy cream
Directions:
Using an electric stand mixer (or you can just stir by hand in a mixing bowl), cream together Biscoff spread and sugar on medium speed until combined. Stir in salt and vanilla. Then on low speed, gradually add in half and half and heavy cream until the mixture is combined and smooth.
Pour mixture into an ice cream maker and process until thick, about 30 minutes or according to manufacturer's directions. Transfer ice cream to a freezer-safe container, cover and freeze until ready to serve.
All images and text ©
If you make this recipe, be sure to snap a photo and hashtag it #gimmesomeoven. I'd love to see what you cook!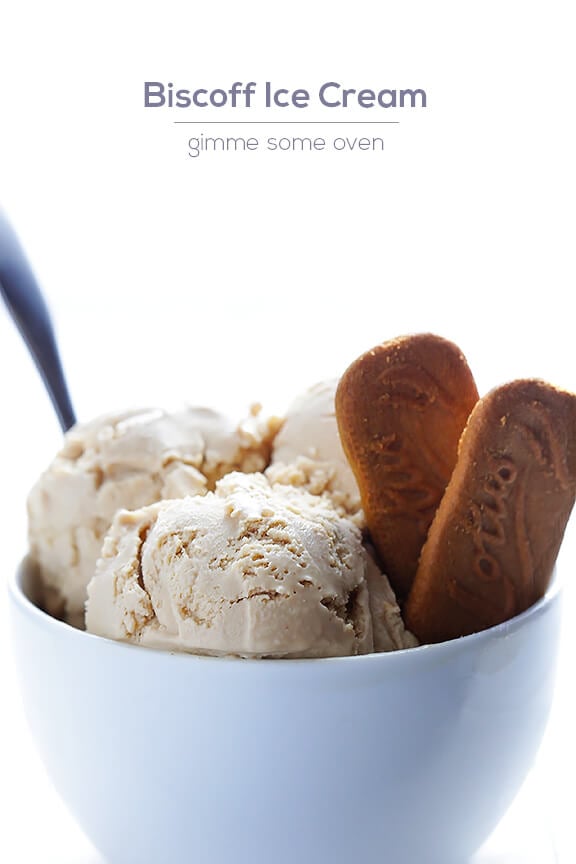 This is a compensated sponsored post from Biscoff.  I am partnering with them for the Spread The Love campaign, but all opinions are 100% my own as always.  Thank you for supporting the brands that help support this website!
Biscoff Spread is a sweet, creamy spread made with Biscoff Cookies. Try this delicious European alternative to peanut butter or chocolate spread. Vote for the best photo in Biscoff's "Spread the Love" contest and you could win a year's supply of Biscoff products!
This is a sponsored conversation written by me on behalf of Biscoff. The opinions and text are all mine.