Biscuits and Mushroom Gravy (Vegan)
I didn't used to think I was a gravy person.
Now biscuits?  Oh, I've always loved my biscuits.  I love biscuits with strawberry jam.  I love biscuits with a warm pat of butter.  I especially love biscuits with (my personal favorite) a nice slather of peanut butter, which gets all nice and ooey gooey and melty atop a warm biscuit.  But I could never quite understand why my friends were so madly in love with their "b & g".
Something about the sausage-laden gravy just never quite appealed to me.  Nor did the idea of eating spoonfuls upon spoonfuls of sauce that was probably made with loads of heavy cream.  So I admittedly spent the first three decades of my life always passing on the "g", until about a year ago when one of my friends finally convinced me to try her absolute favorite:
Mushroom gravy.
Made vegan with almond milk instead of heavy cream, no less.
Let's just say I'm finally part of the "b & g" club now.  I absolutely love this gravy!!!

In retrospect, I'm not sure why I was so surprised.
I generally love cream sauces, and regularly sub in almond milk for dairy when looking for a lighter alternative or cooking for my vegan friends.  And I lovelovelove mushrooms.  (Although after a little heated vote on Instagram last week, I was reminded that many of you don't.  Who knew 'shrooms could be so polarizing?!)
So yeah, in theory, I probably should have tried a good mushroom gravy a long time ago.  But once I finally did — and tried a good mushroom gravy, that was heavy on the mushrooms, light on the creaminess, and full of rich savory flavors — I was 500% sold.
And then being the good little food blogger I am, immediately had to come home and learn how to make it myself.
I've been tinkering around with my favorite recipe for awhile now, so thought it was high time to share it with you.  We begin with my favorite 3-ingredient coconut oil biscuits, which come together in about 20 minutes from start to finish.  (The best!!)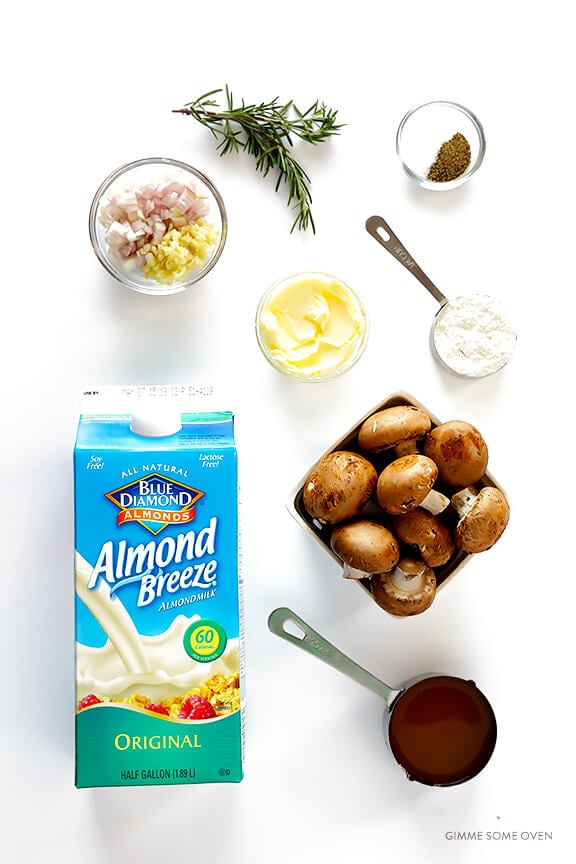 But the gravy is the rockstar of today's recipe.
The ingredients are pretty straightforward — Blue Diamond Almond Breeze Almondmilk Original (or Blue Diamond Almond Breeze Almondmilk Original Unsweetened) and vegetable stock form the flavorful base, a (vegan) butter roux thickens it up, shallots and a little garlic give it a savory kick, some fresh rosemary is essential, and most importantly, it's filled with lots and lots and lots of mushrooms.  I prefer baby bellas, but really you can use just about any of your favorite mushrooms (or a mix) here.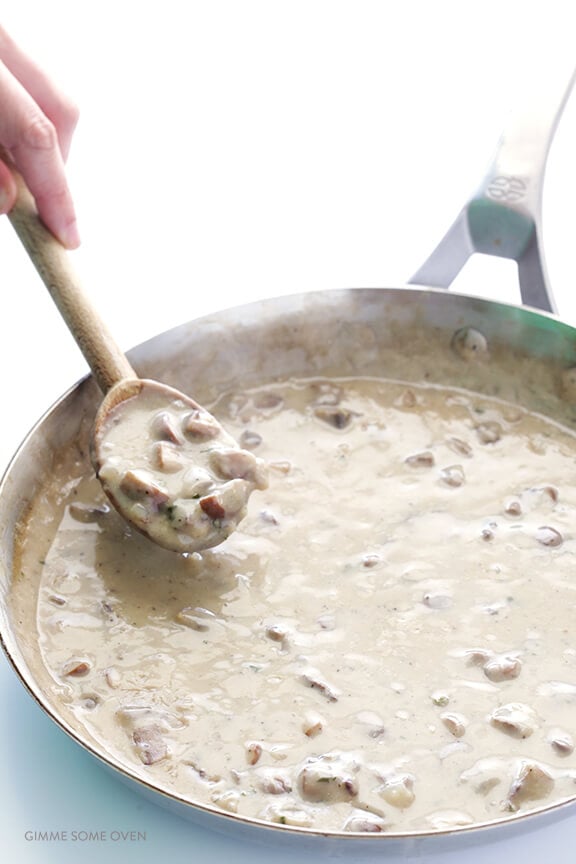 Simmer the mushrooms in your butter, add the shallots and onion, thicken it up with the roux, then stir in the remaining ingredients.  And once the mixture comes to a simmer and thickens up, it should all be ready to go in less than 15 minutes.  You know, coincidentally just about the amount of time it takes to bake those biscuits.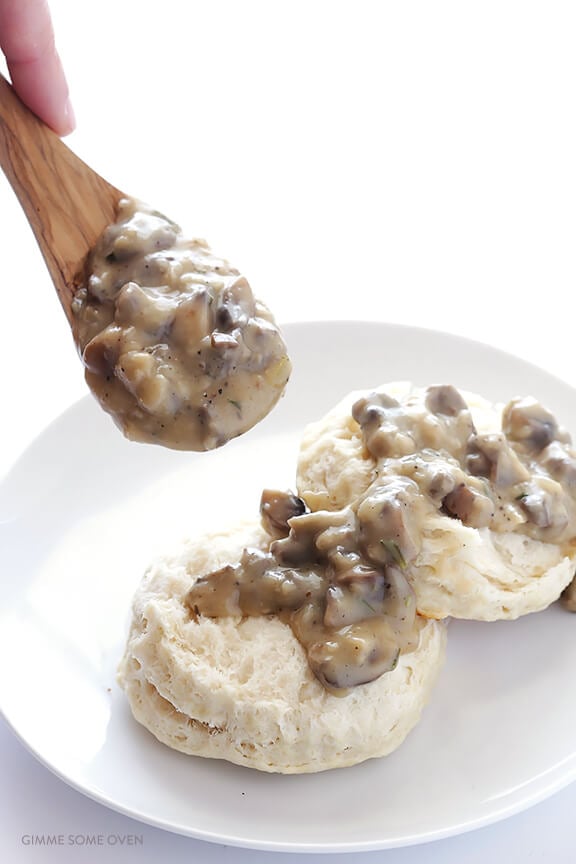 Once they're both ready to go, serve the warm gravy on top of the warm biscuits…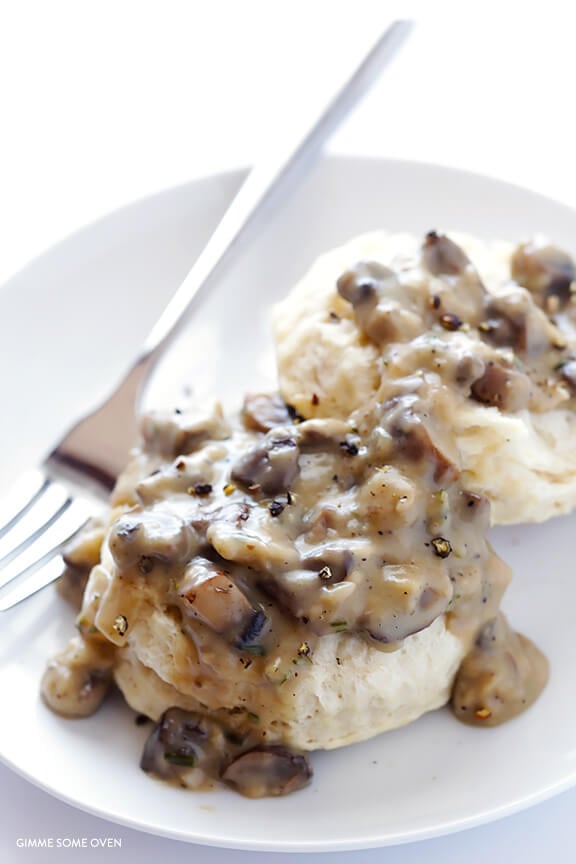 …and get ready for some "b & g" heaven.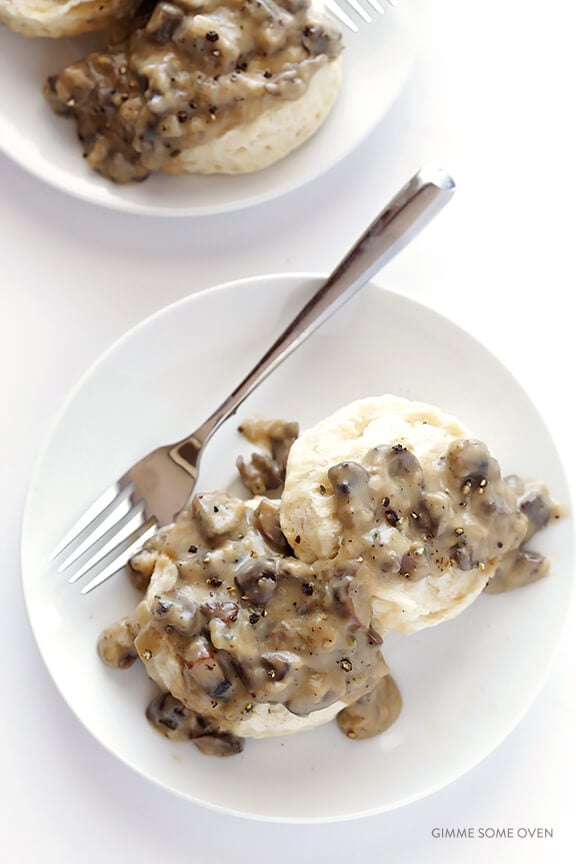 It's comfort food at its best — warm, hearty, full of the best savory flavors.  But believe it or not, the entire recipe is actually dairy-free and vegan.  So if you and your friends can get your "b & g" fix without having to worry about sausage or heavy cream.  Even though I happen to like both of those ingredients, I prefer the vegan version of this recipe.  :)
Enjoy!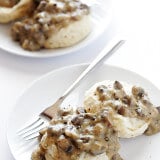 Biscuits and Mushroom Gravy (Vegan)
This biscuits and mushroom gravy recipe is wonderfully delicious and comforting, it's naturally vegan, and it all comes together in less than 30 minutes.
Ingredients:
1/4 cup vegan butter or olive oil (or you can substitute regular butter, if not making these vegan)
8 ounces baby bella mushrooms, diced into 1/4-inch cubes
1 small shallot, peeled and finely chopped (about 1/4 cup)
1 clove garlic, minced
1/4 cup white whole wheat (or all-purpose) flour
1/2 cup vegetable stock
1 1/3 cup Blue Diamond Almond Breeze Almondmilk Original (or Blue Diamond Almond Breeze Almondmilk Original Unsweetened)
1 teaspoon finely-minced fresh rosemary
1/2 teaspoon salt
1/2 teaspoon freshly-cracked black pepper
Directions:
Make the 3-Ingredient Coconut Oil Biscuits according to directions.
While the biscuits are baking, melt butter in a large saute pan over medium-high heat.  Add mushrooms and stir to coat.  Then saute the mushrooms for 4-5 minutes, stirring occasionally, until cooked and softened.  Add shallot and garlic, and cook for an additional 2-3 minutes, stirring occasionally, until the shallot is cooked and softened.  Sprinkle the mixture with the flour, and stir to combine.  Cook for 1 minute.  Stir in the vegetable stock until combined.  Then add in the remaining ingredients, and stir until completely combined.
Bring the sauce to a simmer.  Then reduce heat to medium-low and continue simmering until the gravy reaches your desired thickness, about 1-5 minutes (depending on how thin you like your gravy), stirring occasionally.  Taste, and season with additional salt, pepper and/or rosemary if needed.  Remove from heat and serve the gravy ladled over the warm biscuits, topped with an additional sprinkle of black pepper if desired.
All images and text ©
If you make this recipe, be sure to snap a photo and hashtag it #gimmesomeoven. I'd love to see what you cook!
This is a sponsored post in partnership with Blue Diamond Almond Breeze Almondmilk.  I am partnering with them this year to bring you some delicious dairy-free recipes, and all opinions are my own as always.  Thanks for supporting the brands I love that help make this site possible.