Black Bean and Avocado Breakfast Burritos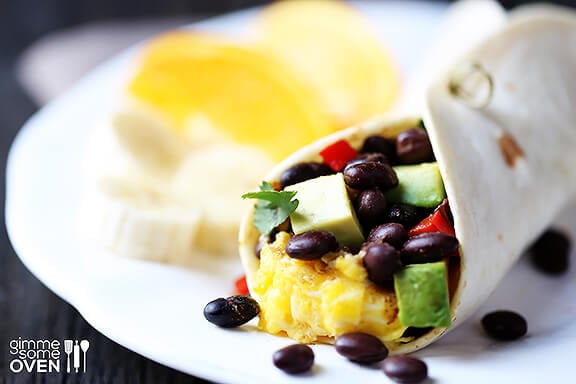 'I am only one, but I am still one. I cannot do everything, but still I can do something; and because I cannot do everything, I will not refuse to do something I can do.'  ~Margaret Mead
I have to admit to you that probably the thing I most wrestle with as a food blogger is the thought of sitting here, day after day, creating and cooking and sharing hundreds of recipes with you, when there are so many in the world — even in our country — who do not have the luxury of having enough food to eat.
They are on my mind constantly.  Especially the children who are hungry.
Currently, more than 16 million kids in America live in households that struggle to put food on the table.  That's 1 in 5 kids.  And of those kids who receive free and reduced-price school lunches, only 1 in 7 receive receive summer meals.  Study after study has proven that students who come to class having eaten breakfast perform better academically and can think clearly to make better decisions all-around.  The effect in their lives is the better, of course, when that food is nutritious.  But with 22% of our nation's kids living in poverty, the reality is that so many of these kids aren't given the opportunity to experience the potential of a well-fed life.  Everything in my heart insists that this should not be so.
But while the issue of hunger is deep and complex, I love that hope and change are real.  And happening right now.  And every single one of us is born with a special part to play in making this world a better place for our children.
Yes, you!  Me!  All of us together!
I love it!
So my question to you today is — what role do you want to play?
Is there something about social justice and working through politics to achieve change that makes your heart beat faster?  Is there a community service project with your church that you have been thinking about getting involved with?  Are you a college student who might want to take an extra class or spend a summer volunteering with a local non-profit?  Are you a parent who can find ways to teach and inspire your kids about child hunger and how they can make a difference? And for all of you foodies who love to cook — have you considered getting involved with a local community garden or food pantry?
Or even on a smaller everyday scale, have you considered trying to spend less and give more when it comes to food?
I have to admit that the issue of child hunger can seem so hopeless and overwhelming at times.  But even sitting here writing this post tonight, I get really excited and encouraged when I think about what it would look like for all of us to spend even one hour in the next year doing some small thing to help this cause.  Can you imagine??
I can tell you that — at least for myself — I have been praying a lot lately about how else I might be able to get involved in this season of my life, especially with some of the incredible local non-profs I love.  But today I am also honored to be participating in an event called Food Bloggers Against Hunger, which is part of The Giving Table's promotion of the documentary, A Place at the Table. I have yet to see it, but the film highlights our country's issues with poverty and hunger.  If you are looking for more resources for how to get involved, Share Our Strength's is encouraging people to take one minute to send a letter to Congress so that they might continue to provide funding for school meals, and for two specific programs that feed many children and families that struggle to put food on the table.
But bottom line — however you want to get involved, I just encourage you to get involved.  Do it in a way that is true to who you are, and I really believe that it will make us better, and it will definitely make the world a better place for our children.
Thank you so much for letting me talk about this today.
I also have a recipe to share with you for a simple, affordable, healthy and protein-packed breakfast that you can make to begin your day — these simple Black Bean & Avocado Breakfast Burritos.  I hope you enjoy.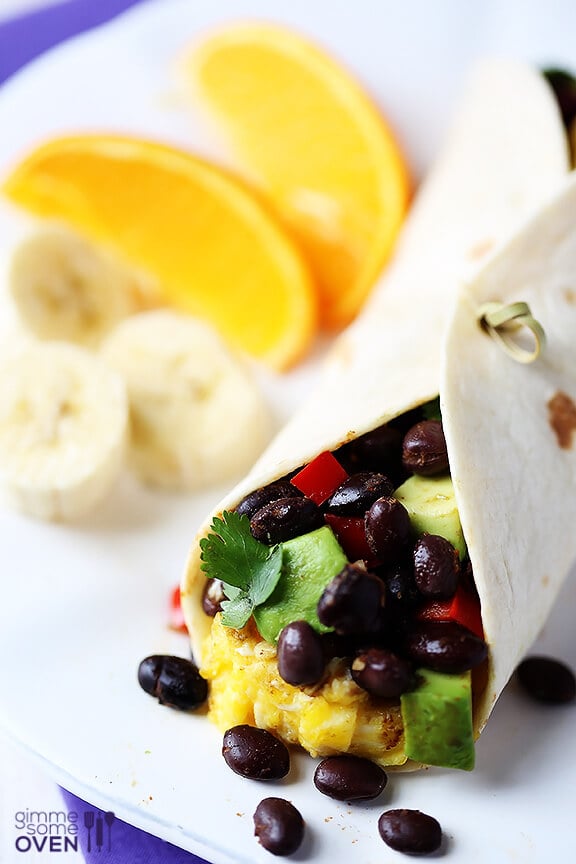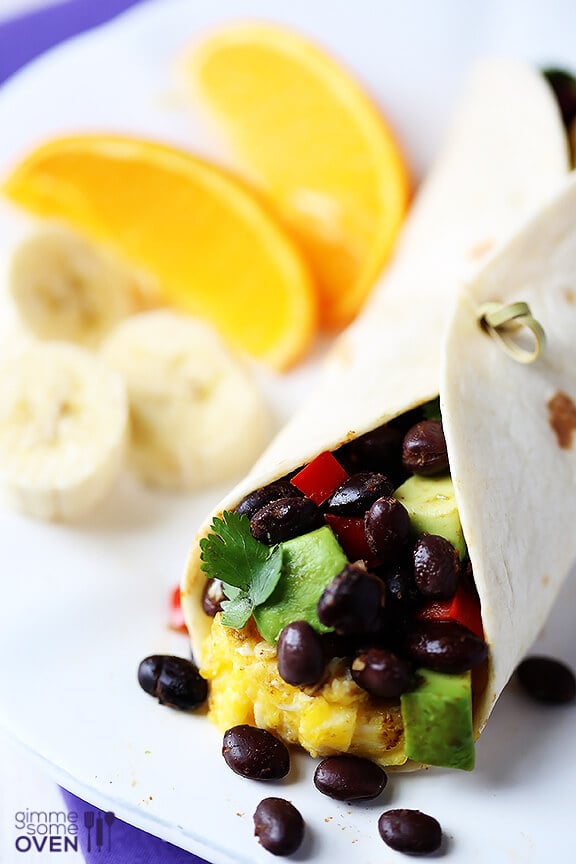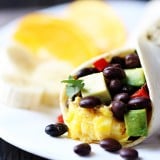 Black Bean and Avocado Breakfast Burritos
A quick and easy high-protein breakfast.
Ingredients:
Breakfast Burrito Ingredients:
2 small tortillas
4 eggs, scrambled
1 avocado, diced or sliced
1/4 cup shredded cheddar cheese
seasoned black beans (recipe below)
(optional) salsa
Black Beans Ingredients:
2 tsp. olive oil
1/4 cup chopped red onion
1/4 cup diced red bell pepper (optional)
1 clove garlic, minced
1 (15 oz.) can black beans
1/2 tsp. chili powder
1/2 tsp. oregano
1/4 tsp. cumin
1/4 cup chopped fresh cilantro
juice of half a lime
salt and pepper
Directions:
To Make The Breakfast Burritos:
Lay the tortillas flat on a serving dish. Layer scrambled eggs, cheese, avocado and black beans down the center of the tortillas, then roll to close. Serve warm.
To Make The Black Beans:
Heat oil in a saucepan over medium-high heat. Add the onion and bell pepper and saute for 5 minutes until the onion is soft and translucent. Add garlic and cook for an additional minute. Then add the black beans, chili powder, oregano, and cumin, and stir to combine. Bring to a simmer, then reduce heat to medium-low and let cook for an additional 5 minutes. Remove from heat and stir in fresh cilantro and lime juice, then season with a generous pinch (or two) of salt and pepper.

All images and text ©

If you make this recipe, be sure to snap a photo and hashtag it #gimmesomeoven. I'd love to see what you cook!