Blueberries & Cream Cupcakes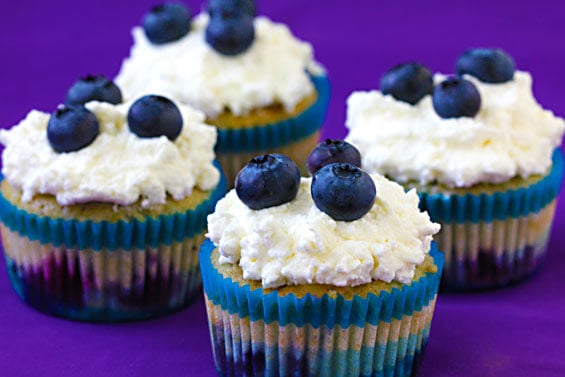 I've made cupcakes with all sorts of icings on my cupcakes over the years.  But until now, I've never tried this fun idea from Martha Stewart — using whipped cream as icing!  :)
I've had this recipe bookmarked ever since I first saw Martha Stewart's Cupcake Book (which I highly recommend to everyone!).  I'm a huge fan of blueberry muffins, so assumed I would love the slightly modified recipe for cupcakes.  And then who doesn't love whipped cream?!?
But alas…as you can plainly see…someone was multitasking a bit too much in the kitchen that day, and kind of forgot to keep a close eye on the whipped cream.  So sure enough — rather than having beautiful, smooth dallops to grace the top of these cupcakes, my cream went a step too far and got a little grainy.  Oops!  (A lesson to not text in the car or the kitchen!!)  But that didn't deter any of my friends from trying them.  :)
They were delicious!!!  Totally loved the cupcakes filled with the fresh blueberries (although frozen would work too).  And the cool cream and extra blueberries on top were a fantastic "icing on the cake" – soooo rich and tasty.  A delightful spin on "berries and cream!"
Would definitely recommend these to anyone!   Just keep a close eye on your mixer while it's whipping the cream.  ;)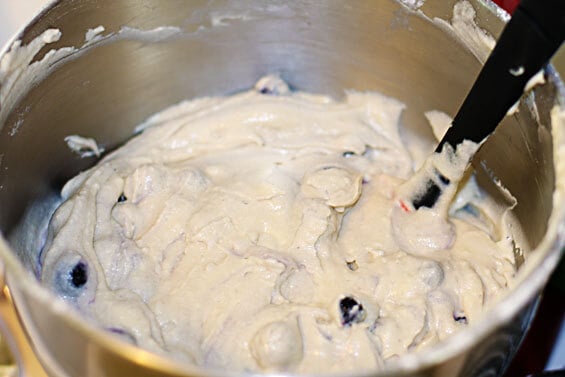 Blueberries & Cream Cupcakes
You will love this Blueberries & Cream Cupcakes recipe! Full of fresh blueberries and creamy deliciousness!
Ingredients:
1 1/2 cups all-purpose flour
1 1/2 cups cake flour (not self-rising), sifted
1 tablespoon baking powder
1/2 teaspoon salt
1 cup unsalted butter, room temperature
1 3/4 cups sugar
4 large eggs, room temperature
2 teaspoons pure vanilla extract
1 1/4 cups milk, room temperature
2 cups fresh blueberries, plus more for garnish
whipped cream, homemade or store-bought
Directions:
Preheat oven to 350°F (175°C). Line standard or mini muffin tins with paper liners.

Whisk together both flours, baking powder, and salt. With an electric mixer on medium-high speed, cream butter and sugar until pale and fluffy. Add eggs, one at a time, beating until each is incorporated, scraping down sides of bowl as needed. Beat in vanilla.

Reduce speed to low. Add flour mixture in three batches, alternating with two additions of milk, and beating until combined after each. Fold in blueberries by hand.

Divide batter evenly among lined cups, filling each three-quarters full. Bake, rotating tins halfway through, until pale golden, about 25 minutes for standard and 15 for mini.

Transfer tins to wire racks to cool completely before removing cupcakes. Top with whipped cream and additional blueberries just before serving if desired. Enjoy immediately.

If you make this recipe, be sure to snap a photo and hashtag it #gimmesomeoven. I'd love to see what you cook!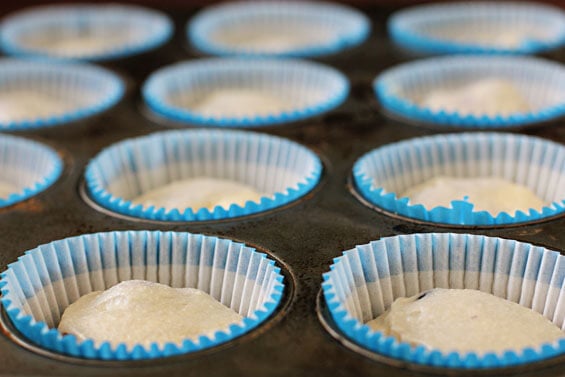 Ali's Tip:
To avoid having all of your blueberries sink to the bottom of your cupcakes (and muffins you may also make!), just toss them with a few teaspoons of flour so that they are very lightly coated!