Bourbon Old Fashioned Shrimp
On Friday night, I finished season six of Mad Men.
At 2am.  About a week after starting the season.  On Netflix.  On my wifi tv, my phone, my elliptical, and of course on my laptop (in just about every room of the house).  And while none of those were even options a decade ago, they are all of course completely "normal" now, right?!?
I mean, I don't even blink an eye nowadays when a friend asks what show they should "start" next in April.  Or when someone says they watched an entire season of House of Cards in 2 days.  Or that they haven't paid for cable in 5 years.  Normal, shmormal.  (As I'm sure Google Glass or the next new tv revolution will be in five more years.)
Well, to harken back to the good ol' days when Don Draper and his family would have sat together around a "set" to watch a show, at a designated time each week, no computer in the house, but perhaps with an Old Fashioned in hand, I made a simple shrimp saute to share with you today inspired by the classic cocktail.  It's quick, super easy, and golly gee it's good.  :)
The idea for this one occurred to me when watching Don whip up an Old Fashioned for the hundredth time on the show.  And I suddenly realized that an orange-bourbon sauce would taste mighty fine in a shrimp saute.  So I did a little experimenting, and sure enough, it was a winner!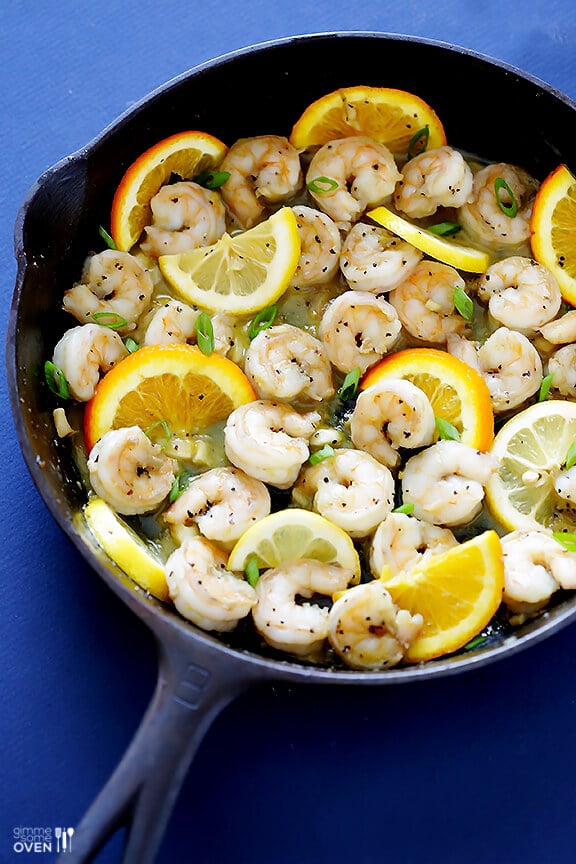 The shrimp is nice and garlicky, complimented by a sweet and citrusy sauce, kicked up a notch with a generous splash of bourbon.  Then I garnished with some fresh oranges and lemons (yes, quite a few folks make their old fashioned cocktails with oranges and/or lemons).  And served it over some egg noodles.
Super quick.  Super easy.  And SUPER good.
Here's how to make it: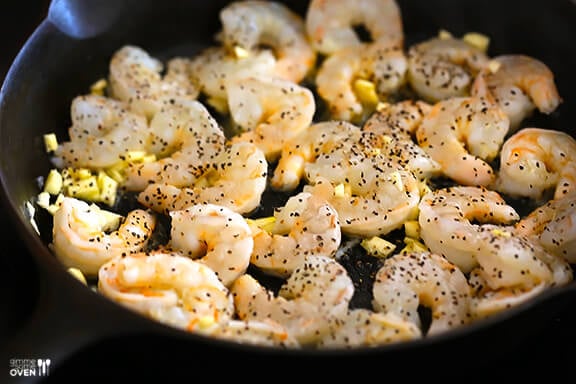 Begin with your shrimp.  Saute them up with some olive oil, lots of fresh garlic, and a few generous pinches of salt and freshly-ground black pepper.  Then once they are cooked, transfer them to a plate and set aside.
Back in the pan, pour in your sauce ingredients — orange juice, bourbon, sugar and cayenne (for a subtle kick).  Then stir and let the sauce simmer until it is reduced by about half.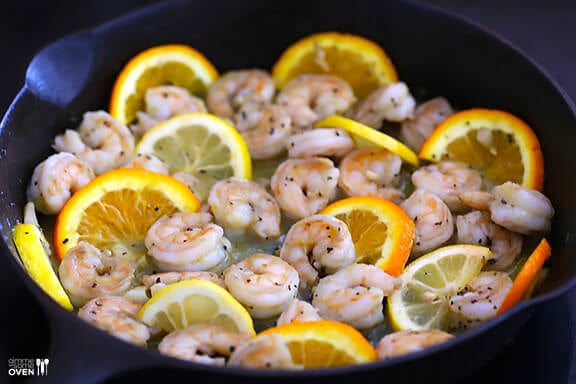 Add your shrimp back in, along with some citrus slices.  Then garnish with green onions and orange peel.
Serve over noodles, or whatever sounds delightful.  Cheers!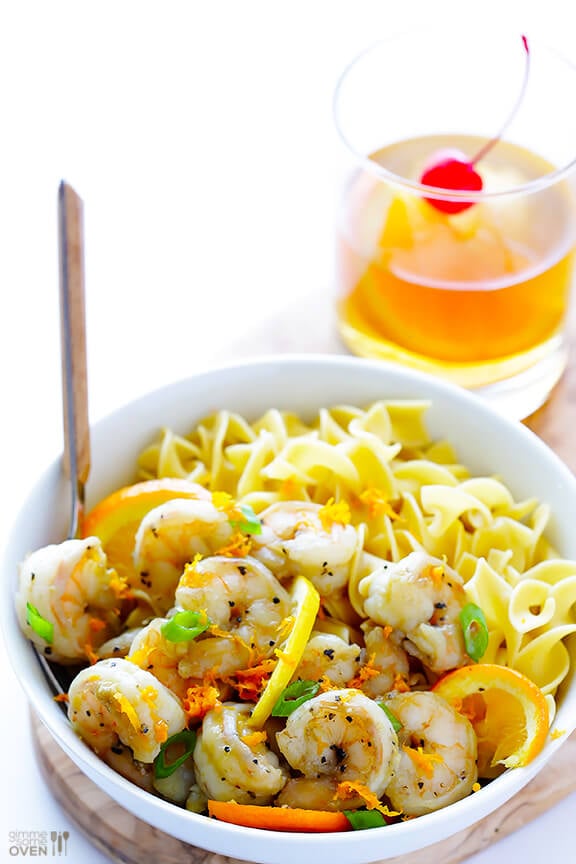 Bourbon Old Fashioned Shrimp
This simple shrimp saute is inspired by the bourbon old fashioned cocktail, and comes together in just minutes!
Ingredients:
1/2 cup freshly-squeezed orange juice
1/3 cup bourbon
2 teaspoons granulated sugar (or honey)
pinch of cayenne pepper
1 pound large or jumbo shrimp, raw, peeled and deveined
salt and freshly-ground black pepper
1 Tablespoon olive oil
4 cloves garlic, minced
zest of one orange
2 scallions (green onions), thinly sliced
(optional garnish: orange and lemon slices)
Directions:
Combine orange juice, bourbon, sugar and cayenne together in a bowl and whisk together until blended. Set aside.
Heat oil in a medium saute pan over medium-high heat. Add shrimp and garlic, and season generously with salt and freshly ground black pepper. Saute for 4-5 minutes, turning once, until the shrimp are cooked and pink and no longer opaque. Transfer the shrimp to a separate plate with a slotted spoon, and set aside.
Add the orange juice mixture to the saute pan and bring to a simmer. Immediately use a spoon to scrape the brown bits off the bottom of the pan (since that's where the great flavor is!). Then reduce heat to medium. Let the mixture simmer for about 5 minutes, until reduced by half.
Add the shrimp back to the pan, and toss until they are coated with the sauce. Remove from heat and sprinkle with the orange zest and scallions, and garnish with orange and lemon slices if desired. Serve immediately with egg noodles or quinoa or over a salad.
All images and text ©
If you make this recipe, be sure to snap a photo and hashtag it #gimmesomeoven. I'd love to see what you cook!