Old Fashioned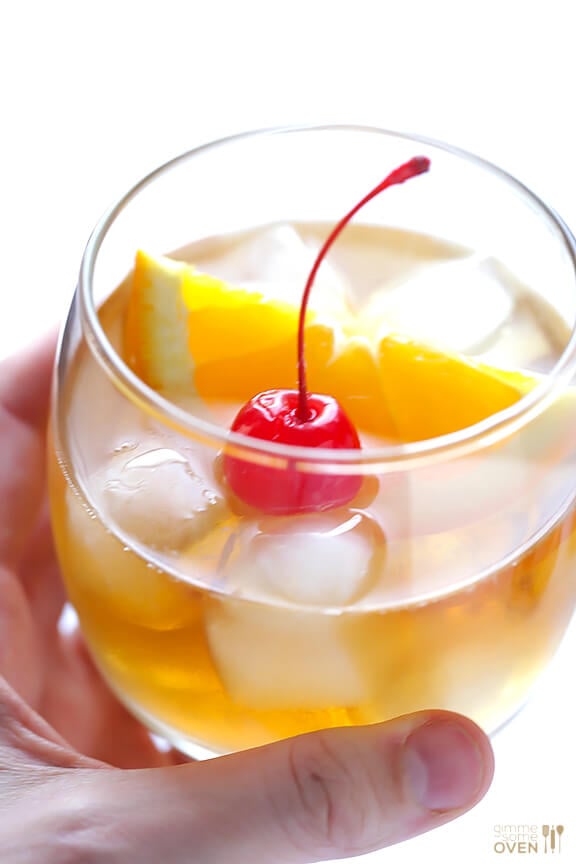 Since I am right in the middle of binge-watching season six of Mad Men this week, I thought it might be apropos to do a quick post on how to make an old fashioned cocktail.  Or I should say, more accurately, how I make an old fashioned.  Because I'm pretty sure old fashioned cocktails are like chocolate chip cookies.  Everyone likes theirs made a certain way.  And everyone is very opinionated about what that way should be.
(Yes, only a food blogger compares bourbon to cookies…)
But the fact remains that whether you like bourbon or rye, orange peel or slices, sugar cubes or simple syrup, cherry or not, the heart of this cocktail remains a classic.  It was a classic long before Don Draper's time.  And thankfully it will remain a classic long after.  So cheers to the drink that has earned its name!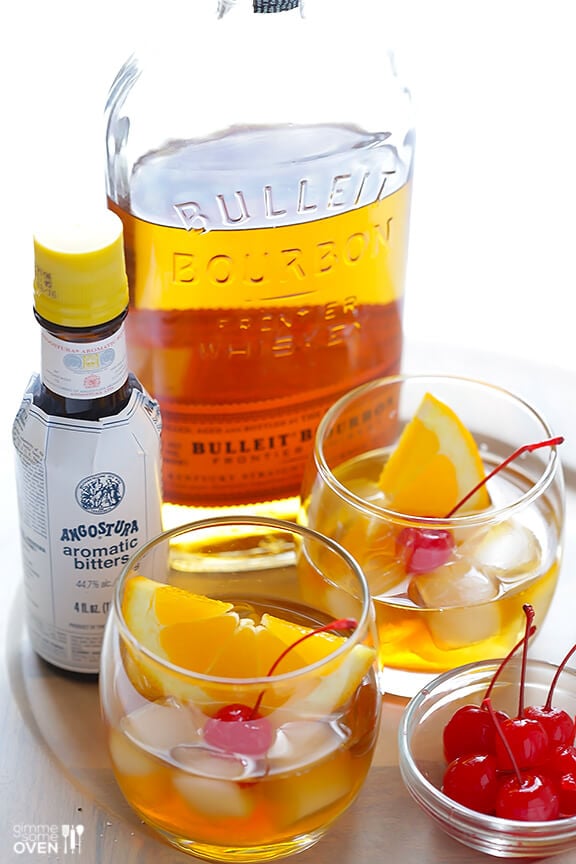 That's right.  According to good ol' Wikipedia, the Old Fashioned was basically the earliest of cocktails, kickin' it since the early 1800s and officially named in 1881.  Since then, it has become an American classic, it has had a glass named after it (multiple actually), and of course it has enjoyed a nice little resurgence thanks to that mad, mad show on AMC.
Which I'm about an inch away from abandoning, btw.
Gah.  I'm halfway through the season right now, and am reminded why I prefer to binge watch this show each year.  I seriously can't imagine riding the Don Draper roller coaster for 9 months at a time.  Watching the episodes back to back already makes me want to jump out of my chair and give him (and Roger Sterling, and half of the cast) a serious piece of my mind.
Don't get me wrong, I still love the show for all of the standard reasons.  I think the writing is brilliant.  Love the costuming.  Love all of the ad talk.  I just want Don for once to get called to task for some of the not-so-awesome decisions he makes.  Or just one of those decisions.  The dude gets away with everything.
Still, my friends have told me I must keep watching, so I'm pressing on.  But after a particularly ridiculous episode yesterday, I'm pretty sure Don should have been making his faithful viewers one of these drinks for sticking with him.  ;)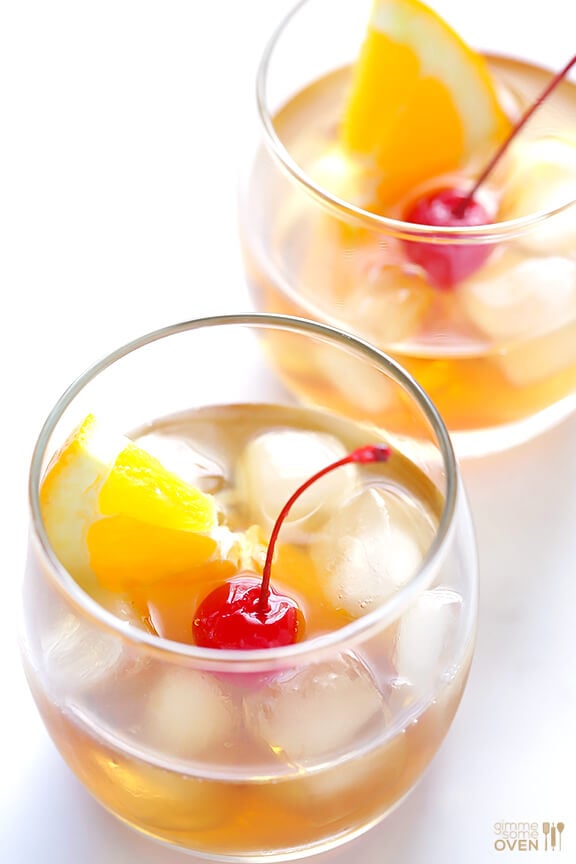 Although, I like my old fashioned cocktails made slightly differently than Don.
He goes the route of his time, using sugar cubes and club soda.  I make mine with…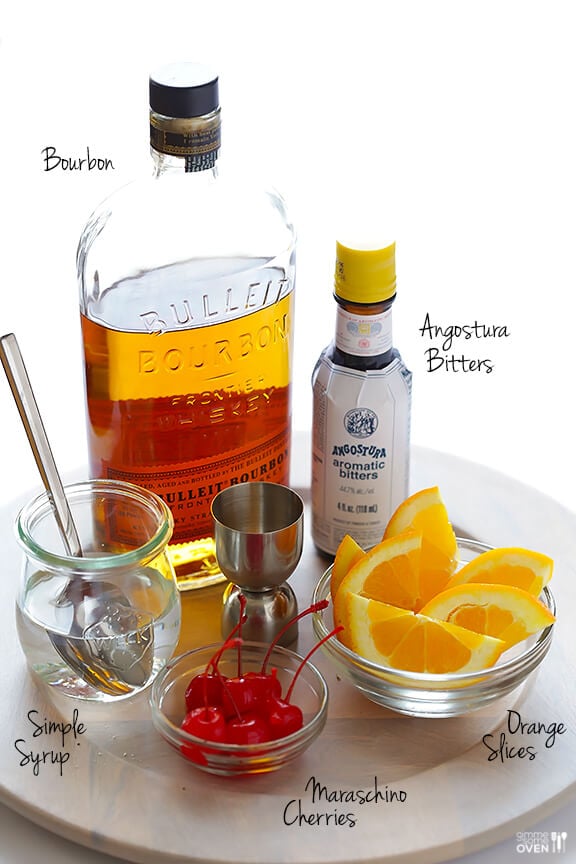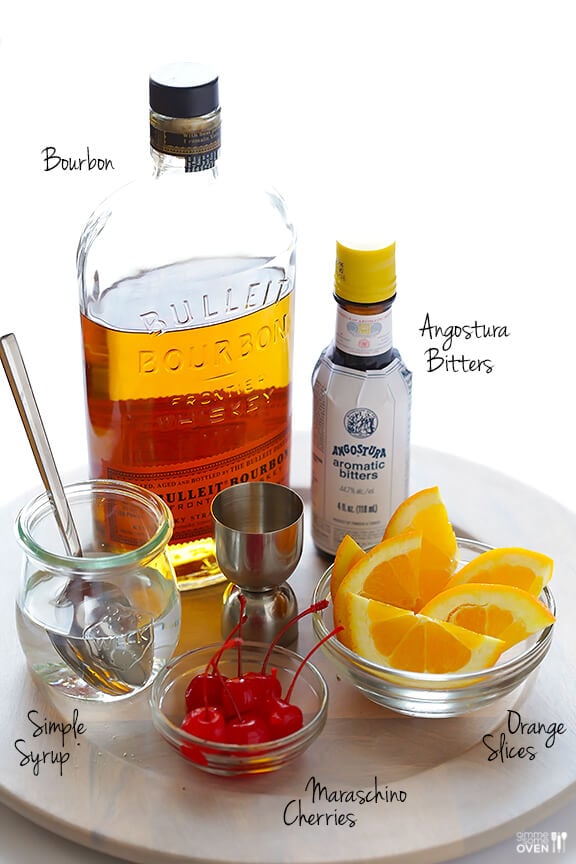 These ingredients.  (Plus ice.)  We have:
Bourbon: Yes, there's a mega debate about whether to use bourbon or rye whiskey here.  Either work beautifully.  I prefer bourbon.  (*Also see the recipe for gluten-free bourbon brand recommendations.*)
Bitters: When it comes to this drink, you must go with Angostura aromatic bitters.  They're the best.
Orange Slices: My personal preference as well, partly because I like the flavor of the actual orange juice that seeps into the cocktail.  But partly because I think a nice thick slice looks lovely in the glass.  ;)  Many will argue for squeeze and dropping orange peels into the cocktail, and some will even muddle either the slice or peel in the drink.  But my friend Nathan and I agree that the slice does a great job of flavoring the drink just by sitting in it for a few minutes before drinking, maybe after a quick shake of the glass to help it along.
Maraschino Cherries: Only note here?  Buy the ones with the stems.  Classic.
Simple Syrup: Also a personal preference.  Many use a sugar cube (or a teaspoon of sugar) instead of simple syrup.  But here's the thing, sugar won't dissolve in whiskey.  So this is why many people pour club soda or water into the drink to help dissolve the sugar.  I'm anti-carbonation in old fashioneds, so I find it easier to just use simple syrup.  It literally takes a minute to make, and is much easier to mix.  (Oh, and if you want a fab variation on this drink, dry infusing your simple syrup with some fresh ginger.  A-m-a-z-i-n-g.)
Ice: Finally, this drink is served on the rocks (a.k.a. over ice).  The bigger the ice cubes, the better, so that they do not melt and dilute your drink as quickly.  But use whatever you have.
I was going to make you a nice step-by-step collage, but ran out of time.  (Watching too many darn episodes this week!)  So instead, I popped the images into a little animated GIF.  Sorry, it's a little jerky, but you get the idea.
Bourbon + Simple Syrup + Bitters + Ice + Orange + Cherry.
The end.
Oh wait!  But that's not the end.  Stay tuned this week because I have one more old-fashioned (inspired) recipe coming up.  It may or may not involve shrimp.  (Whaaa?)
Yep, you'd better check back.  :)
Cheers, friends!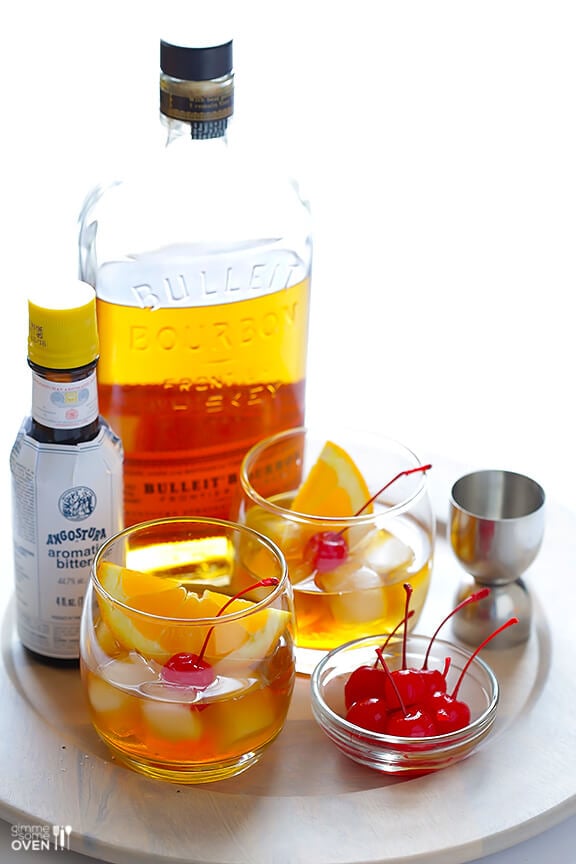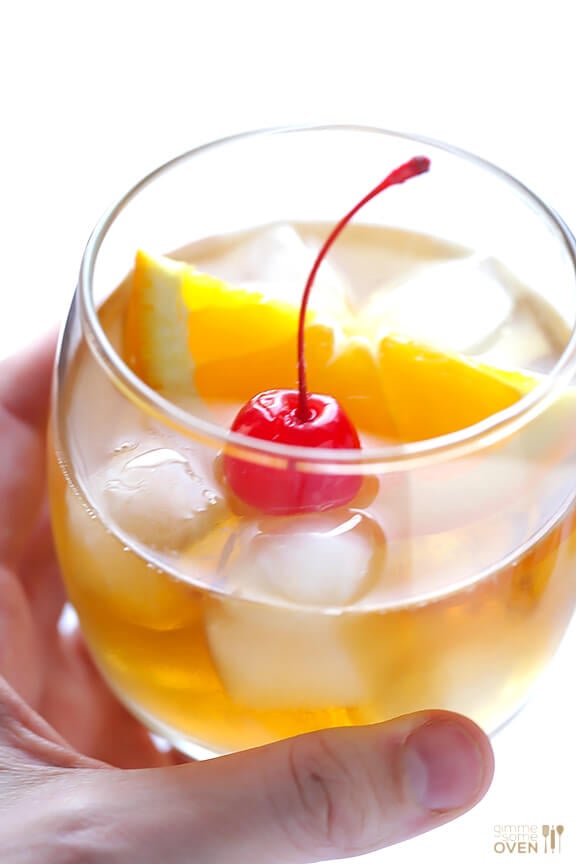 Old Fashioned Cocktail
Learn how to make an old fashioned cocktail with this classic recipe.
Ingredients:
2 ounces bourbon (or rye) (*see notes below on gluten-free brands*)
1 1/2 teaspoons simple syrup (**see instructions below)
2-3 dashes Angostura bitters, to taste
ice
1 orange slice
1 maraschino cherry, with stem
Directions:
Combine the bourbon, simple syrup, and bitters in a glass, and stir to combine. Add ice, then add the orange slice and maraschino cherry. Let the drink sit for a few minutes, or give it a little shake to let the flavors of the orange and cherry seep into the bourbon. Drink and enjoy.
(*If you are looking for a gluten-free bourbon, try Bulleit or Maker's Mark.)
(**To make simple syrup, simply bring equal parts water and sugar to a boil, and stir until the sugar has dissolved.)
All images and text ©
If you make this recipe, be sure to snap a photo and hashtag it #gimmesomeoven. I'd love to see what you cook!