Bourbon Pumpkin Pie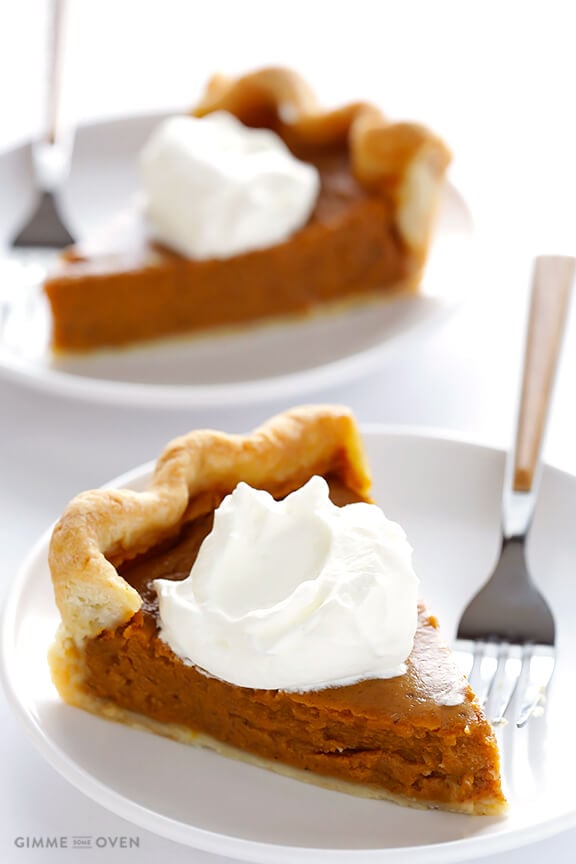 So, I made this bourbon pumpkin pie to be the grand finale of our first annual "Neighborsgiving" last week.  But like just about everything else that night, it didn't quite go according to plan.
Let me back up.
As many of you may know, my neighbors in downtown Kansas City have been meeting together for our Neighbor Nights for a little over two years now.  But being the wonderfully disorganized crew that we are, we have never quite gotten our act together to plan something together for Thanksgiving…until this year.  We all love Thanksgiving, and love our neighbors, and we definitely love to eat together.  So it seemed only natural that we get this Neighborsgiving started!  I volunteered to cook a big turkey, and everyone rsvp-ed with an impressive array of classic Thanksgiving recipes that they planned to bring.
Well, to make a long story short, the turkey did not happen (I went out to buy it the night before, conveniently forgetting about — you know — that small fact that frozen turkeys take days to thaw).  But my neighbor, John, volunteered to instead make a few beer can chickens, but those also did not happen (due to an exploding empty Pyrex dish that he set in the oven to catch the juices — oops!).  Then he went to Costco to pick up a bunch of rotisserie chickens to feed 40+ people, but only two of those happened (because guess what night Costco conveniently ran out of chicken?!).  Add to that about 5 other dishes people planned to make which did not happen (long work hours and botched recipes), some cute Pinterest-y table decor that didn't happen (a neighbor ran out of time), and this amazing bourbon pumpkin pie that didn't happen (because guess who completely forgot about it in the fridge), and well, you get the idea.  Nothing quite went according to plan.
But you know what did happen?!?
We had the BEST time.
Bourbon Pumpkin Pie Recipe | 1-Minute Video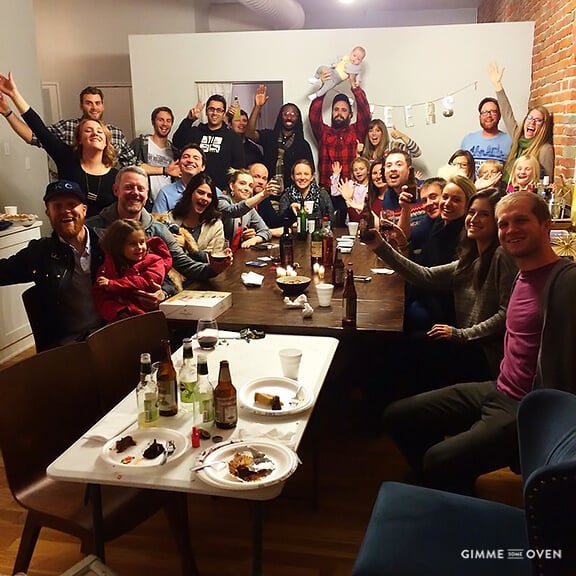 Seriously, if I have learned anything about entertaining over the years, it's that perfection is so overrated.  Entertaining is about the people.
And when you get a great group of people together, great memories are bound to be made.  And often, any seeming "imperfections" are what make time together all the more perfect.
For example, the big buckets of fried chicken that John picked up from Popeye's after coming up short at Costco?!  Pretty sure they were the hit of the night.  The sweet potato casserole that my neighbor, Cynthia, ran out of time to make?  Well, her improvised sweet potato "stacks" were one of the most delicious and creative sweet potato dishes I've ever had.  And all of that Pinterest-perfect decor and tablescape that we ran out of time to make?  Well, we literally ran out of room on the countertops and the table because there was so much food, which we all happily devoured.
It was awesome.  And it made me so thankful yet again for this eclectic community of neighbors who have turned into friends.  I love this crazy thing that we have together, and wouldn't have wanted the night to go any other way.
Although, I will say that we missed out on this bourbon pumpkin pie… :)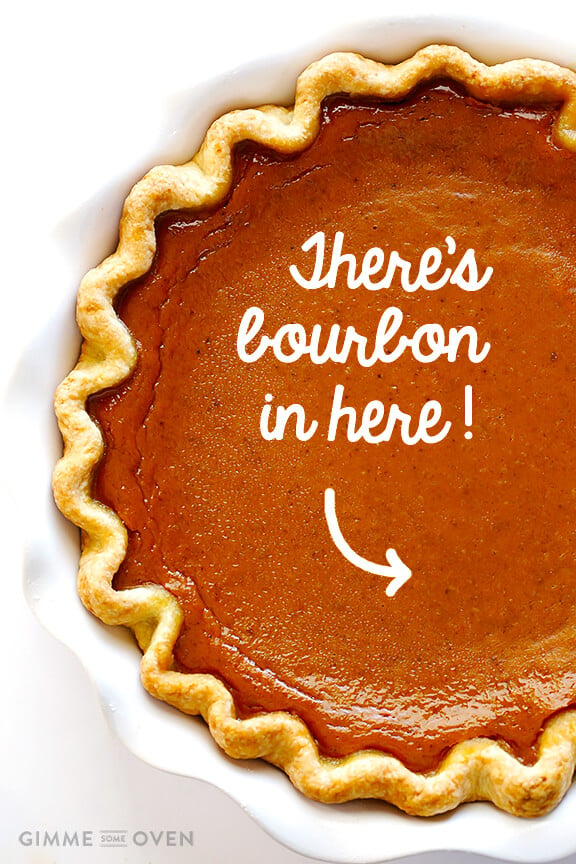 Heck yes!  It may look like a traditional pumpkin pie, but there's a nice splash of bourbon in there.  (And in the whipped cream on top!)  And if you happen to like bourbon and pumpkin pie, I highly recommend you give it a try because it's also super easy to make.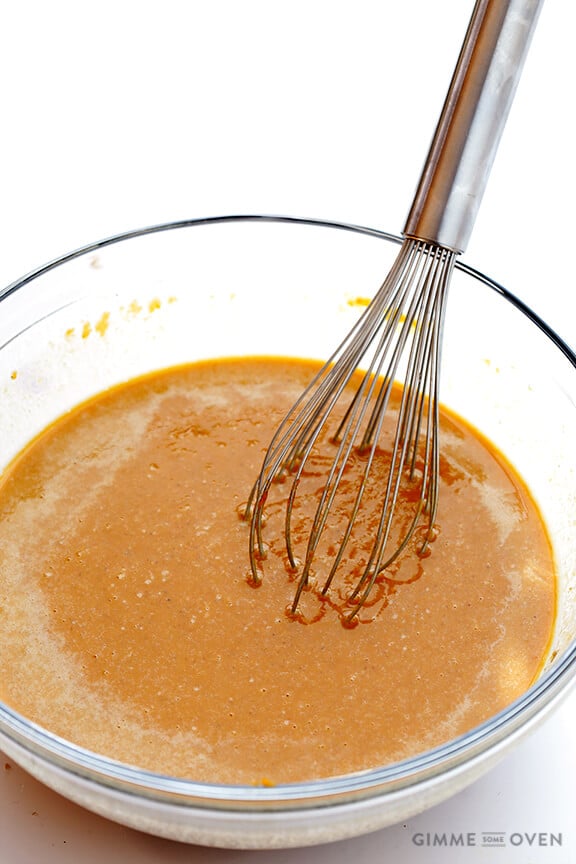 Just whip up traditional pumpkin pie batter and add in two tablespoons of bourbon.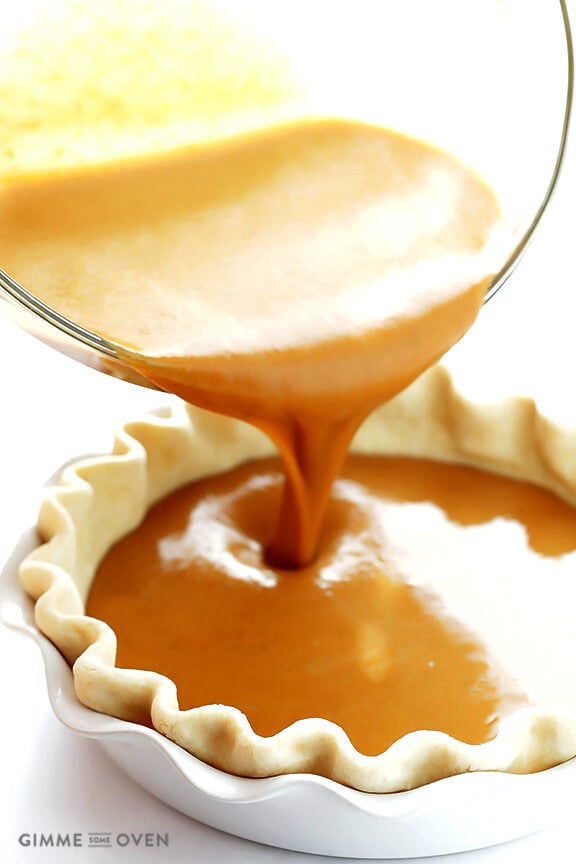 Then pour the filling into an unbaked pie crust.  (If you need a recipe or tutorial, here's my post on how to make a pie crust.)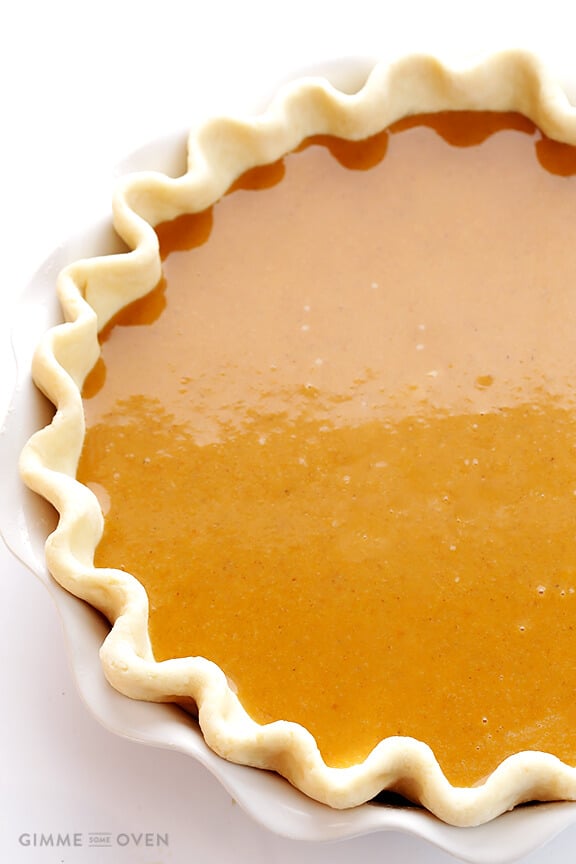 Then bake it up just as you would a traditional pumpkin pie.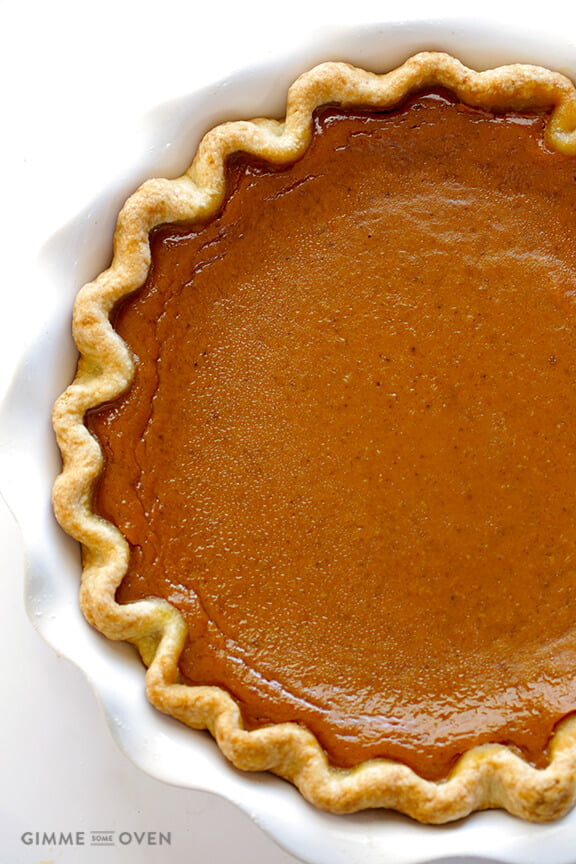 Let it cool.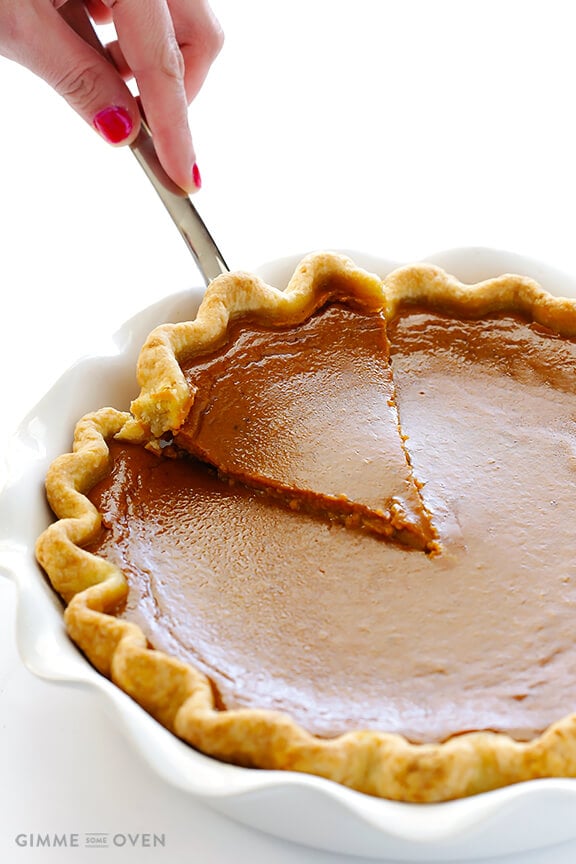 And then dive in!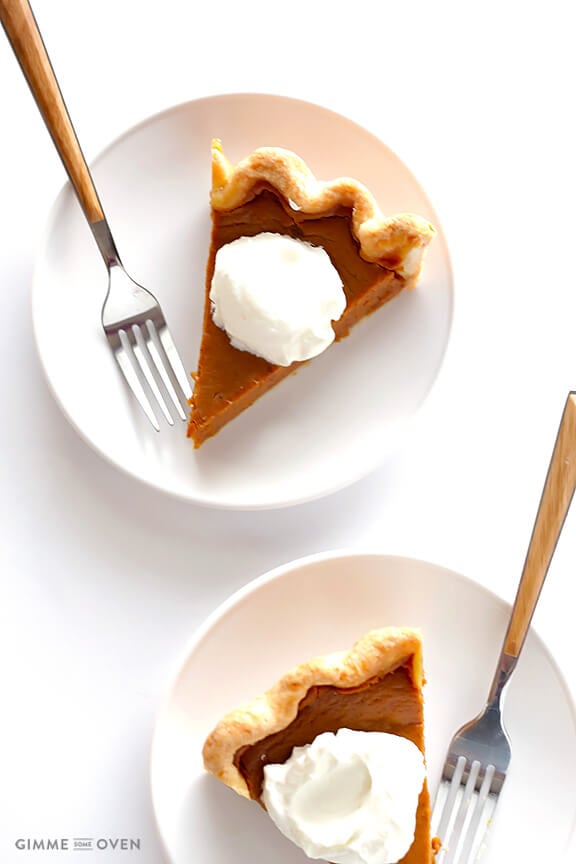 Oh, and I highly recommend making a batch of homemade bourbon whipped cream to pile on top.  You won't regret it.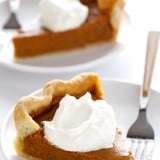 Bourbon Pumpkin Pie
This bourbon pumpkin pie recipe is simple to make, and topped with a stellar bourbon whipped cream.
Ingredients:
Bourbon Pumpkin Pie
3/4 cup packed light brown sugar
2 teaspoons pumpkin pie spice (*or see substitute below)
1/2 teaspoon salt
2 large eggs
1 can (15-ounces) pumpkin puree
1 can (12-ounces) evaporated milk
2 tablespoons bourbon
1 unbaked 9-inch pie crust (see recipe/tutorial here for how to make a pie crust)
(optional) bourbon whipped cream, recipe below
Bourbon Whipped Cream
1 cup heavy cream
1 tablespoon bourbon
1 tablespoon powdered sugar
1/4 teaspoon vanilla extract
Directions:
To Make The Bourbon Pumpkin Pie:
Preheat oven to 425° F.
Whisk together sugar, cinnamon, salt, ginger and cloves in small bowl, and set aside.
In a large bowl, whisk the eggs and the pumpkin until combined.  Whisk in the sugar-spice mixture until combined.  Then gradually stir in the evaporated milk and bourbon until combined.  Pour the mixture into the unbaked pie shell.
Bake for 15 minutes. Then reduce temperature to 350° F, and bake for an additional 40 to 50 minutes or until toothpick inserted near center comes out clean.
Cool on wire rack for 2 hours, then refrigerate until ready to serve.  (The pie will slice easier if chilled.)
Serve with bourbon whipped cream or your desired toppings.
To Make The Bourbon Whipped Cream:
Using an electric mixer, beat all of the ingredients together in a large bowl until the cream is whipped and forms soft peaks.  Serve, or cover and refrigerate for up to 2 hours.
*If you don't have pumpkin pie spice, you can substitute 1 teaspoon ground cinnamon, 1/2 teaspoon ground ginger, 1/4 teaspoon cloves, 1/4 teaspoon ground nutmeg, pinch of allspice
Pumpkin pie recipe adapted from Libby's.
All images and text ©
If you make this recipe, be sure to snap a photo and hashtag it #gimmesomeoven. I'd love to see what you cook!