Breakfast Israeli Couscous (With Apricots, Almonds & Coconut)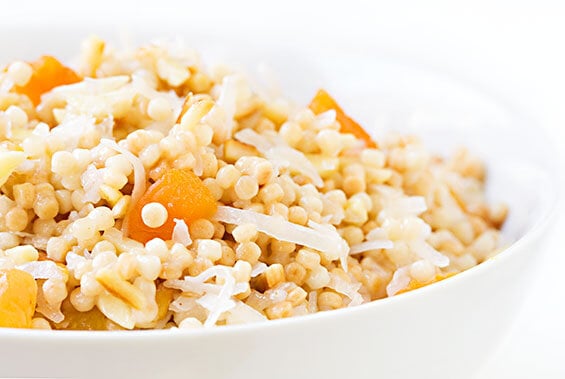 I love the morning.  Love the light.  Love watching my puppy yawn and greet the day.  Love that sense of newness and hope that seems to come with the morning.  And of course, love breakfast.
But that said, I also love the snooze button on my alarm.  :)  More often than not, find myself in a race out the door, maybe grabbing a granola bar or banana on the way.  Boo.  This spring, I'm determined to reclaim my mornings.  And with that — healthy, intentional breakfasts!
So for the first (of hopefully many) breakfast posts this spring, I'm so excited to share this amazing couscous recipe.  That's right — couscous for breakfast!  This recipe actually calls for Israeli (pearl) couscous which, after being toasted and soaked in coconut milk, is super rich, sweet and very filling!  Loved the almond/coconut/apricot combo as well — fresh and full of great protein for the day.
Definitely a delicious reason to wake up with some time to spare.  ;)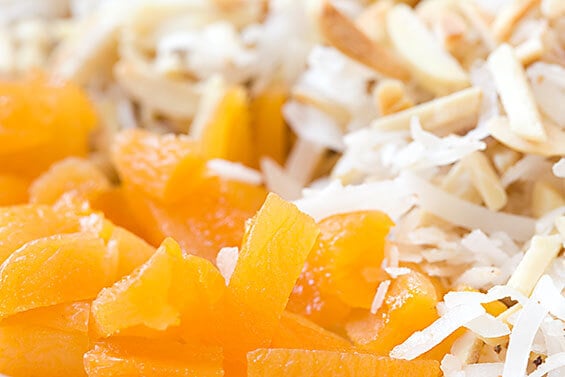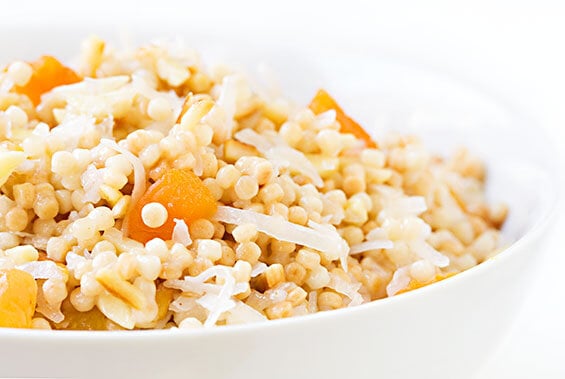 Breakfast Israeli Couscous (With Apricots, Almonds & Coconut)
So many Middle-Eastern flavors come together in this Breakfast Israeli Couscous (With Apricots, Almonds & Coconut) Recipe! Delicious, healthy, and easy to prepare!
Ingredients:
1 cup Israeli couscous
1 cup coconut milk (I used "light")
1/2 cup sliced almonds, toasted
1/2 cup sweetened shredded coconut
1/4 cup dried apricots, chopped
1 tbsp honey or agave nectar
Dash of salt
Directions:
Toast the almonds in a skillet over medium heat for one minute, then stir in the shredded coconut. Continue to cook for a few more minutes (stirring constantly) until they both are slightly tanned and fragrant. (Be careful – nuts go from toasted to burnt in a flash!) Remove and set aside.
Toast couscous in a skillet over medium heat until lightly golden, stirring every minute or so.
Pour coconut milk in a small saucepan and heat until almost boiling, but not quite. Add toasted couscous, honey, and dash of salt and stir quickly. Cover the pot and remove from heat; let sit for 15 minutes. During this time, the couscous will absorb the liquid. Once couscous has absorbed all of the liquid, add in the toasted almonds, apricots, and shredded coconut. (If you like this really sweet, feel free to add in a little more honey at the end!)
If you make this recipe, be sure to snap a photo and hashtag it #gimmesomeoven. I'd love to see what you cook!
Ali's Tip:
Israel couscous is actually a pasta, but I'm sure many other whole grains would be fantastic in this!  Winter wheat berries and quinoa come to mind…
Also feel free to sub in favorite dried or fresh fruits!  Just about anything would work!!  :)