Broccoli Chicken Mac & Cheese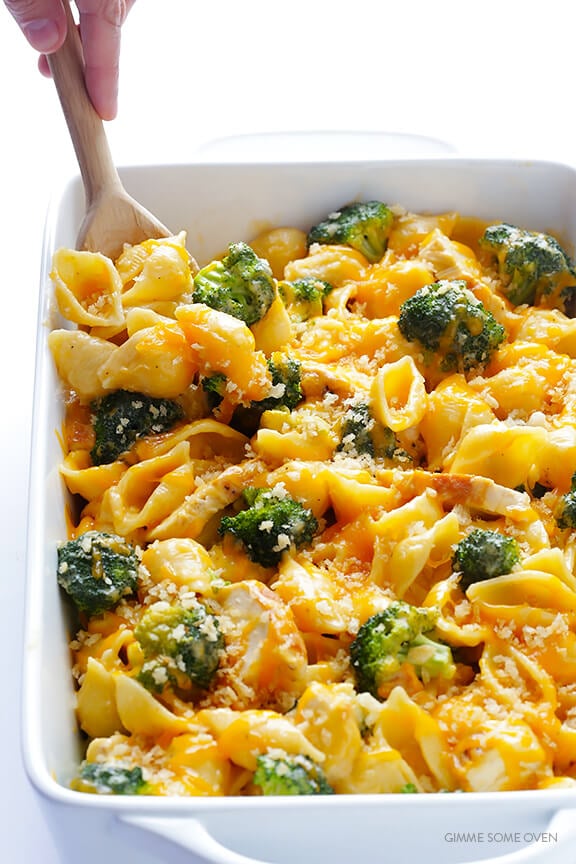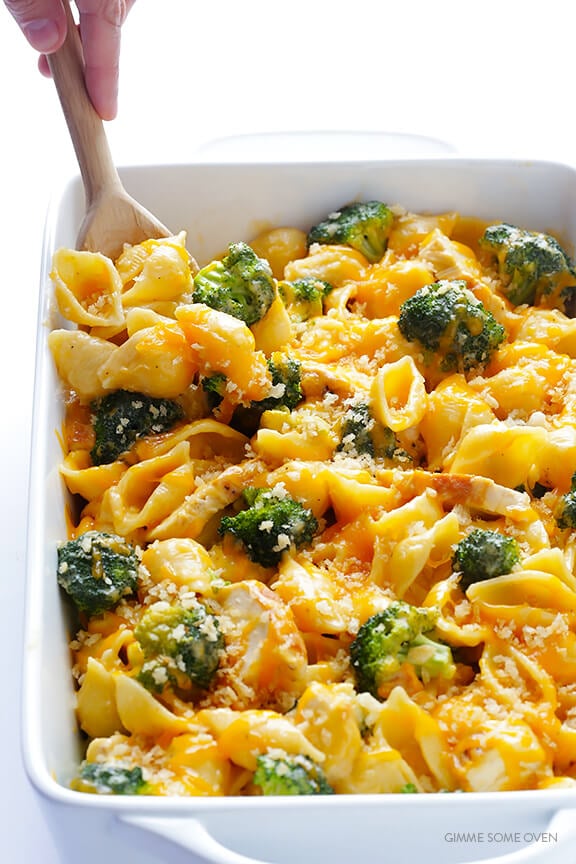 It's Friday, it's Friday!
Even better?  Today happens to be the Friday that my good friends, Michelle and David, are getting married!
Between the shower, bachelorette party, small wedding (tonight) and big reception (tomorrow), this week has turned into one mega celebration of the happy couple.  Which I'm all for.  Because friends as cool as these two, who spent years cultivating cool and thoughtful and inspiring lives while being single into their thirties, then did the beautiful yet often hard work of merging those full lives together later in life, and have now become one of my favorite couples on earth…deserve to be celebrated in style.  Which…our friends just so happen to be mighty good at doing.  ;)
One of my lucky jobs for the weekend is playing in the band for the reception, which is a treat because Michelle and David chose a legitimately awesome set list, and the band is a group of dear (and super-talented) friends.  We've already had a little too much fun practicing this week for hours, and then hanging out ridiculously late on a weeknight afterwards catching up over champagne and chips and salsa.  You know, as all good bands should do.
Somewhere in the midst of that conversation, I mentioned that I had just made an epic batch of Broccoli Chicken Mac & Cheese earlier that day, but had writer's block and couldn't think of what on earth to write about it other than the fact that it's delicious and everyone should make it stat.  My friend, Rachel, instantly chimed in to help.  According to her, there's only one thing that need be said about broccoli mac and cheese:
It's what to make when you get that total craving for ooey, gooey, decadent mac and cheese…buuuuuuut feel like you should make it at least a teeny bit healthy.  So you toss in some broccoli.  And maybe some chicken, if you're a meat-eater.  And then voila — comfort food craving and vegetable quotient satisfied.
Works for me.  :)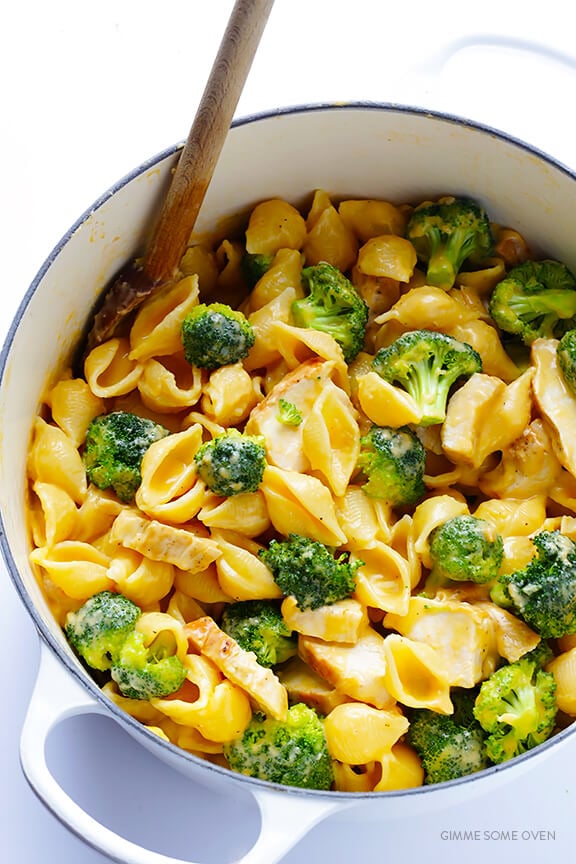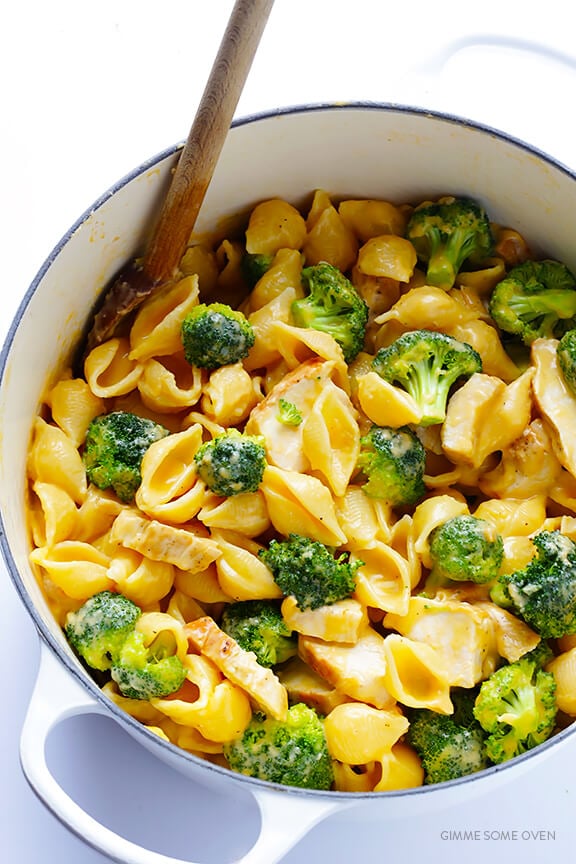 Actually, I've shared on the blog before that — of all the veggies out there in the vegosphere — broccoli and I don't have the best history together.  But we're slowly and steadily growing a little more fond of one another.  And of course, when served in a heaping dish with cheesy chicken and pasta, I think I can make do.  :)
(Those "florets" still freak me out just a tiny bit.  Does it not feel weird to anyone else that we're essentially eating small trees?!?)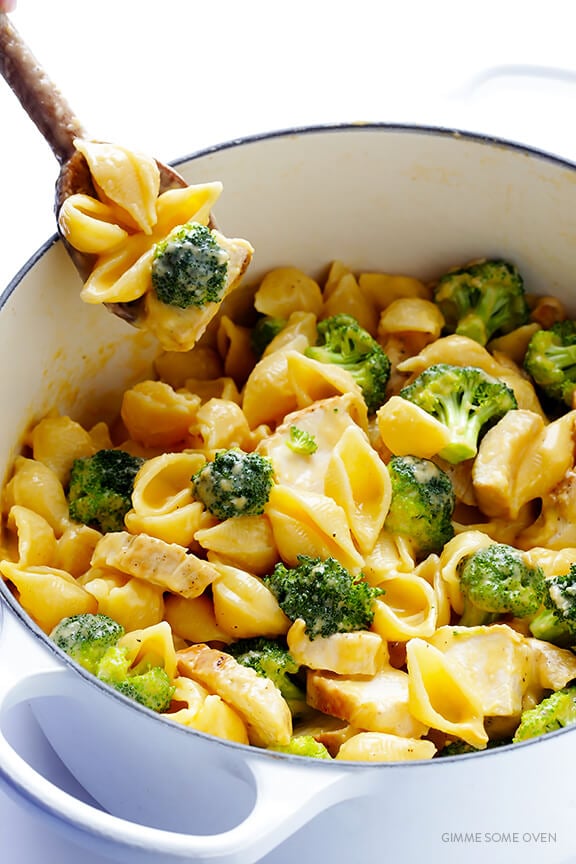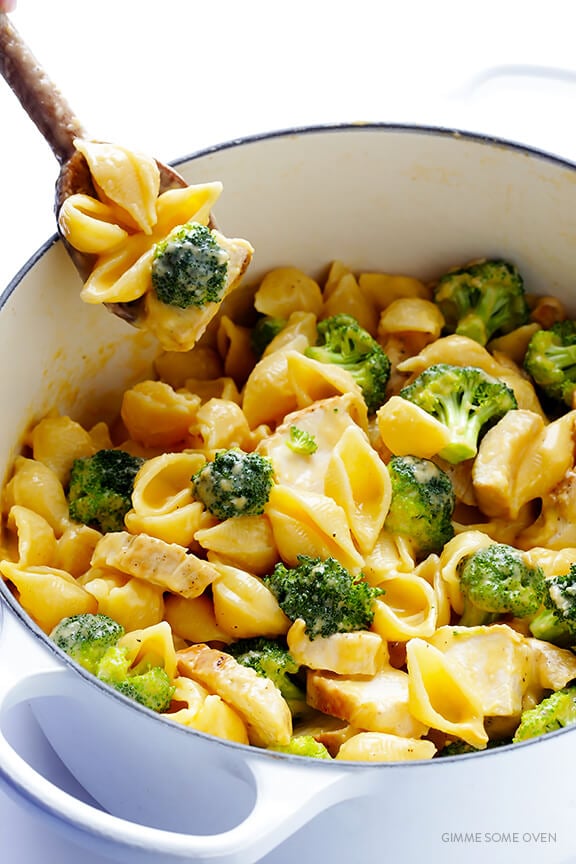 I digress.
This dish is really quite simple — a (sharp!) cheddar and Parmesan cheesy pasta base, topped with fresh broccoli and cooked chicken.
You can add in the broccoli however you'd like — steamed, boiled, sauteed, roasted, or even raw if that sounds good (because it will cook slightly in the oven).  I just boiled mine in with the pasta for a few minutes to soften it up, which I'd say is easiest.  And then for the chicken, feel free to saute or bake up some chicken breasts, or even shred a rotisserie chicken that you pick up at the store.  Whatever's convenient.
Toss it all together with the yummy cheesy pasta, and then you can either serve it stovetop-style just as it is…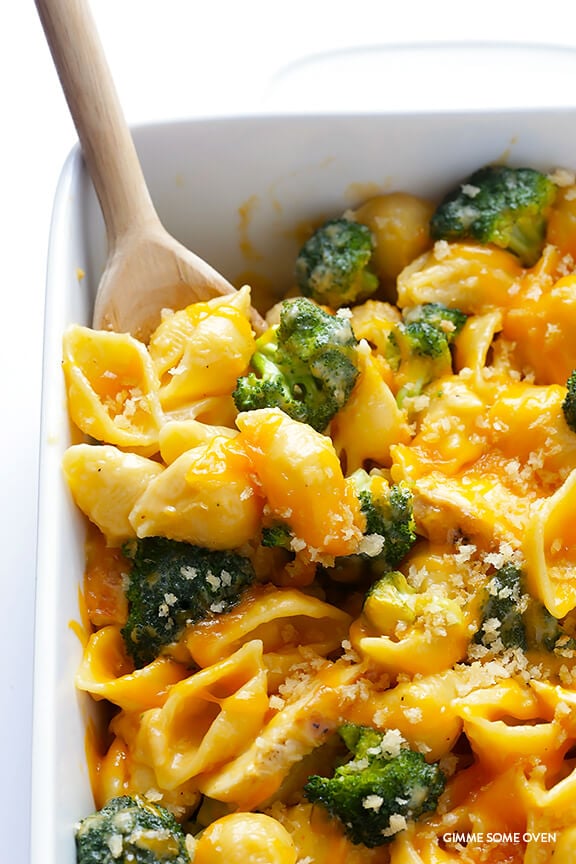 …or you can pour it into a baking dish and sprinkle some Panko on top and bake it until a nice crispy crust forms on top.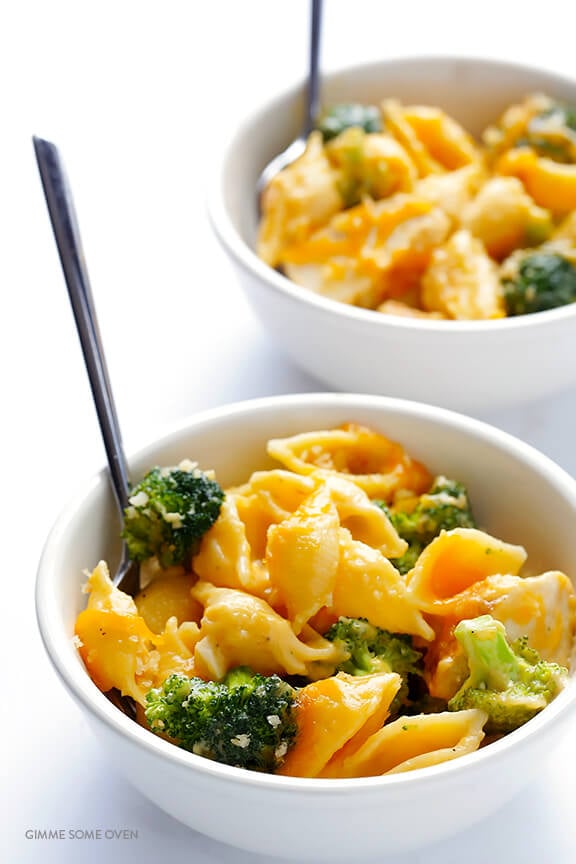 I'm usually a stovetop girl, but with this recipe, I vote for the baked version all the way.  The crispy layer on top paired perfectly with the soft broccoli and pasta underneath.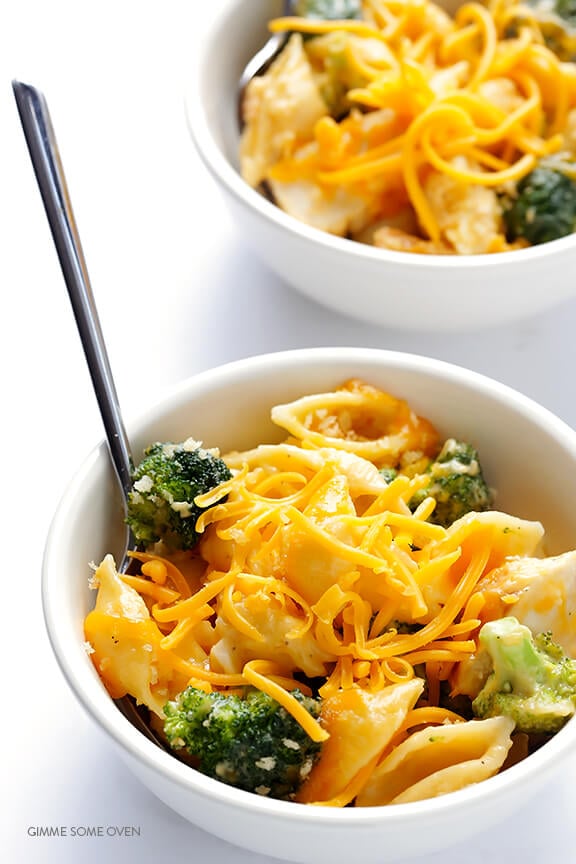 And if you really want to indulge, you could even sprinkle a little bit of extra cheese on top.
Comfort food for the win.  With, ahem, a little broccoli.  ;)
Have a great weekend, everyone!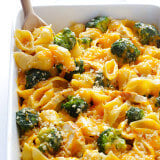 Broccoli Chicken Mac and Cheese
This Broccoli Chicken Mac and Cheese recipe is made with a delicious cheddar-Parmesan cheesy sauce, and kicked up a notch with fresh broccoli and cooked chicken.
Ingredients:
1 pound dry pasta (I used small shells, but you could use macaroni or any shape of pasta)
1 bunch broccoli, cut into bite-sized florets
2 tablespoons butter or olive oil
3 cloves garlic, minced
3 tablespoons flour
1 cup vegetable or chicken stock
1 cup milk, warmed
2 1/2 cups freshly-grated cheddar cheese (I recommend sharp cheddar)
1/2 cup freshly-grated Parmesan cheese
1/2 teaspoon salt, or more to taste
1/4 teaspoon finely-ground black pepper, or more to taste
2 cooked* boneless, skinless chicken breasts (*see instructions below for how to cook chicken breasts)
(optional topping for the baked version) 1/2 cup extra shredded cheddar cheese and 1/2 cup Panko breadcrumbs
Directions:
Preheat oven to 350°F.
Cook pasta al dente** in a large stockpot of generously-salted water, according to package instructions.  About 2-3 minutes before the pasta reaches al dente, add in the broccoli florets and let them cook alongside the pasta for the remainder of the cooking time.  Drain and set aside.
Meanwhile, as the pasta water is heating, melt butter in a (separate) medium saute pan over medium-high heat.  Add garlic and saute for 1 minute or until fragrant, stirring occasionally.  Whisk in the flour until combined and cook for an additional 1 minute, whisking occasionally.  Slowly whisk in vegetable or chicken stock until the mixture is smooth.  Then slowly whisk in the milk until it is combined.  Continue cooking for 1-2 minutes, or until the mixture comes to a simmer.  Then remove from heat, and stir in the cheddar, Parmesan, salt and pepper until the cheese sauce is smooth.  Remove from heat.
Once the pasta and broccoli are cooked, pour the cheese sauce on top of the pasta, add in the chicken, and toss until everything is evenly combined.
At this point, you can either serve the pasta stovetop-style as-is.  Or pour the pasta into a greased 9 x 13-inch baking dish, and sprinkle with extra cheddar cheese and Panko breadcrumbs.  Bake for 15-20 minutes, or until the top becomes slightly crispy and the breadcrumbs are slightly golden.  Remove and serve immediately.
*To cook the chicken breasts on the stove top, heat 1 tablespoon olive oil in a large saute pan.  Pound chicken to even thickness, and sprinkle both sides with a few generous pinches of salt and pepper.  Add to the pan and cook for 3-4 minutes per side, or until the chicken is cooked through and no longer pink inside.  (Cooking times will vary depending on the thickness of your chicken.)  Or, to bake the chicken breasts in the oven, follow these instructions.
**If making the baked version of this dish, I recommend ever-so-slightly undercooking your pasta, as it will cook a bit more while it bakes in the oven.
All images and text ©
If you make this recipe, be sure to snap a photo and hashtag it #gimmesomeoven. I'd love to see what you cook!