Buffalo Hummus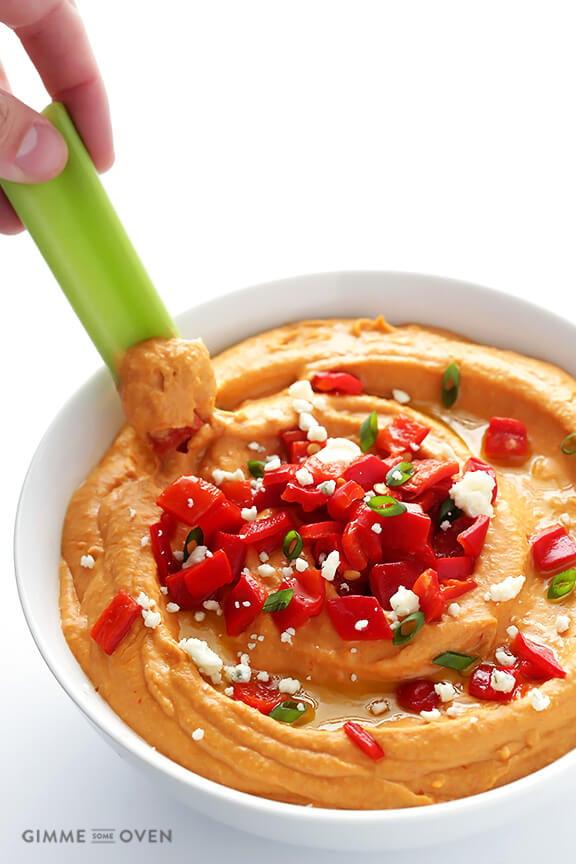 I made you a winner of a dip for SuperBowl Sunday!
But I must say, it's entirely for you all.  Because while probably everyone else in the country will be munching on dips and ladling up chili and cheering on their favorite team (and let's be real – all of those commercials!), I will be chugging away in my little Prius, guzzling my 5th cup of coffee, munching on my classic road-trip beef jerky, sporting my new Texas-sized sunglasses, finishing up the home stretch of my 11 hour drive to Austin!!!  I can hardly believe it.  After months of anticipation, it seems as though February has finally arrived.
For anyone who missed the news, I convinced Kathryne (from the vegetarian blog, Cookie & Kate) to pack up our dogs, our laptops and our camera equipment, and bid a fond farewell to freezing Kansas City for the month of February.  And instead, we're going to be saying hello to warm, sunny, taco-filled Austin!!!  We get the keys to our sweet new AirBnB house on Sunday, and we already can't wait to put our new kitchen to use cooking up a storm during the days.  And then we're going to try and be good about shutting off all of our screens and getting out on the town the second that we're done with work.  Our Austin bucket list is already long and growing, and I know time's going to fly!  But if you have any recommendations, let us know, especially if they involve chips and salsa and margaritas.  ;)
Anyway, get ready, because I'm pretty positive the next month is going to be all Austin, Austin, Austin.  But while I'm still in Kansas City today getting ready for the weekend, let's talk about this killer buffalo hummus.  And really, all Super Bowl dips.  Because the big game is only days away.  Are you ready for some fooooootbaaaaaall?
(Cue the always-overly dramatic, epic, thumping football music…)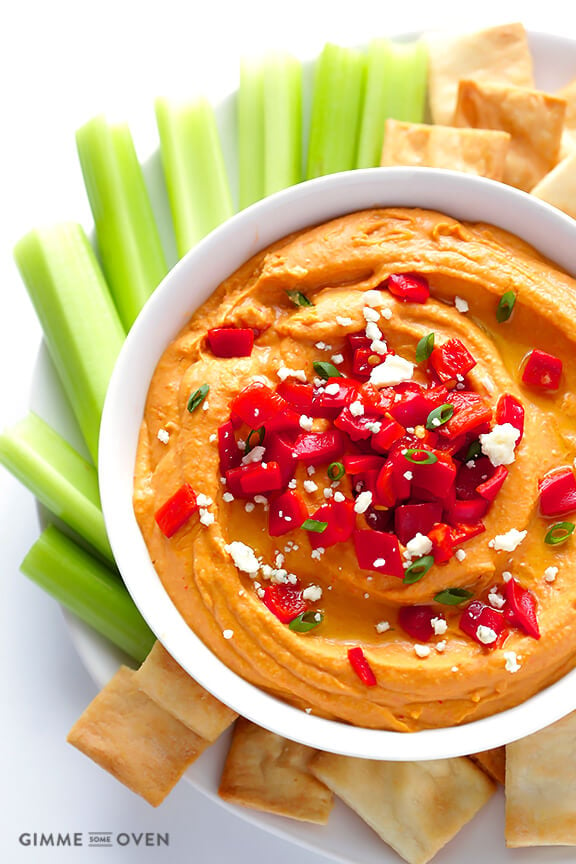 Well, it's no secret that I've always been more of a — shall we say — "social" football fan in the past.  I'm happy to wear the right colors and cheer loudly on game days.  But really, my main interest is always the epic buffet of dips and appetizers and chilis and desserts galore in the kitchen.
Mainly, the dips.  I'm a big believer that Super Bowl is all about the dips.
Apparently you are too, because my Skinny Buffalo Chicken Dip has been soaring to the top of our blog stats this week as people are planning out their Super Bowl menus.  (Which makes me very proud — good decision, world.  You'll love that recipe!)  But since I happen to be on a mega homemade hummus kick lately, I thought it might be fun to introduce a new buffalo dip to the Gimme Some Oven recipe index:
That's right.  All of the goodness of traditional homemade hummus — with chickpeas, tahini, garlic, lemon juice, and simple seasonings — plus the irresistible-ness that is "buffalo".  We're talking hot sauce, baby.  And lots of blue cheese, if you happen to be a blue cheese lover.  (If you're not, we'll forgive you for leaving it out.)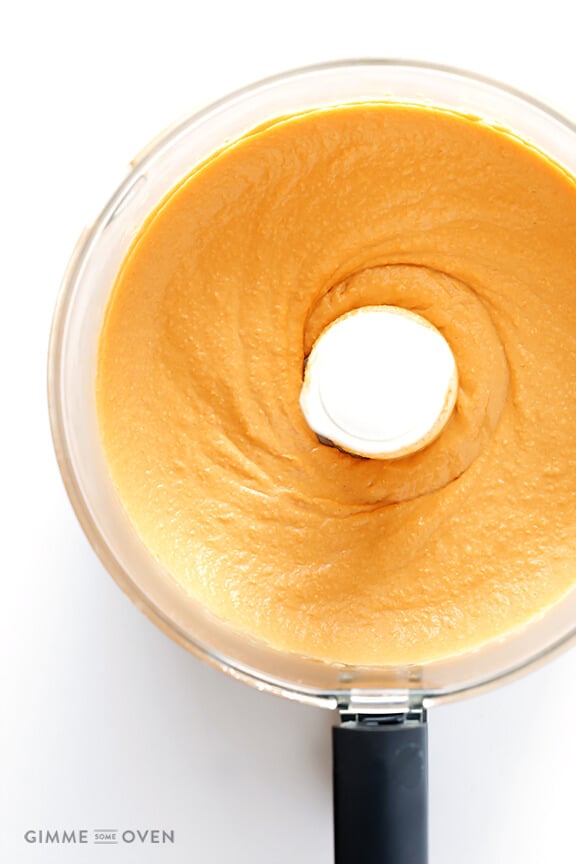 To make it, simply toss everything together in a food processor or blender.  And then pulse it to smooth, creamy, buffalo-y perfection.  I vote you start with a medium amount of hot sauce, and then add more to taste.  (I like a lot!)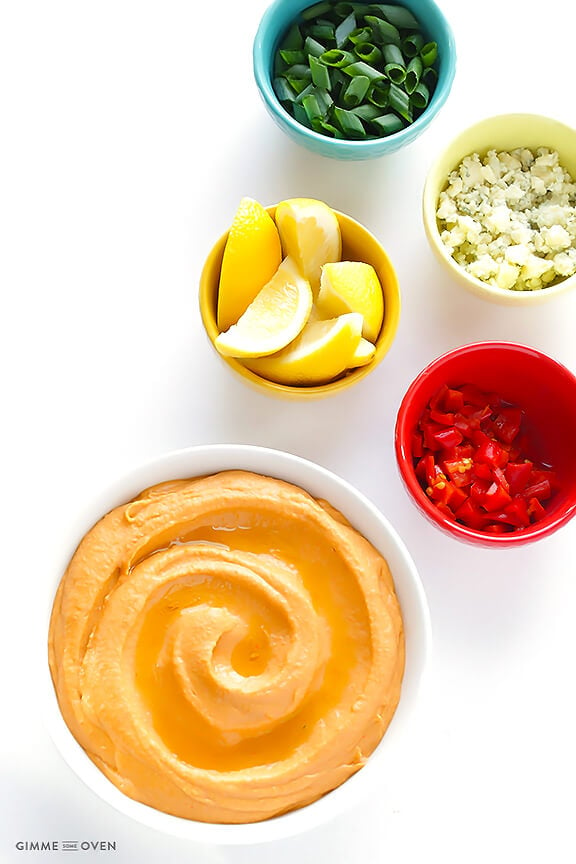 Then decide how you want to serve it!  I went with some olive oil, some chopped roasted red peppers, a squeeze of lemon juice, blue cheese and some traditional green onions.  But feel free to go with whatever floats your boat.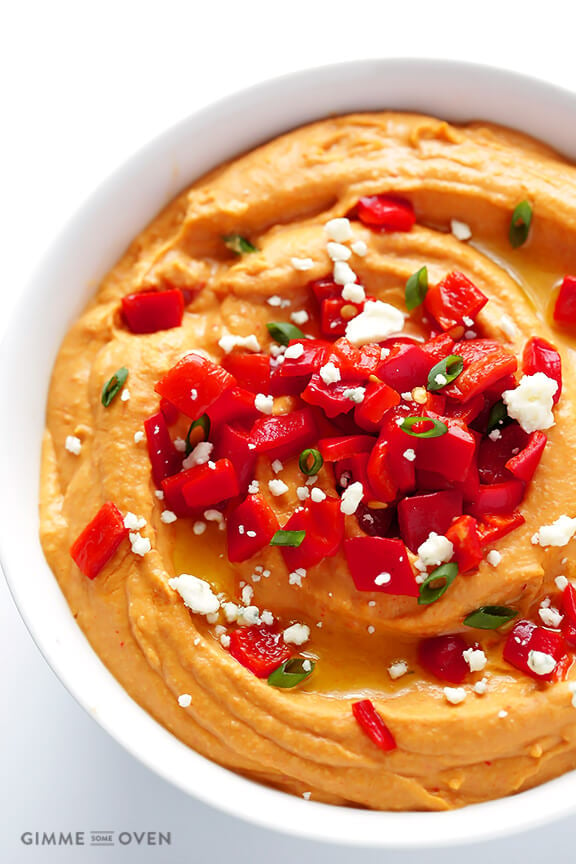 Then serve it up with some pita bread and veggies, and immediately pop some on your plate.  Because I'm pretty convinced that after you announce the words "buffalo" and "hummus", this dip will disappear in an instant.
Enjoy eating every bite of it on the Super Bowl for me, and I'll see you on the flip side in Austin!!!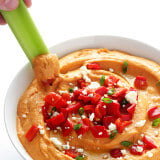 Buffalo Hummus
This buffalo hummus recipe is everything you love about classic hummus…kicked up a big notch. ;)
Ingredients:
2 (15-ounce) cans chickpeas, drained and rinsed
5 cloves garlic, peeled
1/4 cup water (or 2 tablespoons water + 2 tablespoons olive oil)
1/4 cup tahini
(optional) 1/4 cup crumbled blue cheese
4-8 tablespoons hot sauce*, to taste
2 Tablespoons freshly-squeezed lemon juice
1.5 teaspoons smoked paprika
1 teaspoon ground cumin
1/2 teaspoon salt
1/4 teaspoon freshly-ground black pepper
(optional toppings: olive oil, chopped roasted red peppers, thinly-sliced green onions, extra crumbled blue cheese)
Directions:
Add all ingredients to a food processor or blender (*starting with only 4 tablespoons of hot sauce, if you don't like much heat).  Pulse until combined.  Taste, and add more hot sauce to taste, if desired.
Serve with your desired dippers, garnished with optional toppings if desired.
*I'm a big fan of Frank's hot sauce and highly recommend it.
All images and text ©
If you make this recipe, be sure to snap a photo and hashtag it #gimmesomeoven. I'd love to see what you cook!