Butternut Squash Alfredo Baked Shells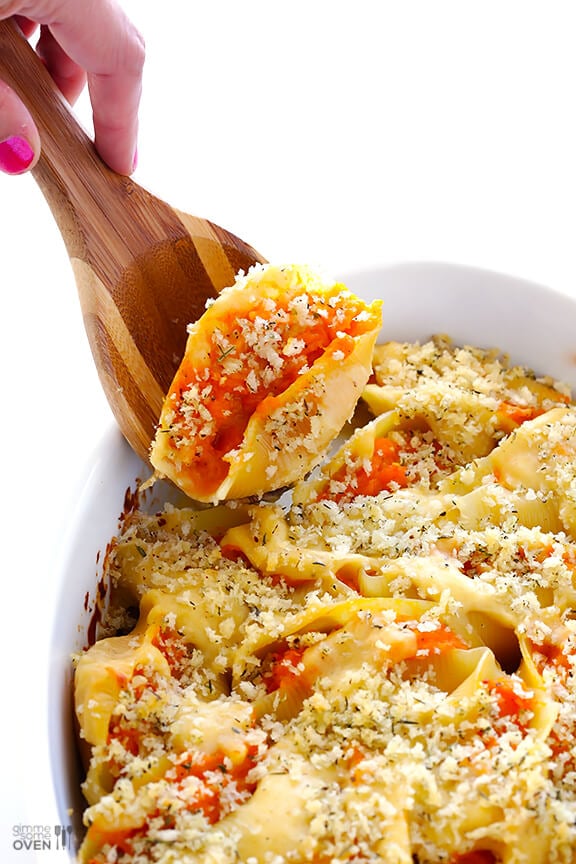 What is the best way to reach you?
If someone wants to get ahold of me, I always recommend that they send a text (or iMessage).  Or next best would be an email.  Maybe call.  Possibly tweet.  Probably don't leave a Facebook message.  And I rarely check my snail mailbox.  But if you really want to get ahold of me, pretty please just don't leave me a voicemail.
Gah.  Does anyone else dread voicemail as much as I do?!?
I don't know when I reached the tipping point with voicemail, as it used to be oh-so-cool back in the early days that I had my aqua-blue Nokia phone.  And it has advanced so much in the past 15 years, now with caller ID and just a one-click push of the button instead of having to "call voicemail" and navigate through the system.  But oh man, voicemail still gives me total phone anxiety.  I even changed my voicemail greeting awhile back to spell out my email address and tell callers to reach me there.  (Too far?)
Well, by contrast, instant messaging is quickly moving back up to the top of my list as favorite forms of communication.   Love me some iMessaging on my computer (because clearly typing out a text on my phone now is far too strenuous).  And love me some G-Chat.  I may work from home, but on a given day I chat it with all sorts of people thanks to Google.  Many of those are friends, but many are also other blogger friends, who serve as my virtual "coworkers" sharing tips and chatting about recipes and all sorts of other things all throughout our days.
One of the people I touch base with almost daily is my friend, Maria, from Two Peas and Their Pod.  Our conversations tend to revolve more around life outside of blogging (and, um, Tim Riggins), but a few weeks ago we were talking about recipe development and realized that we both had recipes for stuffed shells coming up to share with you on our blogs.  So today, we thought we would team up and share our recipes with you together!
Maria made these delicious seasonal Roasted Vegetable Stuffed Shells.  And I made these guys pictured above — Butternut Squash Alfredo Stuffed Shells.  It was a match made in G-Chat heaven.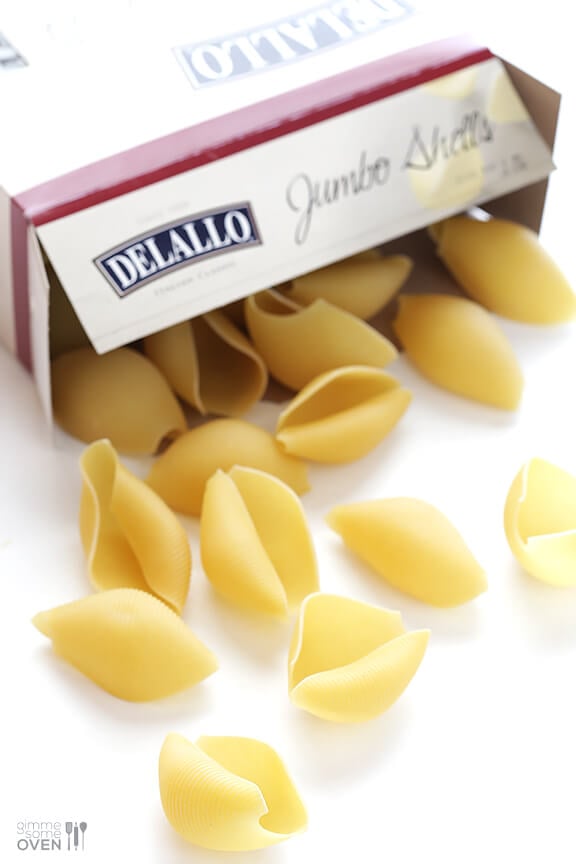 Actually, the inspiration for my recipe came simply from the fact that I realized recently that I have zero stuffed shells recipes on the blog right now.  Zero!  I don't know how this blog has managed to stay shell-less for 5 years, but that stops today with this delicious recipe.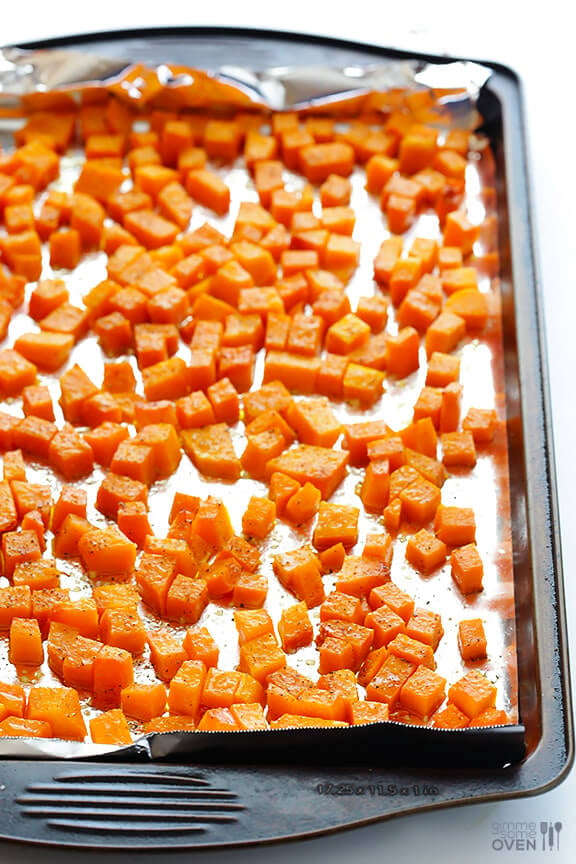 And oh man, it's a good one.
Most of the recipes I've ever had with stuffed shells are loaded with all sorts of cheese.  But to be honest, I ate ridiculous amounts of (amazing) cheese at a conference I attended with Maria this past weekend.  So I decided to pare things back with this recipe and instead focus more on the creaminess in the sweet, healthier, gorgeous, rockstar veggie of the season — butternut squash.
Love butternut squash.  (Almost as much as G-Chat.)
For this recipe, I simply diced and roasted a big pan of it.  (If you need tips on how to not cut your fingers off while chopping one of those babies, you might check out this tutorial.)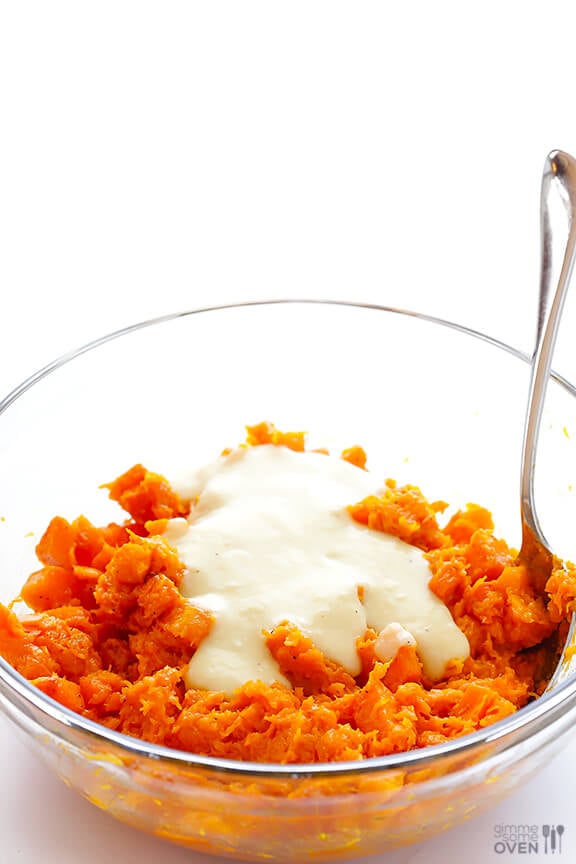 Then I mashed it with some roasted garlic and my favorite skinny alfredo sauce to make an extra creamy filling.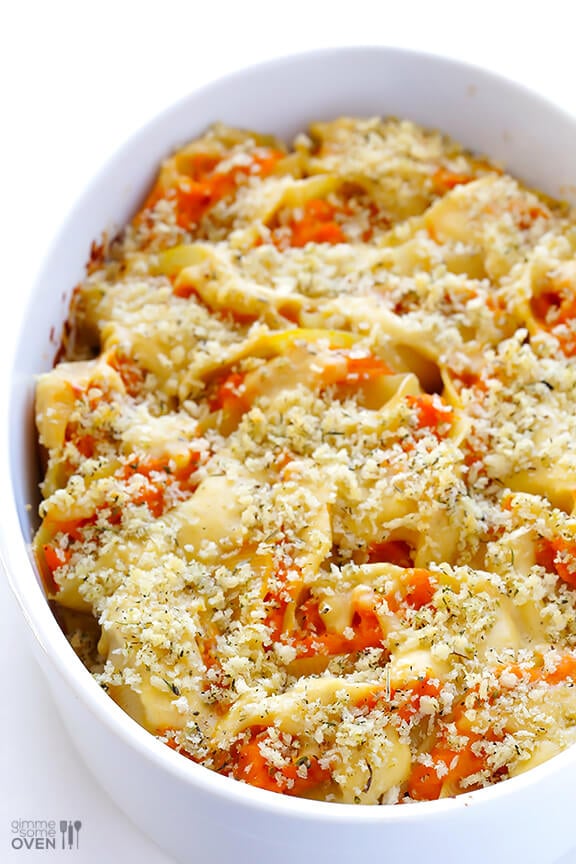 Then I stuffed it inside those shells and sprinkled the top with an Italian Panko breadcrumb topping.  (If you wanted to make more traditional stuffed shells, you could sprinkle on a generous handful of shredded Mozzarella before adding the breadcrumbs.)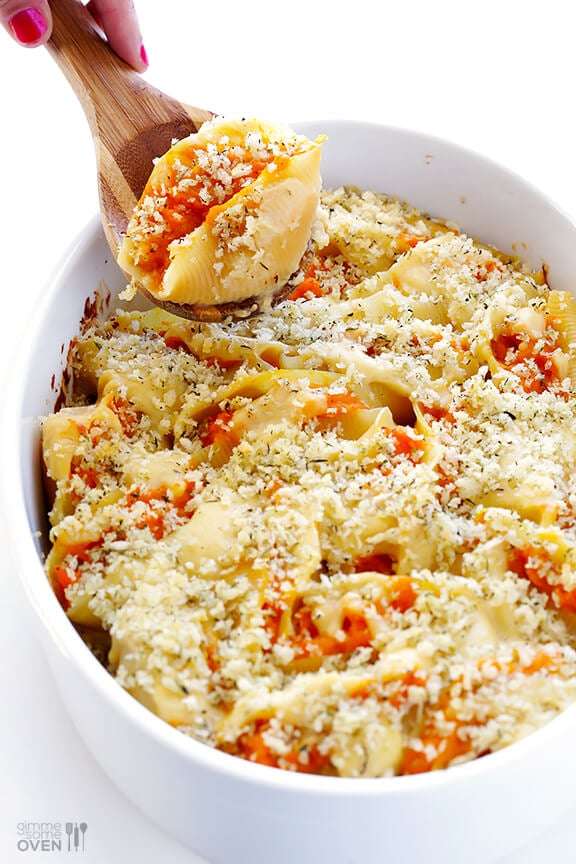 And after a quick bake in the oven, these gorgeous shells were ready to serve.  Look how pretty they are!  (They even match my fall decor!)  ;)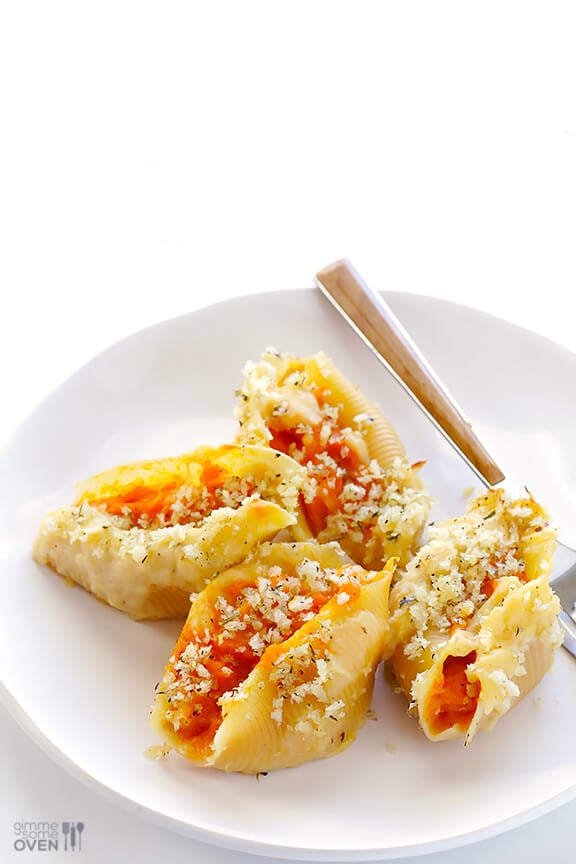 Even though they were made a little bit healthier, I absolutely loved them.  The filling felt decadent with all of that sweet and savory and creamy goodness, even when made with the "skinny" alfredo.  And the shells were all the better when topped with the crunch of the Italian Panko breadcrumbs.  Definitely a winner of an autumn meal.
And speaking of winners, check out Maria's take on stuffed shells!  Hers are stuffed with all sorts of delicious roasted vegetables and cheese and a classic marinara sauce.  So if you feel like going the tomato route, I definitely recommend giving them a try.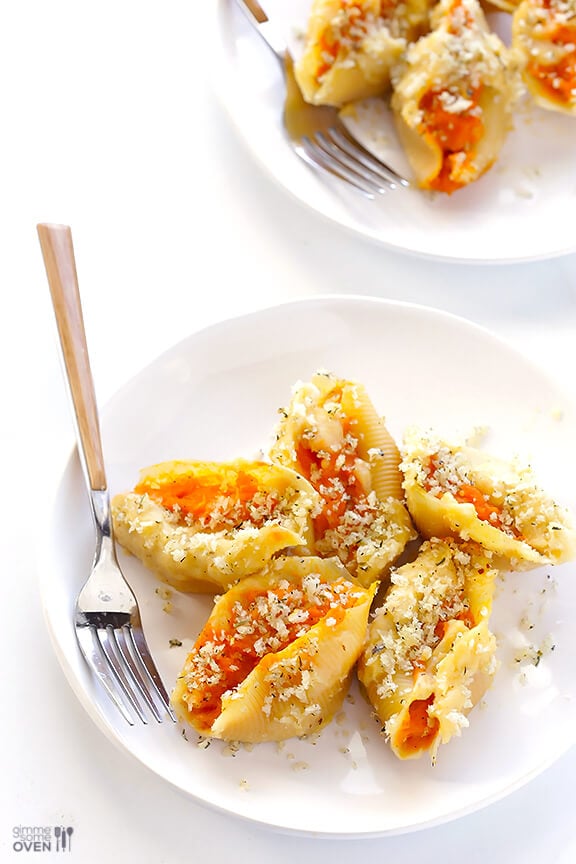 Well without further ado, here is the first stuffed shells recipe on Gimme Some Oven.  Enjoy!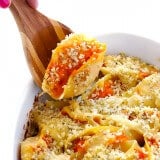 Butternut Squash Alfredo Stuffed Shells
This Butternut Squash Alfredo Stuffed Shells recipe is made with a lighter alfredo sauce, and is perfectly sweet, savory, and delicious!
Ingredients:
Stuffed Shells Ingredients:
1/4 cup Panko breadcrumbs
1 Tablespoon butter, melted
1 teaspoon Italian seasoning, homemade or store-bought
1/4 teaspoon salt
6 ounces jumbo shells
6 cloves garlic, peeled
1 medium butternut squash, peeled, seeded and diced into 1/2-inch cubes (see my tutorial here)
salt and pepper
1 tablespoon olive oil
1 batch Skinny (Sage) Alfredo Sauce, recipe below
(optional: 1 cup shredded part-skim Mozzarella cheese)
Skinny (Sage) Alfredo Sauce Ingredients:
1 Tbsp. olive oil
4 cloves garlic, pressed or minced
3 Tbsp. flour
1 cup chicken or vegetable stock
1 cup low-fat milk (I used 1%)
1 Tablespoon chopped fresh sage (or 1 teaspoon dried sage)
3/4 cup freshly-grated Parmesan cheese
1/2 tsp. salt
1/4 tsp. black pepper
Directions:
To Make The Stuffed Shells:
Preheat oven to 425 degrees F.  Line a large baking sheet with parchment paper or aluminum foil (greased with cooking spray).
In a small bowl, stir together the Panko, melted butter, Italian seasoning and 1/4 teaspoon salt until combined.  Set aside.
In a large mixing bowl, toss together butternut squash, garlic cloves and olive oil until evenly coated.  Spread the butternut squash out on the prepared baking sheet, and season generously with a few pinches of salt and pepper.  Then remove the garlic cloves and seal them in a small pouch made of aluminum foil, and set the pouch on the baking sheet next to the squash.  Bake for 20 minutes, or until the butternut squash mash easily with a fork and the garlic is soft and fragrant.  Transfer the squash and garlic back to the large mixing bowl along with 1 cup of alfredo sauce, and mash together with a fork until smooth.
While the butternut squash are roasting, bring a large stockpot of generously-salted water to a boil over high heat.  (*See tip below about starting the alfredo sauce at this point.)  Add the jumbo shells and cook al dente (or ideally cook until just a minute before they reach al dente) according to package instructions.  Drain.
In a 9×13-inch baking dish (or I used an oval dish), spread out 1/2 cup of the remaining alfredo sauce in an even layer.  Stuff a tablespoon or two of the butternut filling inside each of the shells, and lay them in an even layer in the baking dish, filling-side-up.  Spoon the remaining alfredo sauce evenly on top.  (Optional: if using the mozzarella, sprinkle it on top of the alfredo sauce.)  Then sprinkle the Panko mixture evenly over the top of everything.
Bake uncovered for 15 minutes, or until the Panko mixture is crispy and starts to turn slightly golden.  Remove and serve immediately.
To Make The Alfredo Sauce:
Heat olive oil in a large saute pan over medium-high heat. Add garlic and saute one minute, stirring occasionally, until fragrant. Sprinkle with flour, and stir to combine. Saute for an additional minute to cook the flour, stirring occasionally.
Slowly add chicken broth, whisking to combine until smooth. Whisk in milk and sage, and bring the mixture to a simmer. Let cook for an additional minute until thickened, then stir in Parmesan cheese, salt and pepper until the cheese melted.  Reduce heat to low and simmer until ready to use.
(*For timing, I recommend making the alfredo sauce simultaneously with bringing the pasta water to a boil and cooking the pasta.)
All images and text ©
If you make this recipe, be sure to snap a photo and hashtag it #gimmesomeoven. I'd love to see what you cook!