Butternut Squash, Arugula and Bacon Quiche
This Butternut Squash, Arugula and Bacon Quiche recipe is simple to prepare, and full of the most amazing combination of flavors.  A definite breakfast treat.
This past weekend, my friend Kristen challenged a group of us to write down what our perfect day would be like.
No rules.  It could be a workday.  It could be an epic vacation.  Whatever would be most perfect.
A few days later, I am still mulling over what my full answer would be.  But I know it would begin waking up well-rested next to my snuggly pup, then padding to the kitchen in fuzzy slippers and making a steaming cup of coffee, then listening to some music or catching up on the news with GMA while making a homemade breakfast, which I would then enjoy sitting in the morning sunlight with a good book.  And I think a slice of this quiche would be pretty much perfect.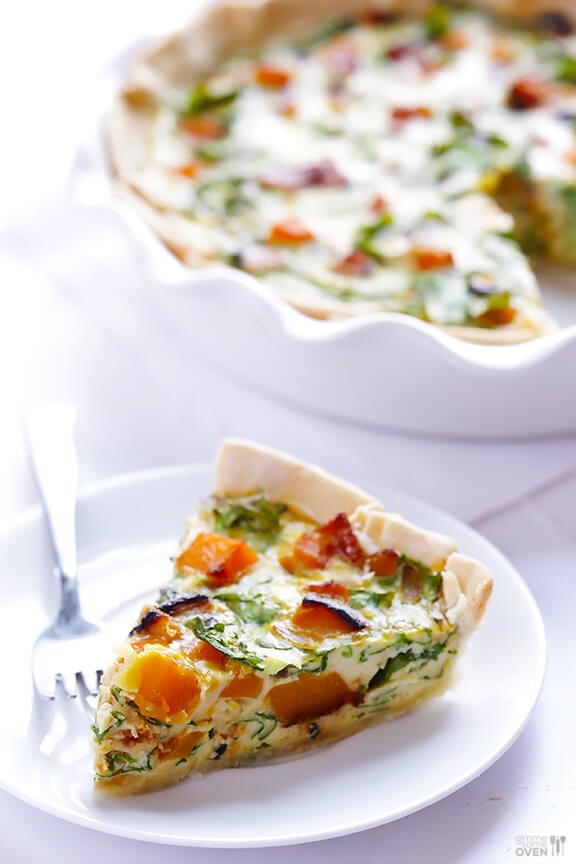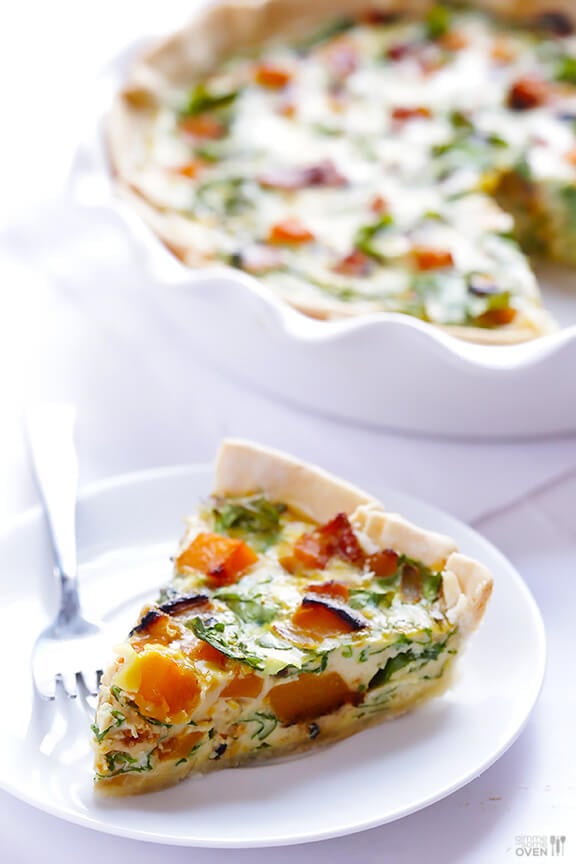 I actually made it on impulse this past week when I had ingredients leftover after making my favorite Butternut, Spinach, Bacon & Feta Pizza.  When given the option, I always tend to err on the savory side with breakfast.  So I love tossing leftover greens and veggies and proteins in with some eggs and cheese to make spontaneous quiches.
And this one turned out too good not to share.
Just like in the pizza, all of these ingredients came together perfectly to make one stellar dish.  I added in some arugula instead of spinach, which always makes me a little too happy.  And I happened to have gorgonzola cheese on hand instead of feta, which was fantastic.  Although if you're not into gorgonzola, you can sub in any other soft or shredded cheese that you'd like — or leave out the cheese all together.  Just like my Dairy Free Vegetable Quiche, this quiche is so flavorful that you won't miss it.
All in all, a definite breakfast treat.  And my idea of a perfect way to start a perfect day.  ]
What's yours?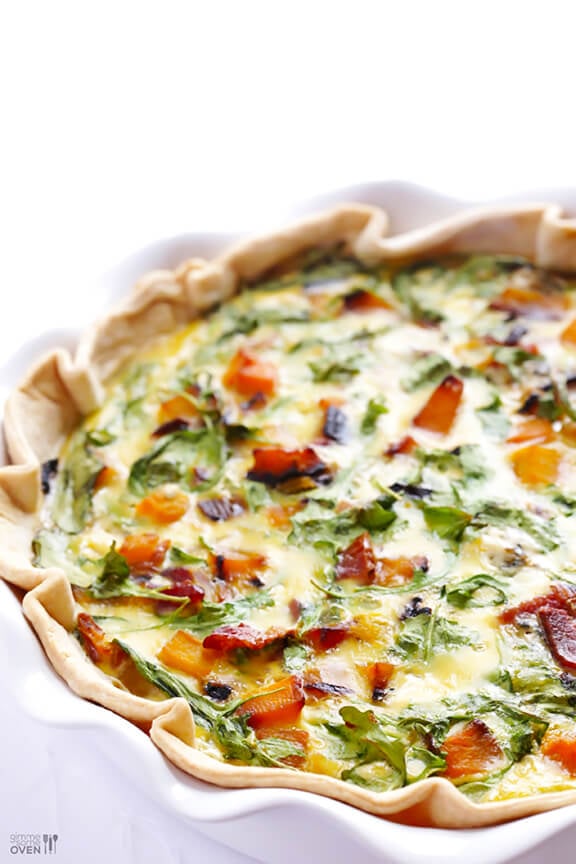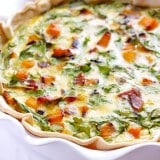 Butternut Squash, Arugula, and Bacon Quiche
Butternut squash, arugula and bacon make this squash a delicious seasonal favorite.
Ingredients:
1 pie crust, homemade http://www.gimmesomeoven.com/how-to-make-a-pie-crust-recipe/ or storebought
3 slices bacon, diced
2 cups chopped butternut squash
1 small white onion, chopped
1 clove garlic, minced
6 eggs, whisked
3/4 cup milk
3 Tbsp. flour
1/2 tsp. baking powder
1/2 tsp. salt
1/8 tsp. black pepper
3 handfuls fresh arugula, whole or roughly chopped
4 ounces crumbled gorgonzola, blue or feta cheese (or any cheese you'd like)
Directions:
Preheat oven to 350 degrees F.
Lay prepared pie crust in an ungreased pie plate. Bake for 5 minutes, then set aside.
Cook bacon in a large saute pan over medium-high heat until crispy, stirring occasionally. Remove bacon with a slotted spoon, leaving grease in pan. Add butternut squash and onion and saute for 8-10 minutes, or until the onions are translucent and the squash is tender. Add garlic and saute for an additional minute. Remove from heat.
In a separate large bowl, whisk together eggs, flour, baking powder, milk, salt, and black pepper. Stir in the sauteed vegetables, arugula, cheese, and cooked bacon, and stir until well combined.
Transfer the quiche filling into crust, and use a spoon to smooth the surface. Bake for 45-50 minutes, or until a toothpick inserted comes out clean. Quiche will rise while baking, but should settle back down once you remove it from the oven. Remove from the oven and allow the quiche to rest for at least 5 minutes. Slice and serve warm.
All images and text ©
If you make this recipe, be sure to snap a photo and hashtag it #gimmesomeoven. I'd love to see what you cook!