Monkey Bread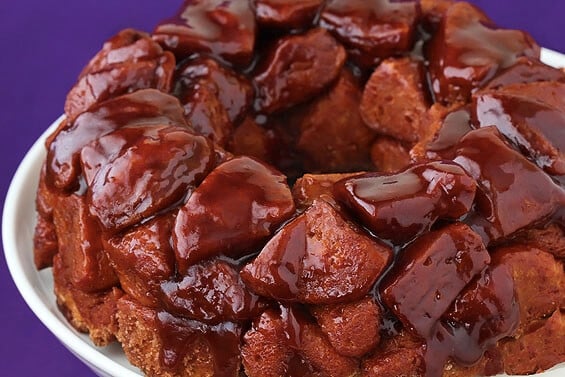 Ok, I know I just did a post about making 2011 a healthy new year.   But hey…traditions are traditions.  :)  And this is one of my all-time favorites!  So allow me to present to you…the famous….monkey bread!!!
I admit that I only allow myself to make this utter deliciousness three times a year — for Sunday brunch on Thanksgiving, Christmas and Easter weekends.  And I only make it when lots of friends/family are coming over to help eat it (and spread out the calories!).  But my friends and I eagerly look forward to it every year!
For anyone out there who has never tried monkey bread before, you must. This buttery, cinnamon-and-sugary goodness is wonderfully irresistible!  (I'm pretty sure we have never had leftovers!)  It's also quite simple to make too — perfect especially for any kiddos who like to help out in the kitchen.  And it only calls for 5 ingredients.  Always a nice plus.  :)
So for anyone out there who has never tried monkey bread, or for anyone who's looking for an excuse to try it again ("all things in moderation!"), here is my favorite tried-and-true recipe.  I guarantee you'll love it!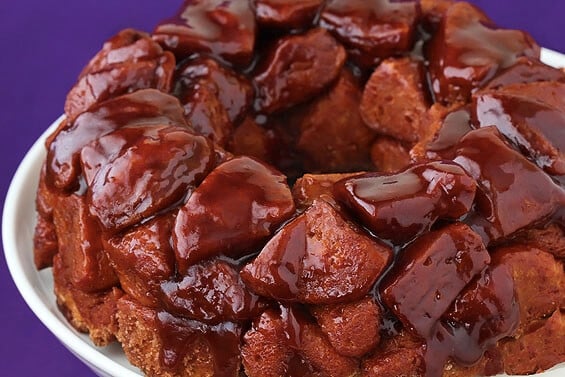 Monkey Bread
The best instructions for a classic, irresistible monkey bread recipe!
Ingredients:
2 large cans (16 oz.) refrigerated buttermilk biscuits
1 cup (2 sticks) butter, melted
1 cup sugar
1/2 cup brown sugar (be sure that clumps are broken up)
2 Tbsp. ground cinnamon
(Optional: 1 cup pecan halves or walnuts)
Directions:
Preheat the oven to 350 degrees F. Grease a bundt pan generously with non-stick spray.

Prepare two dipping bowls. In the first, pour the melted butter. In the second, whisk together the sugars and cinnamon until well-mixed.

Place the biscuits on a cutting board, and use a large knife to cut them into quarters. Then dip each piece first in the melted butter, then transfer it to the second bowl and roll it in the sugar until well-coated on each side. Then place each piece loosely in the bundt pan. (Don't press the pieces together — they will expand when baked!) Repeat. If you would like to add in pecans/walnuts, just add them in with the dough at random. Then pour the extra butter over the top.

Bake for about 40 minutes or until the top springs back when touched. Cool in the pan on a wire rack for 10 minutes. Carefully invert onto a plate, and serve immediately.

All images and text ©

If you make this recipe, be sure to snap a photo and hashtag it #gimmesomeoven. I'd love to see what you cook!
Ali's Tip:
Be sure that your butter stays well-melted and thin during the dipping process.  If it begins to cool and thicken, just pop it in the microwave for another 10-15 seconds to warm it up.