Candied Pecans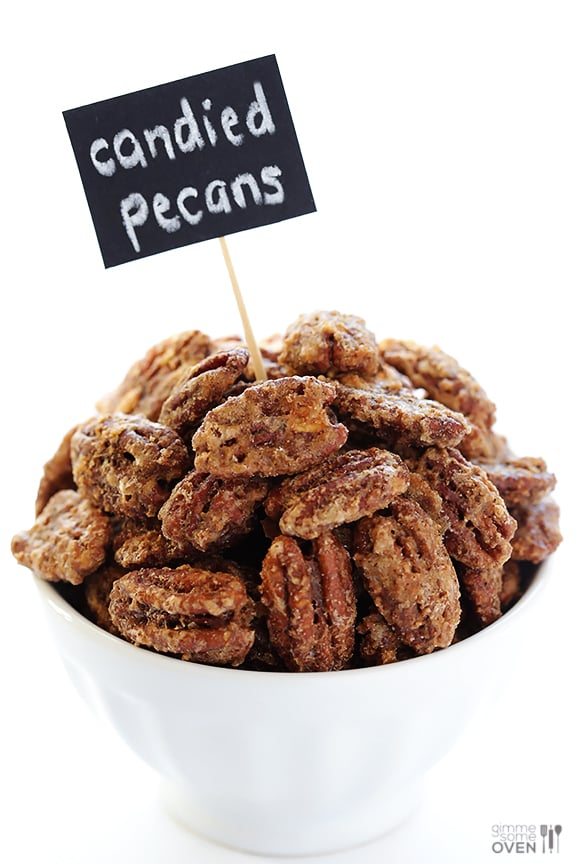 I've heard it said that most of the enjoyment of a glass of wine comes from the smell.
But I'm pretty sure the same goes for candied nuts.
These.  Pecans.  Smell.  AMAZING!!!

Oh my goodness.  I'm kind of convinced that people should stop buying candles and just bake candied nuts all of the time to make their homes smell delicious.  (Hmmm, tempting actually.)  Although, of course, the best part about making candied pecans is getting to pop them in your mouth and taste that sweet, cinnamon-y, nutty goodness.  They are such a treat, and far better than any pre-packaged nuts you might buy at the store.  Plus, they're ridiculously easy to make.  And when you make them homemade, there are no mystery processed ingredients added to the mix, and you can control exactly how sweet and cinnamon-y and spicy you would like them to be.
I have been making candied pecans for years, either to use at home for snacking or salads, or to give away as holiday gifts.  And let's just say, my friends and family always go nuts over them.  So here's my favorite recipe!
Candied Pecans Recipe | 1-Minute Video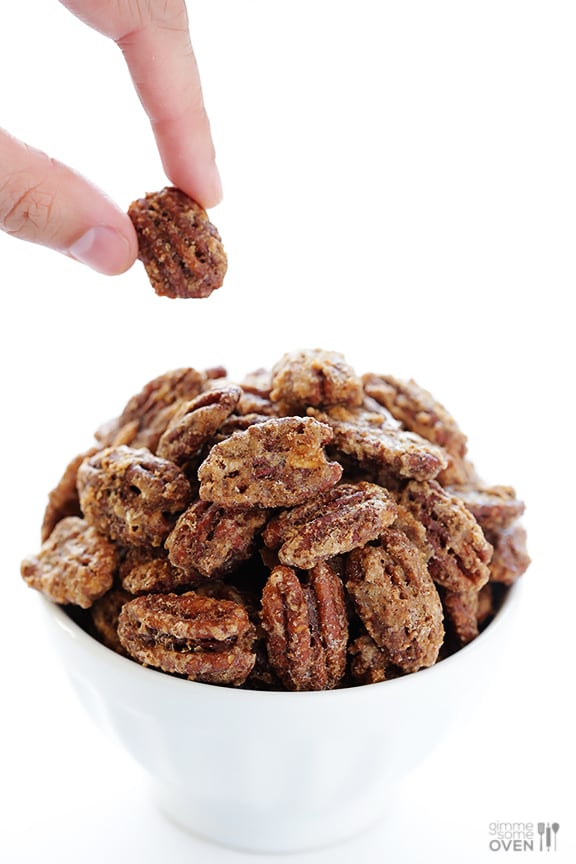 There are many different ways that you can make candied nuts, but I still like the classic cinnamon-sugary version, with just a hint of cayenne.  Trust me.  It is the magic (and very subtle) ingredient that truly makes these nuts "pop"!
All you need to make these are 7 ingredients:
pecan halves
egg whites
granulated sugar
brown sugar
ground cinnamon
salt
cayenne
Whisk together your dry ingredients until they are well-combined.  (I often toss them in a ziplock bag, and then smoosh it around with my fingers until the mixture is even.  Quick and easy.)
Then in a separate bowl, add your egg whites and pecans, and toss until the pecans are evenly coated.  Then add in your dry ingredients and carefully toss until combined.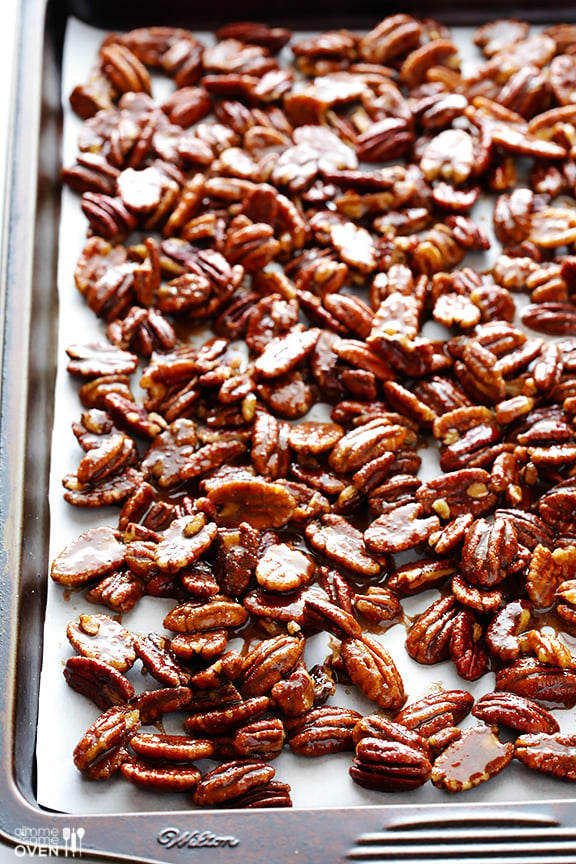 Lay those babies out on a parchment-lined baking sheet, so that they don't stick to the pan.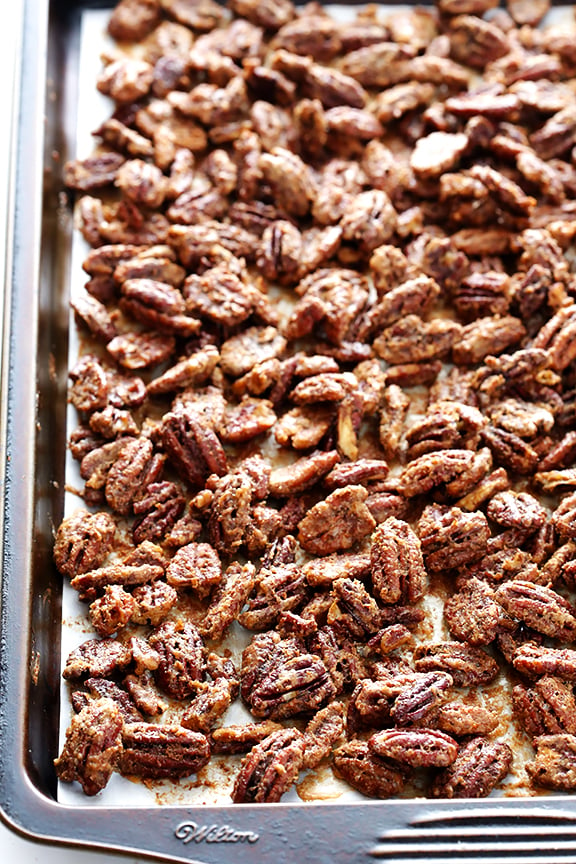 And then bake them up to delicious perfection, and get ready for your home to start smelling amazing.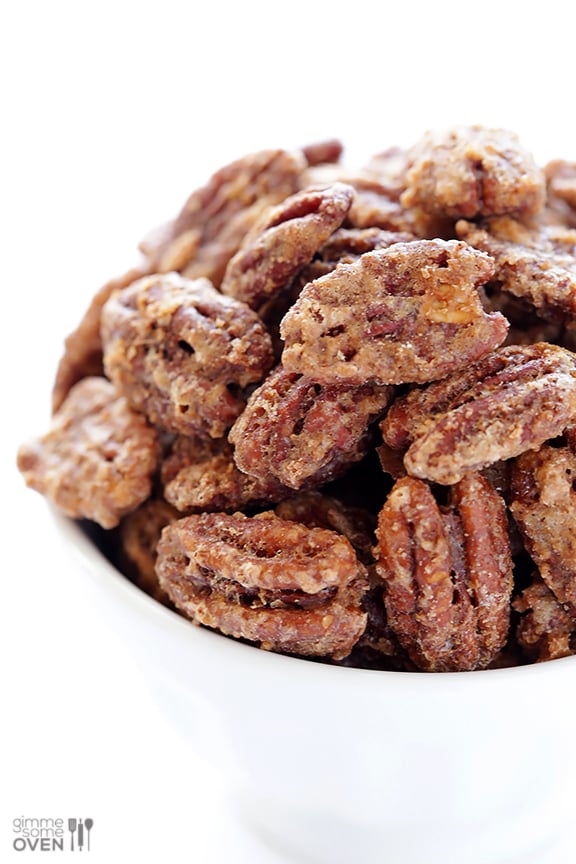 These guys are perfect for salads (stay tuned for a new recipe tomorrow!), yogurt parfaits, ice cream sundaes, or topping anything else that calls for sweet pecans.  But I have to say, I still think they're best for snacking.  And if you're feeling generous, they are perfect for gifting to friends and family this holiday season so that they can enjoy snacking on them as well.  Because if you ask me, the more candied nuts in this world, the better it will smell be.
Enjoy!
Candied Pecans
This simple recipe for candied nuts only calls for 7 ingredients. They are perfect for topping various salads, entrees and desserts. And they also make a delicious gift!
Ingredients:
1/2 cup granulated sugar
1/2 cup brown sugar, packed
1 Tablespoon ground cinnamon
1 teaspoon salt
1/8 teaspoon cayenne
4 cups (12 ounces) pecans halves, unsalted
1 egg white, whisked
Directions:
Preheat oven to 300 degrees F.
Add the granulated sugar, brown sugar, cinnamon, salt and cayenne to a large bowl or ziplock bag. Toss or whisk until evenly combined. Set aside.
In a separate bowl, add pecans and egg whites, and gently toss until combined and the pecans are evenly coated. Add in the sugar mixture, and toss until combined.
Spread the mixture out in a single layer on a parchment-lined baking sheet. (If your baking sheet is not that large, you may need to split the batch onto two baking sheets.) Bake for about 40 minutes, removing the nuts and giving them a stir every 20 minutes, until the pecans are fragrant and the sugar coating is cooked. (The sugar will harden more once the pecans are out of the oven.)
Remove from the oven, and let the baking sheet cool on a cooling rack until the nuts reach room temperature. Transfer them to a sealed container and store until ready to use.
All images and text ©
If you make this recipe, be sure to snap a photo and hashtag it #gimmesomeoven. I'd love to see what you cook!