Cannoli Cups
I've said it before, but my friends are absolutely amazing.
First, my friend Sara.  On Friday night, a group of my book club girls gathered together as we bid a tearful but oh-so-exciting farewell to Sara as she moves across the ocean to be with her love.  It's true.  After leaving her job as an English teacher to pursue a career as a singer-songwriter (you must check out her beautiful music — she was even featured on the show "Private Practice"!), her leap of faith also landed her in the path of an amazing man with a rockin' accent from Britain who…pretty much instantly fell in love with her.  And then proceeded to win her heart from halfway around the world.  Theirs is truly an amazing love story that has been inspiring to see unfold.  Grateful and so excited for her.
So for my contribution to the evening full of wine, sweets, and (always) great conversation, I decided to modify a traditional Italian dessert recipe from one of my other amazing friends — Lisa.  I met Lisa years ago when she auditioned for a choir I was directing, and have been inspired and amazed by her story as well.  After coming out of a really difficult season in life, this gal met and married another amazing man.  And then decided somewhat on a whim to launch her own foodie website, dedicated entirely to Italian dessert recipes.  (Hint hint – that's the name of the site!)  Literally, people, every single one I've tried has been nothing sort of fantastico!
So when I had the idea for making some little cannoli cups for Sara's party, I immediately knew whose filling recipe to try.  Sure enough, Lisa's cannoli filling was absolutely amazing!  As my friends said to tell the blogosphere, it was subtle, sweet, and really delicious.  And they thought they were so tasty that a "wizard" must have made them.  Ha – ok, long story.  But trust us — they are crazy good.  And really easy.  So I'm pretty sure you should try them.
Grateful once again today for amazingly talented friends and the amazing joy found in courageous leaps of faith!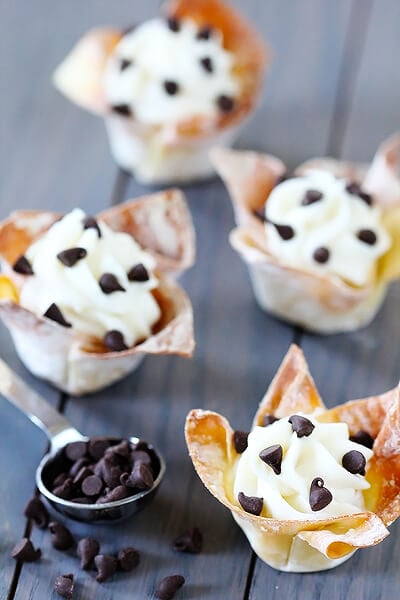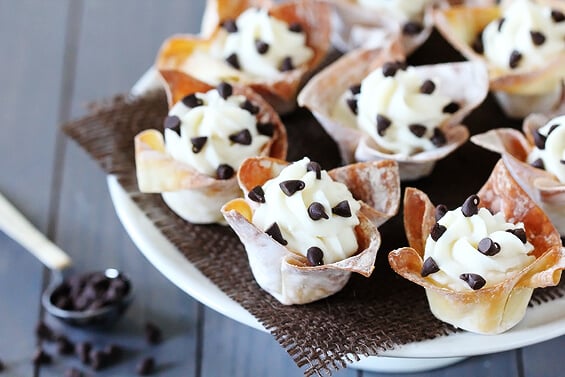 Cannoli Cups
Your favorite Italian dessert made simple and served inside adorable little wonton "cups". You'll love this cannoli cups recipe!
Ingredients:
1 package (16 oz.) wonton wrappers
1 container (15 oz.) ricotta cheese
1/4 cup cornstarch
1 1/3 cups whole milk
1/2 cups powdered sugar
1/2 tsp. almond extract
1/2 tsp. vanilla extract
1/4 tsp cinnamon (optional)
2 cups mini semisweet chocolate chips
powdered sugar (for dusting)
Directions:
In a bowl, slowly whisk *1 cup* of the milk into the cornstarch until smooth. Let sit about 20 minutes.
Transfer mixture into a sauce pan, and then add in the remaining milk and sugar. Heat on medium-low, stirring constantly until it is very thick and smooth (about 7-10 minutes). Remove from heat. Stir in the almond and vanilla extracts. Place a piece of plastic wrap on the surface of the filling to avoid "skin", and let cool until the mixture reaches room temperature.
Meanwhile, preheat oven to 350 degrees. Then press 30-35 wonton wrappers (you can do this in multiple batches) into a mini baking cup pan to form the "cups". (Be sure that the corners do not fold in after the pan sits for a minute!) Bake the cups for 10-15 minutes, or until the wrappers are golden brown. Remove and let cool.
After the milk mixture has reached room temperature, whisk in the ricotta and cinnamon until smooth. (You can also do this with an electric mixer on low.) Use a pastry bag to pipe the mixture into the baked wonton cups, or use a spoon to scoop it in. Sprinkle with mini chocolate chips, then dust with powdered sugar. Refrigerate, or serve immediately.
Ali's Tip:
If you're in a hurry making these (as I happened to be), Lisa recommended letting the milk mixture cool in a shallow pan instead of the saucepan.  I tried it (placing it on a cool countertop) and the mixture was ready in about 10 minutes!  Very speedy!
All images and text ©
If you make this recipe, be sure to snap a photo and hashtag it #gimmesomeoven. I'd love to see what you cook!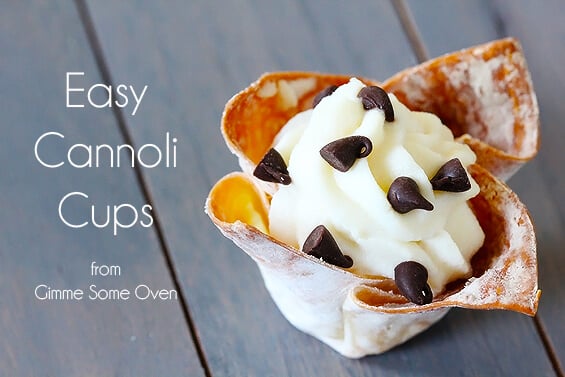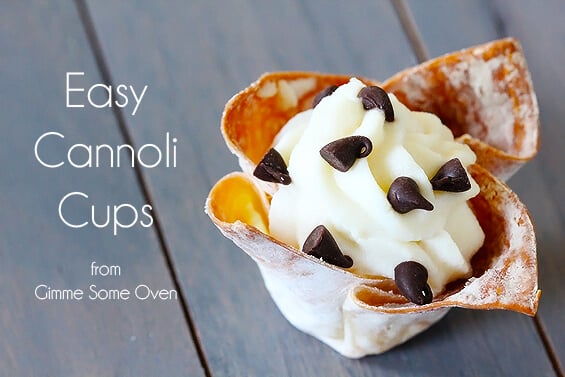 Source: Filling recipe slightly adapted from Italian Dessert Recipes.