Carrot Cake Smoothie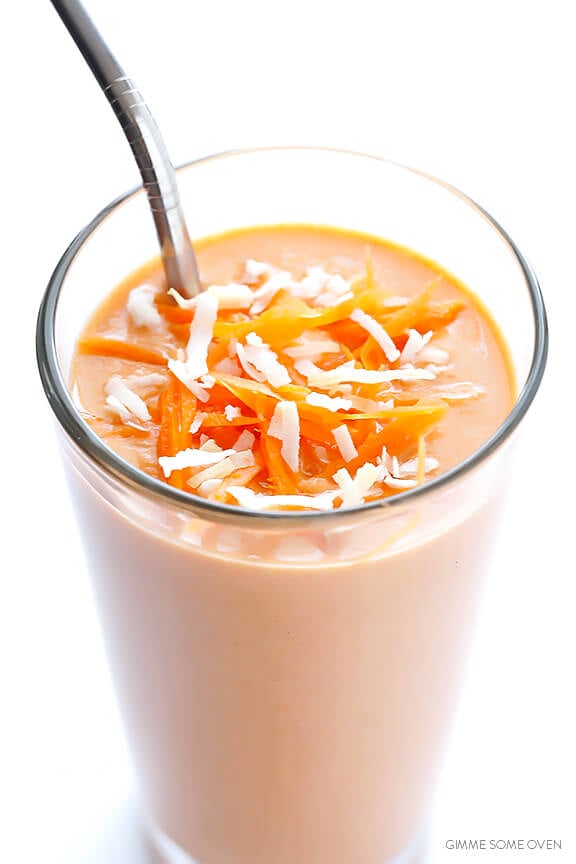 Do you eat baby carrots?
Do you have an opinion about baby carrots?
Up until a month ago, baby carrots were a staple in my fridge and I never thought twice about them.  They have been my go-to healthy crunchy snack ever since college, and I regularly toss them in everything from soups to smoothies to my favorite fried rice.  No peeling required.  No fuss.  No problem, right?!
Wrong.  Pretty sure that a small, harmless little bag of baby carrots spawned the closest thing to a "fight" that Kathryne and I had as roommates during our month in Austin.  She was aghast that I would buy baby carrots, much less enjoy eating them, and went off on her soapbox about how they are the watered-down, less-flavorful, lower-quality, mechanically-shaped counterpart to their full-sized namesakes.  She can tend to be pretty opinionated about her vegetables, so I decided to just let it go.  And then do the mature thing and, you know, continue chomping on my baby carrots around the house day after day.  ;)
Sure enough, a week or so later I was sitting at the kitchen island baby-carrot-snacking away when Kathryne surreptitiously slid an organic, freshly-peeled, non-baby, whole carrot across the counter and said, "Try this."  I rolled my eyes and took a bite, ready to settle this food bloggers' argument and prove my baby carrots' worth once and for all.  And…
…the bigger carrot was better.
Ugh.  I mean, not by a landslide.  It was still totally in the same family as my little babies, and didn't taste any different.  But the flavor was definitely stronger, the texture was crisper, and I felt like Bugs Bunny would have probably preferred it.  Darn.  Of course, I did not admit defeat immediately.  But the next time we arrived home from Whole Foods and Kathryne saw that I also pulled a bunch of organic, whole carrots out of my grocery bag, I had to concede.  She was right.  (Which I'm pretty sure I will never live down.)  ;)
No, she was gracious and happy to have converted me to the world of full-sized carrots.  And I was happy that they have made my snacking — and a smoothie like this — all the tastier.  So grab some (big) carrots, and let's make one!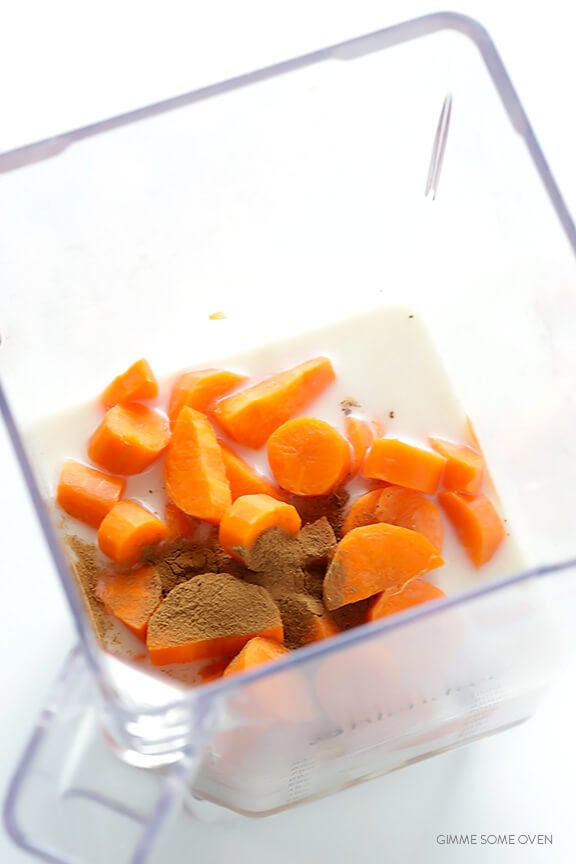 I actually made this smoothie a few times while we were in Austin, and then kept forgetting to share it on the blog.  But then I remembered that today is Single Serving Saturday, and with Easter (and carrot cake season!) just around the corner, it seemed like the perfect time.
The inspiration behind the recipe was simple: try to make a healthy protein smoothie that satisfied my (never-ending) cravings for carrot cake!  So I gathered up a few of the classic spices, chopped up lots of fresh carrots, froze a banana to thicken the smoothie, added in almond milk and natural sweeteners to keep things healthier (and vegetarian), and then blended it up to see what happened.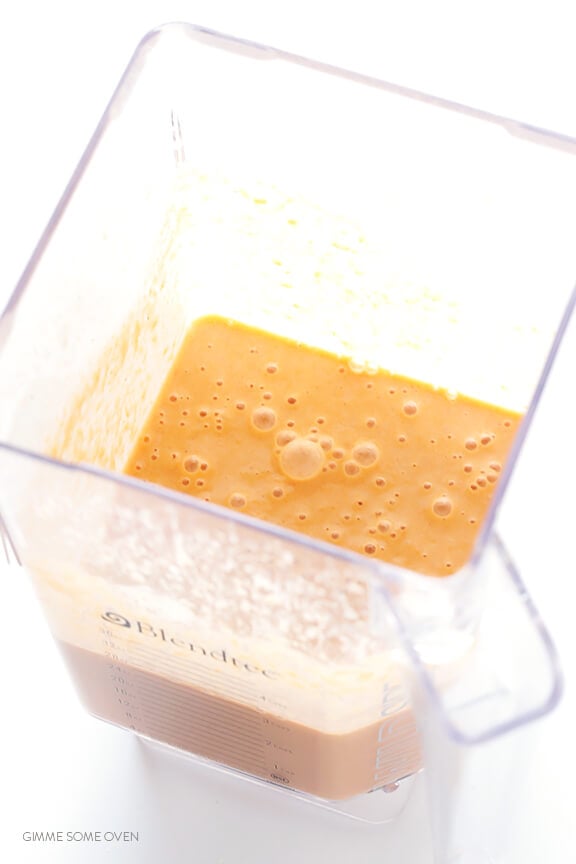 It took me a few tries to get the recipe quite right.  But once I finally did, the results were delicious.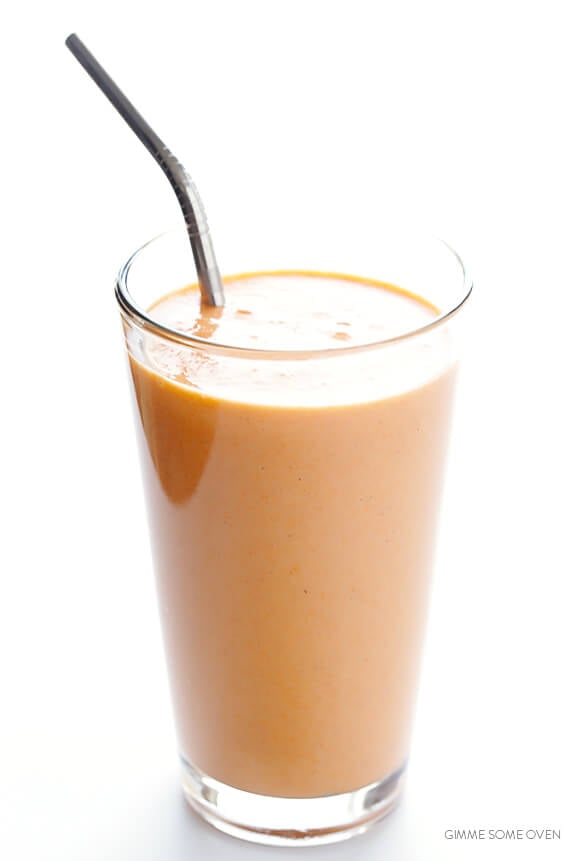 It's everything I love about the spicy, fresh-carrot goodness of traditional carrot cake.  But of course, made with fresh and healthy ingredients you can feel good about enjoying for breakfast, lunch, dinner, or even dessert.  And it's easy to personalize!  If you're a fan of nuts in your carrot cake, you can blend a few toasted walnuts into your smoothie, or use them as a topping.  If you love coconut, you can also blend in some shredded coconut into the mix.  If you like a super-sweet cake, you can add in more maple syrup to sweeten it.
And the best part for all of my fellow single friends out there?  This recipe makes one simple single serving, so no worries about having to freeze and thaw leftovers.  Just make a batch for yourself and enjoy every last sip.
Big carrots and all.  :)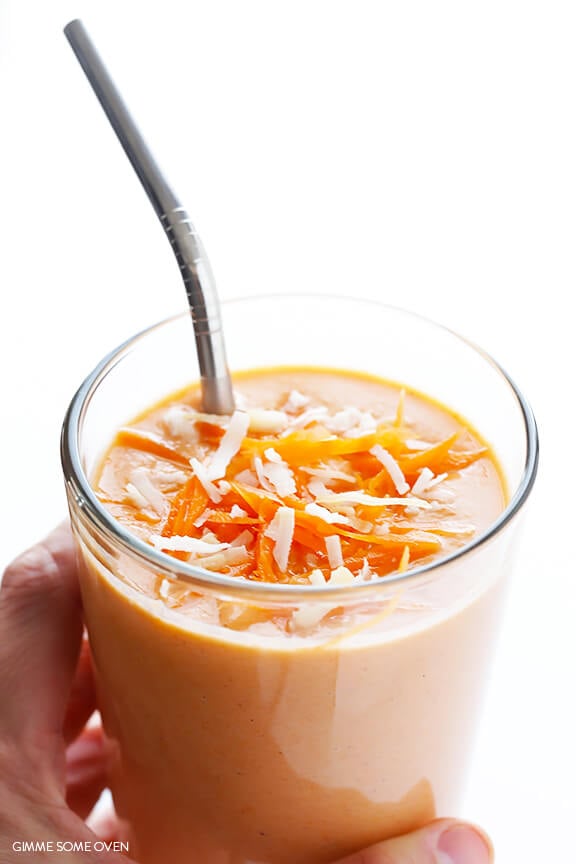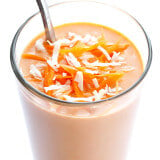 Carrot Cake Smoothie
This healthy Carrot Cake Smoothie is made with lots of fresh carrots and delicious traditional carrot cake spices.
Ingredients:
1 medium banana, peeled, diced and frozen
1 cup diced carrots* (about 2 medium-sized carrots), peeled if you'd like
2/3 cup almond milk
1/2 cup plain or vanilla Greek yogurt
2 teaspoons maple syrup (or your desired sweetener)
1/4 teaspoon ground cinnamon
pinch of ground ginger
pinch of ground nutmeg
optional toppings: extra grated carrots, toasted coconut, toasted walnuts
Directions:
Add all ingredients to a blender and pulse for 30-60 seconds until smooth.  If the smoothie is too thick, add an extra 1/4 cup of almond milk to thin it out.
Serve immediately, garnished with optional toppings if desired.
*If you don't have a high-powered blender, you may have to blend this smoothie for a bit longer.  Or you could also shave the carrots (instead of dicing them) beforehand to make blending easier.
All images and text ©
If you make this recipe, be sure to snap a photo and hashtag it #gimmesomeoven. I'd love to see what you cook!