20-Minute Cheesy Chicken Enchilada Soup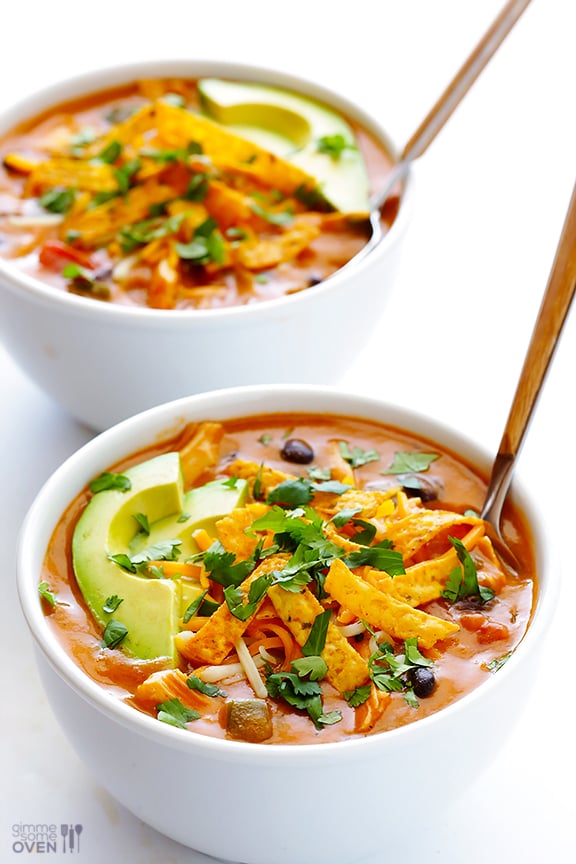 As promised, here is your second chicken enchilada soup recipe in one week!
For those of you who missed Monday's post on Slow Cooker Chicken Enchilada Soup, I mentioned that our Gimme Some Oven Facebook seemed split down the middle when I asked whether they would like a slow cooker or 20-minute version of this soup.  So I decided to make both!  Although to "cheese" things up a bit, I based the 20-minute version off of the chicken enchilada soup I happen to adore at Chili's.
Yes, I admit it, I love Chili's.  When I was in high school, Chili's was the first restaurant "hangout" my friends chose once we got our drivers licenses and realized we could eat bottomless chips and salsa for (back then) just $2.  Then in my early twenties, Chili's happened to be right around the corner from the Sunday night church I attended, and all of the hipsters piled in the booths and hung around until midnight to close out the week.  And now — my friends all totally judge me for loving Chili's, so I have made it a tradition to very happily eat at one of those mini-Chili's whenever I see one in an airport, where I order chicken enchilada soup and a margarita (a must before long flights) and eat chips and salsa to my heart's content.
Some things never change…
…including this soup.  I learned how to make a copycat version of it back in college, and still enjoy cooking it to this day.  Although I admit I have made a few tweaks to the recipe over the years, such as replacing Velveeta with real cheese.  Here's how I make it!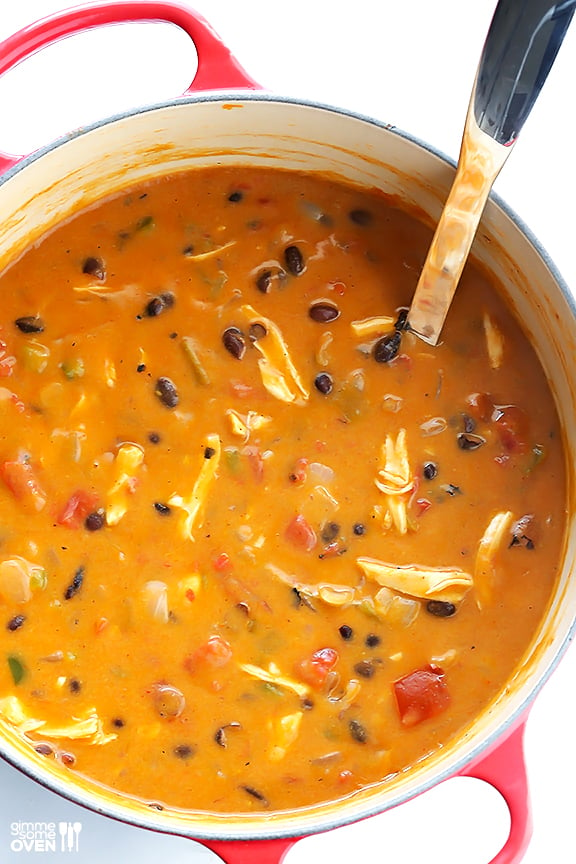 The two things about the Chili's version of chicken enchilada soup that separates it from all others is that it is thick and it is cheesy.
The thickness is due to using masa harina, a corn flour that is available in any grocery store.  (Just look for it in the flour section.)  It's the same flour that is used to make corn tortillas, and it gives the soup a velvety thickness as well as some nice corn flavor.
As I mentioned above, I'm pretty sure (although not positive) that the Chili's version of this soup uses some sort of processed cheese like Velveeta.  But I much prefer to use regular sharp (or extra sharp) cheddar.  As with anytime you melt cheese in a soup, be sure to buy the block of cheese and then grate it yourself just before using it, because the pre-shredded stuff has a coating on it that doesn't melt as well.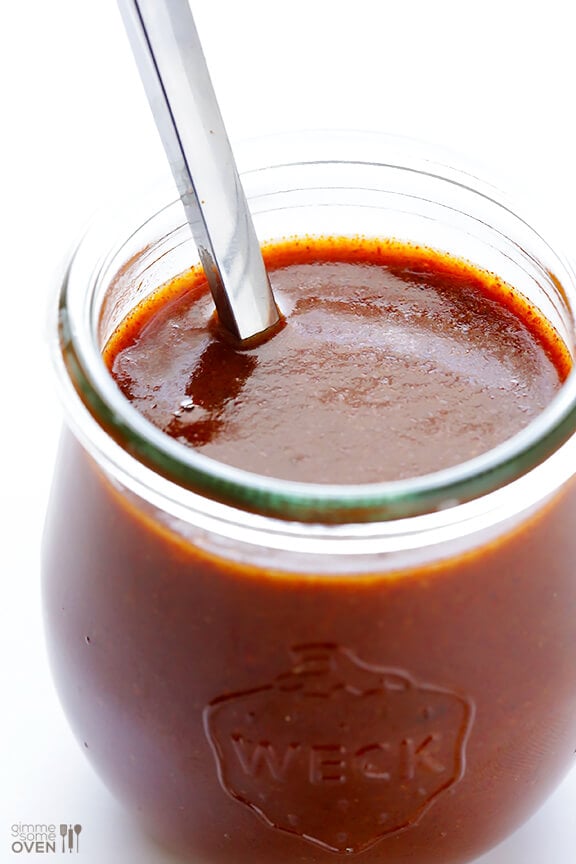 If you have the time, I also highly recommend making my homemade red enchilada sauce for this soup.  It's also quick and easy to make, and it is packed with my favorite enchilada seasonings.  But if you're in a hurry, the canned stuff will also work.  (You may just want to add in an extra 1/2 or 1 teaspoon of chili powder if you use the canned sauce, as its flavor isn't quite as strong.)
I also enjoy adding in some black beans, fire-roasted diced tomatoes and chopped green chiles to my chicken enchilada soup for substance.  But if you want to go the chili's route, they pretty much just have the thick broth + chicken, which also works.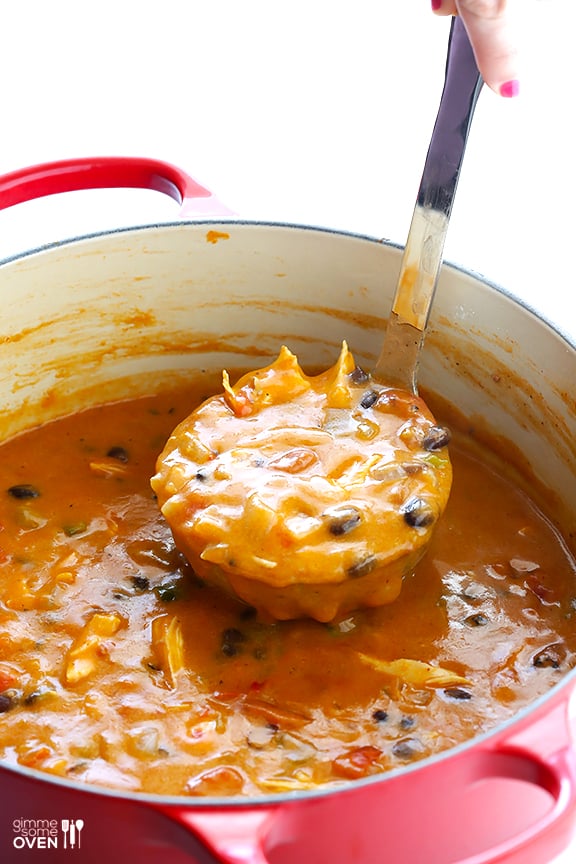 Once you mix up your soup base, just stir in the shredded cheese one handful at a time.  And then this thick and cheesy soup is ready to serve!
You can either serve it plain…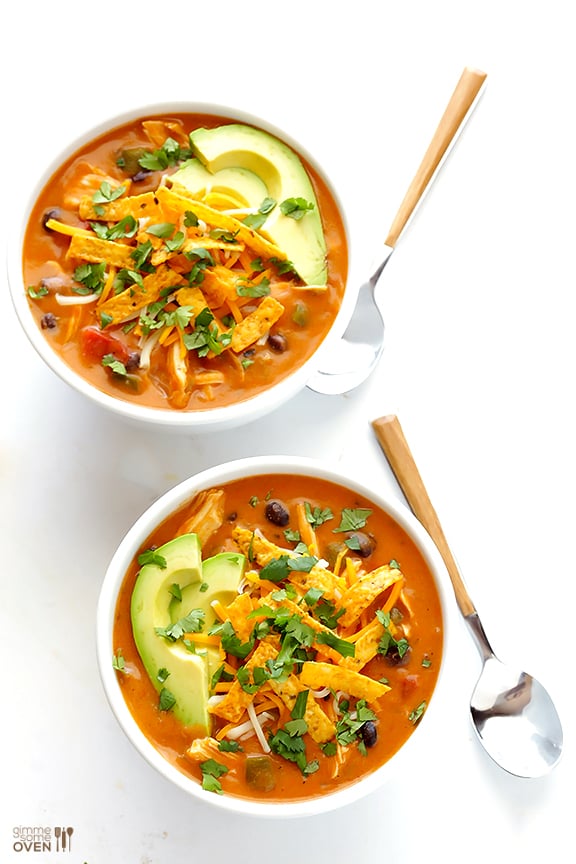 …or load it up with all kinds of toppings.  Whatever sounds good.
And for old time's sake, I have to also recommend serving it with some good chips and salsa.  Because…just because.  :)
Enjoy!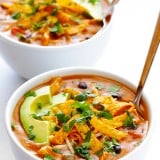 20-Minute Cheesy Chicken Enchilada Soup
This delicious chicken enchilada soup is thick, cheesy, and ready to go (once your ingredients are prepped!) in just 20 minutes!
Ingredients:
2 tablespoons vegetable oil
1 cup diced white onion (about 1 small white onion)
2 cloves garlic, minced
1/2 cup masa harina (corn flour)
3 cups chicken stock
2 cups cooked, shredded chicken
1 1/4 cups (or 1 10-ounce can) red enchilada sauce, homemade or store-bought*
1 (14-ounce) can black beans, rinsed and drained
1 (14-ounce) can diced tomatoes, with juices (I prefer fire-roasted)
1 (4-ounce) can chopped green chiles
1/2 teaspoon ground cumin
8 ounces sharp cheddar cheese, freshly grated
1 teaspoon salt, or more/less to taste
optional toppings: tortilla chips/strips, diced/sliced avocado, grated cheese, sour cream, chopped fresh cilantro, and/or pico de gallo
Directions:
Heat the oil in a large stock over medium-high heat. (To save time, peel and dice the onion for the minute or so that the oil heats.) Add the onion and saute for 5 minutes, or until cooked and translucent. Add the garilc and saute for an additional minute until fragrant. Stir in the masa harina and cook for an additional minute.
Pour in half of the chicken stock, and stir until completely combined. Add in the remainder of the chicken stock, and stir to combine. Immediately add in the chicken, enchilada sauce, black beans, tomatoes, green chiles, salt and cumin, and stir until combined. Continue stirring occasionally until the mixture reaches a simmer. Reduce heat to medium-low and let it simmer for 3 minutes, stirring occasionally so that the soup does not stick to the bottom of the pan. Then stir in the cheese, one handful at a time, until combined. Taste, and season the soup to taste with salt.
Serve the soup warm with desired toppings.
All images and text ©
If you make this recipe, be sure to snap a photo and hashtag it #gimmesomeoven. I'd love to see what you cook!
Check out these other related recipes too!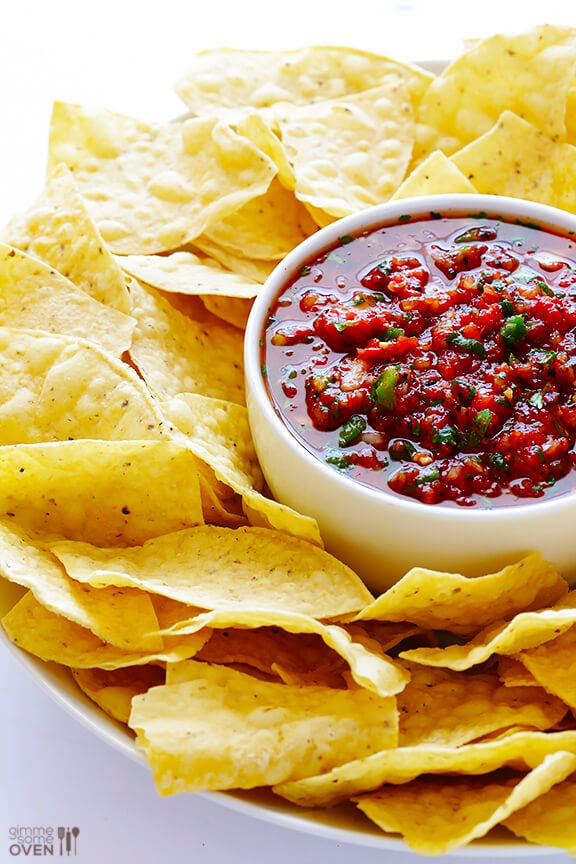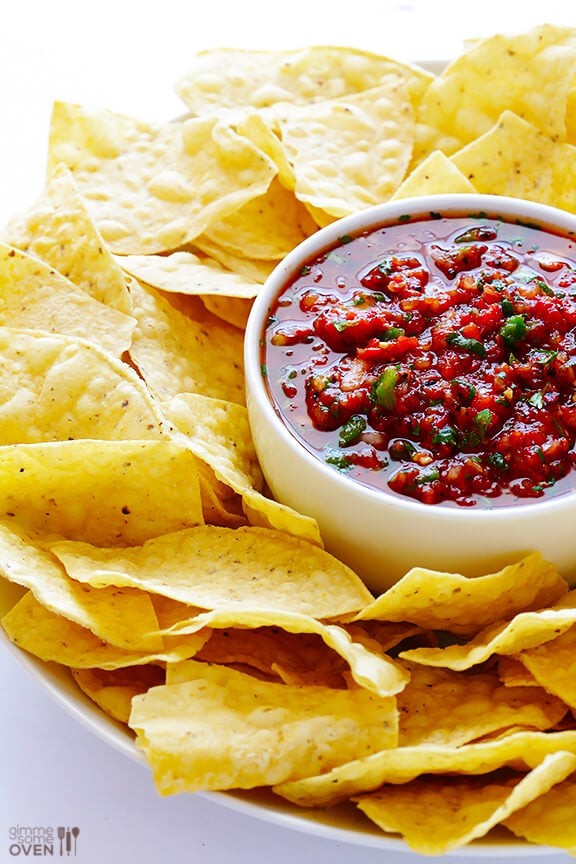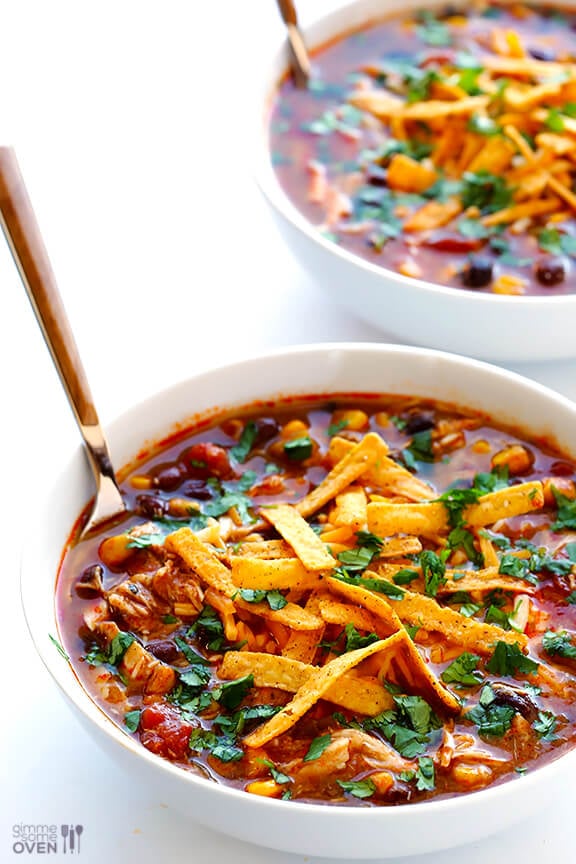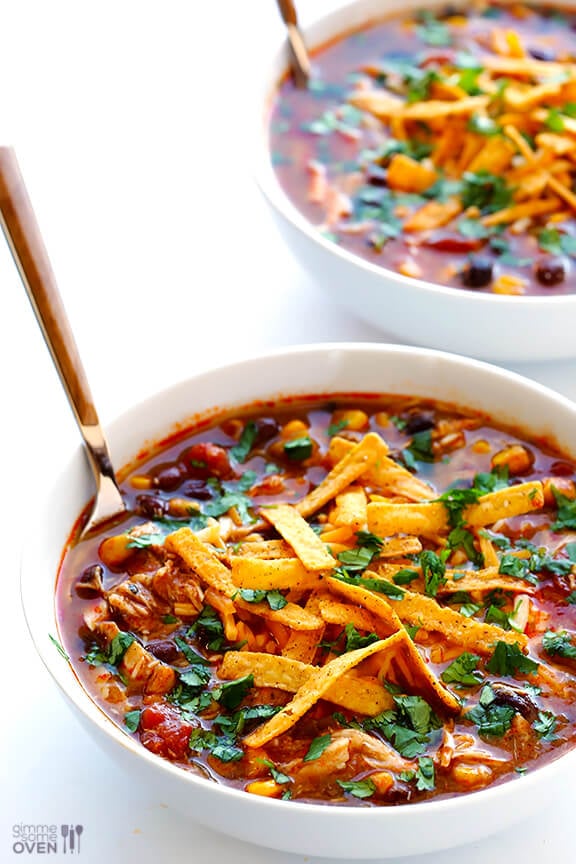 Slow Cooker Chicken Enchilada Soup