Cherry Clafoutis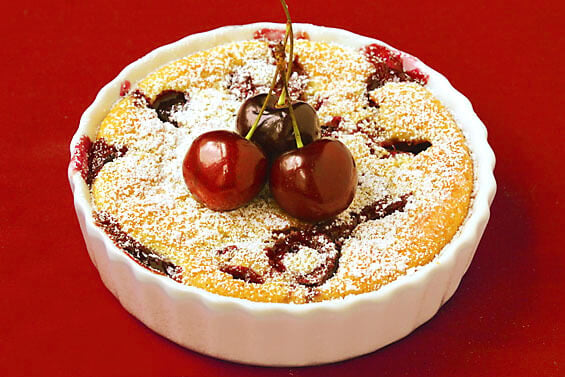 We have had some of the most amazing sales around here lately on bing cherries — which has been such a treat.  I love cherries!!
Usually ours disappear from their little pint in the fridge before ever making it to a dessert recipe.  :)  But when I had a handful left this week, decided to give this new recipe a try.  I had bookmarked it a few weeks ago — initially because I was intrigued by the name (a rustic French dessert, pronounced "klah-foo-tee").  But then when I saw that it called for such simple ingredients, I was hooked.
Excited to report that — in addition to being completely cute and charming, these little desserts were absolutely delicious!  The flavor and texture were a wonderful surprise — light and sweet, but perfectly balanced.  And best of all, prepping the ingredients took less than 10 minutes – so easy!  (Your friends will never guess!)  Definitely a delightful dessert to add to your entertaining repertoire.
Also, I should note that while the traditional French dessert calls for cherries, you could easily substitute in some other favorite fresh fruits as well.
Bon Appetit!!

print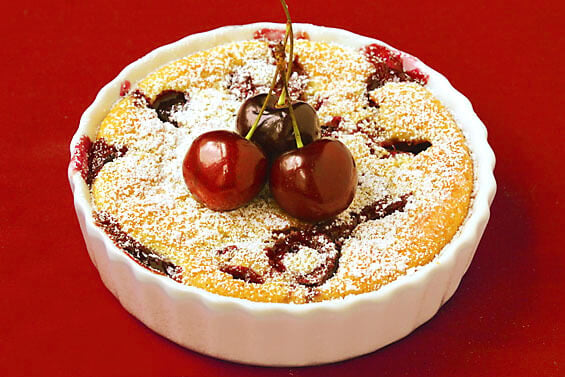 Cherry Clafoutis
You will love this charming, delicious, and incredibly easy-to-make French Cherry Clafoutis recipe! Bon Appetit!!
Ingredients:
4 eggs, separated
2/3 cup sugar (divided)
6 Tbsp. all-purpose flour
2 tsp. vanilla extract
1 cup heavy cream
½ tsp. sea salt
1 ½ lbs. fresh cherries, pitted
½ tsp. lemon zest
powdered sugar (for dusting)
Directions:
Preheat the oven to 375?F. Butter a large rectangular baking dish. (Or 6 smaller baking dishes.)

Combine the egg yolks and 1/3 cup of the sugar in a large bowl. Whisk until ribbons form and add the flour, vanilla extract, and cream. Beat the mixture until completely blended.

In another bowl, beat the egg whites together with the salt until foamy, about one minute. Then add the beaten egg whites into the batter, mix lightly until incorporated.

Preheat the prepared baking dish in the oven for 4 to 5 minutes.

In a medium bowl, stir together the cherries, the remaining 1/3-cup sugar and the lemon zest. Remove the baking dish from the oven, pour in the cherries and top with the batter. Bake until the clafoutis is set in the middle, 30 – 35 minutes (or considerably less for smaller baking dishes). Serve warm.

If you make this recipe, be sure to snap a photo and hashtag it #gimmesomeoven. I'd love to see what you cook!
Ali's Tip:
This would also be delicious with other fresh fruits!  Blueberries, blackberries, peaches, nectarines, or apricots come to mind…