12-Minute Chicken and Broccoli
This easy Chicken and Broccoli recipe can be made from start-to-finish in about 12 minutes, and tastes SO delicious!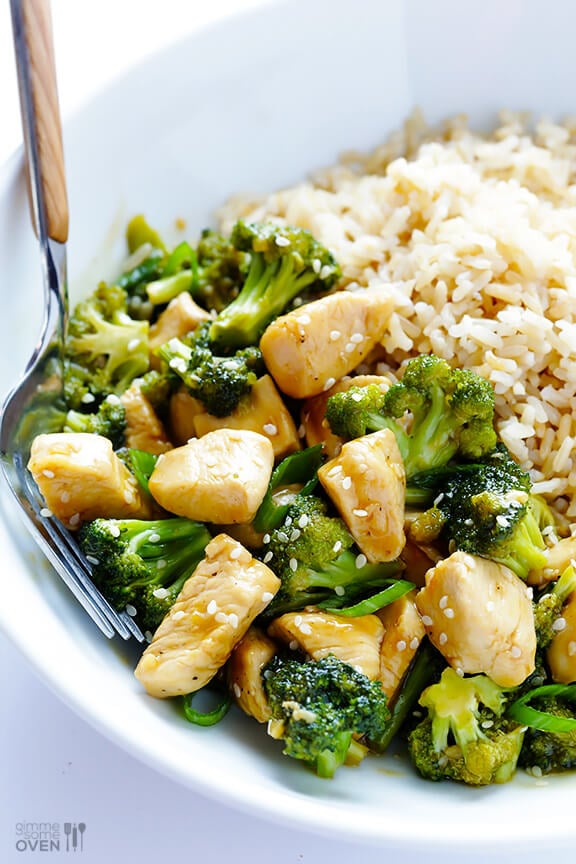 Last night, I taught a cooking class for the first time in years.  And it was so much fun!!
I actually get asked to teach cooking classes pretty often, and cater, both of which I have decided I don't enjoy all that much.  But this one was for my church, as part of these cool "institutes" we do quarterly.  And they are awesome.  So I agreed to do it.  :)
Basically, anyone in the community can volunteer to teach a class on something they love for these institutes — be that stand-up comedy, parenting, car maintenance, literature, running, personal finance, yoga, you name it.  I had the chance to sit on a panel this week for an institute on the Enneagram, which made me ridiculously excited.  But then last night, I took my turn as one of 4 people to teach part of an institute on "cooking", which was equally exciting.  Because we made a Mexican feast…in one hour.  And then sat down around the table and chatted the night away.  My favorite.
Actually, one of the interesting points of the night was trying to describe this blog to the group, and why I do what I do.  I have always struggled a bit with my "elevator pitch" for the blog, because I have always blogged the way I cook, which is not niched down.  I cook a little bit of everything.  Mostly healthy, a few indulgences.  Fresh, creative, family-friendly.  But over the years, there has definitely been one common factor that seems pretty consistent with all of my recipes: quick and easy.
I know I say that all of the time on here.  But the reality is that I do love to cook quick and easy recipes.  I lead a very busy life, but I absolutely love to cook, so simple recipes are a complete win-win.  It's not a "hook".  It's just how I live my life.  And thus, how I authentically create recipes for this blog.
So when they asked what recipe was coming up next on the blog, they all nodded and smiled when I said I had a 12-minute broccoli chicken recipe.  Yes, I timed it (because I'm a "3" on the Enneagram and love efficiency).  And yes, I totally loved it.  :)
Actually, the inspiration for this one came from my CSA of the week.  My friend and farmer, Si Si Cho, gave me the most beautiful selection of kale and carrots and onions and radishes and more.  And she also threw in a big ol' head of broccoli.
Now I have to admit, I'm still on the "spectrum" of learning to love broccoli.  I appreciate it, and I will totally eat it when it is served to me, but I almost never cook it on my own.  BUT, I was reading lately about how ridiculously good for you it is.  And come on, those little florets look like baby trees!  They're each like a little sculptural masterpiece!!  So I decided to put my fresh produce to use in a recipe I knew I was sure to love — a chicken and broccoli stir-fry.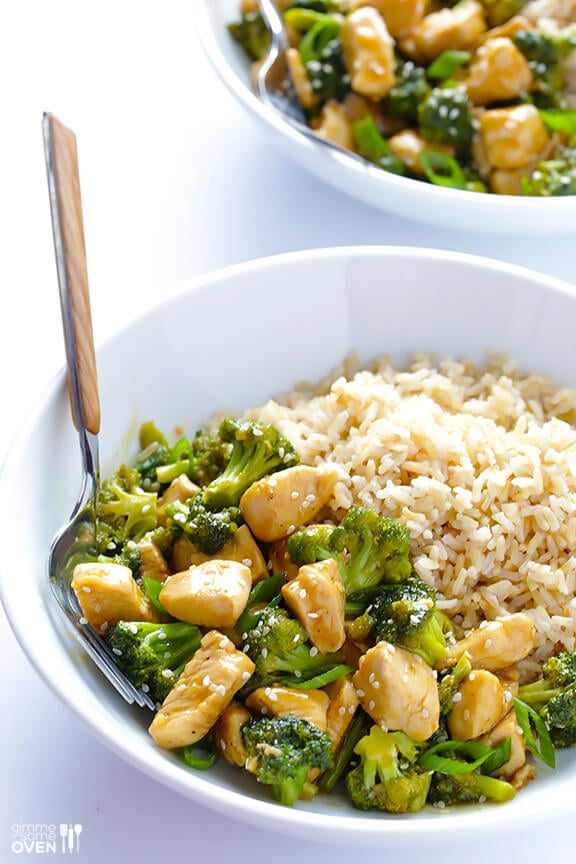 This recipe is basically a riff on my favorite sesame chicken recipe, with a little less sesame, and 100% more broccoli.  And it's super easy to make.
Just start out by sauteing up some chicken.  (If you're short on time, keep those pieces of chicken small so that they cook faster.)
Then add in your broccoli, also cut into small pieces.  Ahem, florets.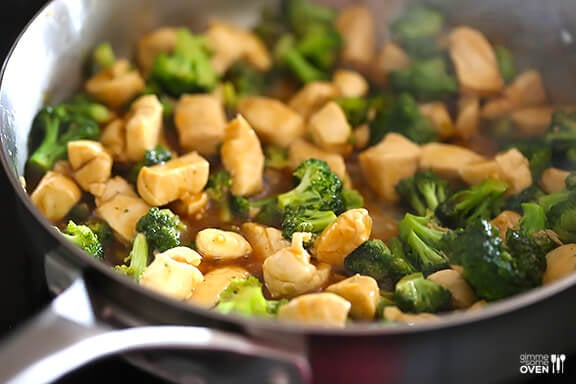 Then add in the sauce that you whisked together while the chicken was cooking.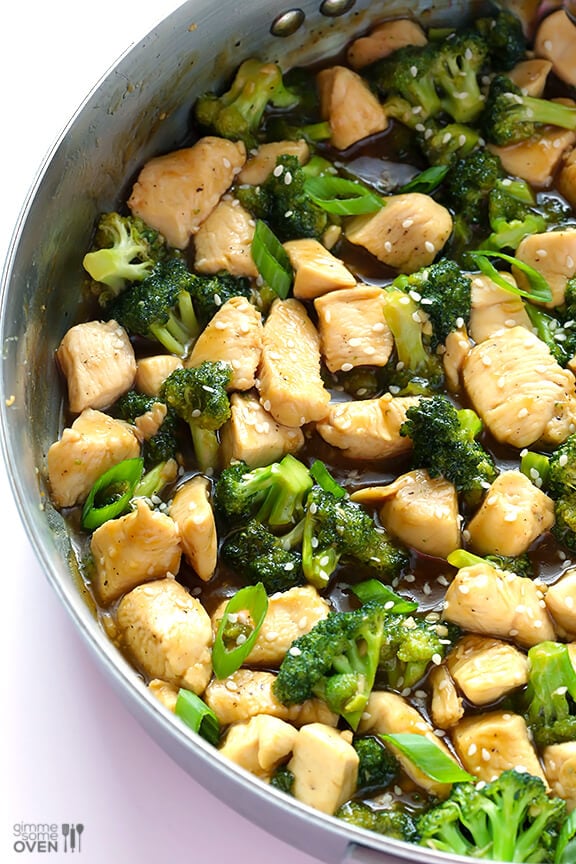 And within a minute, the sauce will thicken up and your chicken and broccoli will be ready to go.  Boom.
Fast.  Flavorful.  Fresh.  And Oh-So-Fab.
I served mine with some brown rice, but it would also be great with quinoa, or noodles, or even just plain on its own.
And yes, it's ready to go in just 12 minutes if you're moving swiftly.  Which I usually am.  And which I love.  Because me and speedy meals are a good match, so that I can get onto other things in life which I also love.  :)
Enjoy!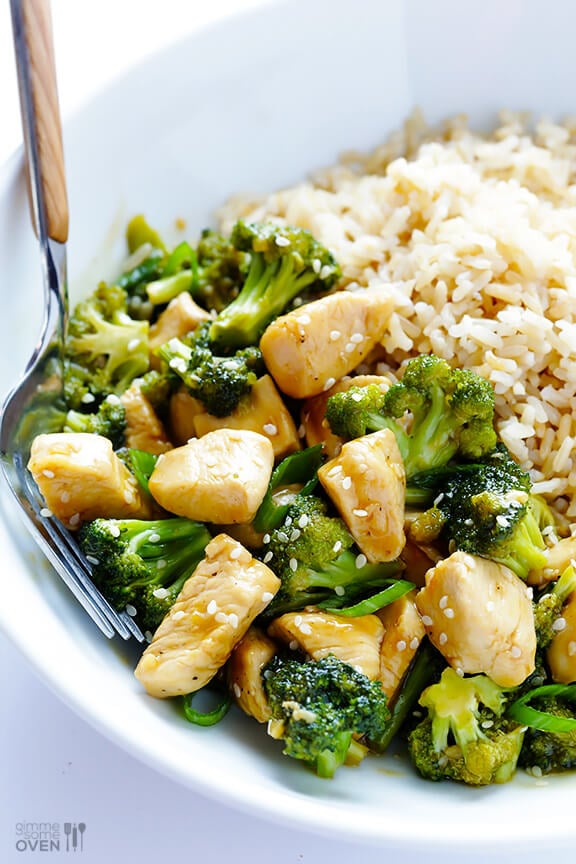 12-Minute Chicken and Broccoli
This classic chicken and broccoli recipe is full of fresh and delicious flavor, and it's ready to go in just 12 minutes!
Ingredients:
Stir-Fry Ingredients:
2 tablespoons olive oil, divided
2 boneless skinless chicken breasts, cut into bite-sized pieces
salt and pepper
sauce (see below)
1 bunch broccoli, chopped into small florets, stem discarded
1/2 cup thinly sliced green onions
1 teaspoon toasted sesame seeds
Sauce Ingredients:
Directions:
To Make The Stir-Fry:
Heat 1 tablespoon olive oil in a large sauté pan over medium-high heat. Add chicken breasts, and season with a generous pinch of salt and pepper. Cook for about 5 minutes, stirring occasionally, until the chicken is browned and mostly cooked through.
While the chicken is cooking, make your sauce. (See below.)
Once the chicken is browned, add the remaining 1 tablespoon of olive oil and broccoli, and stir to combine. Continue cooking for an additional 3 minutes, until the broccoli is bright green. Stir in the soy sauce mixture, and cook for an additional 1 minute until the sauce has thickened.
Remove from heat and serve immediately, garnished with green onions and toasted sesame seeds.
To Make The Sauce:
Whisk all ingredients together in a small bowl until combined.
All images and text ©
If you make this recipe, be sure to snap a photo and hashtag it #gimmesomeoven. I'd love to see what you cook!
This post contains affiliate links.