How To Cut Broccoli
This post may contain affiliate links. Please read my disclosure policy.
Learn how to cut broccoli with this quick and easy video tutorial!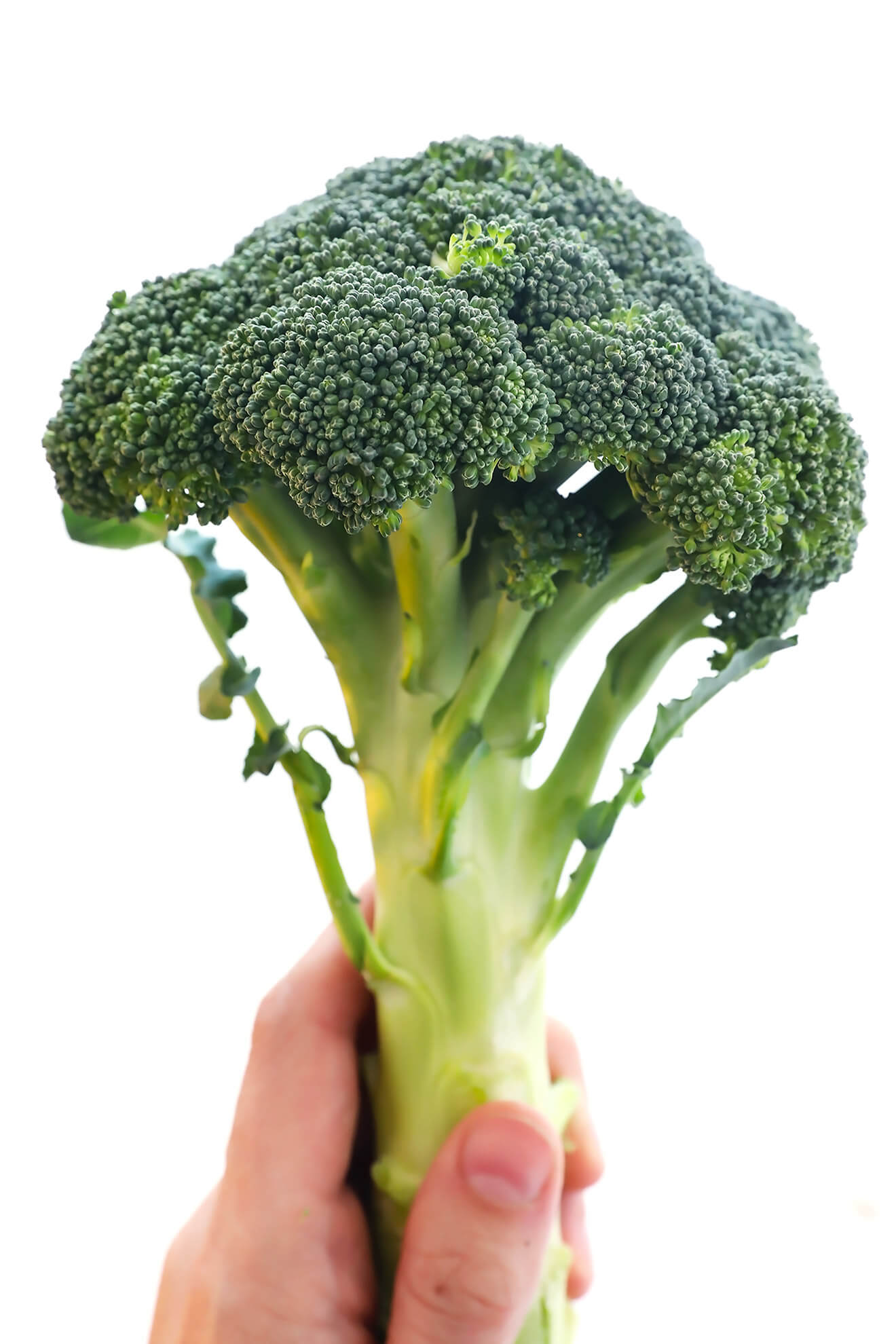 I feel like Dana Carvey would be extra proud of today's How-To Tuesday video tutorial.
We're choppin' broccoliii!
In my experience developing recipes on this site for years, people tend to love broccoli or hate it. ? I used to be strongly in the latter camp, but over the past decade or so, I somehow crossed the bridge and now can't get enough of this vibrant, versatile, nutrient-packed cruciferous veggie. I love eating it roasted, raw, stir-fried, in a slaw, totally plain…you name it, I'll eat it.
That said, I know that an entire head of broccoli can seem a little intimidating to cut into if you've never been taught. So today, I thought it'd be fun to share a quick step-by-step video for how to cut broccoli and separate out those cute little baby trees — I mean, florets — for your recipes. And of course, don't forget those stems too! Broccoli stems are totally edible and full of fiber and can add some great texture to your recipes, so we've included tips for how to slice and dice them four different ways. Plus, as always, tips on how to select fresh broccoli at the store, and what to make with it.
Let's get to choppin'!
How To Cut Broccoli | 1-Minute Video
See the video above for my favorite method for how to cut into a full head of broccoli, how to separate out the florets, and 4 different options for how to cut the stem.
How To Select Fresh Broccoli:
In general, you want to look for broccoli at the market that:
with bright green florets that are tightly-packed (avoid florets that are yellowed)
with firm, strong stalks (avoid older stocks that seem stringy or woody)
are in season (peak season is from October through April)
How To Roast Broccoli:
I actually have a full tutorial on the blog for my favorite roasted broccoli recipe here. So simple and so delicious!
Favorite Broccoli Recipes:
Looking for some tasty broccoli recipe inspiration? Here are a few of my faves!
Print

How To Cut Broccoli
Prep Time: 2 minutes
Total Time: 2 minutes
Yield: 2 -4 servings 1x
---
Description
Learn how to cut broccoli with this quick and easy tutorial!
---
---