Chicken Caesar Salad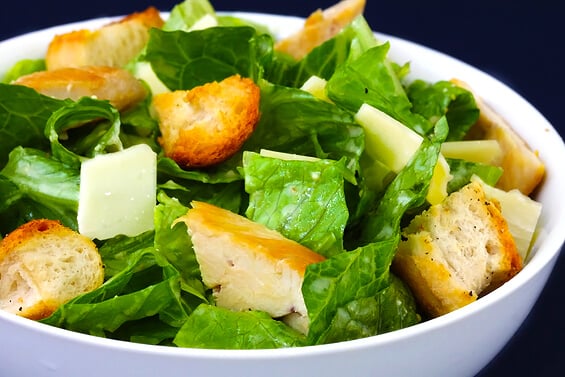 I love Caesar salads.
But…I have to admit I do not love Caesar salad dressings made with raw eggs (even at restaurants).  I also do not love salad dressings that have the calorie count of an entire meal.  Which of course, traditional Caesar salad dressings are usually made with practically an entire jar of mayo (yikes).  I also do not like dealing with whole anchovies.  But thankfully for us in the twenty-first century, there is a brilliant cheap alternative at grocery stores — anchovie paste.  Brilliant!
So for anyone out there like me who is looking for an egg-free, lighter, yet still oh-sooooooo-delicious Caesar salad recipe, here is my favorite one!  The dressing is still wonderfully creamy and full of the classic lemony, well-seasoned flavors.  And when topped with grilled chicken, homemade croutons, and freshly-shaved Parmesan, I think it actually knocks the socks off any Caesar salad I've had in a restaurant.
So if you've never made a homemade Caesar salad before, or if you're just looking for a lighter new recipe, I'd definitely encourage you to give this one a try!  Bon appetit!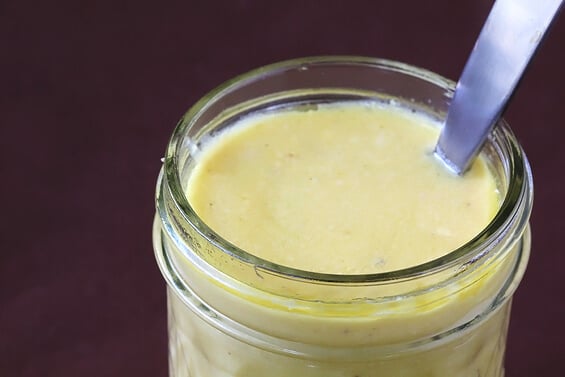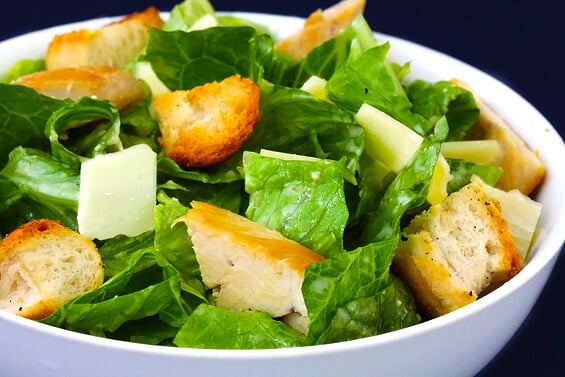 Chicken Caesar Salad
A fabulous Caesar salad recipe that's also on the "lighter" side, AND egg-free! It's very flavorful, healthy, easy to prepare, and ready to go in minutes!
Ingredients:
!Dressing Ingredients:
1/4 cup mayonnaise
1 tsp. anchovy paste
1 tsp. Dijon mustard
1 tsp. Worcestershire sauce
1 Tbsp. minced garlic
1-2 Tbsp. freshly-squeezed lemon juice (adjust to taste)
1/4 cup freshly-grated Parmesan cheese
generous pinch of salt and freshly-ground black pepper
1/2 cup olive oil
!
!Salad Ingredients:
2-4 boneless, skinless chicken breasts
3 Tbsp. canola or vegetable oil
1 head of romaine lettuce
2 cups croutons, homemade or storebought
freshly-shaved Parmesan cheese
caesar dressing
Directions:
To Make The Dressing:
Whisk first eight ingredients together in a small bowl until well-combined. Then, while still whisking, slowly drizzle in the olive oil. Continue whisking together until well blended. Season with extra salt and/or pepper if needed.
To Make The Salad:
First, prepare the chicken. Place chicken breast between two pieces of plastic wrap. Pound breasts with a meat mallet until they have reached a uniform thickness (about 3/8″), then sprinkle both sides with salt and pepper.
In a large skillet, heat canola oil over medium-high heat until shimmering. Carefully add two chicken breasts to pan. (Feel free to add more if you're pan is big enough — just don't crowd them.) Cook until both sides are lightly golden and chicken is cooked through, about 3-4 minutes per side. Transfer to cutting board and slice into thin strips. Repeat with remaining chicken breasts.
While chicken is cooking, prepare the lettuce (and croutons, if making homemade). Wash and dry the lettuce, and then tear or chop into bite-sized pieces. Toss with dressing, then serve topped with chicken, croutons and Parmesan.
All images and text ©
If you make this recipe, be sure to snap a photo and hashtag it #gimmesomeoven. I'd love to see what you cook!
Ali's Tip:
Also great with grilled salmon, shrimp, steak, tofu, or even scallops!