Chicken, Spinach and Almond Pasta Bake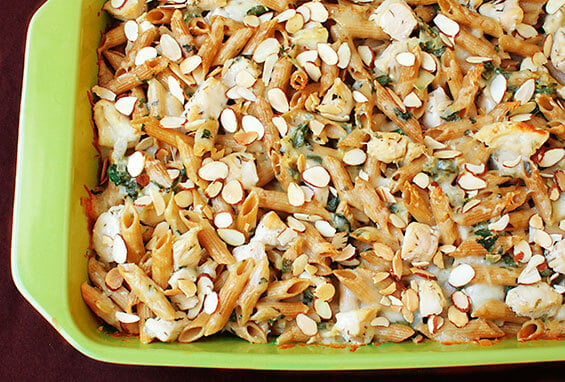 A few weeks ago, a friend and I signed up to provide the main dish for a neighborhood dinner through my church.  And thanks to a little…um…procrastination, didn't really get around to fully planning a recipe until about two hours beforehand.  Oops!   So when short on time and budget (cooking for ten), we turned to….pasta!!!
I'd remembered seeing this recipe from Heidi at 101 cookbooks awhile back, intrigued by the addition of toasted almonds on top.  So we ended up improvising something similar – making a chicken version as well as a vegetarian option – and they were a hit!  We had many recipe requests, and people even took the leftovers home.  I'd say that's a good sign!
I only had one lemon on hand (for two batches of this), but actually liked just the mild hint of lemon in the background.  We also added some more garlic and white wine, which I'm always a fan of.  But otherwise, the recipe is pretty straight-forward.  Chicken + Cheese + Pasta = Easy Casserole.  :)
So if you're looking for a simple, budget-friendly meal that can feed a crowd (or provide lots of leftovers), I'd definitely recommend giving this one a try!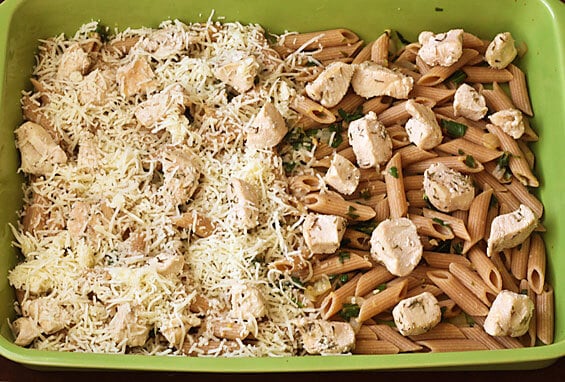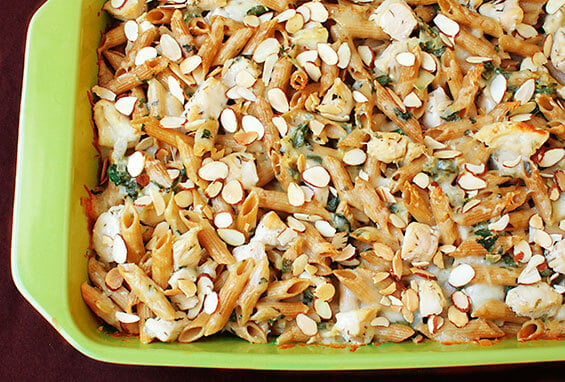 Chicken, Spinach & Almond Pasta Bake
You will love this Chicken, Spinach & Almond Pasta Bake Recipe ! It's flavorful, comforting, and easy to prepare! Try it today!
Ingredients:
1 lb. whole-wheat pasta
1 large yellow onion, chopped
3 cloves garlic, minced
1/2 cup white wine
4 cups fresh spinach, well-chopped
half a lemon, juiced and zested
1 lb. chicken, cooked and shredded or cut into bite-sized pieces (*see tip below*)
8 oz. shredded mozzarella (or Italian blend) cheese
1/4 cup freshly-grated parmesan (optional)
1 cup slivered almonds, toasted
salt and freshly ground black pepper
Directions:
Preheat the oven to 350 degrees. Grease a large cooking dish (I used a 9×13″) with cooking spray. Set aside.

Boil the pasta in a large pot of generously-salted water per package instructions, until it is just al dente (ever-so-slightly chewy). Drain pasta, toss with a glug of olive oil. Set aside.

In the meantime, heat a bit of olive oil in a skillet over medium-high. Saute the onions with a couple pinches of salt for a few minutes. Stir in garlic for one minute. Then add white wine, and stir to deglaze pan. Cook the mixture on the stove for another 5 minutes or so until it has reduced.

Stir in spinach. Cook for just about 20 seconds, until the spinach collapses a bit. Remove from heat and stir in the lemon zest and juice. Add to pasta, along with the cooked chicken, and stir until mixed.

Add half of the pasta to the bottom of the baking pan, then sprinkle with half of the Mozzarella cheese, add more pasta, then the remaining half of the cheese. Finish with a thin layer of parmesan cheese. Cover with foil and bake for 30 minutes or until cheese on top is bubbly and melty. Serve sprinkled with the toasted almonds.

If you make this recipe, be sure to snap a photo and hashtag it #gimmesomeoven. I'd love to see what you cook!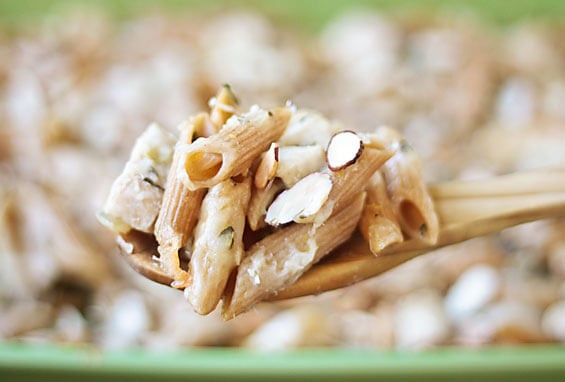 Ali's Tip:
While this really does stand well alone as a vegetarian option, I loved the addition of the chicken.  You can cook and season it however you'd like.  But I ended up dicing my chicken raw, then cooking it in a skillet, seasoned with salt, pepper, and a bunch of dried thyme.   Easy, but very flavorful!