Blueberry Chicken Chopped Salad
This post may contain affiliate links. Please read my disclosure policy.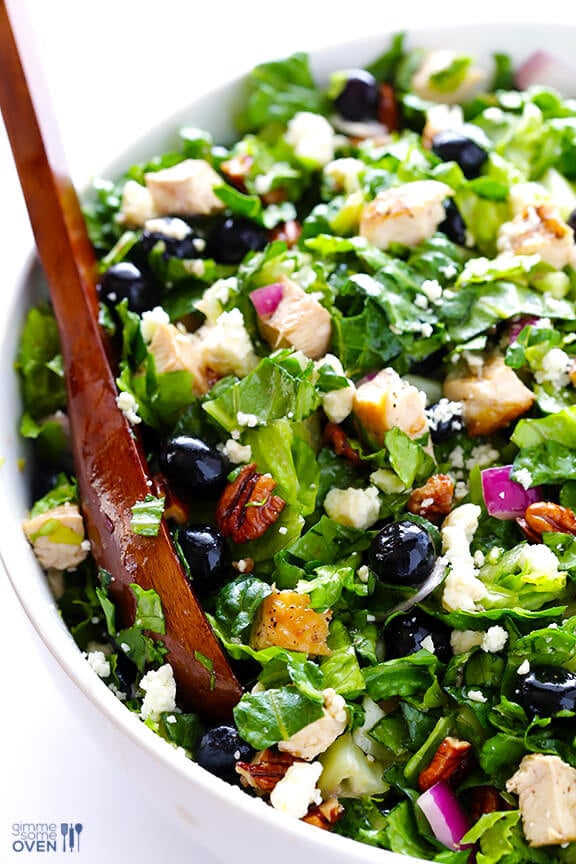 I cannot stop eating this salad.
Seriously. My sister and I whipped it up for lunch one day last week when she was in town, and it made a big batch. So then we immediately had it again that evening for leftovers. And then I had some the next day for lunch. And a snack. And dinner. And after 48 hours of this salad, I still wasn't tired of it!
This is notable, coming from The Girl Who Doesn't Like Leftovers.

I think it's honestly just that good. It's a great mixture of savory and sweet and tangy with a little chicken thrown in there for extra protein, because I happen to be rediscovering my love of chicken. It's super easy to make. It miraculously holds up well in the fridge after a day or two, even after being fully dressed with a light Dijon vinaigrette. And it features the superfood that I can't get enough of this summer: blueberries.
Fun fact: Did you know that July is actually National Blueberry Month?
True fact: I did not. But now that I do, I'm more than happy to jump on board and get to celebrating. Because who doesn't like blueberries?? They're tasty, they're chocked full of Vitamin C, they're a great source of dietary fiber and manganese (good for your bones and energy levels), and they're a superfood that's also super tasty.
I love tossing them on parfaits for breakfast, salads for lunch, a handful for a snack, or even tossing them in a cobbler or ice cream for a slightly healthier way to satisfy a sweets craving.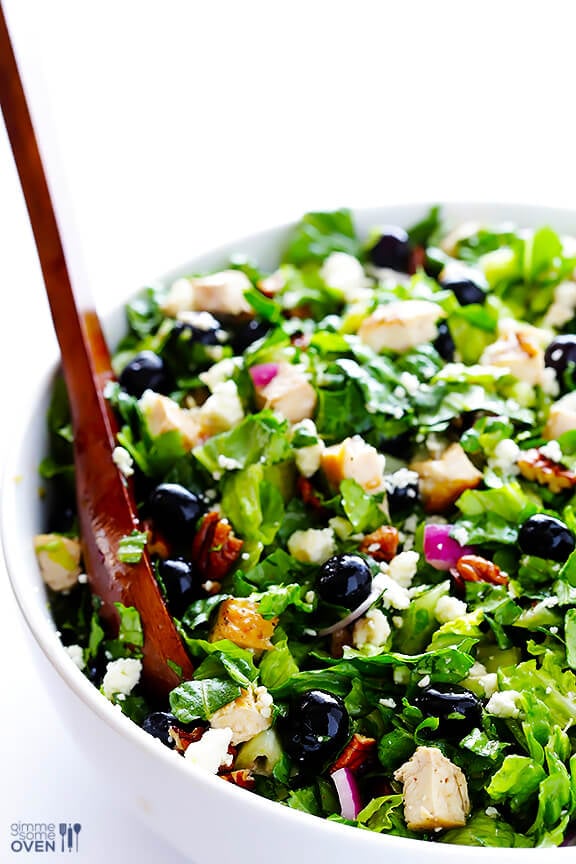 Speaking of choosing blueberries as a healthier option, the National Blueberry Council is actually doing a push this summer to encourage people to make #littlechanges that will lead to healthier lives. The campaign reminds me a lot of the post I published recently about How To Make 10% Better Decisions.
We're not always going to choose the absolute healthiest decisions every single second of the day. But what we can do is try to make the decisions we do choose just a little bit better.
Sometimes that might mean choosing a glass of iced tea over soda. Or a side salad instead of fries. Or a handful of blueberries instead of chips. Those little decisions might not seem like much in the moment, but they definitely add up over time. And at least in my life, I feel like good decisions have a way of spurring on more good decisions.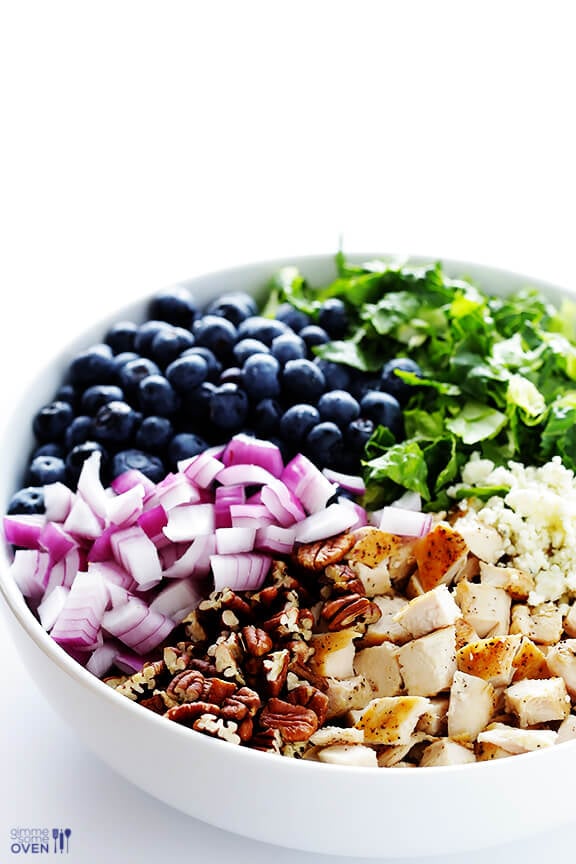 So anyway, when the Blueberry Council asked me to share my favorite savory dish to make with blueberries, my response was a no brainer:
SALAD!
As evidenced by the handful of blueberry salad recipes on the site, I love popping those little guys in a big, fresh, green salad. And today's salad is no exception. It is full of so many of the simple salad ingredients I love: fresh greens (that day I had Romaine), chopped chicken (extra protein), toasted pecans (or any nuts), red onion, blue cheese (or any soft cheese), and lots and lots of blueberries.
To make the salad, just drizzle it with a simple Dijon vinaigrette and then toss it all together.
My sister was my expert pourer and tosser for this shot. I think she was pretty excited about dumping in that vinaigrette so that we could get to eating it!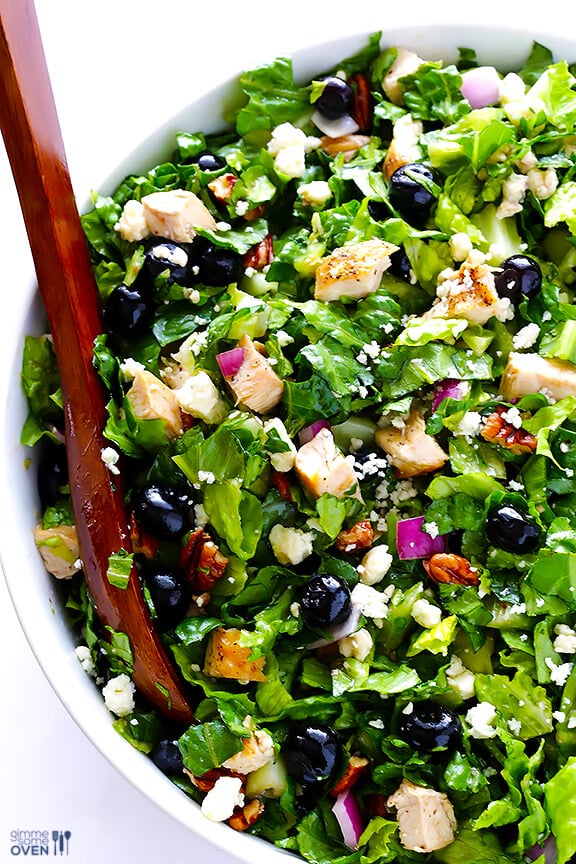 I clearly was too. Snap, snap, snap…
…and let's eat. :)
So without further ado, here is the recipe for this Blueberry Chicken Chopped Salad.
Be sure to also browse The Blueberry Council's site for more beautiful blueberry recipes. And also feel free to join in with the #littlechanges hashtag to share any small changes you are making for a healthier lifestyle. Enjoy!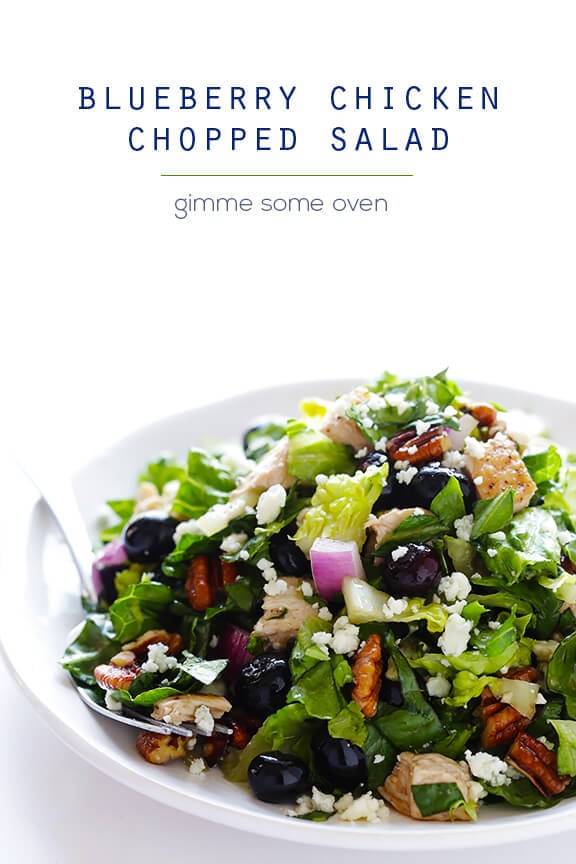 Disclaimer: This is a sponsored post by the U.S. Blueberry Council. All blueberry-loving opinions are 100% my own, as always. Thank you for supporting the brands that help make this site possible.