Chipotle Sofritas Tacos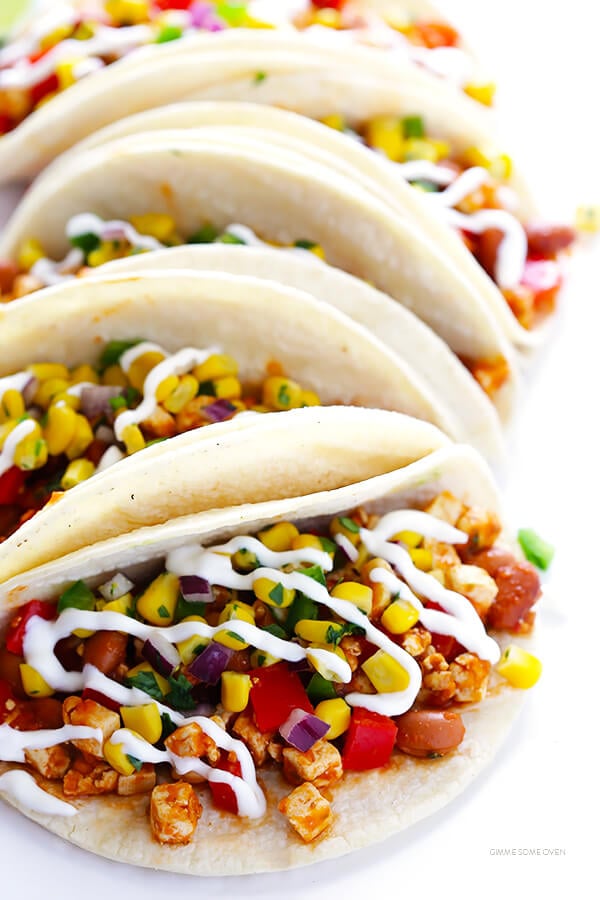 Alright, before we get to talking about how to make these delicious chipotle sofritas (tofu!) tacos, I'd like to talk for a minute about what I was watching while I was eating these tacos.  That's right.
I finally finished the entire series of Downton Abbey!!
And it was sooooo satisfying.  ♥
Don't worry, I wouldn't dream of spoiling it for those of you who still have yet to finish it.  But oh my goodness, as opposed to The Good Wife finale (which I actually watched beforehand on the same night, and left me shaking my fists at the screen), I felt like every delightful moment of the Downton finale just got better and better, and the happy tears just kept flowing and flowing.  I am going to miss these characters so much!!!  But I must say, I feel at peace knowing that we're all parting ways on a very happy note.
Oh, and sidenote, why did no one tell me that the oh-so-dashing Finn from TGW was going to be back in my life again so soon?  And this time with his British accent?!  Brilliant.
Anyway, it's been nearly a week and I still haven't decided which new show to begin next.   (Newsroom?  Orphan Black?  Call The Midwife?)  If you have any recommendations, I'll take 'em.  I need some good characters in my life to fill the void that the Crawley family, Henry Talbot, Mr. Bates, Anna, Mr. Carson, Mrs. Hughes, Daisy, Mrs. Patmore, and crew are leaving in my life.
The one recommendation I have for you today is the recipe I've found to be perfect pairing with a 1920's British drama…Mexican food!  (Why, what else?)  Specifically, these delicious chipotle sofritas tacos.  I've been hooked on these tofu tacos at (capitol-C) Chipotle for the past year or so, and have been wanting to figure out how to recreate them at home.  It took a few tries.  But after channeling my inner Mrs. Patmore, I think I finally nailed 'em.
I mean, seriously, just look at that rainbow of flavor!
So delicious.  And, as I was pleased to find out, so easy to make at home!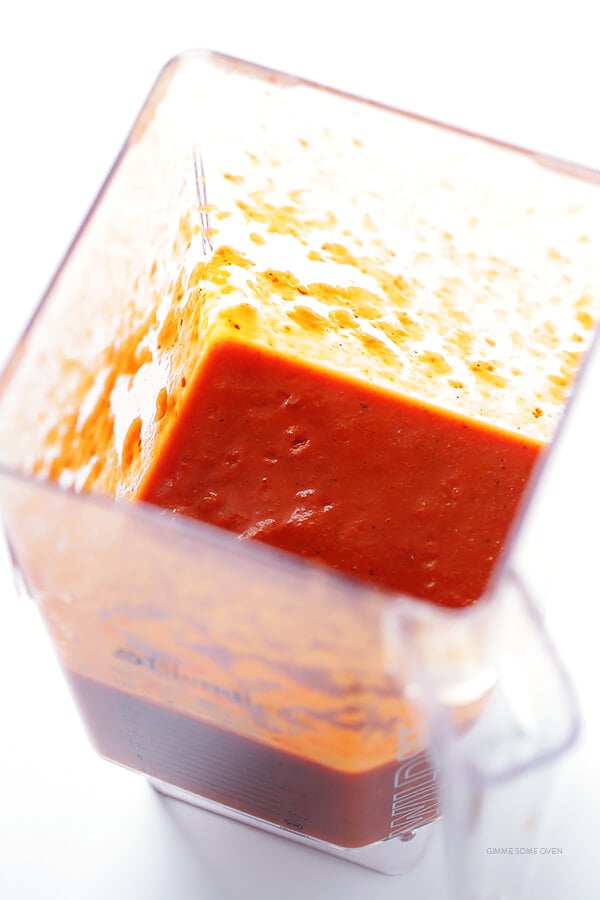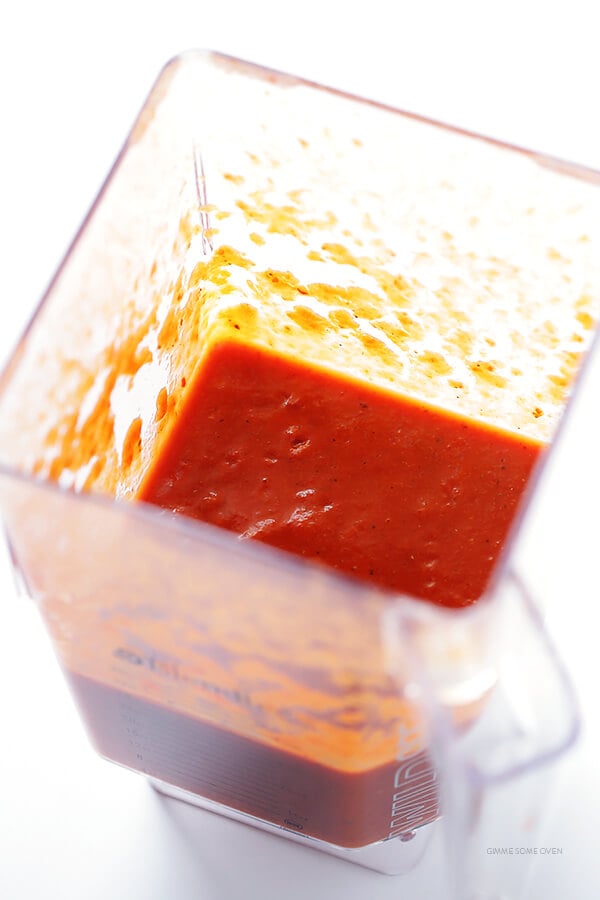 The key to this recipe is 500% in this delicious chipotle sauce.
I would highly recommend making a double batch, just so that you can use it as a sauce or marinade for another delicious recipe during the week.  But however much you make, I think you're going to love it.
The namesake chipotle peppers in adobo sauce are the rockstar ingredient, for sure, and give the sauce that smoky and slightly spicy kick that I love.  Then it's mixed with some fire-roasted tomatoes, garlic, onion, red wine vinegar (caught that tip on the Chipotle website), cumin, oregano, and a little S & P to round things out.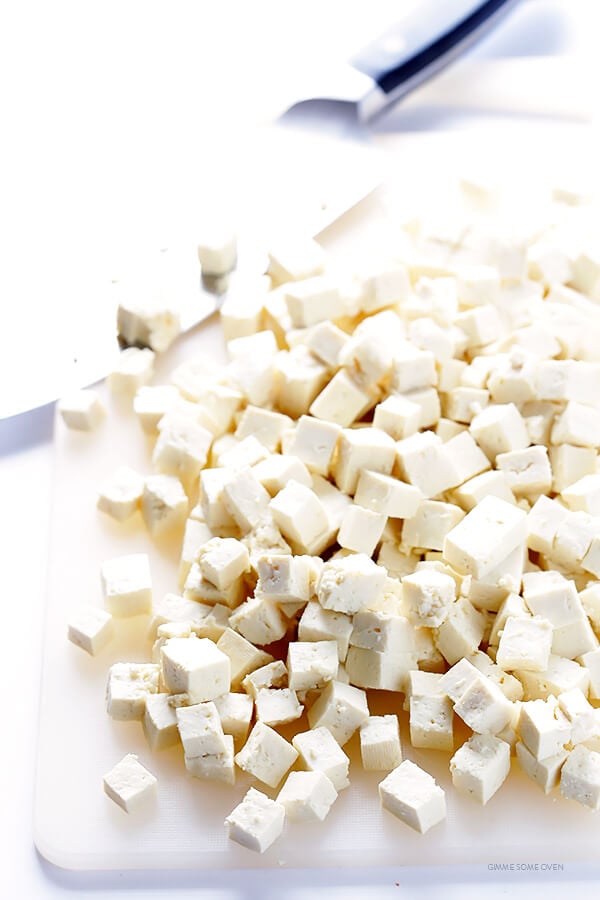 Pair that with some extra-firm tofu that's been drained and diced and crisped up in a pan with some oil and bell pepper…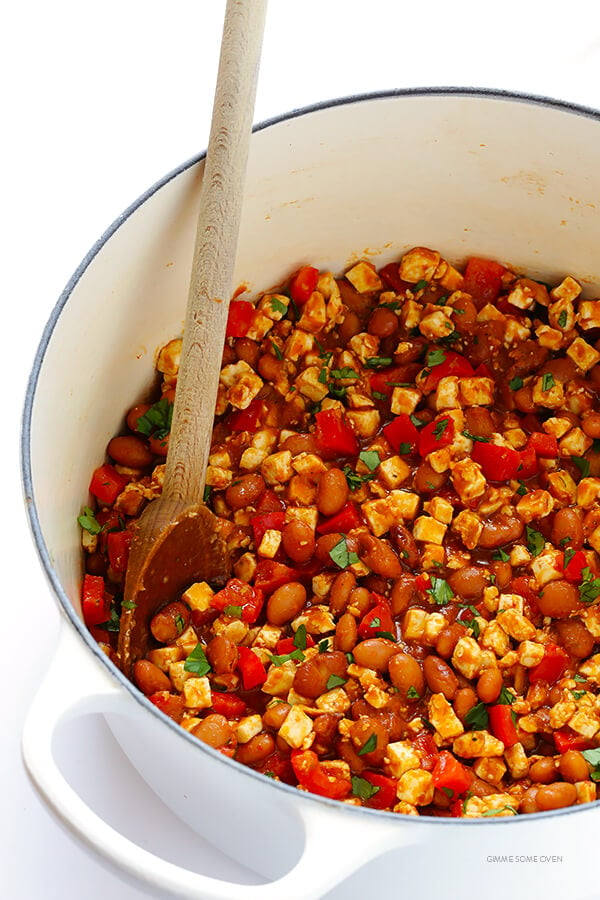 …then stirred all together with some beans to add in some extra protein (grabbed that tip from Pinch of Yum!)…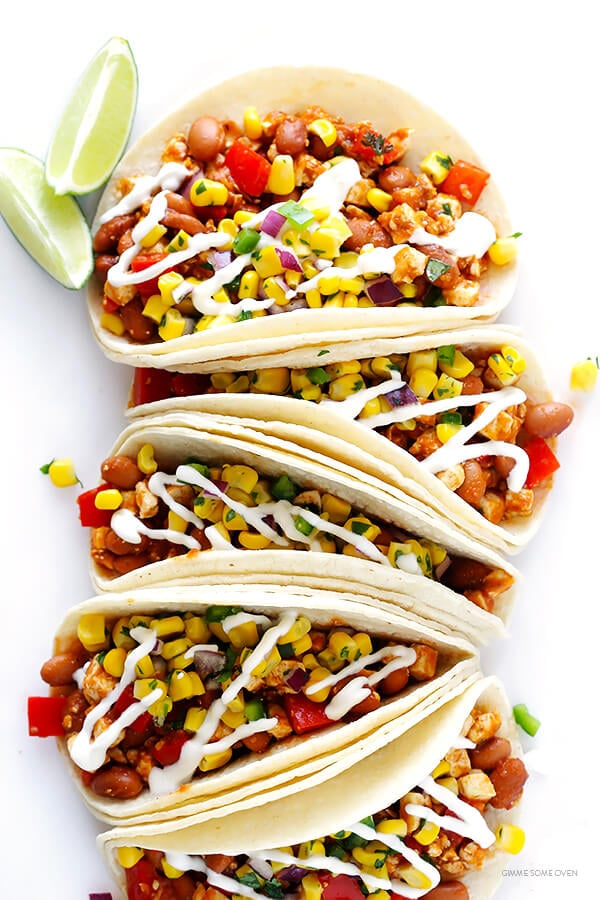 …and then everything comes together to make the most delicious taco filling, which you can then top with whatever kind of salsas and toppings float your boat.  I whipped up a simple corn salsa, and drizzled on some Mexican crema, but the sky's the limit when it comes to how you like your tacos.  (Well, if you're vegan, I'd say nix the crema.  If you're gluten-free, stick to corn tortillas.  But other than that, the sky's nearly the limit.)  ;)
So cheers to happy endings with Downton, and with tofu taco expeditions at home.  ♥
Chipotle Sofritas Tacos
These Chipotle Sofritas Tacos are made with tofu and beans, tossed in a chipotle tomato sauce, and can be topped with any of your favorite toppings. Plus they can easily be made gluten-free and vegan.
Ingredients:
Sofritas Tacos Ingredients:
1 (14 ounce) package extra-firm organic tofu, drained
1 batch chipotle sauce (see below)
2 tablespoons vegetable oil
1 large red bell pepper or poblano pepper, cored and diced
1 (15 ounce) can black or pinto beans, rinsed and drained
warmed corn or flour tortillas
optional toppings for serving (choose your favorites): any kind of salsa (*see recipe below for my corn salsa), Mexican crema or sour cream, guacamole, crumbled queso fresco, chopped fresh cilantro and white onion, fresh lime wedges, etc.
Chipotle Sauce Ingredients:
3/4 cup water or vegetable stock
2 chipotles in adobo sauce
1 clove garlic, peeled
quarter of a small white onion, peeled
1 cup fire-roasted crushed tomatoes
1 tablespoon red wine vinegar
1/2 teaspoon ground cumin
1/4 teaspoon oregano
generous pinch of Kosher salt and black pepper
Directions:
How To Make The Sofritas Tacos:
Roll up the block of tofu in a few layers of paper towels, then place the covered tofu on a plate and place something heavy on top of it to help it drain.  I usually use a plastic cutting board on top, covered with a few cookbooks.  Let the tofu drain for at least 15 minutes, replacing the paper towels if they get too wet.  (*To speed this up even more, cut the tofu into four skinny rectangles, and do the same process with them.  The tofu will drain faster if it's not quite as thick.)
While the tofu is draining, make the chipotle sauce (see below).
When you're ready to cook the sofritas, heat the oil over medium-high heat in a stockpot or large saute pan.  Add the tofu and red pepper and saute for 5-7 minutes, gently stirring every minute or so, until the tofu is cooked and slightly browned around the edges, and the red pepper is cooked and softened.
Add in the beans and chipotle sauce, and stir to combine.  Continue cooking over medium-high heat until the sauce reaches a simmer.  Then reduce heat to medium-low and simmering for 5 more minutes.
Remove from heat and serve immediately, spooning the sofritas into warmed tortillas, topped with your desired toppings.
How To Make The Chipotle Sauce:
Add all ingredients to a blender or food processor.  Blend until completely smooth.
Taste and season with extra salt and black pepper (or other ingredients), if needed.
Corn Salsa Ingredients:
1 jalapeno, cored and finely-diced
1 (15 ounce) can whole kernel corn
1/3 cup chopped fresh cilantro
1/3 cup finely-diced red onion
1 tablespoon fresh lime juice
pinch of salt and ground cumin
Corn Salsa Directions:
Toss all ingredients until combined.  Use immediately, or refrigerate in a sealed container for up to 2 days.
Inspired by the famous sofritas tofu tacos from Chipotle.
All images and text ©
If you make this recipe, be sure to snap a photo and hashtag it #gimmesomeoven. I'd love to see what you cook!