Chocolate Cupcakes w/ Peanut Butter Cookie Dough "Frosting"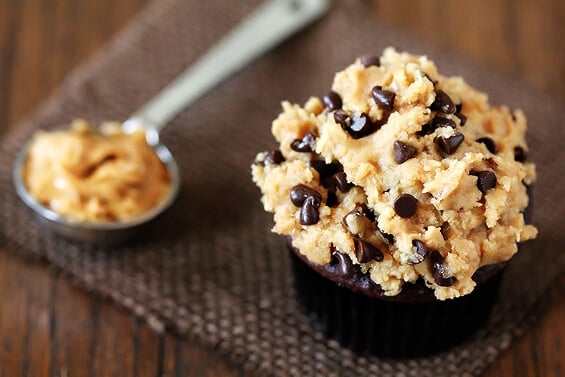 Calling all cookie dough lovers!!!
Today is a super-exciting day, as food blogger Lindsay Landis is releasing her first cookbook — The Cookie Dough Lover's Cookbook.  Yep.  An entire cookbook dedicated to "anyone who's ever been caught with a finger in the mixing bowl".  Brilliant.  To celebrate, a bunch of us food bloggers have decided to officially name today "National Cookie Lovers Day" — my kind of holiday!!
So as my contribution to the day, thought I would offer you some more cookie dough goodness in the form of a rockin' peanut butter cookie dough frosting.  Well, "frosting" may be a generous term.  These are pretty much scrumptious chocolate cupcakes topped with a heavenly scoop of peanut butter cookie dough.  But hey, it's egg-free!  So you can enjoy it guilt-free, right?!?  ;)
Seriously, these may be one of the best creations to ever grace your mixer.  So.  Ridiculously.  Delicious.
Cheers to cookie dough!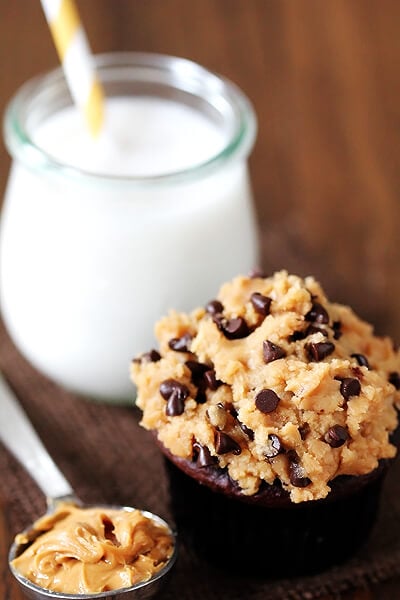 Chocolate Cupcakes With Peanut Butter Cookie Dough "Frosting"
Easy chocolate cupcakes with a scrumptious (egg-free) peanut butter cookie dough "frosting" recipe. These will rock your socks off.
Ingredients:
For the Chocolate Cupcakes:
1 (18.25 oz.) box Devil's Food (or other chocolate variety) cake mix
1 cup buttermilk
1/2 cup vegetable or canola oil
4 eggs
For the Peanut Butter Cookie Dough "Frosting":
12 Tbsp. (1.5 sticks) butter, room temperature
1/2 cup peanut butter
1 cup brown sugar, packed
1/2 cup granulated sugar
1/2 cup milk
1 tsp. vanilla
2 1/2 cups flour
1/2 tsp. salt
1 cup mini semisweet chocolate chips
Directions:
To Make Cupcakes:
Preheat oven to 350 degrees. Line 24 muffin cups with paper liners.
Beat cake mix, buttermilk and oil with an electric mixer on low to medium speed until moistened, about 30 seconds. Add eggs one at a time, until the batter is well-mixed. Increase speed to high and beat until thick for about 2 minutes.
Pour or scoop the batter into the paper liners until they are 2/3 full. Bake for 15-20 minutes, or until a toothpick inserted in the middle comes out clean. Remove from oven and let cupcakes cool on a wire rack. Once cooled, top with the frosting recipe (listed below).
To Make Peanut Butter Cookie Dough "Frosting":
Use an electric mixer to beat butter and sugars together until fluffy, about 2-3 minutes. Mix in peanut butter, vanilla and milk. Stir in flour and salt and mix on low speed (or by hand) until incorporated. Add in extra milk to thin, if needed. Stir in chocolate chips.
Ali's Tip:
It helps to have your chocolate chips refrigerated or frozen for this recipe.  Otherwise, the frosting has the potential to melt the chips once you have been mixing it for awhile.
All images and text ©
If you make this recipe, be sure to snap a photo and hashtag it #gimmesomeoven. I'd love to see what you cook!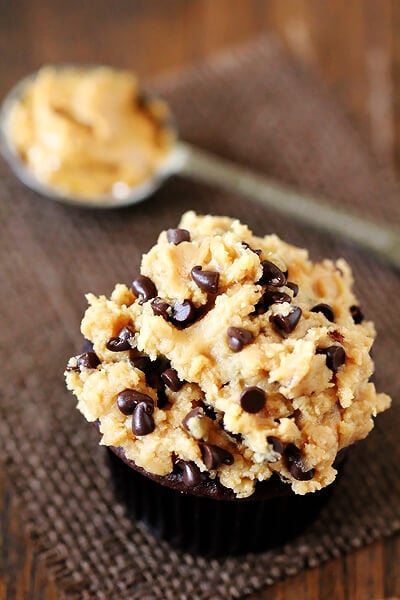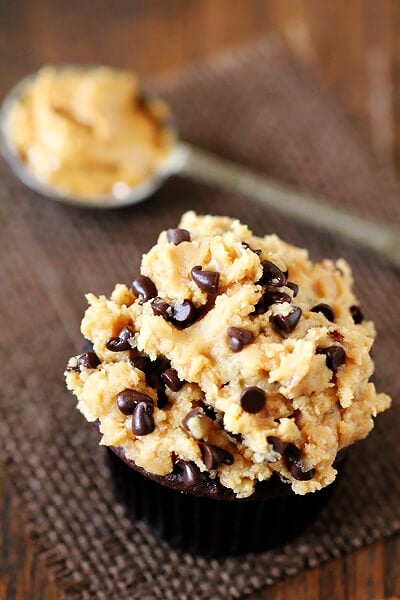 Source:
Frosting recipe adapted from the peanut butter cookie dough recipe by Lindsay Landis.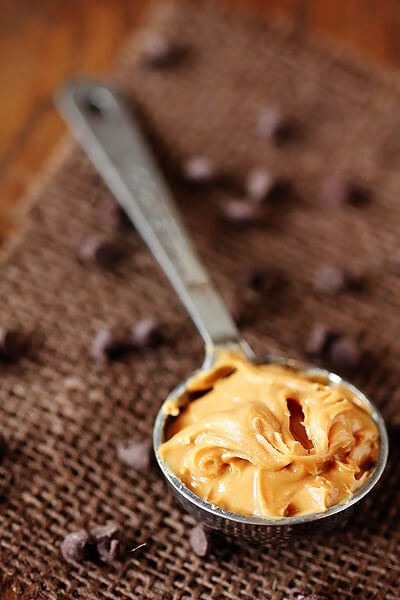 Disclaimer: This post contains Amazon affiliate links.