Chocolate Mint Puddles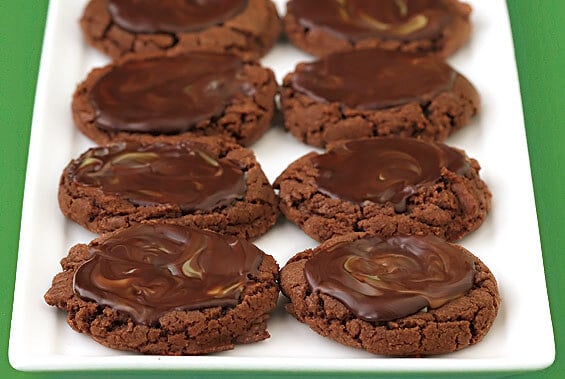 I love Andes mints.  Ever since I was a kid and was first introduced to them by my grandparents (who always had a stash waiting for me in their candy drawer!), to now as an adult somehow always finding a bag of their baking chips mysteriously appearing in my shopping cart….I absolutely love these little chocolate mints!
So when I recently saw this recipe for "Chocolate Mint Puddles" here and here, which features an entire delicious mint per cookie, I figured these would be right up my ally.  So I whipped up my first batch this week for the Kansas City Food Bloggers' Cookie Exchange.   (Although I admit I realized as they were in the oven that it might not have been the best idea to test out a brand new recipe on a group of food bloggers – eeks.)  But thankfully they ended up being a total success!!
Favorite part?  Definitely the "puddle"-making.  Loved swirling the melted mints into cute designs.  (This would be a great project for kids in the kitchen!)
Not-so-favorite part?  The process for making the cookies, which involved melting chocolate and refrigerating the dough for an hour before cooking.  They still tasted great, but I think next time I'll make the cookies with this simpler dough recipe.
Still, a wonderful cookie for anyone who loves Andes!  I will definitely be making these again very soon.  :)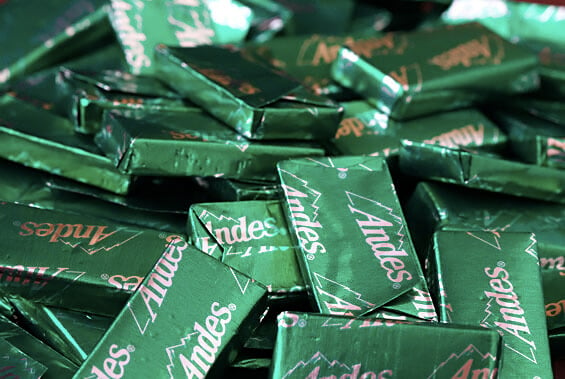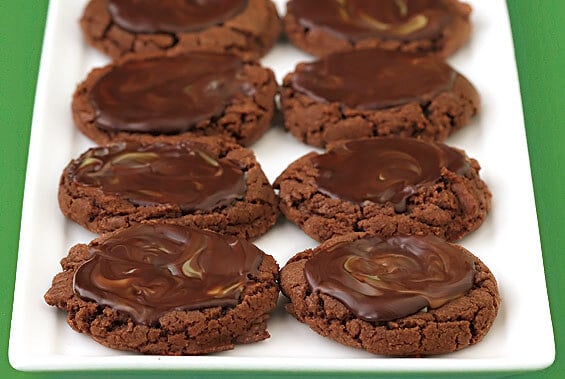 Chocolate Mint Puddles
This delicious Chocolate Mint Puddles recipe for anyone who loves the coolness of mint and the richness of chocolate!
Ingredients:
3/4 cup butter
1 1/2 cups brown sugar
2 Tbsp. water
2 cups semisweet chocolate chips
2 eggs
2 1/2 cups all-purpose flour
1 1/4 tsp. baking soda
1/2 tsp. salt
3 (4.5 oz) packages Andes mints
Directions:
In a separate bowl, mix flour, baking soda, and salt. Stir dry ingredients into the chocolate mixture. Cover and refrigerate dough for 1 hour.

Preheat oven to 350F. Roll cookie dough into small balls and place on cookie sheets, approximately 2 inches apart.

Bake for 8-10 minutes. After removing cookie sheet from oven, press a mint into each cookie and allow to sit for one minute, melting slightly. (If the mints don't melt enough — as mine didn't — feel free to pop the cookies with the mints on top back in the oven for an extra 30 seconds to soften the chocolate.)

Then, using a toothpick, swirl the melted mint to make a pattern. Allow to cool before serving.

If you make this recipe, be sure to snap a photo and hashtag it #gimmesomeoven. I'd love to see what you cook!
Ali's Tip:
The small Andes baking chips (rather than the full-size Andes mints) would also work with well with this!  Just add 1 teaspoon of the baking chips to the center of each cookie.