Chocolate Peanut Butter Cupcakes
One of the questions I am most asked as a food blogger is what my recommendations are for desserts to serve at an event.  You know, those crowd-pleasing, guaranteed-to-disappear-quickly, everyone-asks-you-for-the-recipe, "winning" sort of recipes?  Well, when it comes to dessert, I've learned that you pretty much can't go wrong with anything chocolate and peanut butter.  I don't know what it is, but people lose their mind over all things chocolate peanut butter!!  Just say those magic words, and the world is your oyster.  Well, your oyster if it's filled with chocolate and peanut butter.  :)
So get ready to lose your mind today, because this fantastic Chocolate Peanut Butter Cupcakes recipe has officially arrived on the blog.
And oh friends, it's a good one.
And even better, these cupcakes are part of an amazing Virtual Bake Day with Gold Medal Flour that I'm participating in with some of my favorite blogging friends.  We were all asked to bake up some delicious scratch recipes to share during the holidays.  So I decided to go for the "gold" with this fantastic chocolate peanut butter cupcakes recipe.  Here's the scoop, and the how-to!
Ok, first a word about the Virtual Bake Day with Gold Medal Flour.  I'm totally honored to be participating in the deliciousness today with some amazingly talented bloggers.  You should definitely take a minute to hop over and visit their recipes.  Some are dessert recipes…
Some are breakfast recipes…
But all of them look positively scrumptious.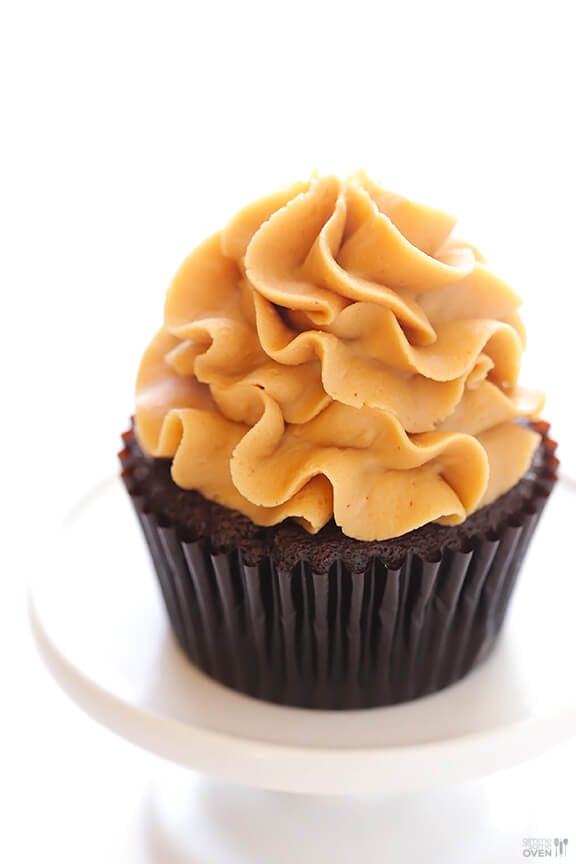 My recipe clearly fell in the "desserts" category, although I may have had one for breakfast this morning.  (Hey, it's December, and I'm working out each day!)  ;)
All of the other cupcakes, though, got spread around my neighborhood today.  I took some to the guys at my coffee shop next door to sample, where one guy happily ate it "in three bites" (whoa) and another said it was the best cupcake he'd ever had (bingo!).  They I went and knocked on doors around my building and delivered them to more friends, whose eyes all lit up at the promise of peanut butter and chocolate.  And then I took the final batch out to Mexican dinner with some friends, where we all decided that chocolate peanut butter cupcakes were in fact a perfect dessert after tamales and chips and salsa and margaritas.  Who knew?!
Once again, I was reminded of how much fun it is to spend time baking during the holidays (all the more fun with Maria and Rolfe) and share good food with people you love.  These cupcakes also turned out to be surprisingly easy to make, especially with the optional little "surprise inside".  Here's the how-to: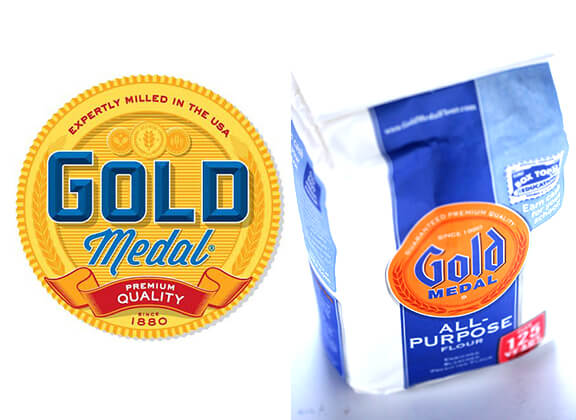 We begin with our sponsor for the Virtual Bake Day — Gold Medal Flour.  I used all-purpose flour for this recipe.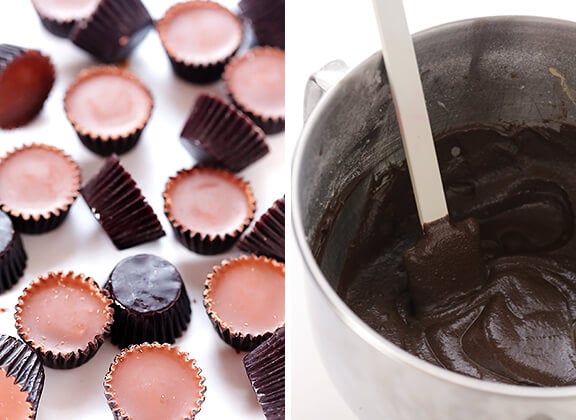 If you want to go the extra mile and throw in a peanut butter chocolate "surprise inside", start by unwrapping a zillion (ok, 24) mini Reese's peanut butter cups.  I used the mini size, but you could also use full-size cups if you'd like.  If you want to skip this step, you can just make plain chocolate cupcakes.  But I highly recommend adding these guys in!
Then whip up a batch of chocolate cake batter.  (Mine is extra dark, since I used dark chocolate cocoa — my favorite!)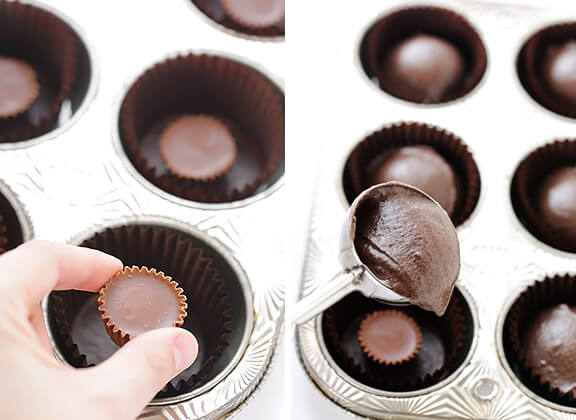 Place the Reese's in the baking cups, and then spoon your cupcake batter on top of the peanut butter cups.  (Edit: Actually, I've found it works better to place the peanut butter cups in on top of the batter, which helps prevent the bottoms of the cups from burning.)  I always use an ice cream scoop to fill my cupcakes, which is the perfect amount of batter.  So for these, I just eyeballed it and subtracted the size of the Reese's from the amount of batter added.  It worked!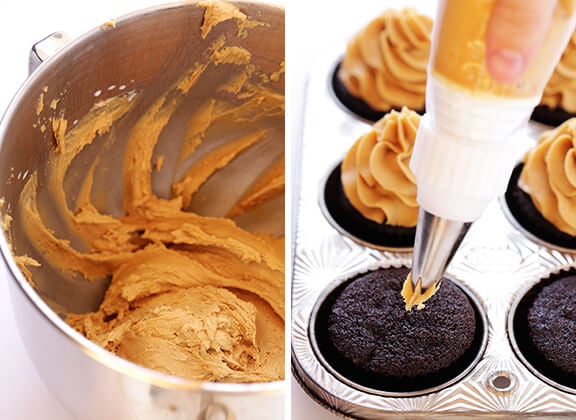 Then while the cupcakes bake, whip up a batch of peanut butter frosting.  So easy, and so good.
Once the cupcakes have cooked and cooled to room temp, add on lots of frosting!  You can just spread it on with a knife, or use a piping bag like I did.  (I used Wilton Tip 1M.)
And then before you snap a zillion more photos, DIVE IN!
Do you spy the little "surprise" inside?  That's what we call a winner right there.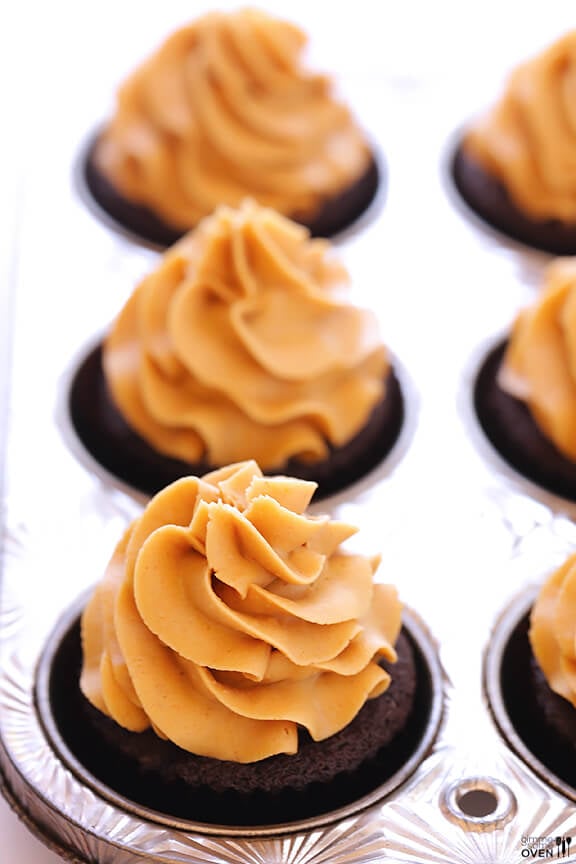 I've heard that this swirly frosting technique is going out of style, but I don't care.  It's so easy, and makes cupcakes look so pretty, so I'm sticking with it.  :)
Peanut butter and chocolate at their finest.
And another closeup of the tasty Reese's inside.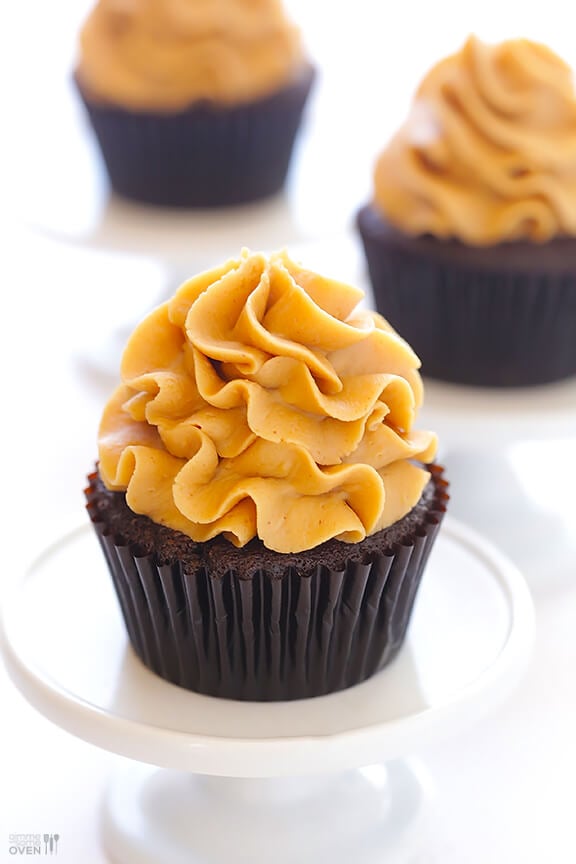 You can either leave them plain like I did…
Or if you're feeling extra fancy, drizzle them with a bit of melted chocolate.  This was my original plan with the batch, but I actually liked the clean and simple look even better.  Either way, though, I'm pretty sure you can't go wrong.  :)
Definitely a wonderful dessert, and a hit with my friends, and a fun contribution to all of the other great recipes in the Virtual Bake Day!  Be sure to follow Gold Medal Flour on Facebook, Twitter, Instagram, YouTube and Pinterest this holiday season for how-to recipes, videos, tips on baking, and other deliciousness.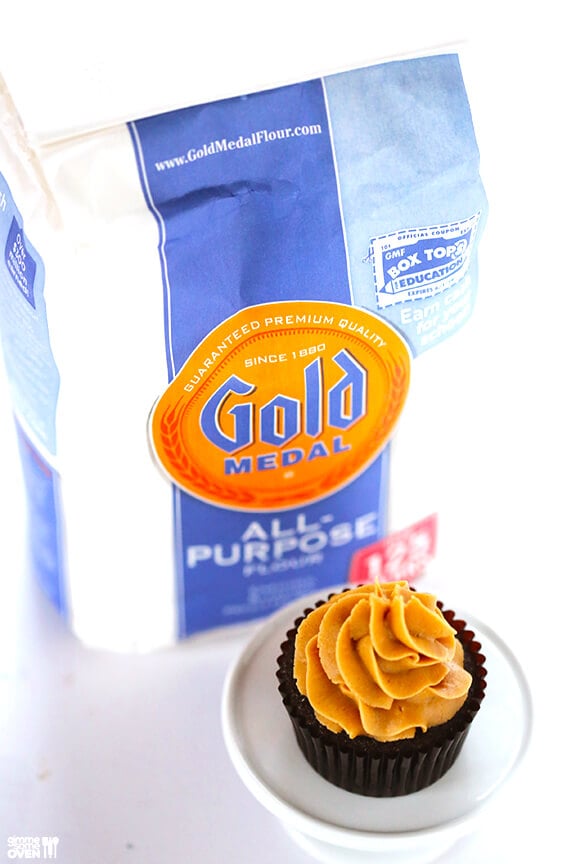 Thanks for organizing such a great event, Gold Medal Flour.  Happy baking, everyone!!!
Chocolate Peanut Butter Cupcakes
These peanut butter cupcakes are rich, delicious, and even come with a little "surprise" inside!
Ingredients:
Cupcake Ingredients:
1/2 cup (1 stick) butter, softened
1 1/2 cups granulated sugar
2 eggs
2 tsp. vanilla extract, store-bought or homemade
1 1/2 cups all-purpose flour (I used Gold Medal)
1/2 cup unsweetened cocoa powder (I used dark chocolate cocoa powder)
1 tsp. baking soda
1/4 tsp. salt
1/2 cup buttermilk
1/2 cup coffee, lukewarm (you can use decaf coffee if desired!)
24 mini peanut butter cups, unwrapped (I used Reese's)
(optional: melted chocolate for drizzling)
Peanut Butter Frosting Ingredients:
2 cups creamy peanut butter
1/2 cup (1 stick) butter, at room temperature
2 tsp. vanilla extract, store-bought or homemade
2 cups powdered sugar
1/4 tsp. salt
1/4 cup heavy cream
Directions:
To Make The Chocolate Peanut Butter Cupcakes:
Prepare 24 baking cups with paper baking liners. Set aside.
In the bowl of stand mixer, cream butter and sugar until light and fluffy. Add eggs, one at a time, beating well after each addition. Add in vanilla.
In a separate bowl, whisk together the flour, cocoa, baking soda and salt until combined. Then in an additional separate bowl, stir together buttermilk and coffee. Add dry ingredients to creamed butter mixture alternately with buttermilk and coffee, beating well after each addition.
Fill baking cups with batter on top of the peanut butter cups until they are nearly 2-3 full, then nestle a peanut butter cup in on top of the batter. Bake at 375° for 15-20 minutes or until a toothpick inserted near the center comes out clean. Cool for 10 minutes before removing from pans to wire racks to cool completely.
Top with peanut butter frosting. (Optional: Then drizzle with melted chocolate.)
To Make The Peanut Butter Frosting:
Using an electric mixer, beat peanut butter, butter and vanilla together on medium speed until combined and smooth. Add remaining ingredients and beat on low speed until incorporated. Then beat on medium-high speed for an additional minute until smooth and fluffy.
All images and text ©
If you make this recipe, be sure to snap a photo and hashtag it #gimmesomeoven. I'd love to see what you cook!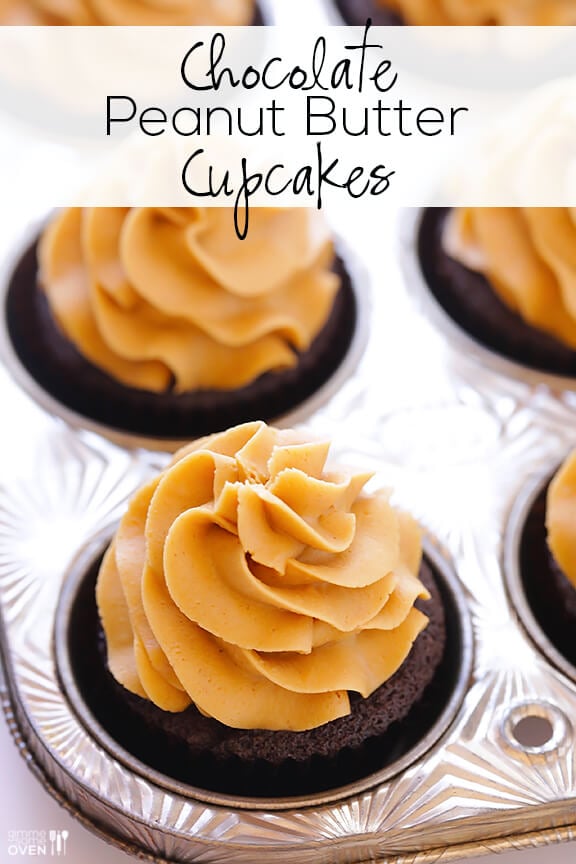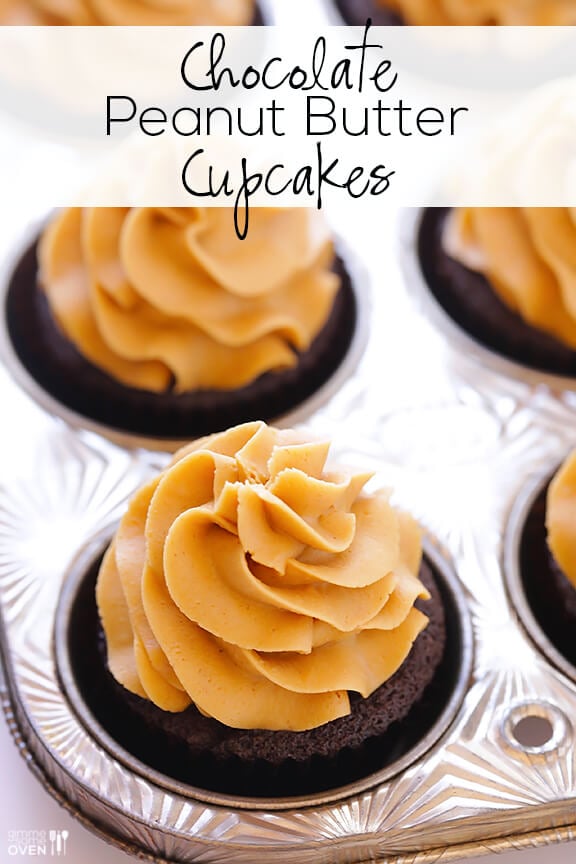 Disclaimer: This is a sponsored post from Gold Medal Flour.  All opinions are 100% my own as always.  I'm honored to be a part of this Virtual Bake Day and share it with you!