Cilantro Lime Farro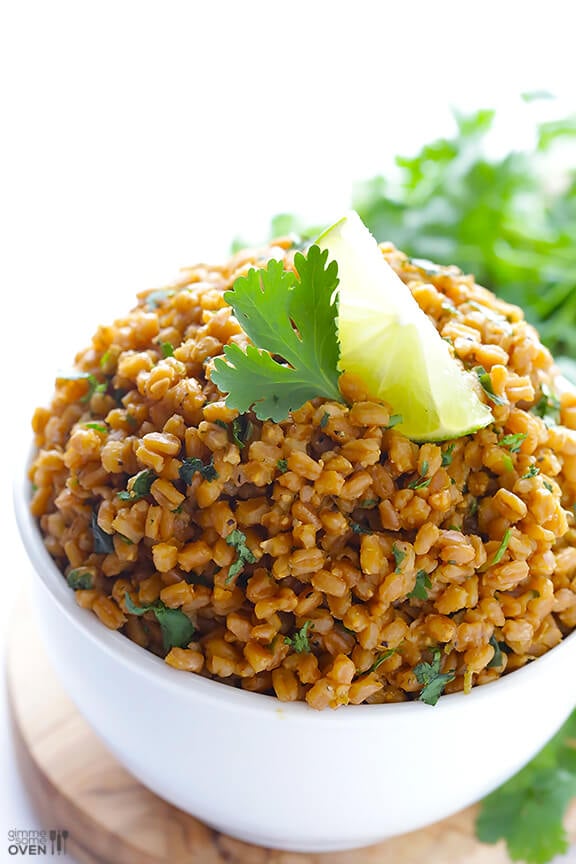 For any of you who might be obsessed with Chipotle's cilantro lime rice, I have been gotten hooked lately on a healthier, protein-rich, ancient-grain version that I think you might like:
Cilantro Lime Farro!
Have you tried farro yet?  I was introduced to it last year, and wondered where it had been all my life!  Well, supposedly it's about 8,000 years old, so I guess I'm the one late to the party.
Farro is a fantastic substitute for rice in all kinds of dishes, especially risotto and fried rice.  It's super rich in protein (7 grams per dry 1/4 cup — higher than quinoa!).  It's wonderfully chewy with a nice nutty flavor.  It's really simple to make.  And it pairs perfectly with fresh cilantro and lime in this recipe.
Check it!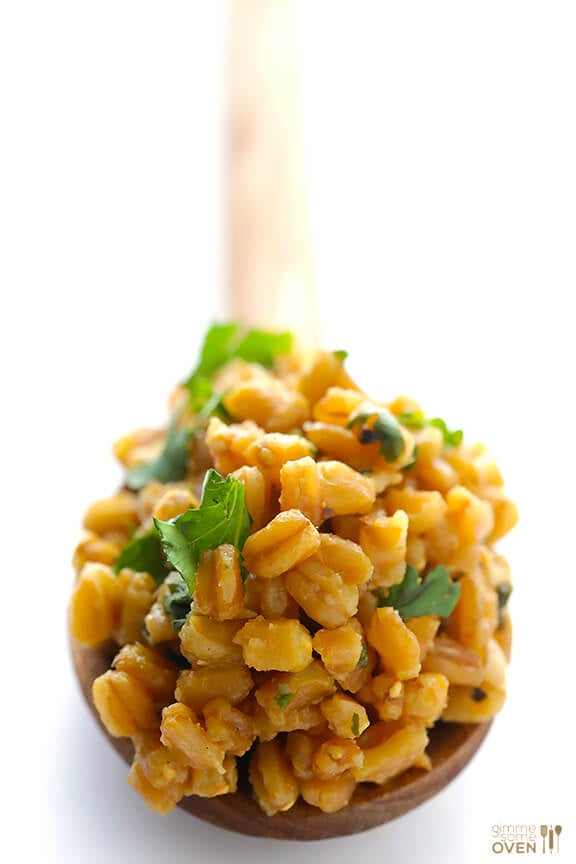 BOOM.
(Some days I may have a little too much fun with my macro lens.)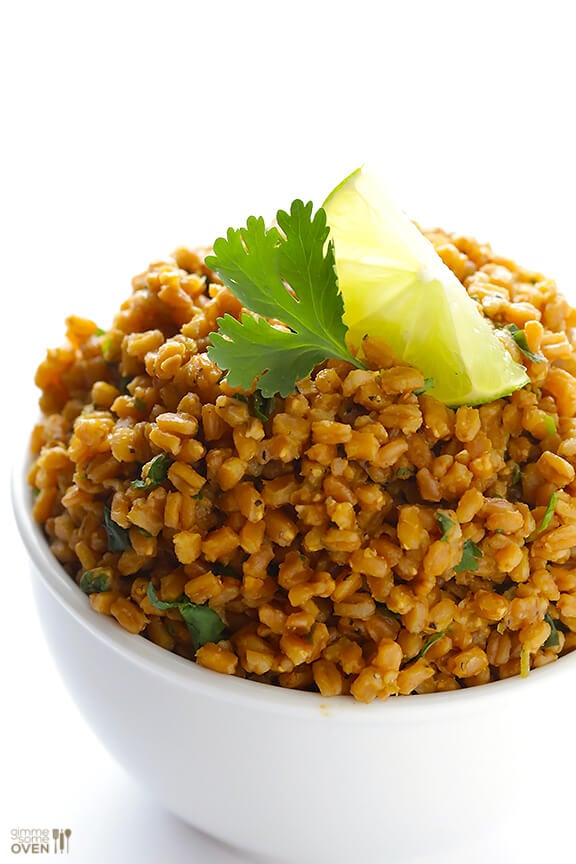 I just realized this really does look a lot like my favorite fried rice recipe.  I must give the farro version a try sometime soon.
Back to the cilantro lime farro recipe.  Here's how to make it: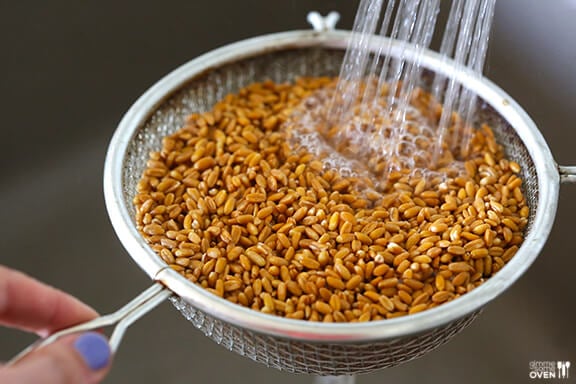 First, begin by rinsing your farro.  (Note that I made a double batch for these photos, if the portions seem large.)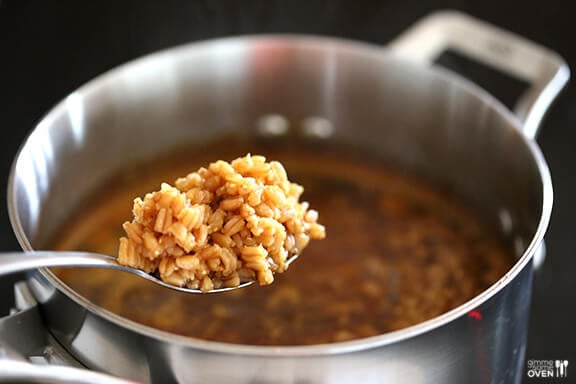 Add 1 cup of farro to a saucepan along with about 3 cups of vegetable or chicken stock.  (I love Trader Joe's veggie stock best!)  Bring it to a boil, then let it simmer over medium-high heat for about 30 minutes or until nice and chewy.  Then drain off the extra stock.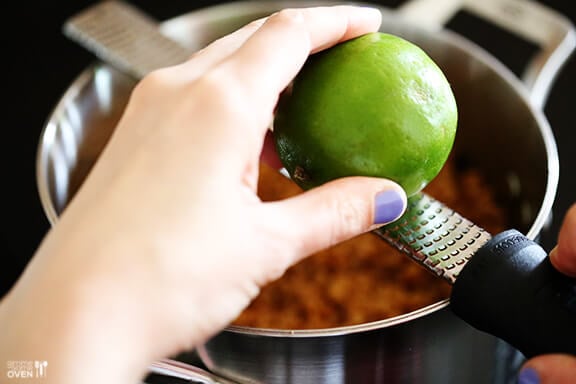 Add the zest and juice of one lime.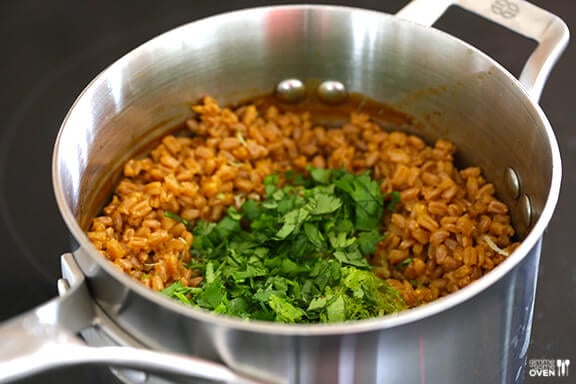 Along with some fresh cilantro and a few seasonings.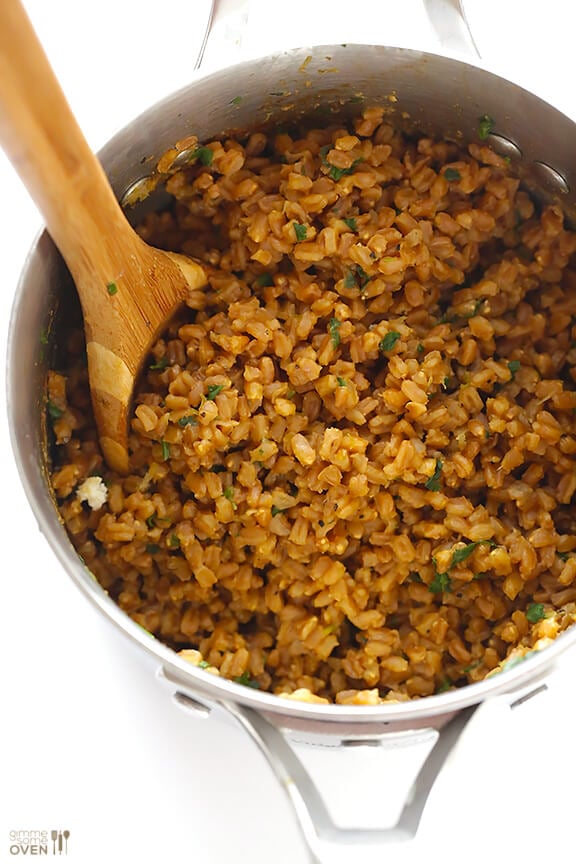 Then stir until it is all combined.  And serve!
So much more flavorful than the rice version from Chipotle, and better for you as well.  Farro for the win!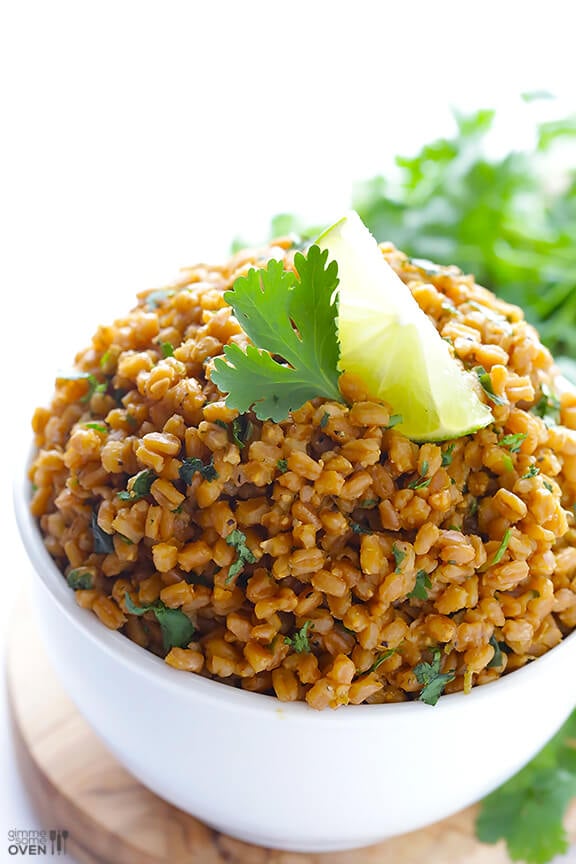 Cilantro Lime Farro
This cilantro lime farro recipe is a tasty and healthier alternative to traditional rice.
Ingredients:
1 cup farro, rinsed
3 cups vegetable or chicken stock
1/3 cup finely-chopped fresh cilantro leaves, loosely-packed
zest and juice of 1 small lime (about 2 tablespoons juice)
1/2 teaspoon salt
pinch of cumin and garlic powder and black pepper
Directions:
Place farro in a medium saucepan and add the stock. (It should cover the farro.) Bring to a boil over medium-high heat. Then reduce heat to medium-low and simmer for 30 minutes. Once the farro is cooked and chewy, drain off any excess liquid.
Add remaining ingredients, and stir to combine. Season with extra salt and pepper, if needed. Serve warm.
All images and text ©
If you make this recipe, be sure to snap a photo and hashtag it #gimmesomeoven. I'd love to see what you cook!