Coconut Oil Chocolate Chip Cookies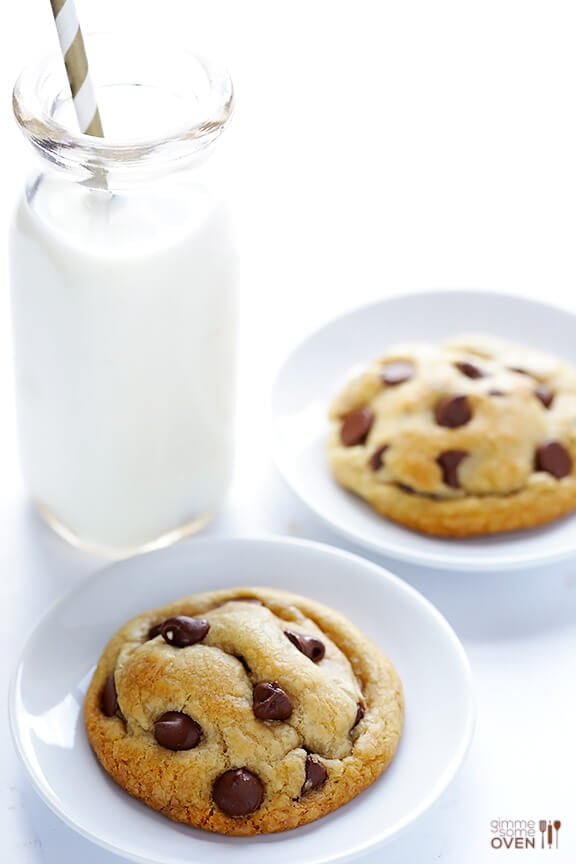 I have been searching for my trademark chocolate chip cookie recipe for years.
My dad had his favorite recipe, which he made dozens upon dozens of times for our family when we were growing up.  His mom, my grandma, had her favorite recipe, which she actually called "chip chocolates" and always served to her grandkids frozen and hard as rocks (so good!).  But I always thought it would be fun to have a recipe that was all my own.
So this past week when my sister was in town and we were cooking up a storm, I decided to experiment with a new recipe to serve as a little "treat" after our hours of cooking.  Sarah was a little skeptical as she mixed up the dough.  But once we pulled these babies out of the oven and took those first warm, soft, chewy, and chocolate-y bites, she said — and I quote — "these might just be the best chocolate chip cookies I've ever had".
Agreed.
And it's all thanks to that magical ingredient that we now know and love: coconut oil.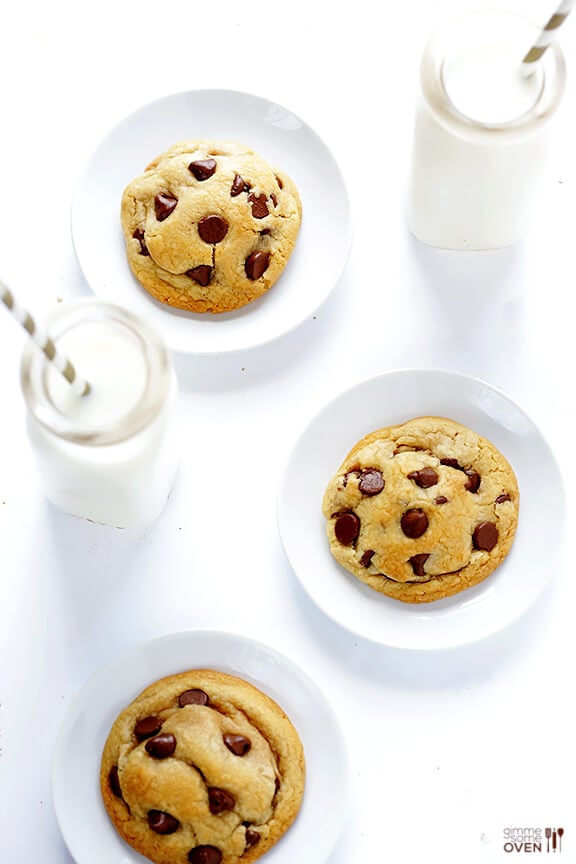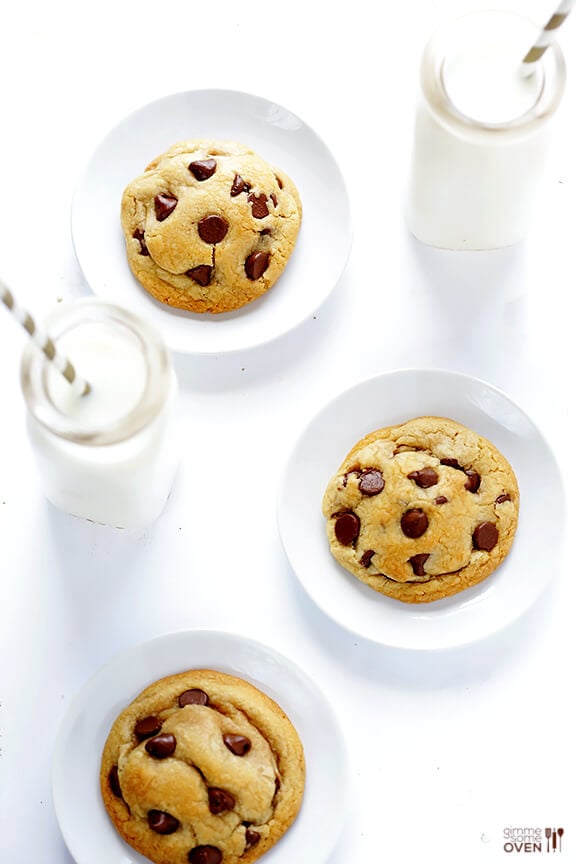 I have actually had coconut oil chocolate chip cookies on my "must-try" list since holiday baking season.  But somehow I didn't get around to it until this past week.  Once we made that first chewy, delicious batch, though, you'd better believe I made a second batch two days later.  I mean, a food blogger's gotta test those recipes, right?
Sure enough, these were just as amazing on Round #2.  As I'm pretty sure they will be when I make them again on round #22.  And #222.
To be sure, this is in part thanks to a few cookie tips I have learned over the years, like adding cornstarch for extra chewy-ness, and using a good brown/white sugar ratio, and chilling the dough balls in the fridge before baking.  (That last step is a definite "must" when using coconut oil, since it is not as solid as butter or shortening at room temp.  And it takes at least an hour, so plan in advance!)
But I have to say that the extra flavor note of the sweet coconut was my favorite part!  To be sure, the coconut flavor in these is super subtle.  I had a few friends try these, and they couldn't even taste it.  But what everyone agreed was that the coconut oil brought out a little extra sweetness in these cookies.  And also made them wonderfully chewy and thick.  And well, just crazy good.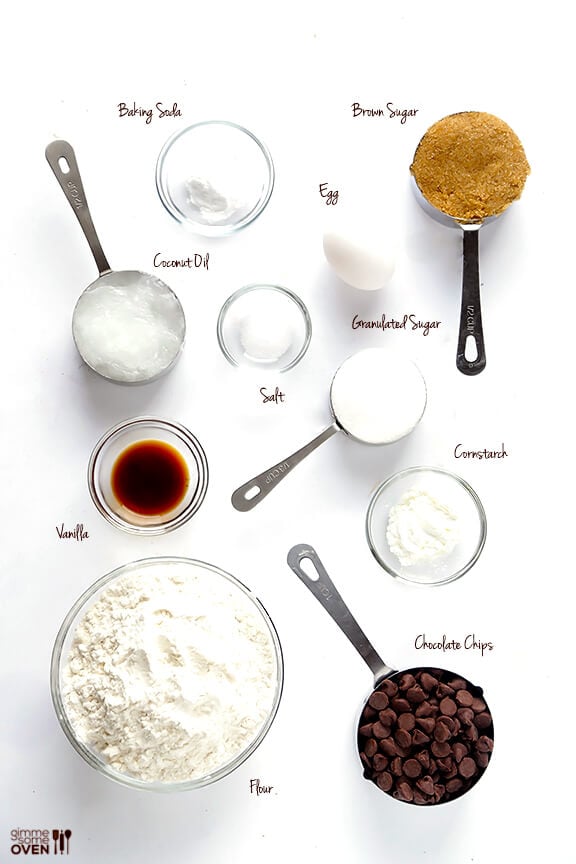 The ingredients for them were standard, with the exception of coconut oil in place of any other fats.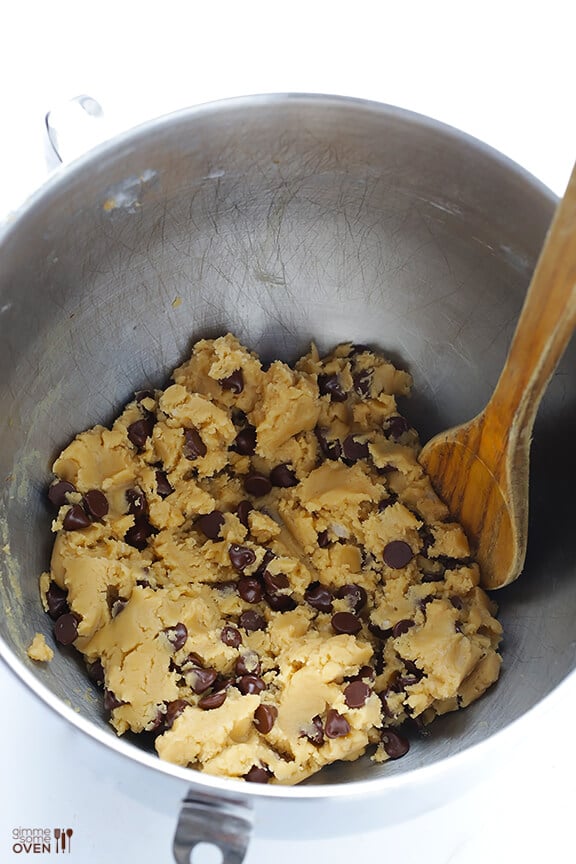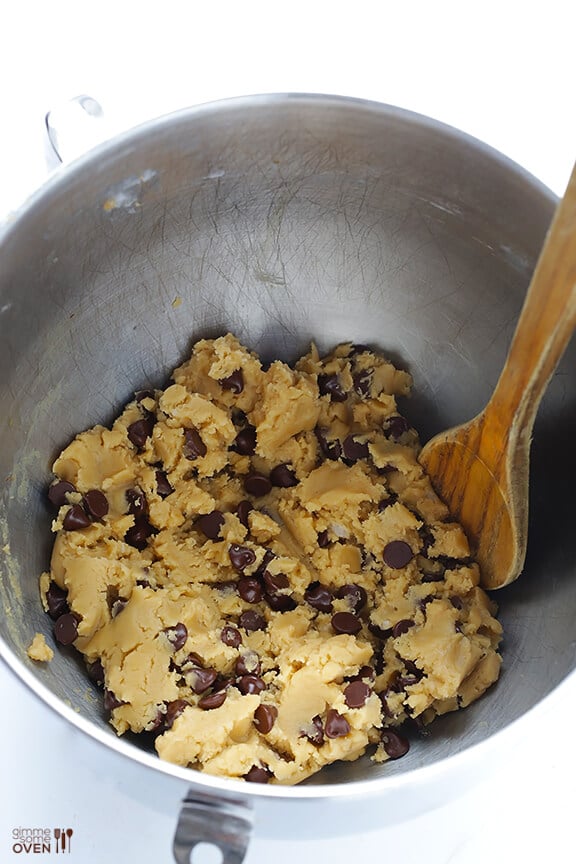 Just whip up the dough…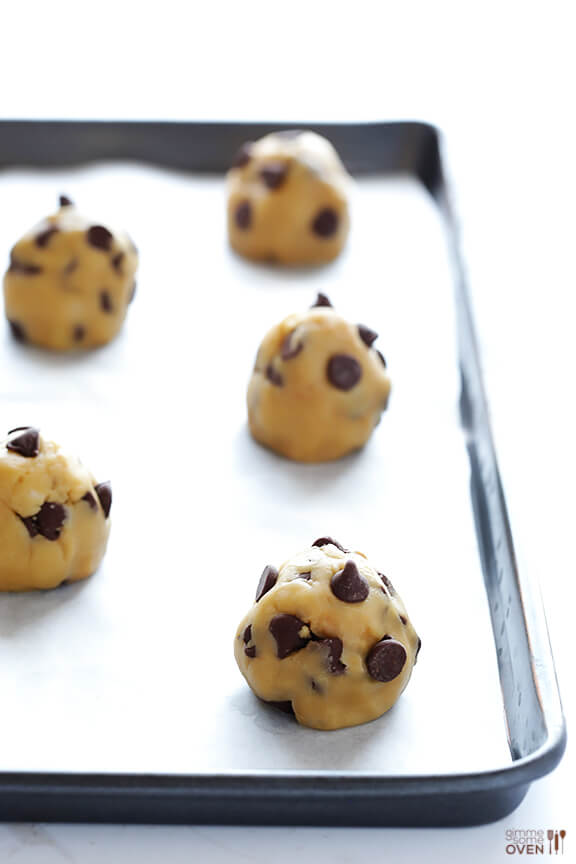 …then create your big dough balls.  (I used a large 3-tablespoon cookie scoop, and shaped them slightly tall so that they wouldn't spread as much when cooking.)  Then cover the sheet with plastic wrap and chill them in the fridge for an hour or two until firm.
Then pop them in the oven….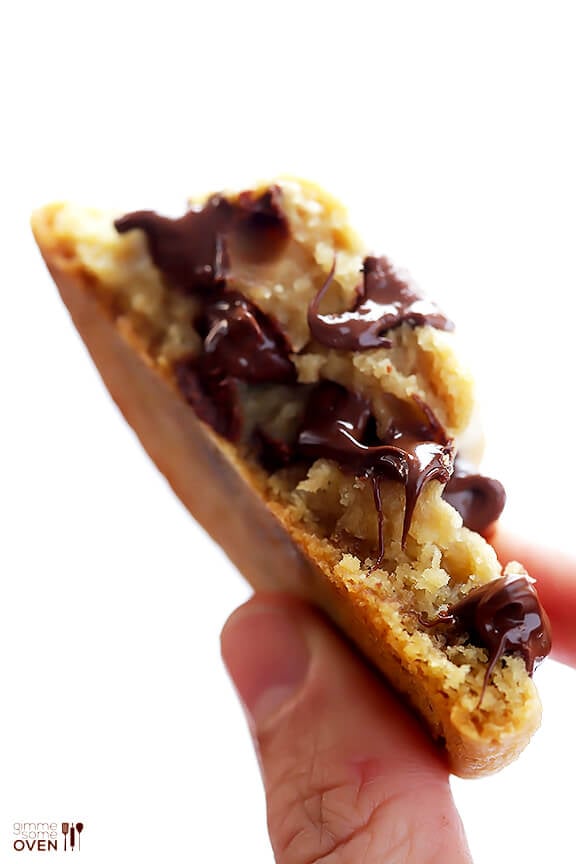 …and this will be the result.
They're big.  They're perfectly flavorful.  They are overflowing with chocolate chips.  And good grief, are they GOOD.
I'm pretty sure you should make a batch right now just to see for yourself.  ;)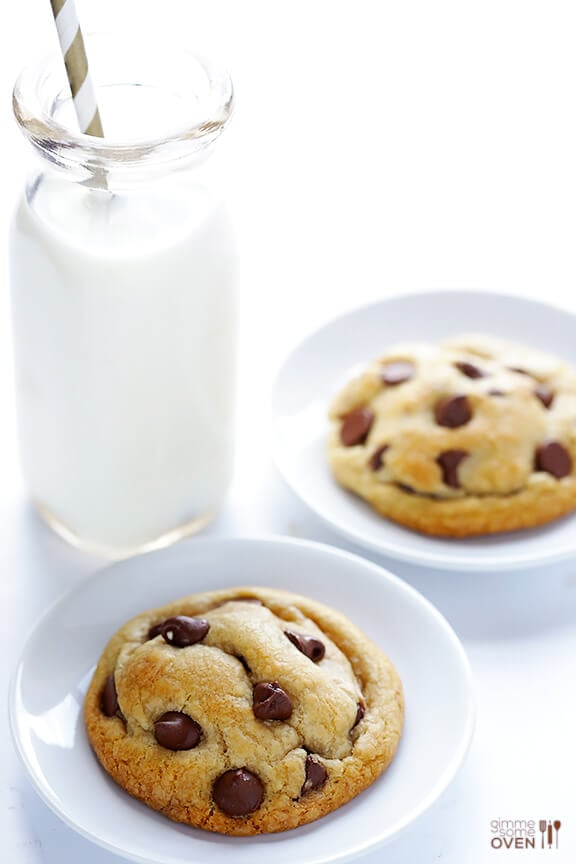 Coconut Oil Chocolate Chip Cookies
These coconut oil chocolate chip cookies are thick, chewy, soft, chocolate-y, and absolutely delicious!
Ingredients:
1/2 cup coconut oil, softened but not melted
1/2 cup brown sugar, packed
1/3 cup granulated sugar
1 egg
2 teaspoons vanilla extract
1 1/2 cup all-purpose flour
2 teaspoons cornstarch
1 teaspoon baking soda
1/4 teaspoon salt
1 cup semisweet chocolate chips
Directions:
In the bowl of a stand mixer, use the paddle attachment to cream together the softened coconut oil, sugars, egg, and vanilla extract on medium-high speed until light and fluffy, about 3 minutes.
Add in the flour, cornstarch, baking soda and salt, and beat on medium-low speed until combined. Fold in (stir in) the chocolate chips by hand until just combined.
Use a large cookie scoop (equivalent to 3 tablespoons) or a spoon to shape the dough into balls, and place them on a large plate. Cover with plastic wrap and chill the dough balls for at least 2 hours.
When you are ready to bake the cookies, preheat oven to 350 degrees F. Place chilled dough balls at least 2 inches apart on a parchment-lined baking sheet. (Or a baking sheet that has been covered with a Silpat, or greased with cooking spray.)
Bake for 10-12 minutes until the edges are just set. The centers may look slightly undercooked. Cool cookies on the baking sheet for about 5 minutes, then transfer to a wire rack to finish cooling. Serve immediately or store in a sealed container for up to 1 week. You can also freeze the cookies for up to 3-4 months.
If you make this recipe, be sure to snap a photo and hashtag it #gimmesomeoven. I'd love to see what you cook!