Coconut Shrimp Soup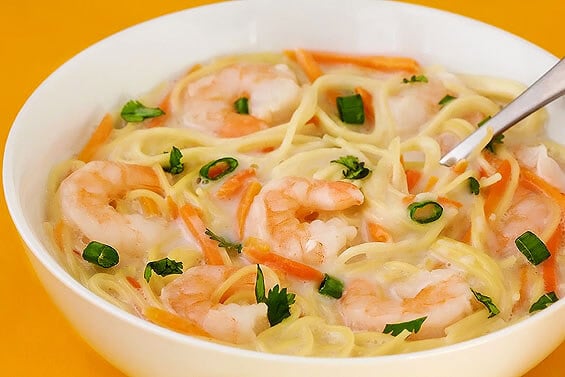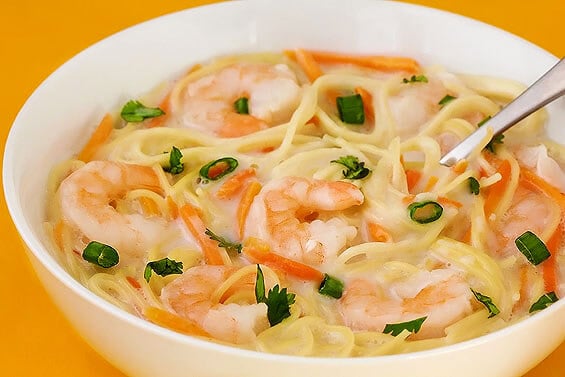 Sorry to have been so MIA this month on the blog!  As some of you Twitter followers have heard, I just recently put my little house on the market, which ended up being quite the project.  Holy moly.  Suffice it to say, the majority of the time I have spent in the kitchen recently has been painting cabinets and shelves, repainting the walls and trim (twice!!), replacing hardware, and cleaning galore.  And then of course, I had to remove my beloved kitchen appliances from the countertops and clean out anything unnecessary from the cabinets.  So instead of cooking, I have to admit there have been quite a few salad and Kashi pizza nights happening…  :)
Once the house went up on the market last week, though, I finally did take an afternoon to make a nice lunch.  I looked in my much-more-bare-than-usual cabinets and saw a can of coconut milk begging to be used, along with a bag of shrimp in the freezer.  So decided to pull out this recipe I had bookmarked from Martha awhile back!  The yummy ingredients had caught my eye, and I also knew it would be quick to prepare (which is now a priority, since I have to be out in 15 minutes if a realtor calls and wants to show the house).  So decided to give it a go!
Not to my surprise, it ended up being delicious!  The garlic and ginger flavors were actually much more mild than I anticipated, but harmonized well together in that wonderfully creamy coconut-broth.  And I loved the kick of the lime squeezed in at the end.  Next time I may try adding some broccoli slaw or some other veggies to the broth, but this recipe stands great on its own.  Definitely a different, quick and delicious new soup recipe to add to my list of favorites!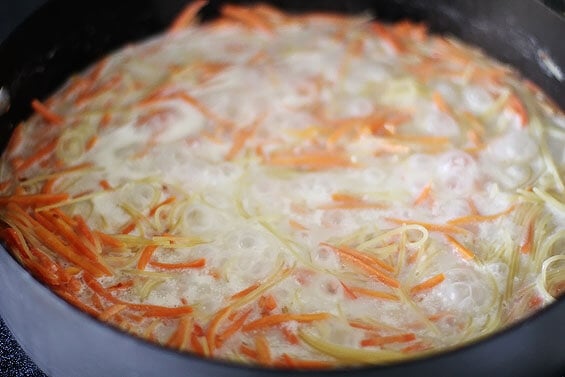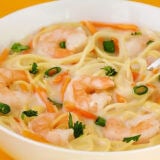 Coconut Shrimp Soup
An easy, delicious coconut shrimp soup recipe made with coconut milk, shrimp, pasta, carrots, scallions and more!
Ingredients:
1 Tbsp. vegetable oil
1 Tbsp. grated fresh ginger (or 1 tsp. ground ginger)
3 cloves garlic, minced
1/4 to 1/2 teaspoon red-pepper flakes
1 pound (6 to 8 medium) carrots, peeled, halved lengthwise, and thinly sliced
1 can (13.5 ounces) coconut milk
1 Tbsp. cornstarch
4 ounces angel-hair pasta
1 1/2 pounds large shrimp, peeled, deveined, and tails removed
1/4 cup freshly squeezed lime juice
Coarse salt
4 scallions, thinly sliced
1/2 bunch cilantro, chopped
Directions:
Heat oil in a large (3-quart) saucepan over medium-low heat. Add ginger, garlic, and pepper flakes; cook, stirring, until fragrant, about 1 minute. Add carrots, coconut milk, and 3 cups water. In a small bowl, mix cornstarch and 2 tablespoons water until smooth; add to pot. Bring to a boil.

Break pasta in half; add to pot. Return to a boil, reduce heat to medium, and simmer until pasta is al dente and carrots are just tender, 3 to 4 minutes.

Add shrimp; stir until opaque, about 1 minute. Remove pot from heat, and stir in lime juice; season with salt. Ladle into serving bowls, and garnish with scallions and cilantro.

If you make this recipe, be sure to snap a photo and hashtag it #gimmesomeoven. I'd love to see what you cook!
Ali's Tip:
Resist the temptation to add in extra pasta!  I added in about 8 oz. to mine (instead of 4 oz.) and wished I hadn't.  It definitely soaked up more of that yummy broth than I had anticipated.  So I recommend following the recipe.  :-)