Condensed Homemade Cream of Mushroom Soup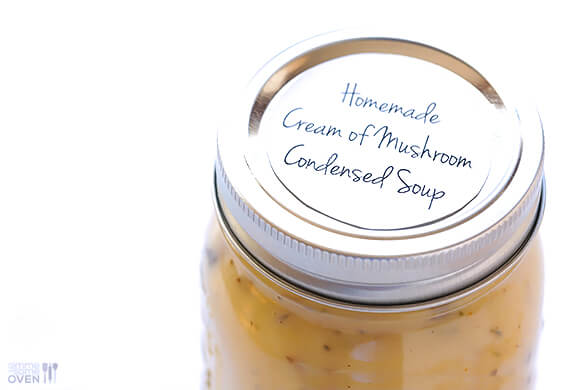 Alright, I couldn't post about how to make homemade condensed cream of chicken soup without featuring its famous counterpart as well — condensed homemade cream of mushroom soup.
I have to be honest though.  As a kid, I detested mushrooms.  Like, absolutely hated them.  My mom loved them and occasionally tried to sneak some cream of mushroom soup into casseroles, but I would hunt down those pesky little fungi and push my plate away in protest.  Me and mushrooms did not mix.
But then one day in my early twenties, a good friend capitalized on my love of Mexican food and convinced me to try her portabello fajitas.  And lo and behold, my anti-mushroom soapbox crumbled.  And I've been eating and absolutely loving mushrooms ever since.
Thus, in front of the whole world wide webosphere, I have to confess:
Mom, you were right.
So for all of those years I turned up my nose at cream of mushroom soup, I offer this homemade version to make up for it.  And I have to say, it's pretty darn good.  :)
As with the recipe earlier this week for condensed cream of chicken soup, this condensed homemade cream of mushroom soup is SUPER easy to make.  And as opposed to the famous stuff in the can, it's preservative-free and made with normal, natural ingredients that you can actually pronounce and feel better about enjoying.
But it still tastes and works in recipes just like the original stuff!  (Or if you ask me, it tastes even better!)  So bring on the soups, casseroles, scalloped potatoes, or whatever other recipes you like with the canned stuff.
Here's how to make it: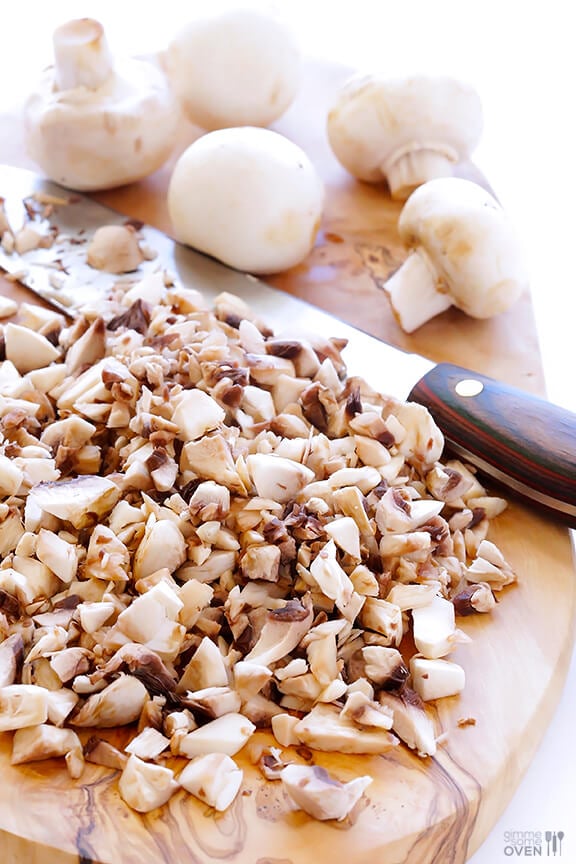 We begin with the most important ingredient — fresh mushrooms!!
Really, you can use just about any kind of mushrooms in this recipe.  I went with a mix of baby bella and white button mushrooms this time, and they worked perfectly.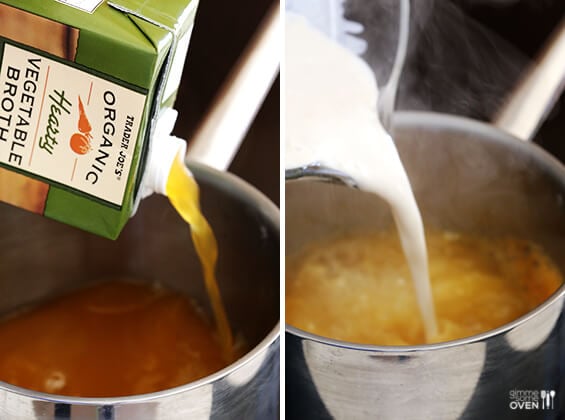 Bring some vegetable stock to a boil in a saucepan.  (You can go homemade or store-bought.)  Then whisk together some flour and milk in a separate bowl, and then add it to the boiling broth and stir to combine.  The soup should thicken up pretty quickly.
*Feel free to use your favorite kind of milk in this recipe, by the way.  And gluten-free flour blends also work well.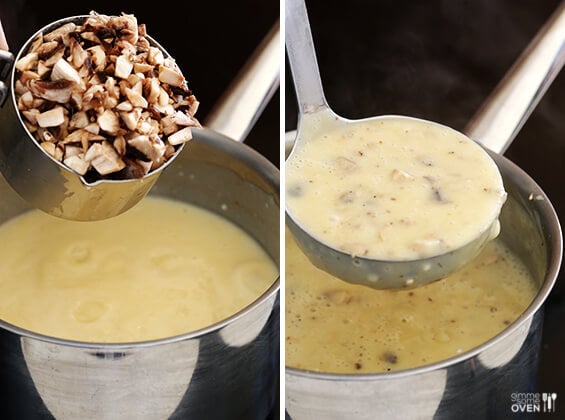 Add in some finely chopped mushrooms and seasonings, and let the mixture simmer for a few minutes to cook the mushrooms and the flour.  Just be sure to stir it constantly so that the bottom of the pan does not burn.
And then you're done!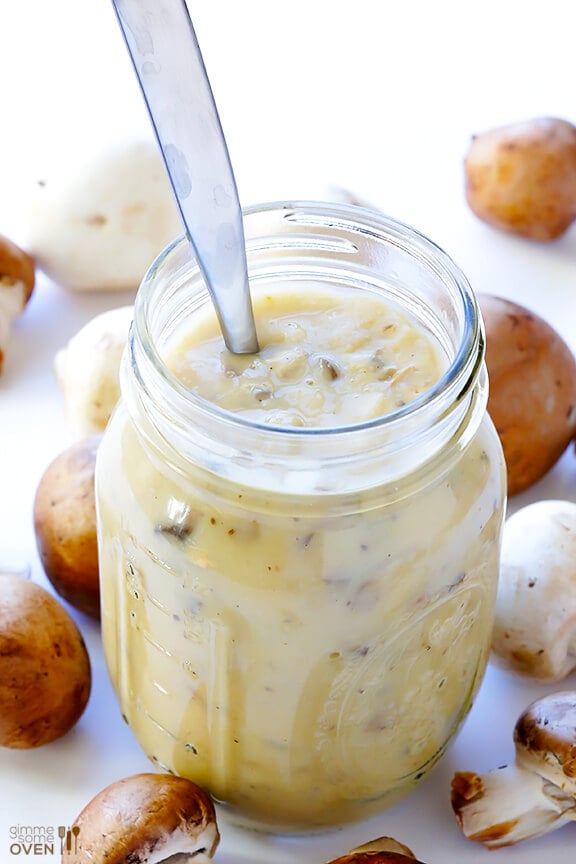 Yep, it really is that easy.  You can either use the condensed soup right away in a recipe, or pop it in a jar or airtight container to store in the refrigerator for up to 1 week.  Sorry, I don't recommend this recipe for canning or freezing — it is meant to be used fairly quickly and not stored.
Also please note that this is a condensed soup and is not meant to be eaten plain.  But adding it to a green bean casserole?  Or some scalloped potatoes?  Or even whisking it with equal parts milk to make a simple soup?  Bring it on.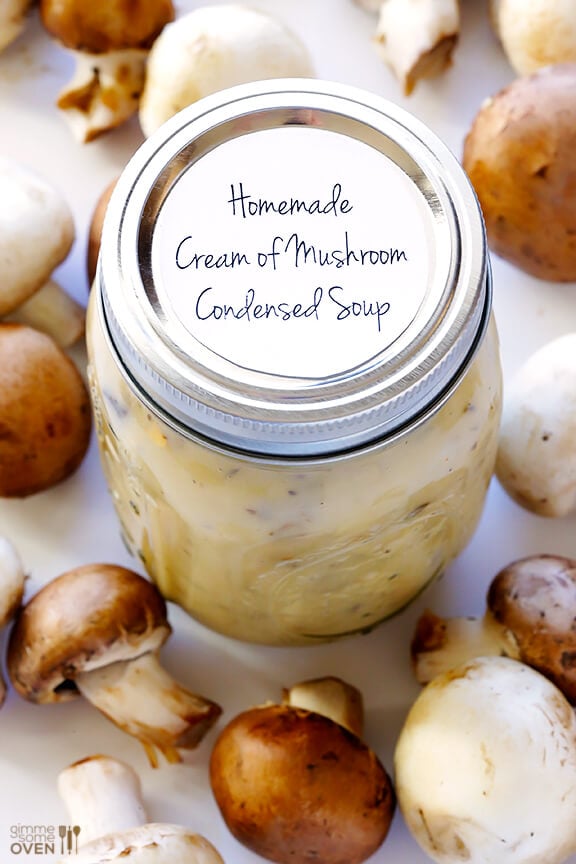 Trust me, after you try this, you will happily bid farewell to those processed canned versions at the grocery store.  Cheers to homemade!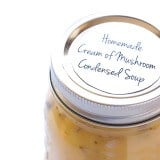 Condensed Homemade Cream of Mushroom Soup
Condensed cream of mushroom soup is easy to make homemade, and you can feel better knowing what actually goes into it!
Ingredients:
1 1/3 cup vegetable stock
2/3 cup milk
1/3 cup all-purpose flour
1/2 cup finely-chopped fresh mushrooms
1/2 tsp. salt
1/4 tsp. garlic powder
1/4 tsp. freshly-ground black pepper
1/4 tsp. onion powder
1/8 tsp. celery seed (optional)
1/8 tsp. dried thyme
Directions:
Add vegetable stock to a large saucepan and bring to a boil over medium high heat.
In a separate bowl, whisk together milk and flour until the flour is dissolved.
Slowly pour the milk mixture into the boiling vegetable stock, whisking to combine. Whisk in the mushrooms and remaining ingredients. Reduce heat to medium, and bring the mixture back to a very low boil, stirring constantly so that the bottom of the pan does not burn. Let the mixture boil for about 3 minutes or until thickened. Remove pan from heat.
Either use the condensed soup in a recipe immediately, or transfer it to airtight containers and store in the refrigerator for up to 1 week.
*This recipe is NOT meant to be consumed as-is. It is a concentrated soup, which means that it either needs to be diluted to be eaten as a soup, or mixed into a recipe that calls for condensed soup. :)
*I also made a double batch for the photos.
*Recipe very slightly adapted from Tammy's Recipes and Pinch of Yum.
(c) 2013 Gimme Some Oven. All rights reserved.
All images and text ©
If you make this recipe, be sure to snap a photo and hashtag it #gimmesomeoven. I'd love to see what you cook!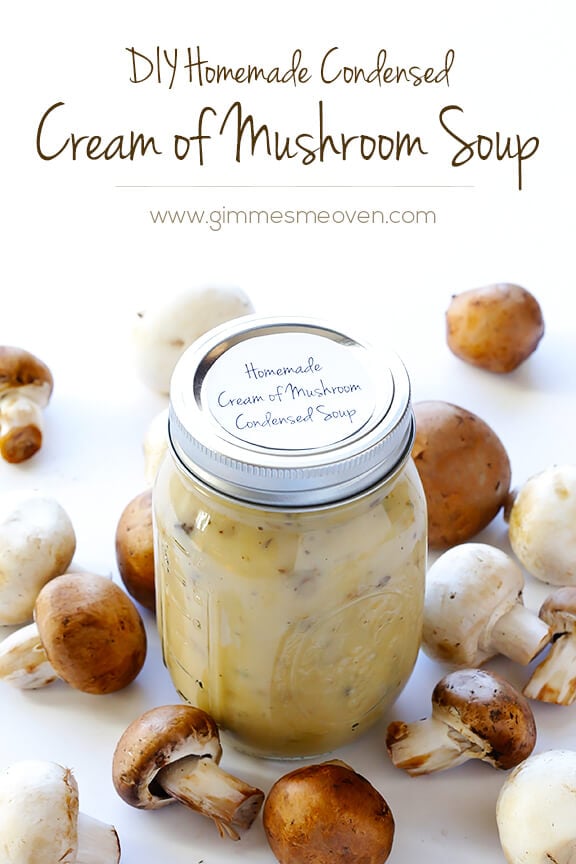 Also be sure to check out these related recipes: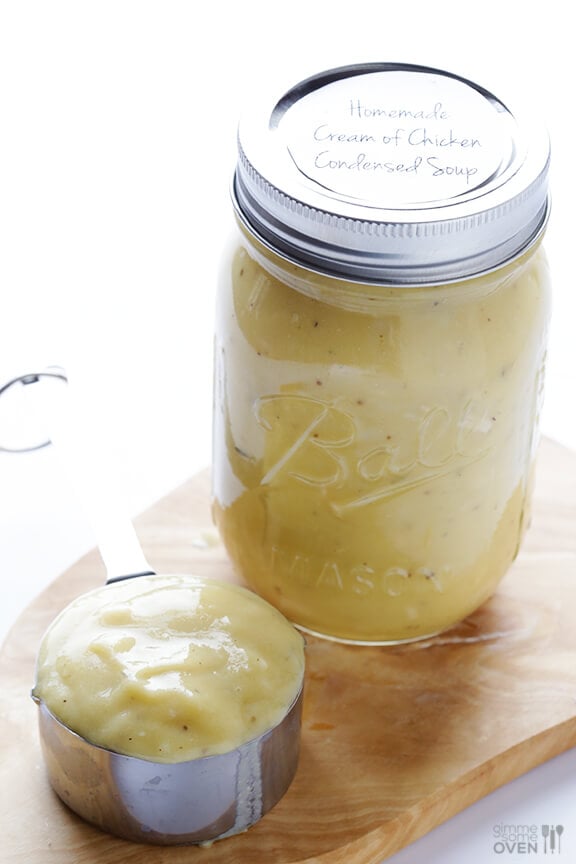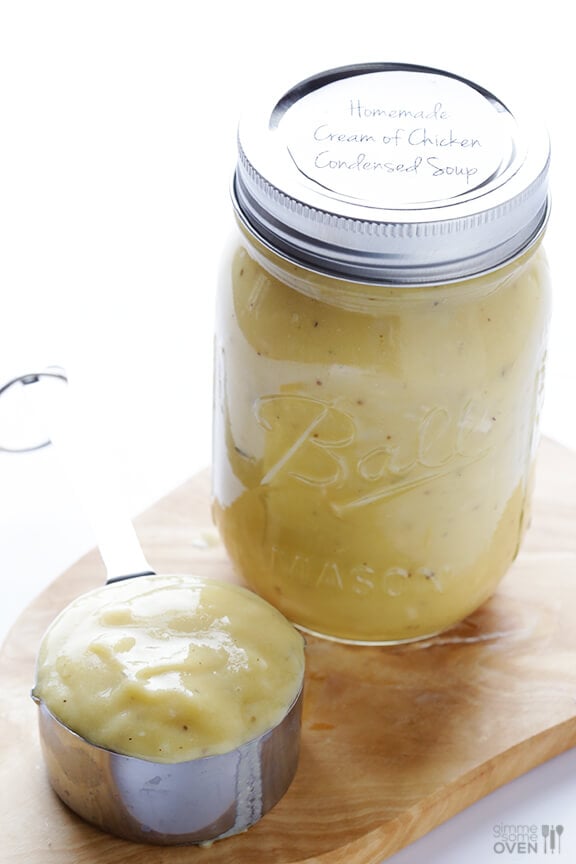 Condensed Homemade Cream of Chicken Soup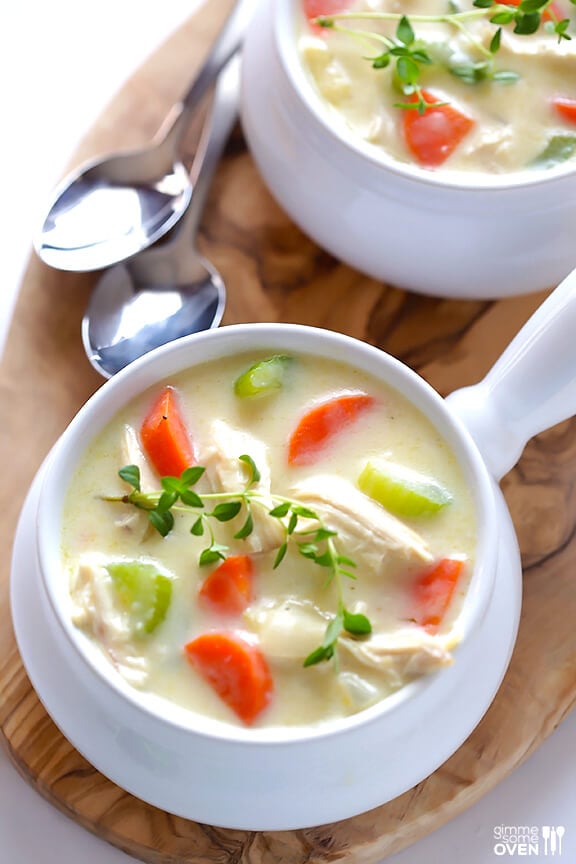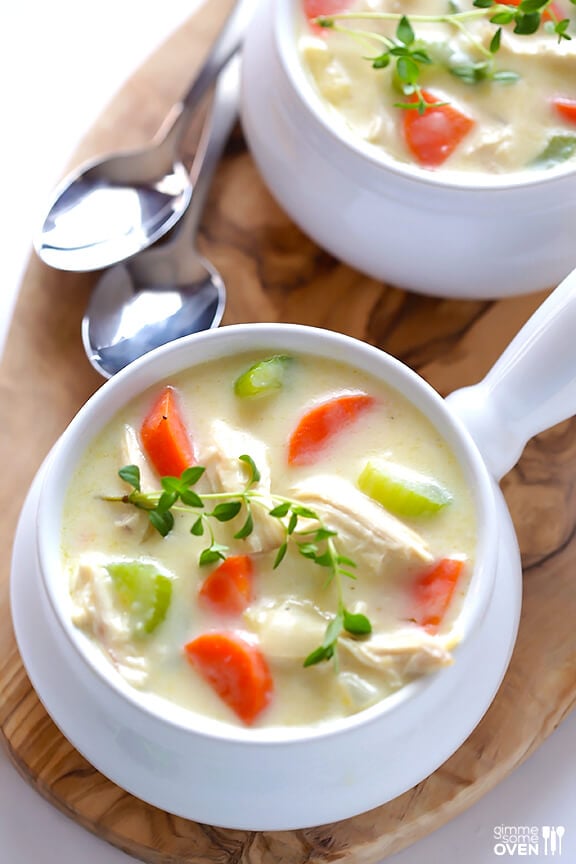 Homemade Cream of Chicken Soup