Conversation Heart Brownies
This post may contain affiliate links. Please read my disclosure policy.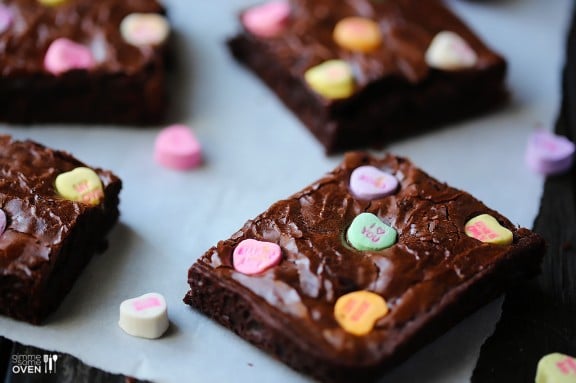 Ok, I promise this is my last conversation hearts recipe!
For those of you who are just tuning in, I went a little candy-crazy last week with this conversation heart Strawberries and Cream Cake and Valentine's Popcorn. But in my defense, I'm a big fan of using up leftover food. And when I began making these brownies for my book club on Friday night, I couldn't resist sprinkling on a few of the remaining conversation hearts I still had. So behold, I present to you…conversation heart brownies!
If you are looking for a last-minute Valentine's recipe, I guarantee that everyone will love these. I even made a second batch of these this weekend to share with some more friends, and was amused at how people seemed to equally enjoy reading as much as eating these chocolatey treats! Although my joke about how they should be called colorful-ies (since they're no longer just brown-ies…get it?) earned a few rolled eyes. I think I have my dad's sense of humor. ;)

I'm sharing the recipe for these conversation heart brownies today over at my good friend Cassie's blog as she finishes moving into her new home. So pop over to take a look, and also be sure to check out all of the other amazing recipes she has to share. She will bake your day!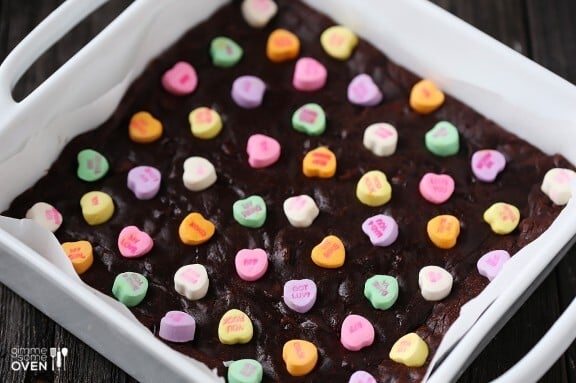 This post contains affiliate links.