Cranberry Crisp
This delicious Cranberry Crisp recipe is made with lots and lots of fresh cranberries, it's easy to prep ahead of time, and it's the perfect holiday dessert!  Feel free to bake it up in a 9-x-9-inch baking dish, or in cute little mini individual ramekins.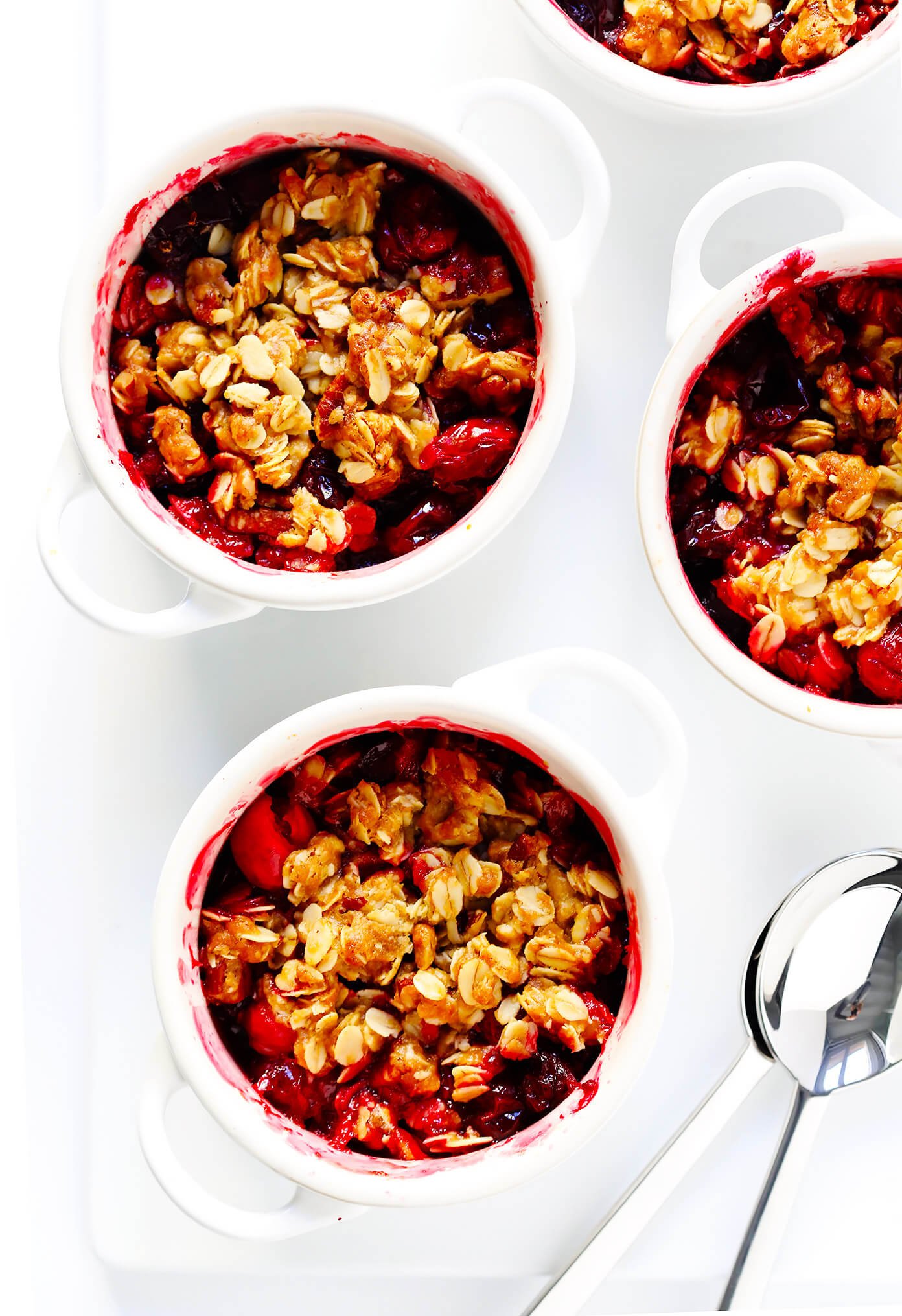 Soooo, confession.
Cranberry sauce at Thanksgiving has just never really been my thing.  🙈
I've always wanted it to be my thing, since it's so colorful and pretty and sweet and festive, and it has literally been present at every single Thanksgiving and Friendsgiving feast I've ever attended.  Hey, I've even volunteered to be the one to make it, and have shared my slow cooker and orange bourbon versions of the sauce here on the blog for you guys, both of which always receive rave reviews from friends and family.  And I always spoon some onto my plate too, and like it well enough.  But I don't know, I think that maybe cranberry sauce has just never been my favorite thing on the table for dinner.  
This Thanksgiving, though, a light bulb suddenly went off for me — why not serve cranberries instead for dessert?!
Like, in a quick and easy crisp??  You know, a layer of tart cranberries bubbling up in a warm layer on the bottom?  Sprinkled with a perfectly crispy butter-pecan oatmeal topping?  Served up right out of the oven with a creamy scoop of vanilla ice cream melting on top??
Now this has my name written all over it. ❤️ ❤️ ❤️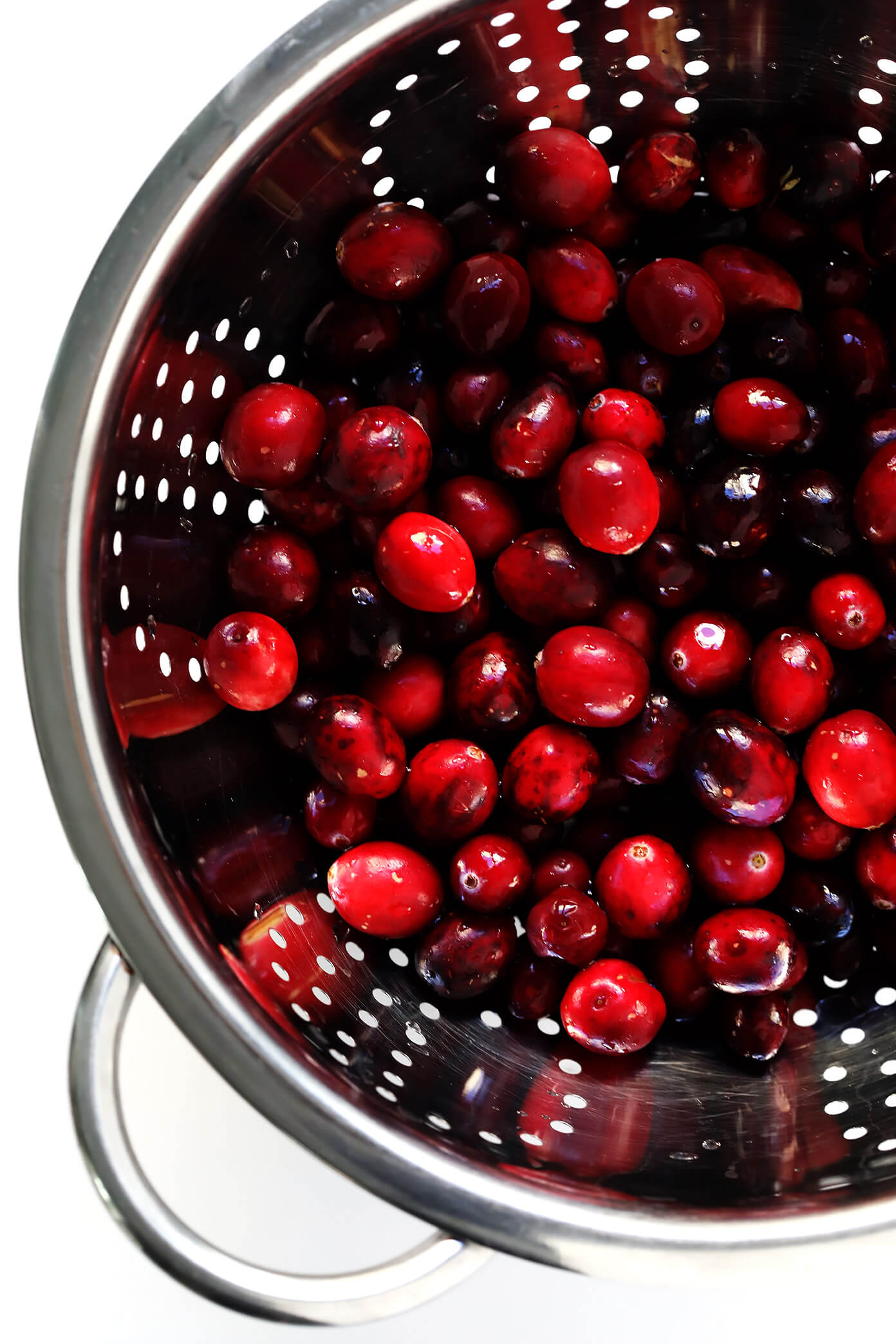 The second I had the idea for a cranberry crisp — and I should mention, a straight cranberry crisp at that, no apples or pears or other fruit mixed in — I immediately set off for the market here in Spain to try and track down some fresh arándanos (cranberries).  But as it turns out, they're not very common here in Spain, and the only ones I initially found were frozen in a 12-ounce bag…for $10.  Bah!  Didn't know how good we had it with cheap, fresh cranberries back home.  😂
Still, I was on a mission and determined to try out this recipe idea.  So we hopped around to a few other markets, and finally tracked down a few little cartons for half that price.  (Yay!)  And then very carefully transported our precious commodity back home.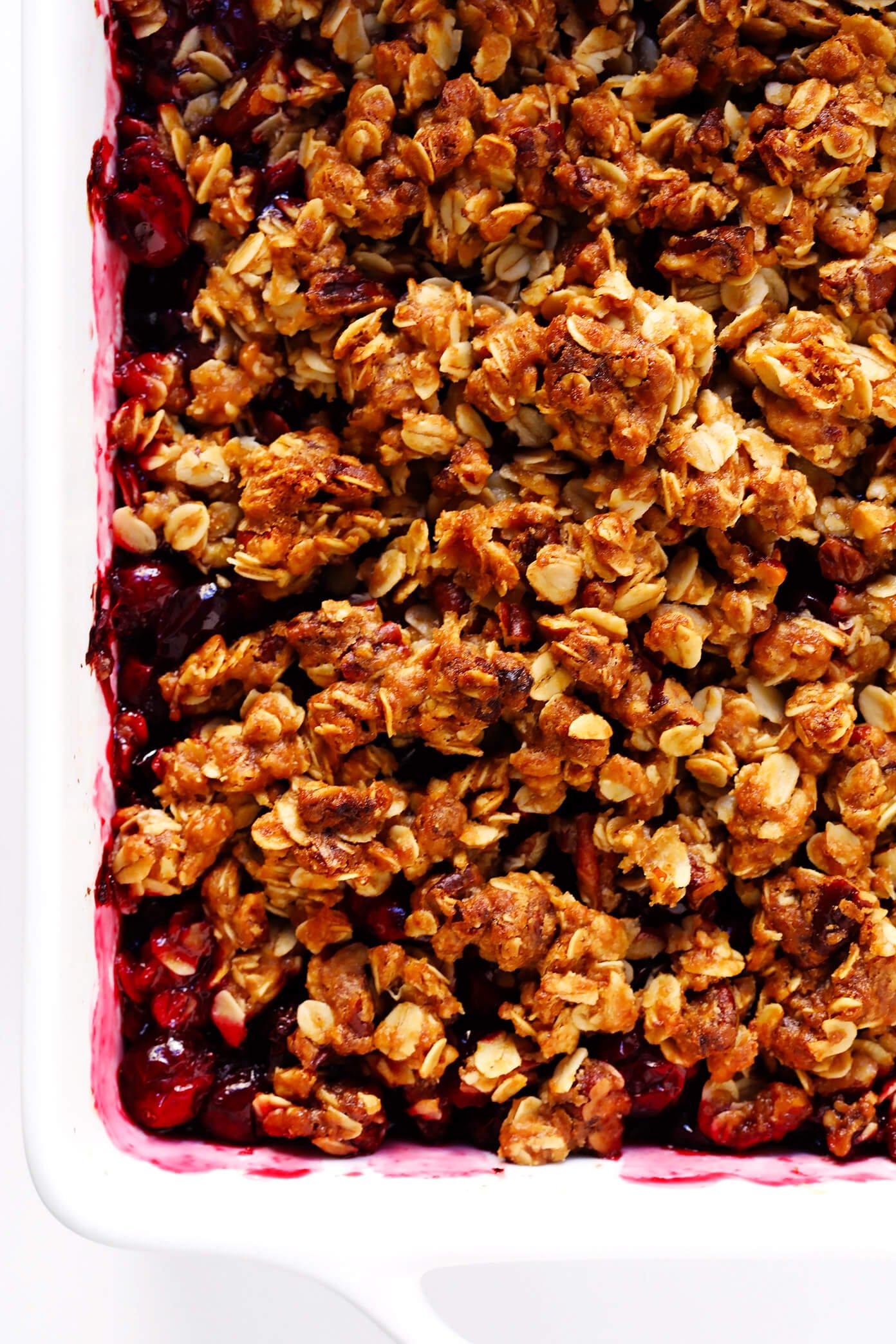 Initially, I tried baking up a big batch like I usually do with crisps in my 9 x 9-inch baking pan (affiliate link), which turned out totally gorgeous, and perfectly bubbly and crispy, and so delicious.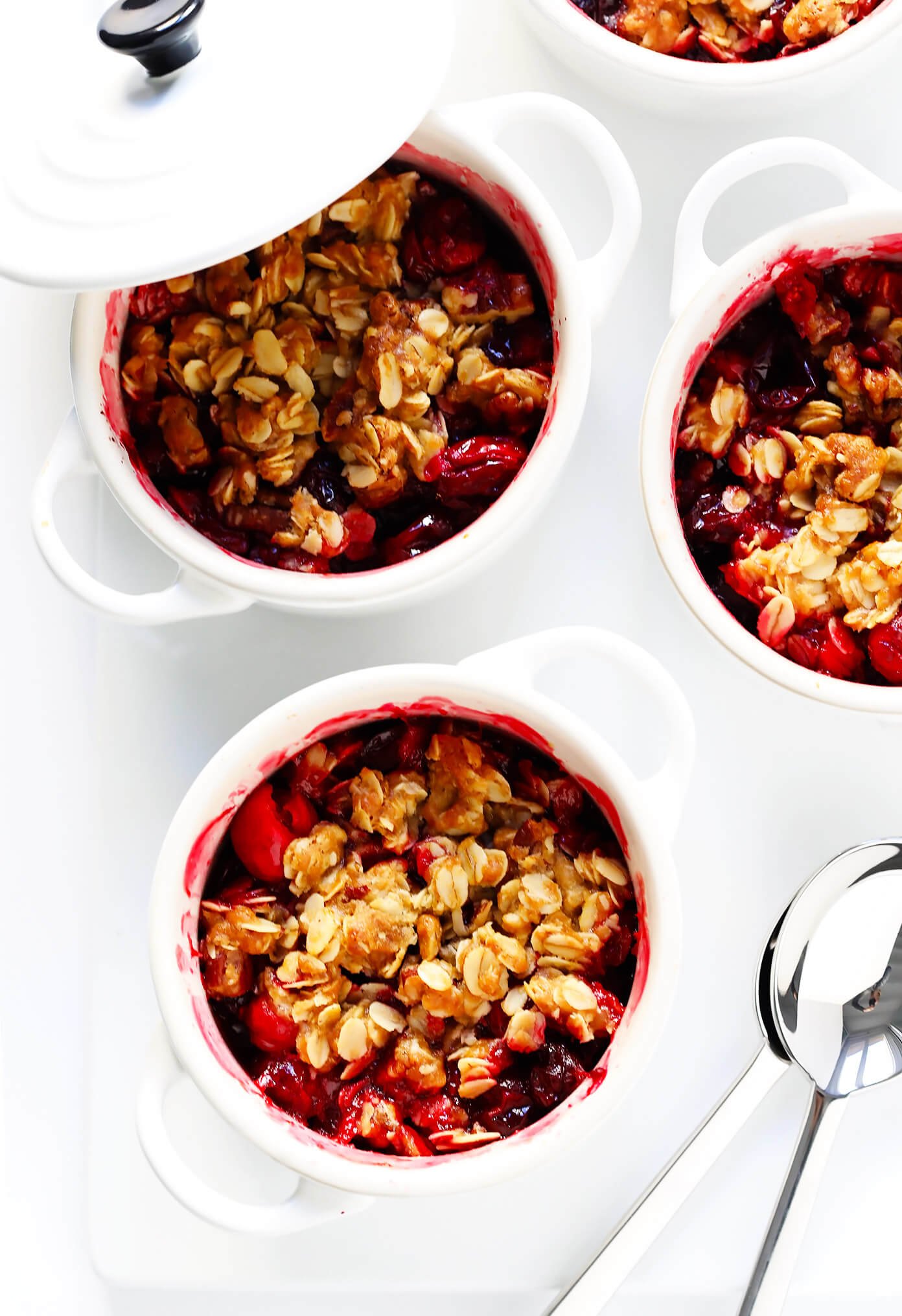 But the next day, I was over at the Le Creuset store re-ordering my favorite white Dutch oven (since I had to leave mine back in the States).  And sure enough, these adorable little mini Dutch ovens caught my eye…and somehow leapt into my shopping bag too.
So for my second and third time testing this recipe, I decided to serve them up in little mini individual portions (similar to my Mini Mason Jar Fruit Crisps recipe from this past summer).  And oh my goodness, we could not get over how cute they were!! 💓  Seriously, if you happen to own any sort of ramekins or mini mason jars or mini baking dishes, I can't recommend them enough for this recipe.  So fun and beautiful, especially for holiday entertaining.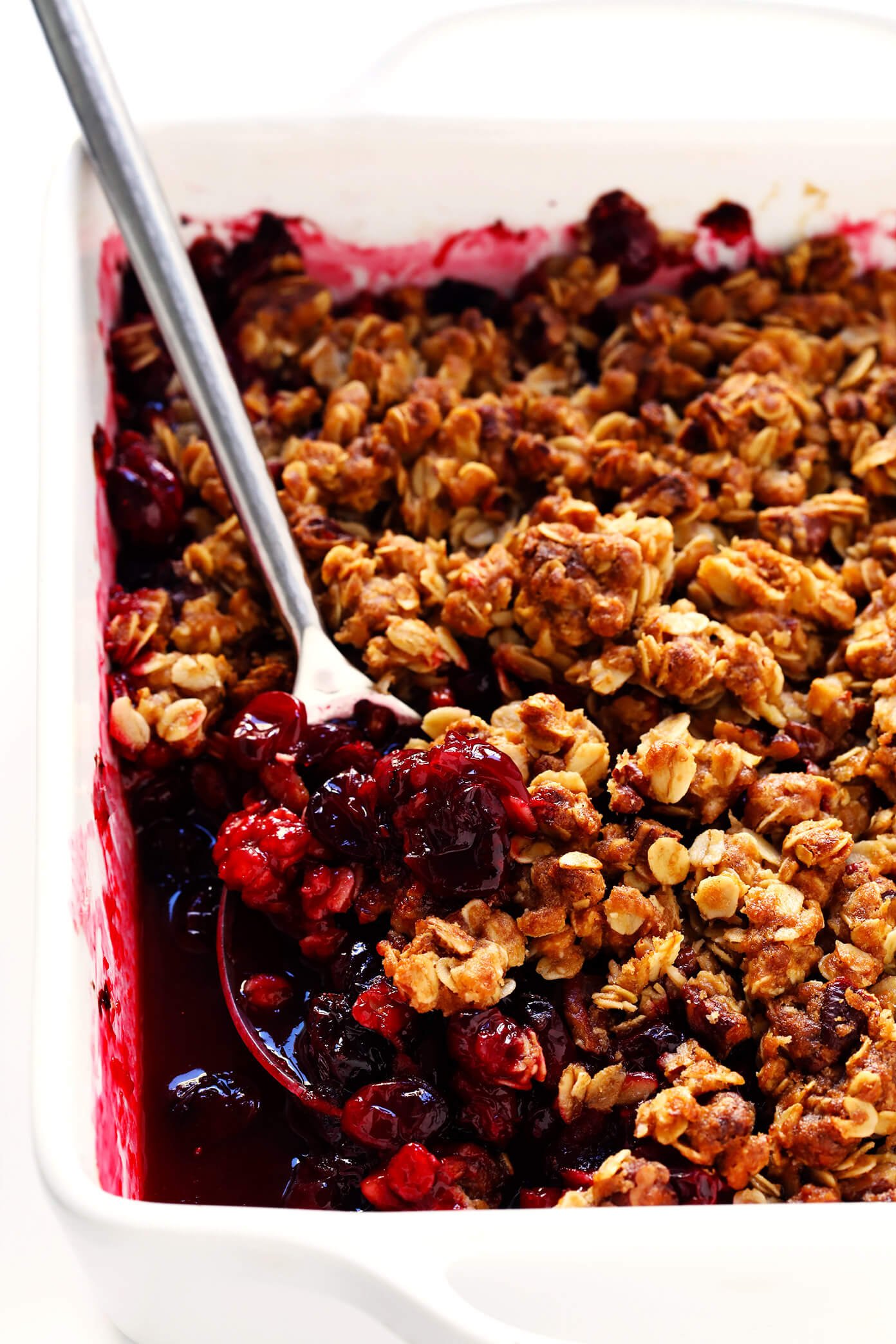 Anyway, clearly I digress on the cuteness factor here, when we should be talking about the deliciousness that is this cranberry crisp.
Guys, just as I had hoped, all of those tart, juicy, fresh cranberries ended up being absolutely perfect in this crisp!!!  I took the edge off of their tartness just a bit by adding some extra brown sugar (or you could use maple syrup, honey, or whatever your preferred sweetener may be) to the recipe.  Then of course, the buttery pecan oatmeal topping also added some extra sweetness and crunch to balance the cranberries.  But Barclay and I both agreed that the scoop of vanilla ice cream on top was the finish touch that rounded these guys out in every way, turning them into an irresistible balance of fruity and creamy, juicy and crunchy, tart and sweet, delicious and delicious.
I seriously can't recommend this recipe enough — it is a must for the holidays this year!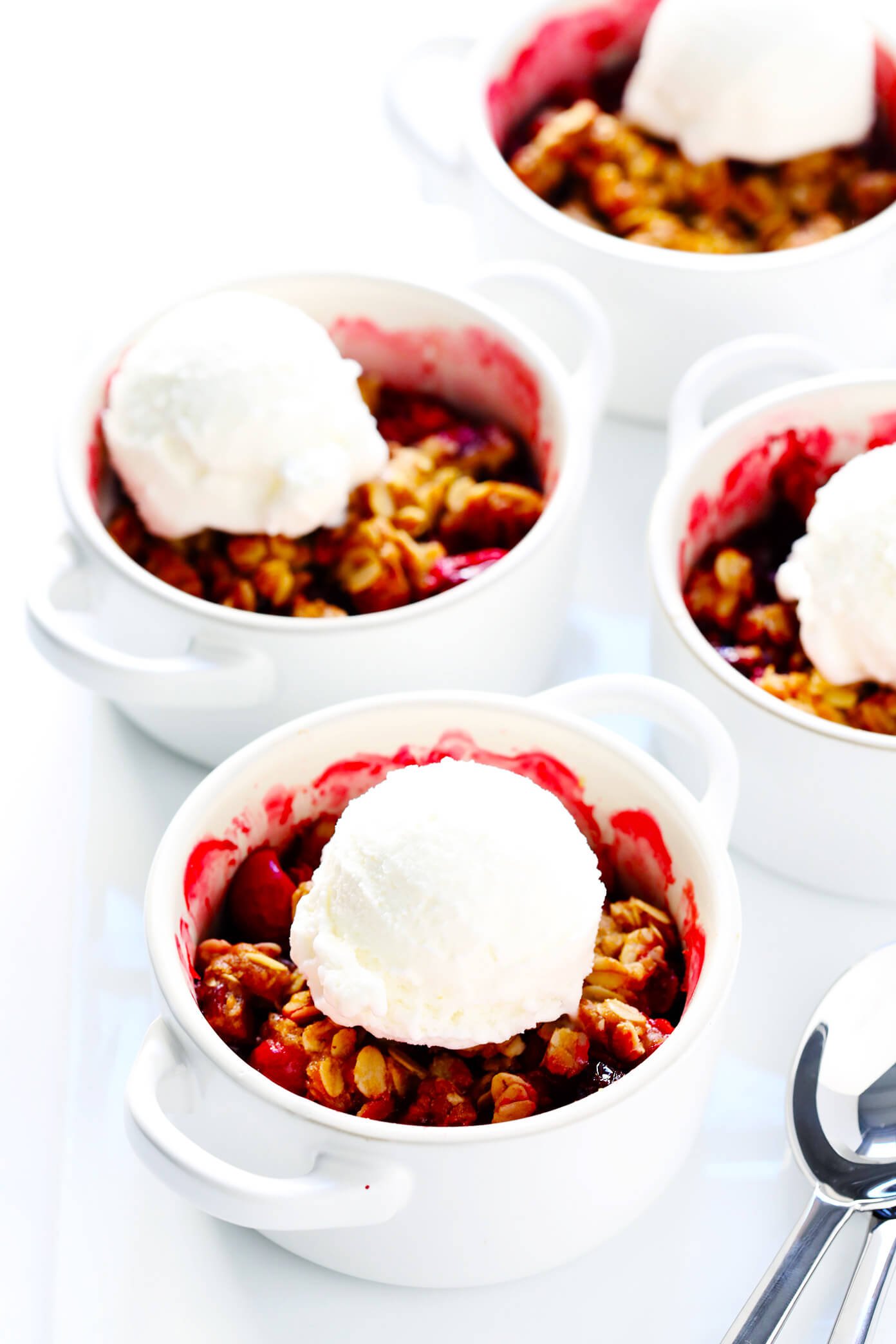 Oh and bonus — this also happens to be a great make-ahead recipe as well.  Just prep the crisps in your baking dishes, cover and refrigerate for up to 24 hours before baking.  Then pop them in the oven, and once the cranberries are all bubbly and the topping is nice and golden, you'll be good to go.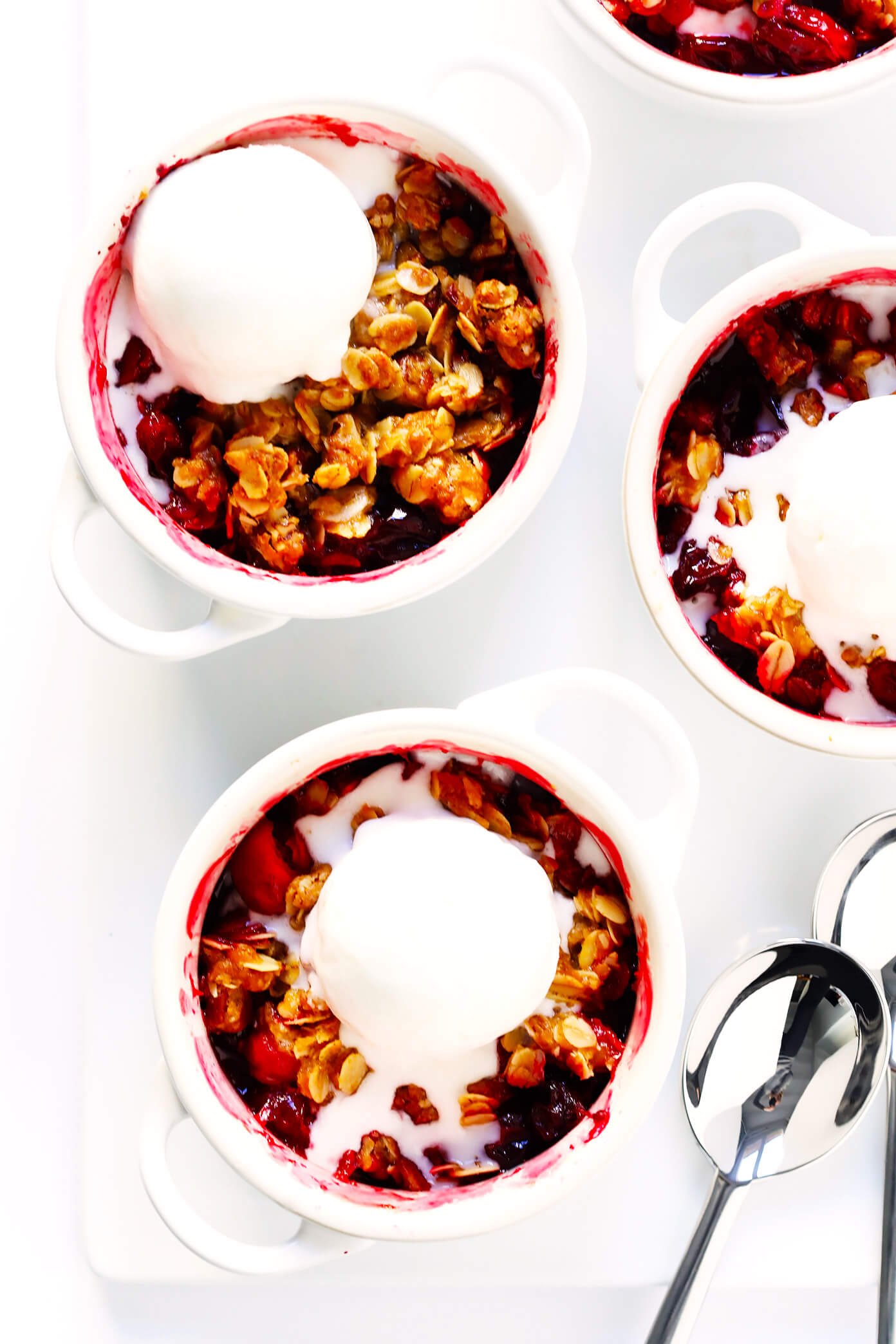 Enjoy, everyone!!
(This recipe contains affiliate links.)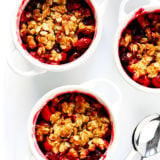 Cranberry Crisp
This easy Cranberry Crisp recipe can be made in a large baking dish or in individual ramekins.  Feel free to use your favorite kind of sweetener in place of brown sugar, if you'd like!
Ingredients:
Cranberry Filling Ingredients:
24 ounces (about 6 cups) fresh cranberries
2/3 cup packed brown sugar
1/2 cup freshly-squeezed orange juice
1 teaspoon vanilla extract
zest of one orange
Crispy Oatmeal Topping Ingredients:
1 cup old-fashioned oats
1/2 cup chopped nuts (pecans, walnuts, almonds, pistachios…you pick!)
1/2 cup packed brown sugar
1/3 cup melted butter or coconut oil
1/4 cup flour (or almond meal)
pinch of salt and ground cinnamon
Directions:
Preheat oven to 350°F.  Grease 8 small ramekins, or one 9 x 9-inch baking dish with cooking spray.  Set aside.
To Make The Cranberry Filling: Stir cranberries, brown sugar, orange juice, vanilla extract and orange zest together in a large bowl until evenly combined.  Set aside.
To Make The Crispy Oatmeal Topping: Stir oats, nuts, brown sugar, melted butter, flour (or almond meal), salt and cinnamon together in a separate large bowl until evenly combined.  Set aside.
Portion the cranberry filling evenly into the 8 ramekins (roughly 3/4 cup each), or pour the cranberry filling into the baking pan in an even layer.  Sprinkle evenly with the crispy oatmeal topping.
Bake for 25-30 minutes, or until the cranberries are bubbling and the topping is lightly golden.  Remove from the oven and rest on a cooling rack for 5 minutes.  Serve warm, topped with vanilla ice cream.
All images and text ©
If you make this recipe, be sure to snap a photo and hashtag it #gimmesomeoven. I'd love to see what you cook!