Cranberry Orange Muffins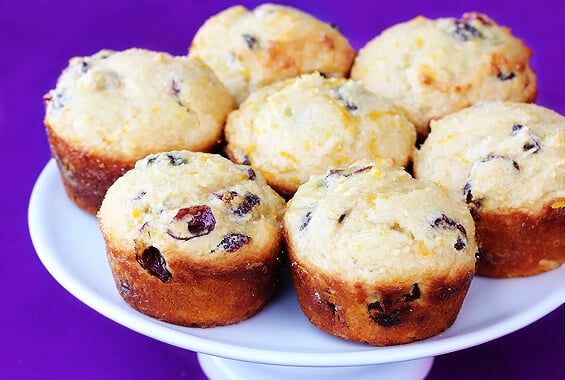 Growing up, my family absolutely loved cranberry-orange bread.  All of the goodness of sweet cranberries, paired with that yummy citrus zest and loads of glorious carbs — it was always a definite crowd-pleaser!  The only tiny downside was that this deliciousness came from (ahem) a box mix.
So when I had a cranberry-orange craving last week, decided to make some cranberry-orange muffins from scratch!  Sure enough, found a quick recipe online that didn't even require me to pull out the mixer.  It was a basic muffin recipe with a handful of cranberries plus lots of delicious orange zest thrown in.  And then (the best part) you dip the muffins once they have baked in a fabulous sweet orange glaze.
Honestly, these required little more time together than the box mix.  So quick and easy!  And my friends agreed that they were super tasty!!  Definitely a fantastic recipe for a small loaf of bread, or a dozen quick muffins.  Look forward to making this old favorite with the new recipe again soon!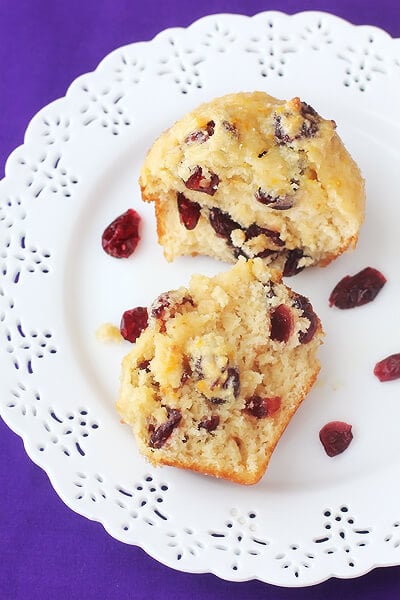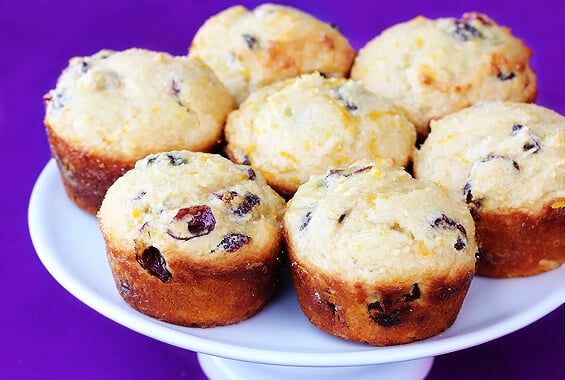 Cranberry Orange Muffins
You will love this Cranberry Orange Muffins recipe. These little treats are perfect for breakfast, snacking, or even dessert, and also easy to prepare!
Ingredients:
Muffin Ingredients:
2 cups all-purpose flour
1 Tbsp. baking powder
1/2 tsp. salt
1 egg
1 cup sugar
1 tsp. finely grated orange zest
1 tsp. vanilla extract
1/4 cup (half stick) unsalted butter, melted
1 1/4 cup sour cream
3/4 cup dried cranberries
1/2 cup chopped walnuts or pecans (optional)
Glaze Ingredients:
3/4 cup sugar
1 tsp. finely grated orange zest
1/4 cup orange juice (freshly squeezed from the orange you zested, if you would like)
Directions:
To Make The Muffins:
Preheat the oven 350 degrees. Grease a muffin pan or prepare with baking cups; set aside.
Whisk together the flour, baking powder, and salt in a medium bowl; set aside.
In a large bowl, whisk the egg until combined, about 20 seconds. Add the sugar and whisk until the mixture is thick and thoroughly combined. Stir in the orange zest until evenly distributed. Slowly whisk the vanilla and butter into the mixture until combined. Add half the sour cream, whisking until just combined, repeat with the remaining sour cream.
Add the flour to the sour cream mixture and fold with a spatula until the batter comes together. Add the cranberries (and nuts, if using) and continue folding the mixture until the berries are evenly distributed. Do not overmix.
Evenly divide the batter in between the cups of the muffin pan (about 3 tablespoons of batter per cup). Bake for 20-23 minutes, or until light golden brown, and a toothpick inserted in the center comes out clean. Transfer the muffins to a wire cooling rack and allow to cool for 5 minutes before glazing.
To Make The Glaze:
While the muffins are baking, combine 1/2 cup of the sugar and orange zest in a bowl until the zest is evenly distributed; set aside.
In a small saucepan set over medium heat, combine the remaining sugar (1/4 cup) and the orange juice, bring to a simmer. Stir occasionally to dissolve the sugar and continue simmering until the mixture becomes syrupy.
Generously, brush the tops of the muffins with the orange glaze. Once all of the muffins are glazed, dip the top of each muffin into the orange sugar, being sure to cover the top of each muffin. Serve warm.
Adapted slightly from Bakingdom.
All images and text ©
If you make this recipe, be sure to snap a photo and hashtag it #gimmesomeoven. I'd love to see what you cook!