Crustless Spinach Quiche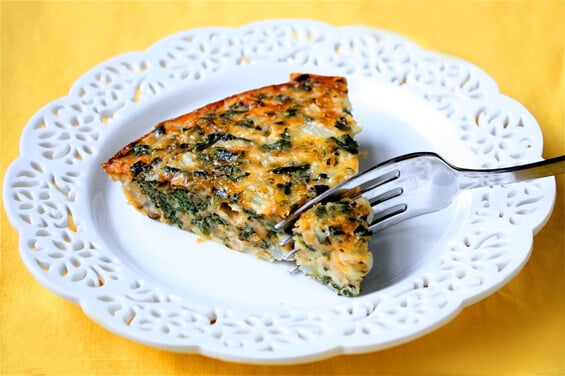 This morning I woke up early and had the random urge to make breakfast for my morning meetings at work.  (And not just any meetings…two back-to-back "creative planning" sessions.  Why oh why they are scheduled with a group of artists first thing in morning still eludes me…hmmm….)  Suffice it to say, any extra sustenance and energy for the team always seems like a wise idea.  :)
So when a quick scan of my fridge and freezer revealed an abundance of eggs and shredded cheeses, and that nice package of frozen, chopped spinach that I always keep on hand (one of my favorite staples)…I decided it was a good morning for spinach quiche!  Actually, make that a crustless spinach quiche, being that I had no pre-made pie crusts in the fridge, and had zero time or interest (surprise, surprise!) in making one.
In general, I tend to go with the "method" rather than "exact-recipe" approach with quiches, but today looked up a quick recipe online and was quite pleased with the results!  It ended up being a snap to throw together, and the classic flavor combo and texture were fantastic.  However, you can of course substitute in whatever cheeses you have on hand (I often find the sharper, the better), and/or add in any veggies that you'd like (mushrooms, green peppers, tomatoes, etc.).  I also love throwing in some stronger cheeses to give it an extra kick (such as the parmesan, feta, blue cheese, etc.), or some extra spices to season it up (blackening spices, Italian blends, etc.).
The bottom line is that quiches are wonderfully forgiving.  Just stick with some of the basic proportions, and you're good to go!  Enjoy!!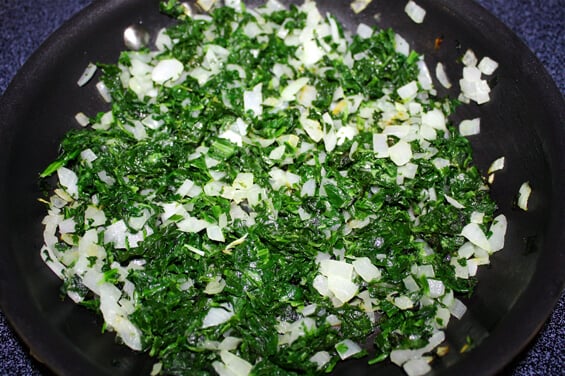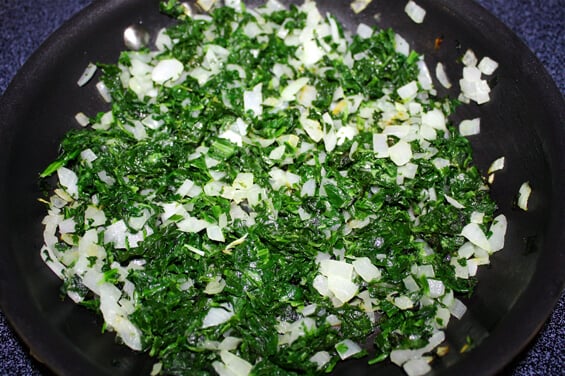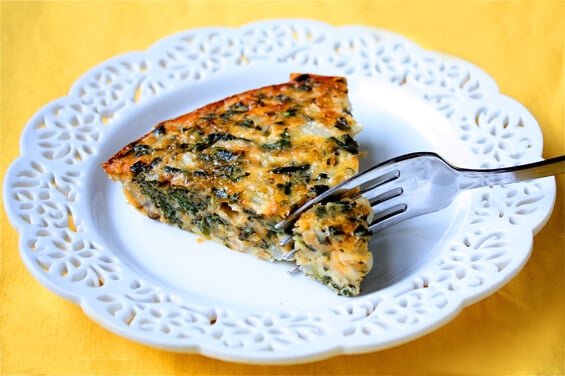 Crustless Spinach Quiche
This crustless spinach quiche is so savory and delicious, you'll want seconds…and thirds!
Ingredients:
1 Tbsp. vegetable oil
1 medium onion (about 1 cup), chopped
1 tsp. minced garlic
1 (10 ounce) package frozen chopped spinach, thawed and drained
5 large eggs, beaten
2 1/2 cups muenster cheese, shredded (or use whatever's on hand)
1/4 cup grated parmesan cheese (plus 2 Tbsp. more for garnish – optional)
1/4 tsp. salt
1/4 tsp. freshly ground black pepper
pinch of crushed red pepper
Directions:
Preheat oven to 350 degrees F (175 degrees C). Lightly grease a 9 inch pie pan.
Heat oil in a large skillet over medium-high heat. Add garlic and onions and cook, stirring occasionally, until onions are soft. Stir in spinach and continue cooking until excess moisture has evaporated.
In a large bowl, combine eggs, cheese, salt, pepper, and crushed red pepper. Add in spinach mixture and stir to blend. Pour into prepared pie pan.
Bake in preheated oven until eggs have set and the top is slightly browned, about 25-30 minutes. Remove and let cool for 10 minutes before serving. If you'd like, top with additional freshly grated parmesan cheese.
I also love using this recipe to make individual-sized little quiches.  You can either use regular-sized muffin tins (15-20 minutes cook time), or the cute mini ones (about 10-15 minutes).  Just be sure to prepare the tins well with cooking spray (or use muffin liners), and watch to be sure that they don't get overcooked!
If you make this recipe, be sure to snap a photo and hashtag it #gimmesomeoven. I'd love to see what you cook!