Cranberry Pistachio Baked Brie
Oh man.  It is November 19, and I have already received six invites for Christmas parties this year.  Six!!
Granted, I understand why so many friends want to plan in advance during a busy season.  But you have to understand — I'm the girl who is adamantly opposed to even thinking about anything Christmas until after Thanksgiving.  In mi casa, there is no Christmas tree, no present-shopping, no holiday-music-listening, no carol-singing, no Christmas-anything until November 29.
Now when that day arrives, I will happily deck the halls and crank up my N*Sync Christmas album (err, I mean She & Him) and watch Christmas Vacation and bake Christmas cookies all day long.  And Henry might even dress up too.  ;)
In the meantime though, I have been thinking about what my go-to holiday appetizer for this year will be — for Thanksgiving, Friendsgiving, Christmas, Hanukkah, you name it.  And this week, I tested out an idea, and it was a total winner.  Feel free to join me in adopting this fabulous 20-minute app — Cranberry Pistachio Baked Brie.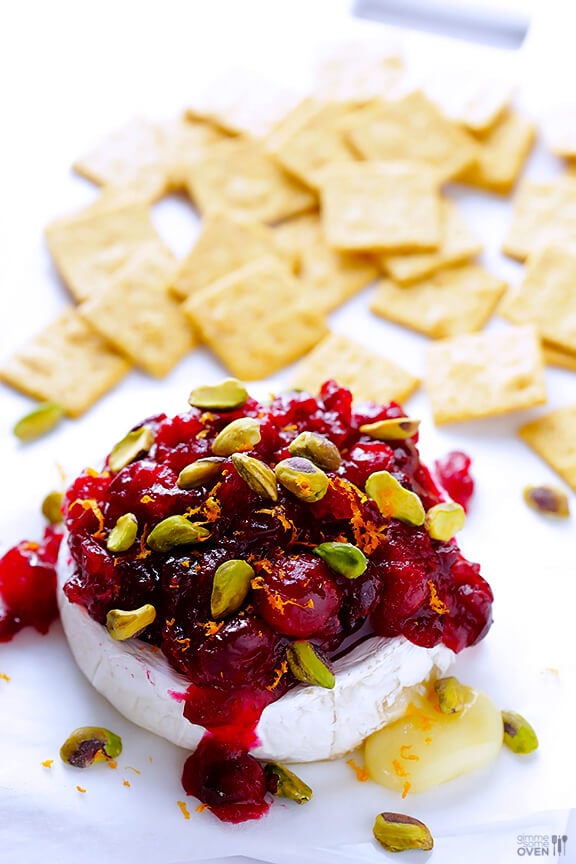 For years I have loved the combination of brie and cranberry — whether on paninis, on crackers, in phyllo cups and more.  But for a little extra color this year, I decided to add in some green pistachios and sprinkle on some orange zest.  And the result was as yummy as it was adorable.
I love this cranberry pistachio baked bree!!  And all you just need 6 ingredients (plus water) to make it yourself.
If you happen to have leftover cranberry sauce after Thanksgiving, this would be the perfect way to put it to use.  Or if you don't have any on hand, whip up a simple batch homemade.  Trust me — the homemade version is 10x better than the stuff that comes out of a can.  (And it's cuter too!)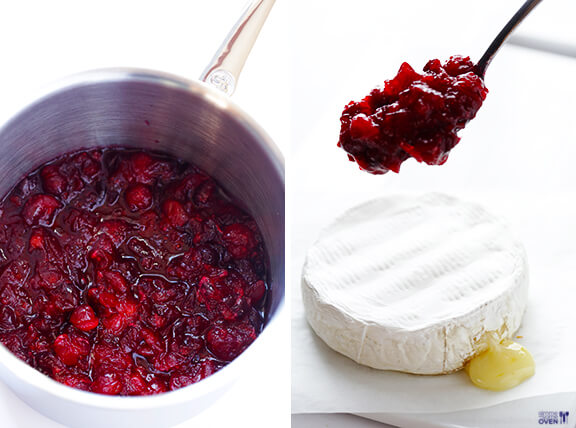 All you have to do it bring some cranberries, sugar and water to a boil (and I added in some extra orange zest), and then let them simmer for 10 minutes and you're ready to go.
Bake up a wheel of brie.
Then pour that delicious sauce onto some freshly baked brie, sprinkle with pistachios and a little more orange zest, and you're ready to go.
This literally can be ready to go in 20 minutes.  And in my experience of years entertaining, people tend to get ridiculously excited about baked brie.  I don't know what it is.  But it always disappears first at my house.
So if you're looking for a quick and easy appetizer this holiday season — whenever those invites and parties may come — I can't recommend this baked brie recipe enough!  It's a keeper.  :)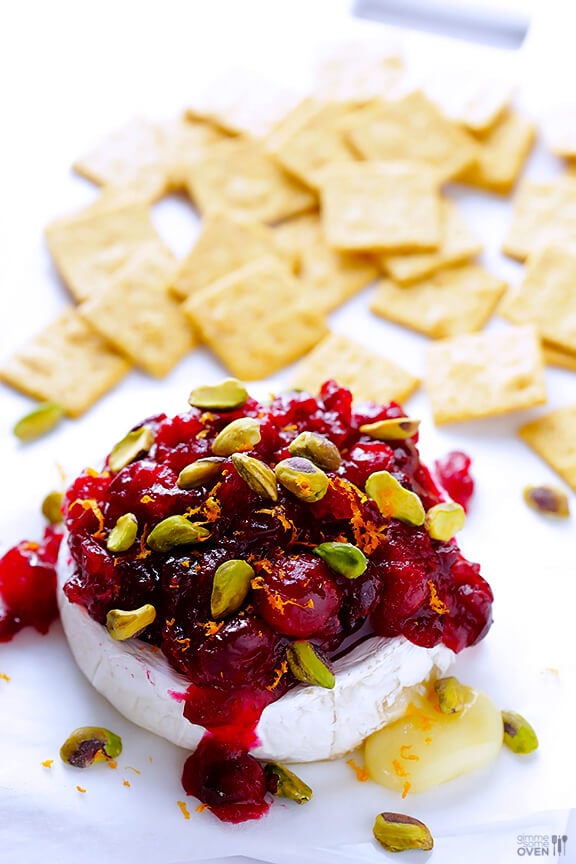 Cranberry Pistachio Baked Brie
This quick and easy baked brie recipe is perfect for the holidays or anytime!
Ingredients:
2 cups fresh cranberries
1/2 cup granulated sugar
1/2 cup water
zest of one orange, divided
1 wheel brie
1/2 cup shelled pistachios
(crackers for serving)
Directions:
Preheat oven to 375 degrees.
Add cranberries, sugar, water and about half of the orange zest to a medium saucepan, and stir to combine. Bring to a boil over high heat, then reduce heat to medium-low and simmer for 10 minutes. Meanwhile, line a baking sheet with parchment paper or aluminum foil, and place the brie in the center of the sheet. Bake for 10 minutes, or until the cheese is melted and just begins to ooze out the side. Transfer baked brie to a serving tray. Then top with the cranberry sauce, and sprinkle with pistachios and remaining orange zest.
Serve immediately with crackers.
All images and text ©
If you make this recipe, be sure to snap a photo and hashtag it #gimmesomeoven. I'd love to see what you cook!
Like cranberries? Check out these other great recipes!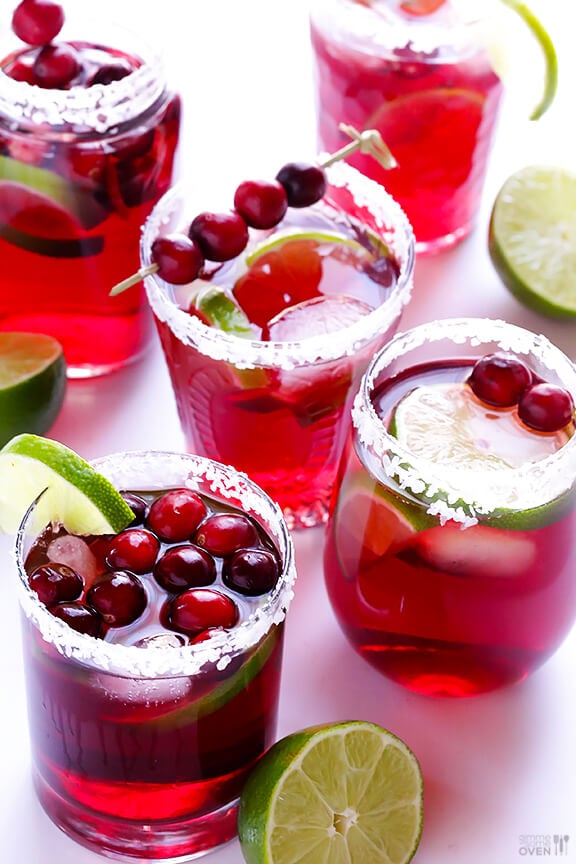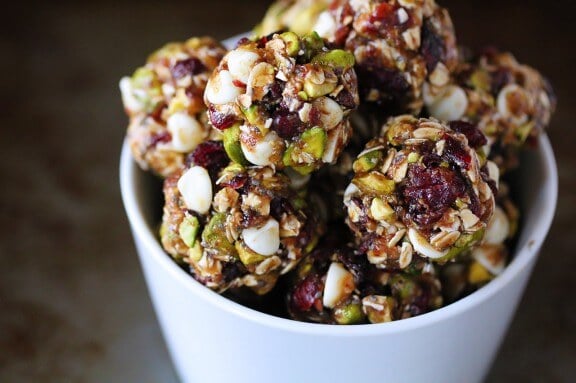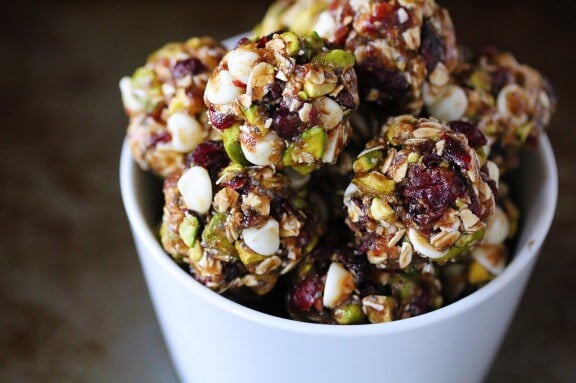 Cranberry Pistachio Energy Bites