Cranberry White Chocolate Granola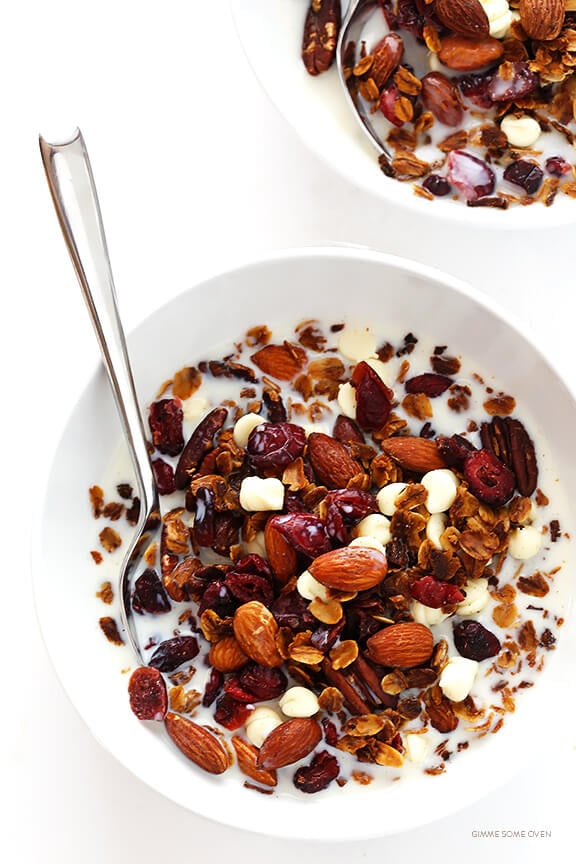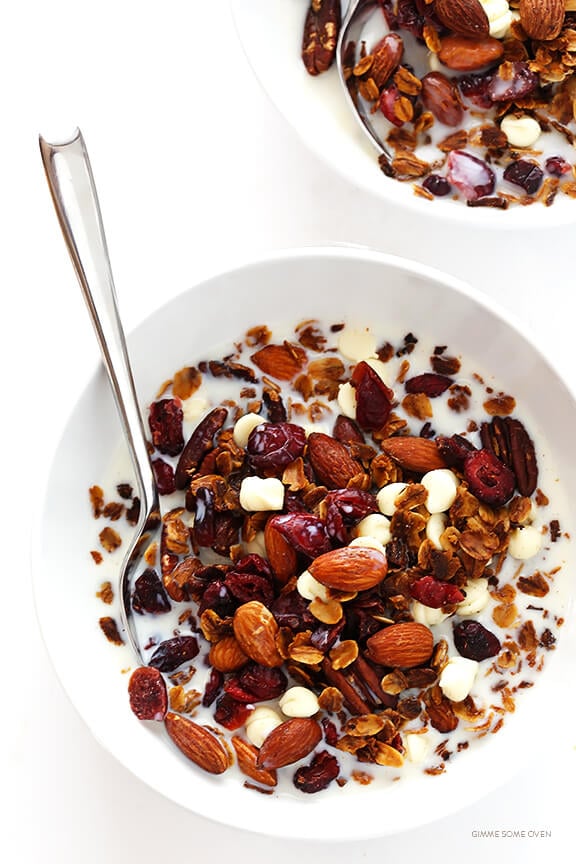 I don't know about you, but whenever I visit that oh-so-famous coffee chain around the holidays, it's almost impossible to just order my standard cup of black coffee because of three seasonal words:
Cranberry Bliss Bars.
Oh my goodness.  I feel like I've been really good this December at limiting my sugar intake and politely passing on many of the extra cookies, cakes, and candies that I really don't need.  But any resolve I have still seems to be "waking up" at 8am when I'm standing in line next to the glass display case with delicious cranberries and white chocolate — one of my all-time favorite combinations — calling my name.   Mmmm, morning bliss indeed.
Well, after a recent success finally mumbling out, "Just coffee, please", I decided to come home and whip up my own version of "bliss" that I could feel slightly better about — a batch of homemade Cranberry White Chocolate Granola.  It's definitely still a bit indulgent, with a good handful of white chocolate chips and sweet dried cranberries tossed in.  But other than that, it's naturally sweetened, full of great protein, naturally gluten-free, and absolutely delicious.
My kind of "bliss".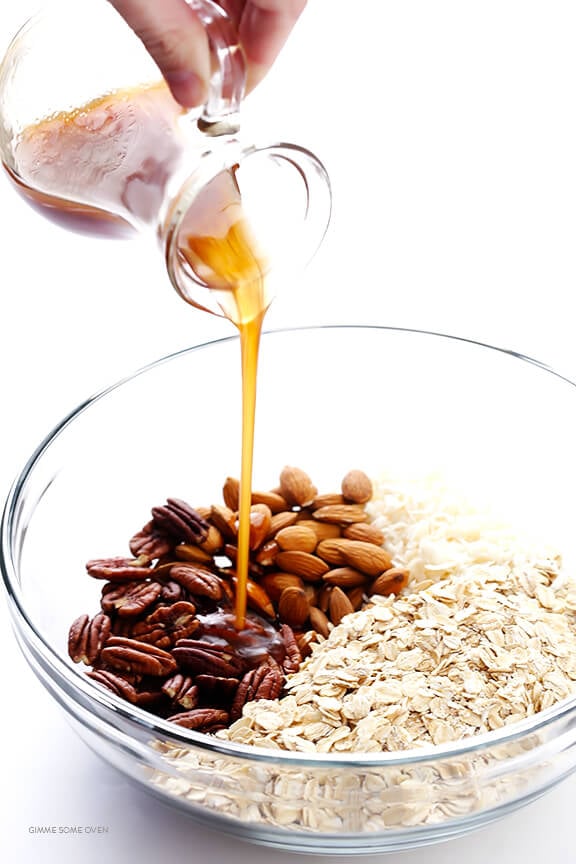 Basically, this recipe is a simple riff on my favorite Dark Chocolate Cherry Granola recipe.  Just combine a bunch of oats (use GF-certified oats if making this gluten-free), pecans, almonds and shredded coconut.  Drizzle them all with a maple-sweetened cinnamon vanilla sauce, and then toss until combined.  Spread the mixture out on a baking sheet…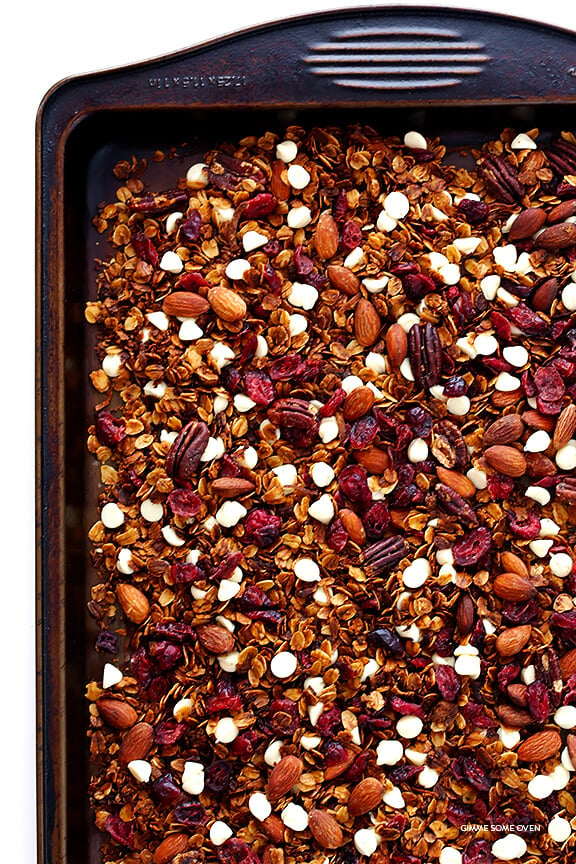 …and then bake it up to golden perfection.  Then once the mixture has been removed from the oven and cooled to room temp, you can stir in that extra bliss — lots of dried cranberries and white chocolate chips!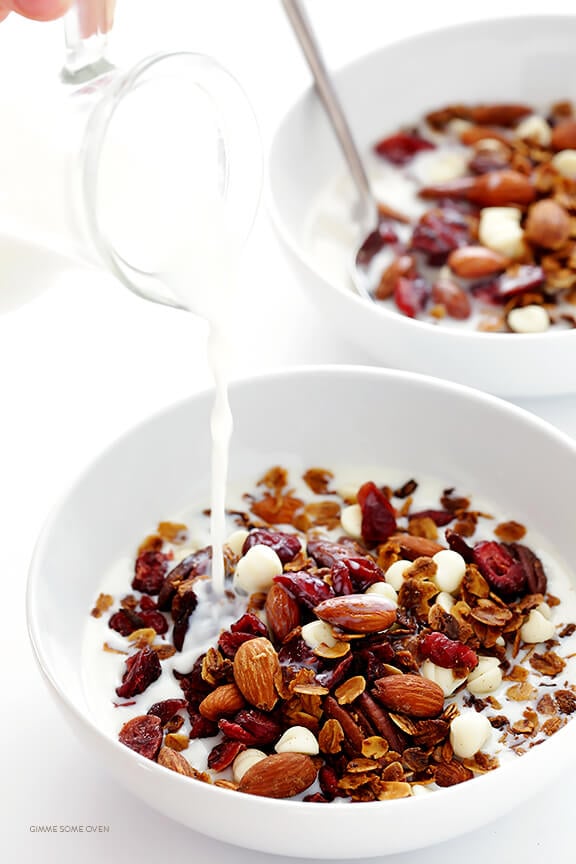 You can either serve it up in a bowl with milk…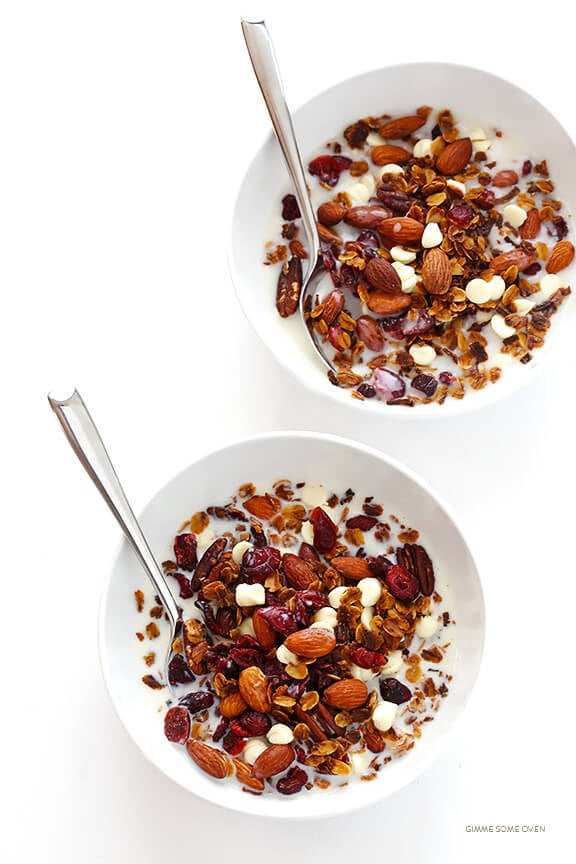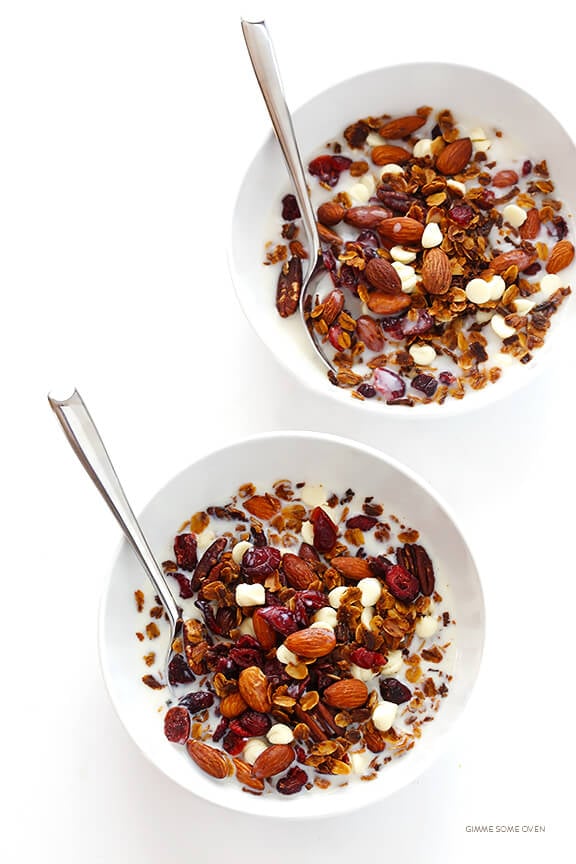 …because, breakfast.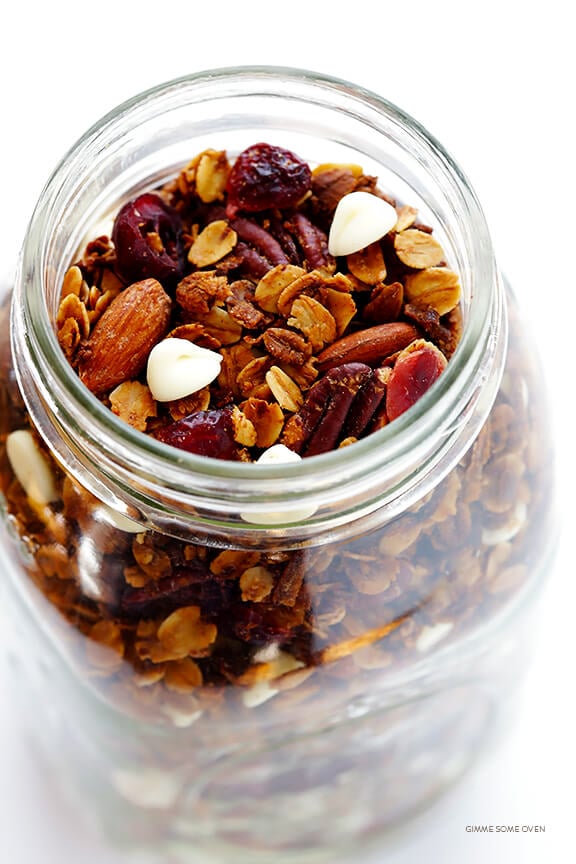 Or you can jar it up for later…or to give to a friend!  (Perfect for last-minute gifting this Christmas!)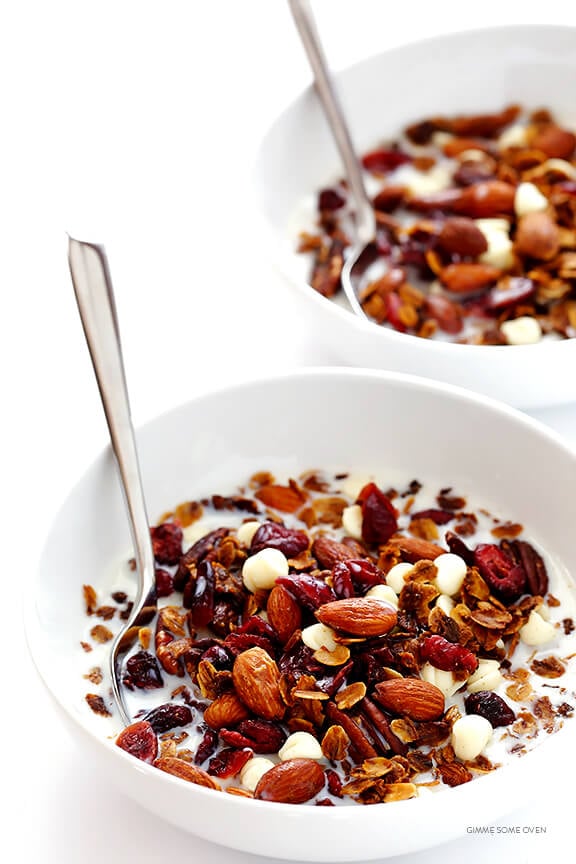 However you enjoy it, I can definitely vouch that I'd take this blissful (and more protein-full) alternative to a sugar cookie bar any day.  :)  Enjoy!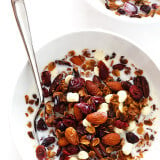 Cranberry White Chocolate Granola
This Cranberry White Chocolate Granola recipe is easy to make, full of protein, and full of delicious sweet flavors!
Ingredients:
2 cups old-fashioned oats (use certified gluten-free oats if making this GF)
1/2 cup raw (whole) almonds
1/2 cup raw pecan halves
1/2 cup shredded or shaved coconut
1/4 cup maple syrup
1/4 cup melted coconut oil
1/2 teaspoon ground cinnamon
1/4 teaspoon vanilla extract, store-bought or homemade
1/2 teaspoon salt
1 1/2 cups dried cranberries
1 cup white chocolate chips (use certified gluten-free chocolate chips is making this GF)
Directions:
Heat oven to 350°F.  Spray a large baking sheet with cooking spray, or line it with parchment paper.  Set aside.
Combine the oats, almonds, pecans, and coconut in a large mixing bowl.  In a separate bowl, whisk together the maple syrup, melted coconut oil, cinnamon, vanilla extract, and salt together until smooth.  Pour the maple syrup mixture over the oats mixture, and toss until everything is evenly mixed.
Spread the granola mixture out evenly on a greased baking sheet and bake for 25 minutes, pulling the mixture out at the halfway point and giving it a good stir before the final round of baking.  Remove and let cool until the granola reaches room temperature.  Stir in the dried cranberries and white chocolate chips and toss to combine.
Serve immediately, or store in a sealed container for up to 2 weeks.
All images and text ©
If you make this recipe, be sure to snap a photo and hashtag it #gimmesomeoven. I'd love to see what you cook!