Cream Puffs with a Quick Boozy Raspberry Sauce
This post may contain affiliate links. Please read my disclosure policy.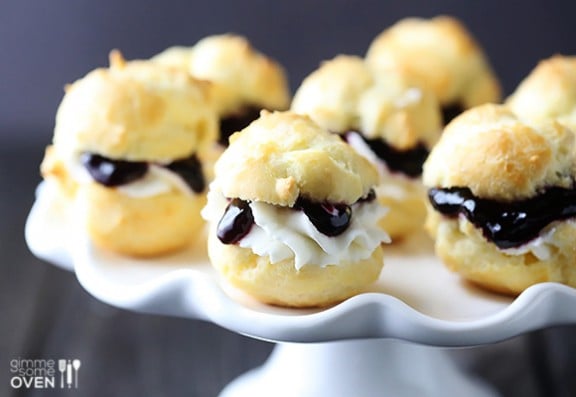 Snowmaggedon 2013 did not get off to a great start for me. You know that foot of thundersnow and ice that whirled into Kansas City in a few hours and brought the city to a standstill? Yep, I unwillingly got caught out in the middle of it and then ended up stranded twice on the way home when my little Prius couldn't make it through the drifts, and pulled my back in the process too. And all of this before 10am!
Still, I have to say one thing about major storms — they bring out incredible stories of all the good Samaritans out there. Really.
I had the nicest man show up out of nowhere to help bail me out. And after scraping and kicking and shoveling snow, and shoving my car, and then repeating that about five more times until my little car found its traction, my day was made immeasurably better by the kindness of a stranger. And then after coming home and reading Facebook and listening to the news and hearing my neighbors talk, the stories seemed to go on and on and on.
Lest I ever forget, I deeply believe that we are born to be kind. And I love hearing a day of stories that testify to that truth.
That said, in the midst of a stressful snowday, sometimes a little sweetness is called for. So allow me to present to you these adorable little Cream Puffs with Boozy Raspberry Sauce! This was actually my first time making cream puffs, and if I would have known how super easy they were, I would have tried these ages ago! So delicious and perfectly bite-sized. Check out the recipe here!
And for all of you still buried in snow, please be safe on the roads. And if you have the opportunity, be another snow "angel" out there and add another helping hands story to the world!