Creamy Pasta with Chicken and Sun-Dried Tomatoes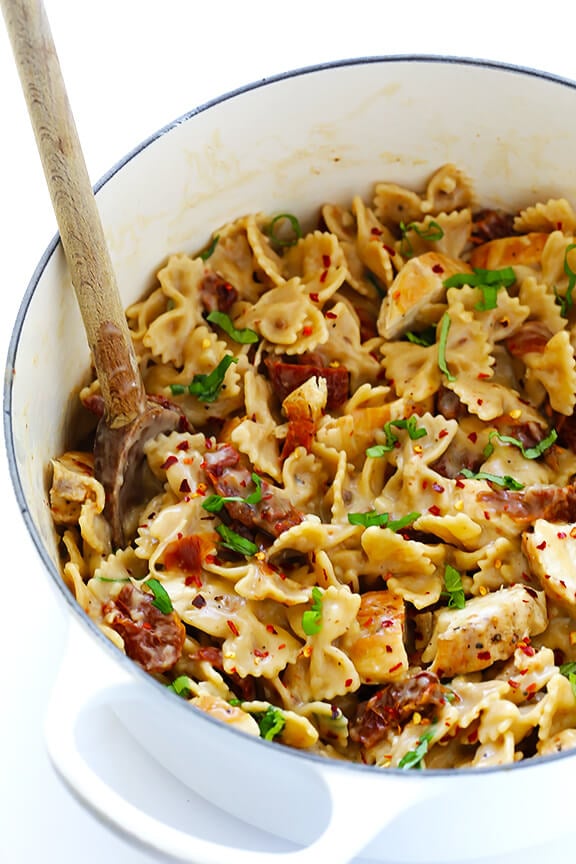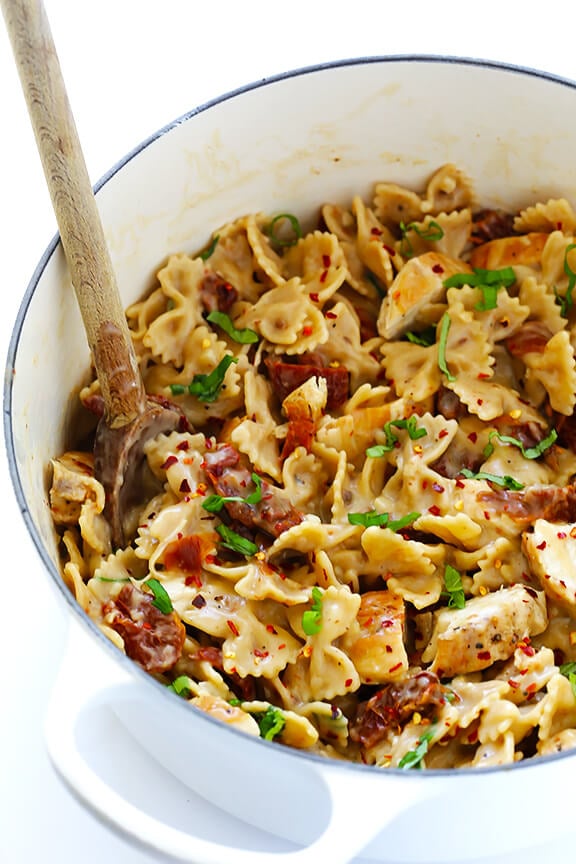 This recipe for Creamy Pasta with Chicken and Sun-Dried Tomatoes is brought to you by Almond Breeze.
I'm pretty sure that all we have done in Austin for the past few weeks is eat, eat, eat.  So much good food.  So many good drinks.  So many good restaurants.
And…we've hardly made a dent in our bucket list of places to visit.
Seriously, I don't know how people in Austin handle the culinary awesomeness that is the restaurant scene in this town.  What I do know, though, is that I tend to hit my burn-out point on eating out constantly on vacations after about a week, which happened like clockwork even in this town.  No complaints of course; I love that we've had the opportunity to try so many restaurants in Austin.  But there's nothing like being at home in the kitchen, music on in the background, a glass of wine nearby, and a nice big pot of pasta cooking on the stove to re-center me.
All the better when that pasta happens to be made with a heavenly creamy sauce, tossed with tender chicken, sweet sun-dried tomatoes, and fresh basil galore.  And even better when the dish is lightened up with a few simple tweaks.  My kind of comfort food, all the way.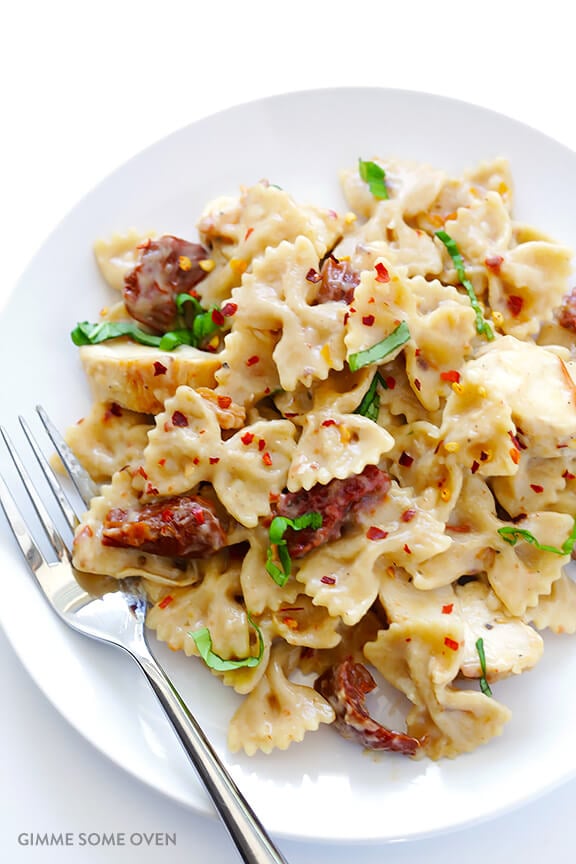 I mean, just look at that delicious plate.  Nothing quite beats a warm plate of homemade food, right?
I'm an especially big fan of this particular recipe because it's everything I love about comfort food — it's creamy, it's comforting, it's simple to make, but it's significantly lighter than most creamy alfredo dishes.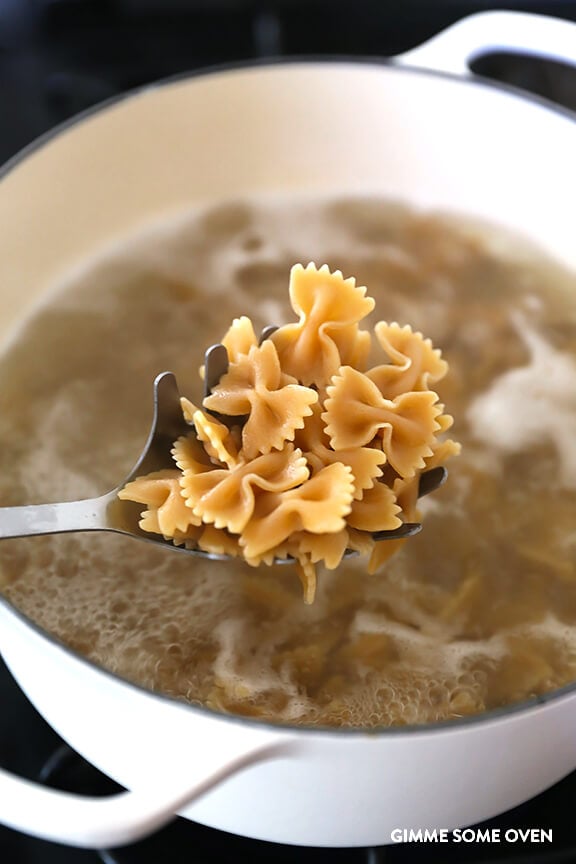 First off, I used my favorite whole wheat pasta.  (I will forever love those little bow-ties!)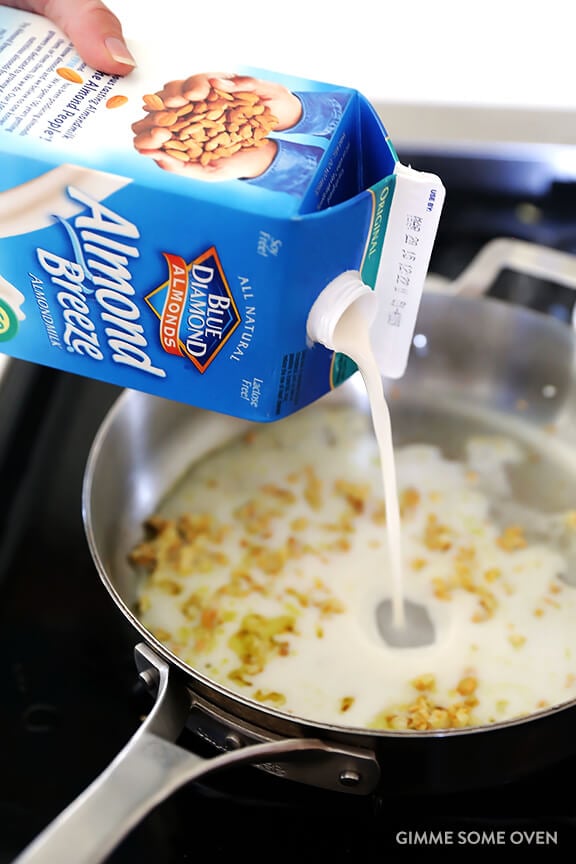 Then for the creamy sauce, I sauteed a heck of a lot of garlic, and then nixed the heavy cream and instead added  Almond Breeze original unsweetened almond milk as the creamy base for the sauce.  A simple flour-and-butter roux helps thicken it up…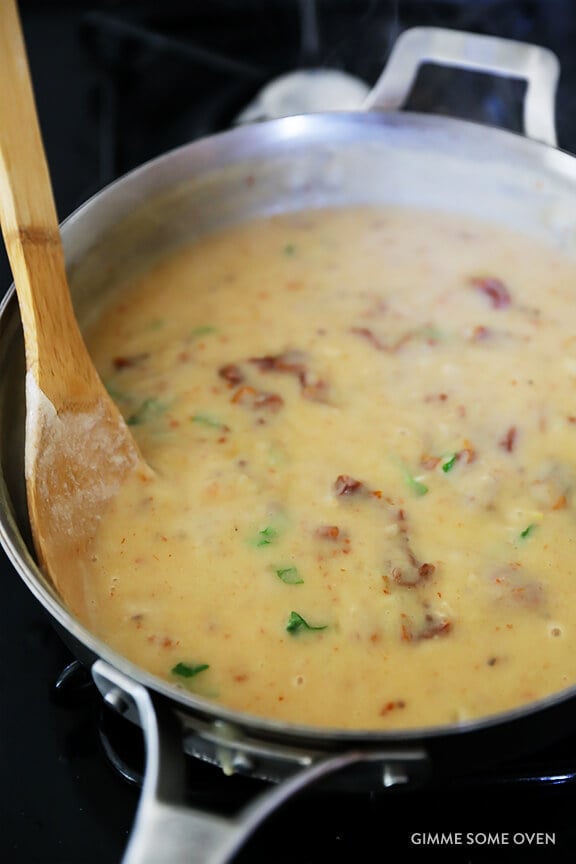 …and once I stirred in some sweet sun-dried tomatoes and fresh basil, well, let's just say this sauce went from good to out-of-this-world GREAT.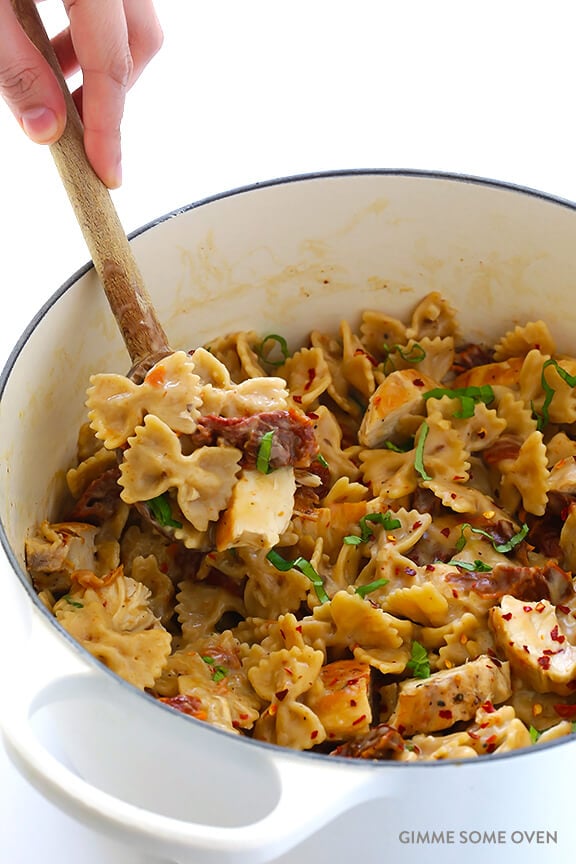 I tossed the sauce with the pasta and added in some cooked chicken breasts for extra protein.  But if you're vegetarian, feel free to sub in some mushrooms or extra veggies in place of the chicken.  Or if you just want some creamy pasta, I happen to think it stands quite well on its own.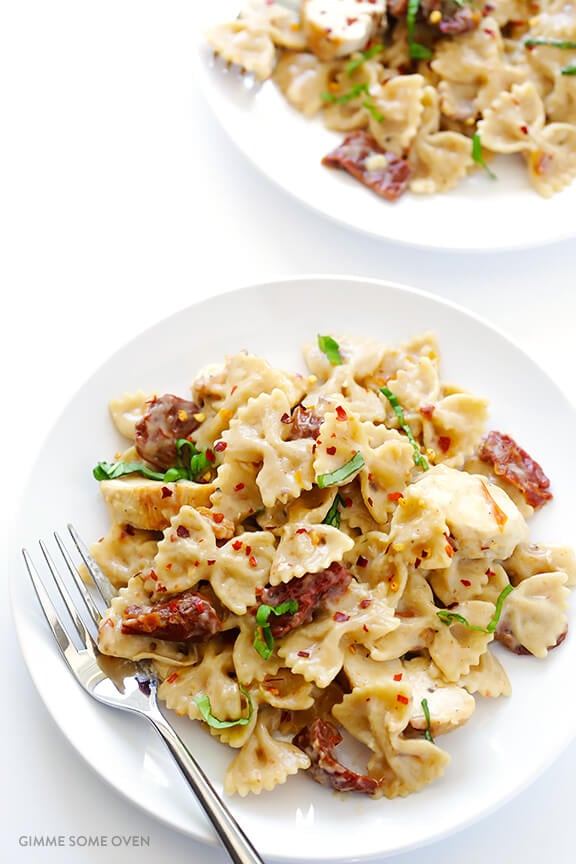 The other bonus is that this dish comes together in about 30 minutes or less, if your chicken is ready to go ahead of time (or you saute it in a separate pan while the sauce and pasta water are cooking).  So it makes a perfect quick and easy weeknight meal, or it's would be perfect for a lazy weekend, or — you know — even a random, warm, February evening staying in for the night in Austin.
Hope that you enjoy it as much as I did.   :)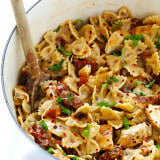 Creamy Pasta with Chicken and Sun-Dried Tomatoes
This creamy pasta with Chicken and Sun-Dried Tomatoes is made with a lighter creamy alfredo sauce, and tossed with chicken and sweet sun-dried tomatoes.
Ingredients:
Pasta Ingredients:
12 ounces whole wheat pasta (I used farfalle, aka "bow tie" pasta)
2 cooked chicken breasts, cut into bite-sized pieces
1 (6-ounce) jar sun-dried tomatoes, drained and chopped
1/3 cup chopped or julienned fresh basil, loosely-packed
creamy garlic sauce (recipe below)
optional toppings: crushed red pepper flakes, extra Parmesan, toasted pine nuts
Creamy Sauce Ingredients:
1 tablespoon butter or olive oil
5 cloves garlic, pressed or minced
3 tablespoons all-purpose flour
1/2 cup freshly-grated Parmesan cheese
1/2 teaspoon salt
1/4 teaspoon black pepper
Directions:
To Make The Pasta:
Cook pasta in a large stockpot of generously-salted water according to package instructions.  Drain and set aside.
While the pasta water is heating, begin making your cream sauce.  (See instructions below.)  Once the sauce and pasta are cooked, toss them together with the chopped chicken breasts, sun-dried tomatoes and half of the fresh basil until evenly combined.  Serve immediately, garnished with the remaining fresh basil and optional toppings (if desired).
To Make The Sauce:
Heat olive oil (or butter) in a large saute pan over medium-high heat. Add garlic and saute 1-2 minutes, stirring occasionally, until fragrant. Stir in the flour, and saute for an additional minute, stirring occasionally.
Slowly add in the almond milk, whisking to combine until smooth. Continue cooking until the mixture reaches a simmer and thickens. Stir in Parmesan cheese, salt and pepper until the cheese is melted.  Reduce heat to low until pasta reaches al dente and you are ready to toss the sauce with the pasta.
All images and text ©
If you make this recipe, be sure to snap a photo and hashtag it #gimmesomeoven. I'd love to see what you cook!
This is a sponsored post in partnership with Almond Breeze.  I'm thrilled to be partnering with them this year to share with you some healthier favorite recipes of mine, and all opinions are my own as always.  Thanks for supporting the brands that help make this site possible!