How to Clean Your Front Loader Washing Machine
This post may contain affiliate links. Please read my disclosure policy.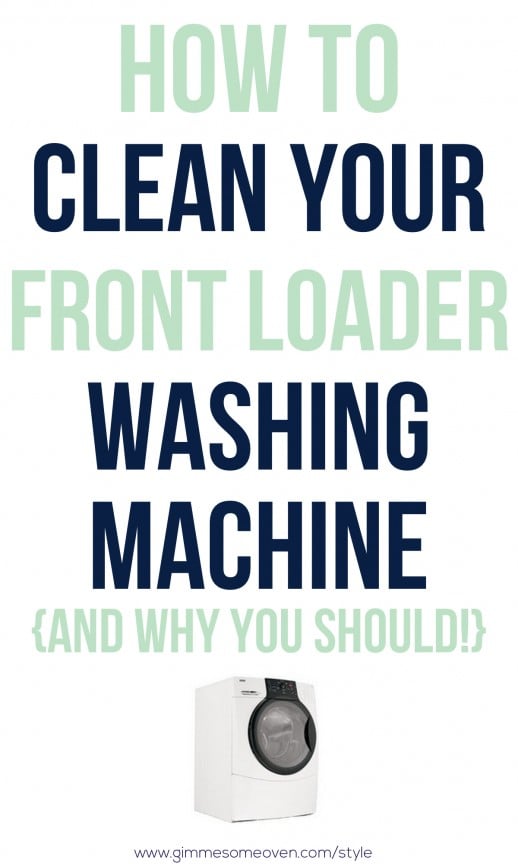 Tanner and I recently purchased a used washer and dryer set on craigslist. We have always used top-loader sets and have been extremely happy with them, but since we live in a loft we decided that this time we would give front loaders a try. (We really liked that the front loaders could be stacked to save space). The set that we purchased is in great condition and works really well. The problem was, the washer smelled really terrible!
I had heard from many different people that a moldy smell was a common problem with front-loading machines. That was actually one of my concerns when we were looking for a set, but we went ahead and gave it a shot. Most people just said the best thing you can do is to leave the door open to air out. I didn't want to leave it at though. So after talking with my mother-in-law (Thank goodness for her!) and doing a little research, I no longer have a smelly washer! Here are a few things I have learned to keep that smell away!

Wipe down the exterior with an all-purpose cleaner. I used my favorite DIY cleaner and it worked great! Keeping the exterior clean from any excess laundry detergent spills or random dirt and grime can help aid in any type of mold, discoloration or odor.

The inside and outside of the door can hold a lot of build up and soap scum. My door at a glance looked fairly clean, but as I got closer to it I realized that it was actually really dirty and had a thin film of soap scum built up onto it. I used the same all-purpose cleaner from above and scrubbed it with a paper towel and sometimes a sponge if needed. Don't forget the hinges too! They can get just as dirty as the rest of the door. I also took a butter knife (I couldn't find anything else thin enough that was at an arms reach!) and wrapped it in a paper towel to get into the cracks of the door. You would be surprised what gets in those cracks! :)

This was the part where my mother-in-law blew my front-loader cleaning mind! I was scrubbing away at the top side of the rubber seal and felt pretty good about how things were looking, when she came over and showed me that the seal actually pulls back away from the drum. Let me tell you, I'm pretty sure the previous owner had never seen that trick before, because it was so gross! All of that dirt, and soap and everything that no-one wants to hear about had lodged itself underneath that seal. NOT fun. Luckily, it wiped away with pretty easy scrubbing. Make sure to wipe around the entire seal and also underneath the rubber. My mother-in-law says she does this once a month at the very least and if the smell continues to arise I would recommend doing so after each wash! Do NOT miss this step!

The dispensers themselves actually can have quite a bit of build up in them. My washing machine has a little tab in the drawer that lets the whole drawer come out so that you can easily soak or wipe down the drawer. I went ahead and rinsed mine in the sink with a little dish soap and vinegar and then started to tackle what was under the drawer. Underneath the dispensers was a lot a soap scum and what looked to me like mold. I wiped that down with the cleaning solution and then pulled out my trusty butter knife once more for a little deep cleaning in some of the cracks. I was amazed at how much build up had gotten underneath the drawer!

This step is actually really simple. I wiped down the drum with a rag and cleaning solution and then I threw in 2 cups of vinegar and ran my washer on the hottest cycle to remove any soap scum, build up or mildew. If you are still sensing a vague smell you can also run the washer a second time, this time using 2 cups of bleach. I would then run your machine for one last time on the hottest setting to remove any residue that your cleaning products may have left behind.
::Note:: A lot of HE washing machines have a clean cycle button–if your's does I would recommend using this cycle on all three washes.

After each use make sure to wipe down the lip of the washer (water tends to sit there and can become moldy) and then if at all possible, leave your washer door open until it is fully dry. My washer and dryer are in a closet right in our living room so I don't like to leave my door open at all times, but I do let my washer door hang open for as long as it still seems to be wet.
Make sure you do all of these steps at least monthly to keep your washer smelling it's best! Nobody likes a smelly washer! ;)