DIY Coffee Sugar Scrub
This post may contain affiliate links. Please read my disclosure policy.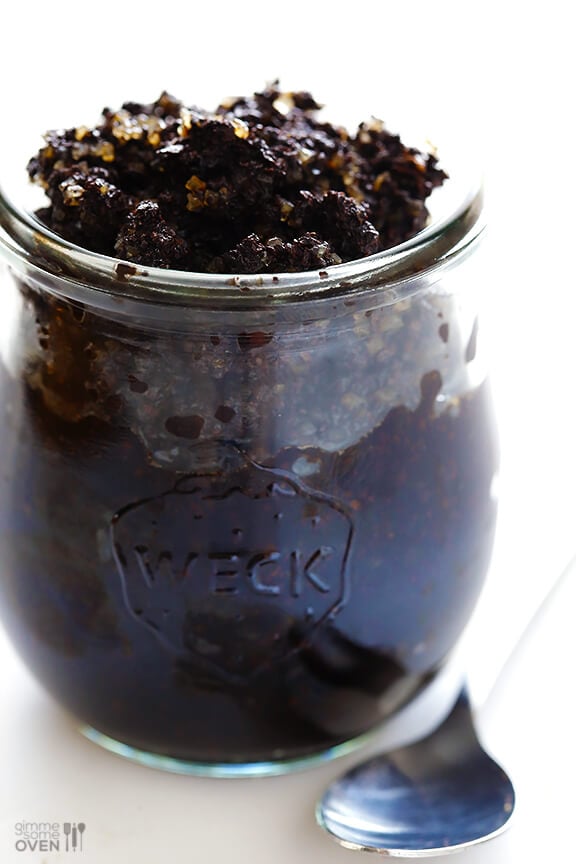 It's no secret that I'm a big fan of coffee. I love pour-over coffee, I love cold-brew coffee, and I always love it iced. But over the past few months, I have also been experimenting with using leftover coffee grounds as part of my skincare routine. Have you all tried this?
I am no health expert, and will never claim to be. But other experts on the webosphere claim that coffee (and caffeine) apparently do all sorts of good things for your skin. Namely:
1) diminish the appearance of cellulite
2) tighten and tone the look of your skin
3) serve as an exfoliant, when you use the grounds as a scrub
Plus, coffee is naturally a great antioxidant and anti-inflammatory. And the smell of coffee is one of my favorite things ever. So I jumped on the bandwagon and have been experimenting with using it as a body sugar scrub. And I have found it to be quite delightful. :)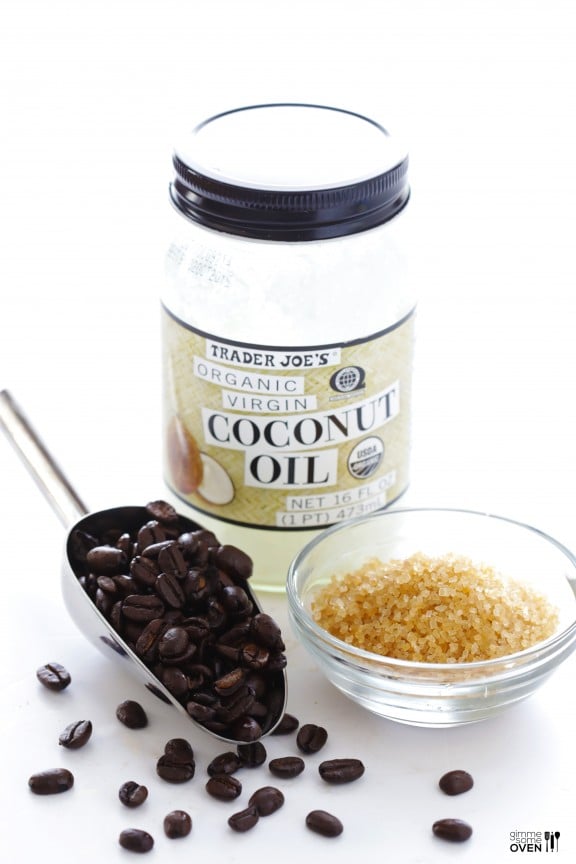 I have been mixing up DIY sugar scrubs for years, and love experimenting with whatever "hot" new ingredients people are recommending. But the ingredients in this scrub are about as simple and straightforward as it gets. You need:
1) coffee grounds (you can either ground the coffee fresh, or use pre-used grounds like I do)
2) sugar (I used turbinado, but any sugar will work. I would recommend a more finely-ground sugar, like brown sugar, if your skin is sensitive.)
3) oil (coconut oil and olive oil are my two favs)
Just mix them all up, and you will be ready to go with a scrub that smells like your morning cup o' jo in minutes. I don't know if it has honestly made that much of a difference for me with cellulite, but I find the smell of the coffee grounds to be totally energizing and delightful. And the coconut oil is a great moisturizer.
The one warning I will give is that the coffee grounds make this one much darker than most scrubs. So don't freak out if your tub looks looks like it's full of dirt for a minute before it drains! :)  Also, as with any scrub, be sure to use this with hot water so that it doesn't clog up your drain.
All in all, it's natural. It's a great way to use up leftover coffee grounds. And it feels good on my skin. So I'm a fan!
DIY Coffee Sugar Scrub
Prep Time: 5 minutes
Total Time: 5 minutes
Yield: About 1/3 cup
Ingredients
3 tablespoons finely-ground coffee (I used recycled grounds)
2 tablespoons oil (I used melted coconut oil)
1 tablespoon sugar (I used turbinado sugar)
(optional) 1/2 teaspoon vanilla extract
Directions
Stir all ingredients together until combined. Store in a sealed jar for up to 2 months.